Welcome to TIKIFEST 2007!!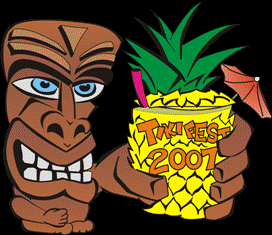 Tikifest was the idea of Steve Siefert (Tikiman) and Lisa of Magical Vacations. They put together an event that was fun, memorable, and very special to those of us who were fortunate enough to attend. MAHALO to both of them.
Many of us Tikifesters built a Disney World vacation around the actual Tikifest event. You can find my pictures of our stay at the Polynesian resort here on my Polynesian 2007 page. On this page, however, you'll find the pictures from the actual Tikifest 2007 event, which was held at the Living Seas VIP Lounge in Epcot.
So here is Tikifest 2007, as seen through the photographic lenses of John and Terry Brown:
When we first arrived near the entrance to Coral Reef, we found many other anxious Tikifesters, and we were all wearing our orange TikiFest 2007 bracelets!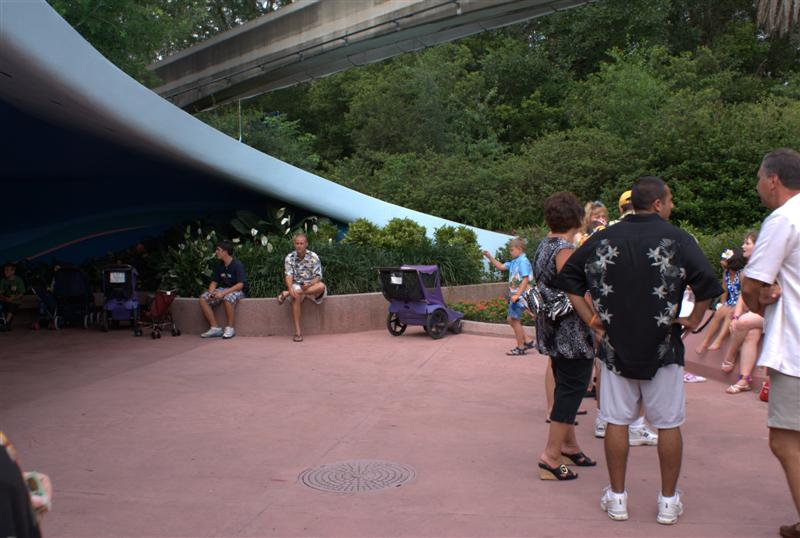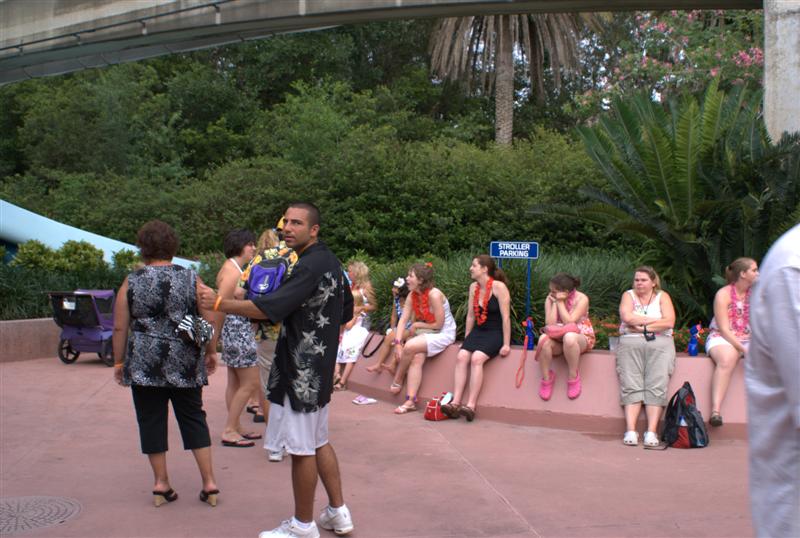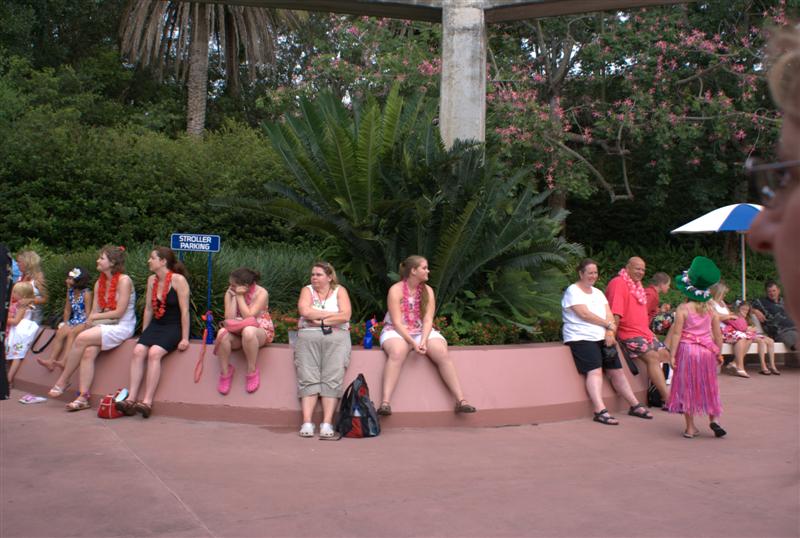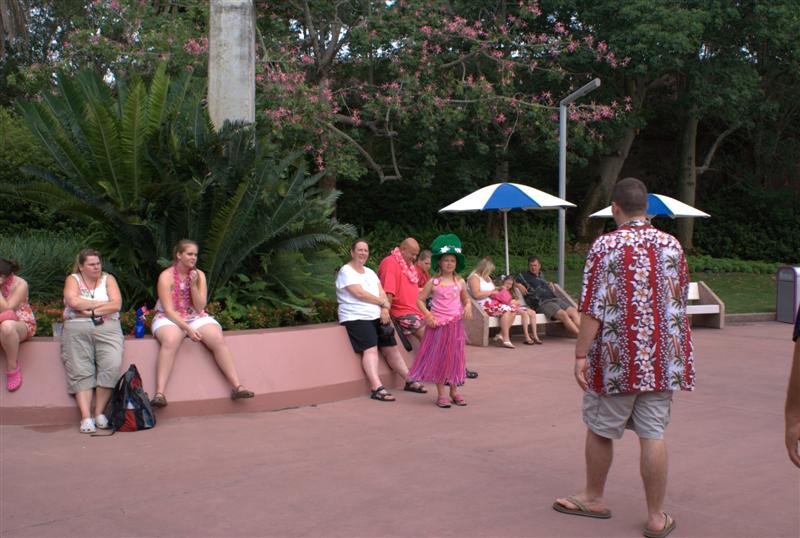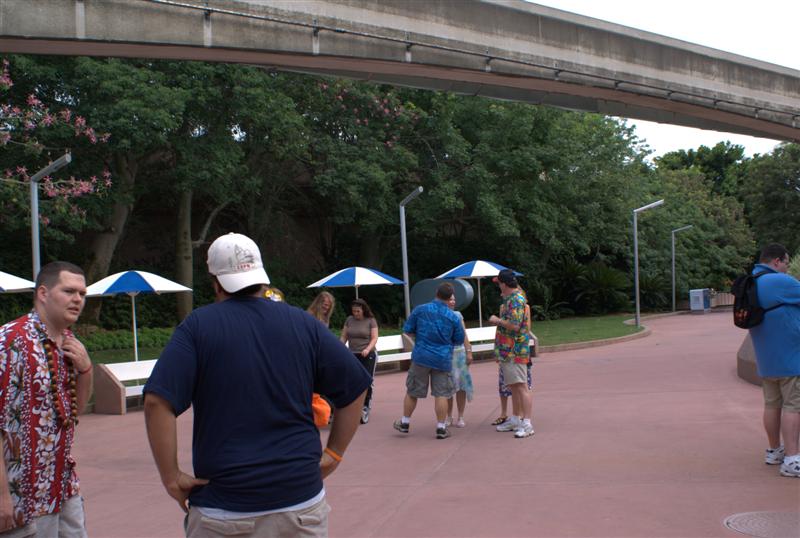 After a brief wait, a CM came over to gather us together and brought us up a back entrance to the VIP Lounge: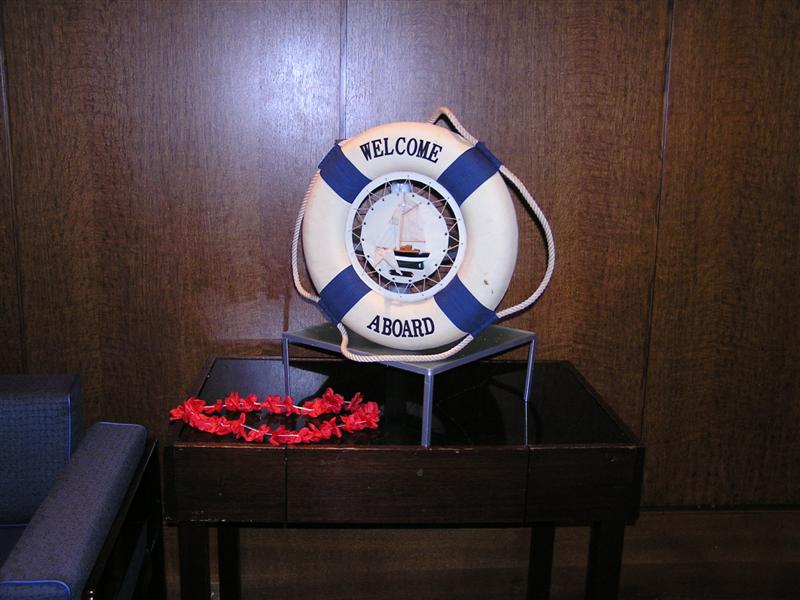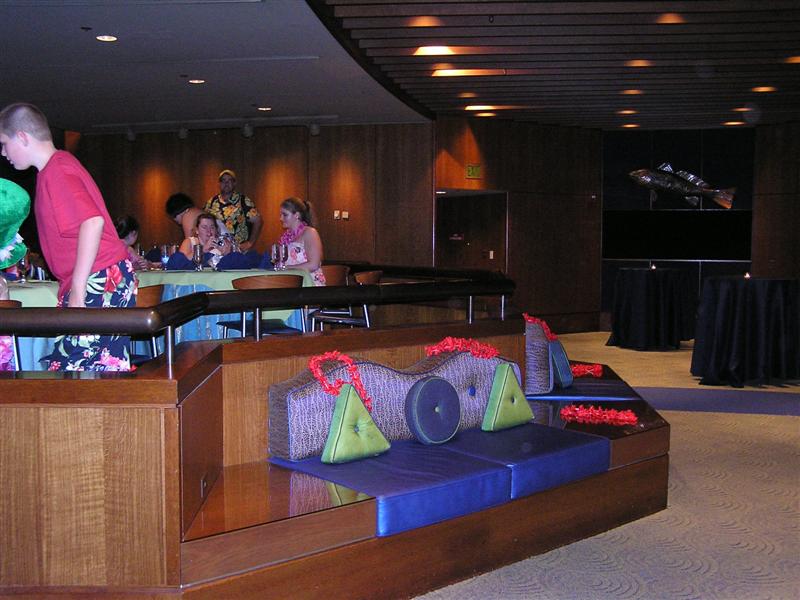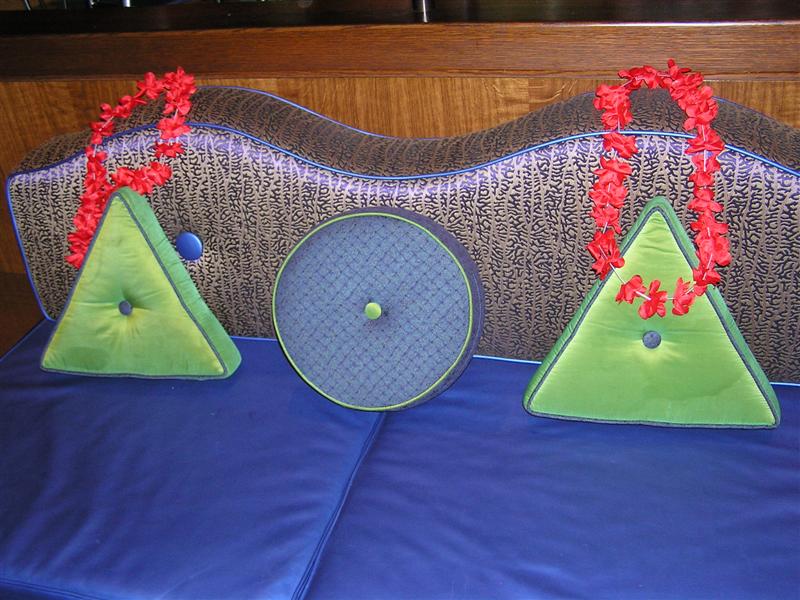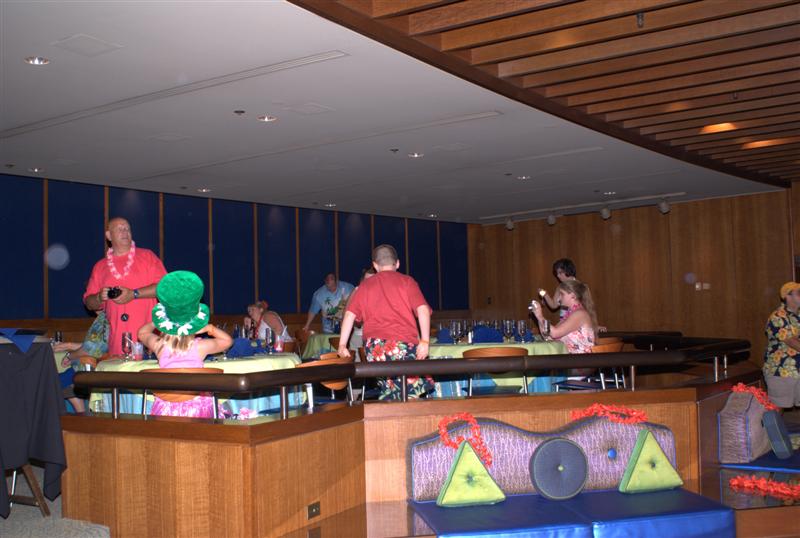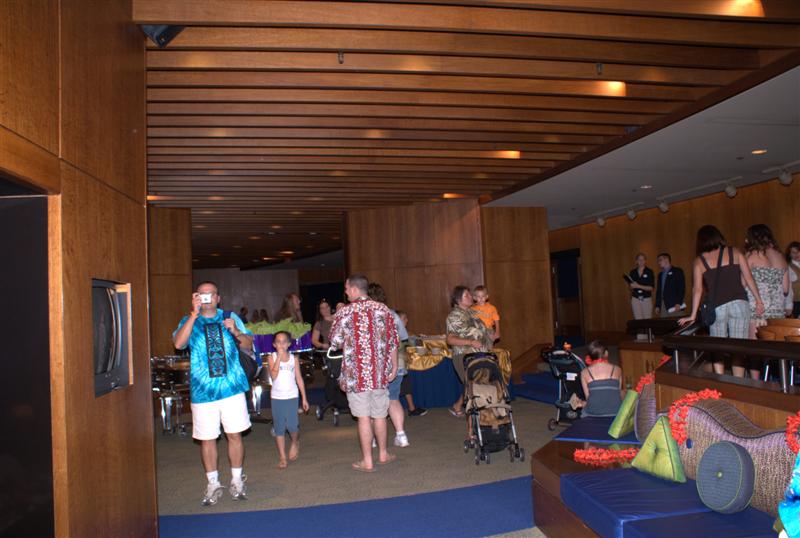 The food was arranged beautifully on several tables. Not only did the food LOOK good but it tasted great as well: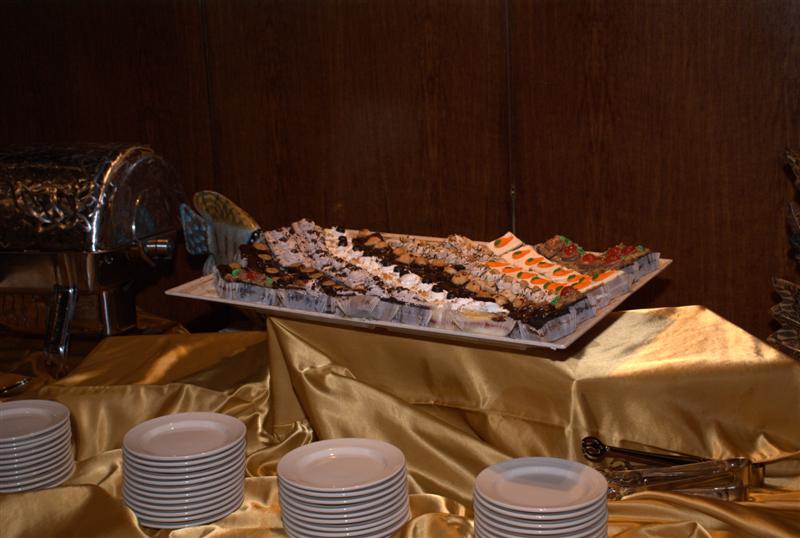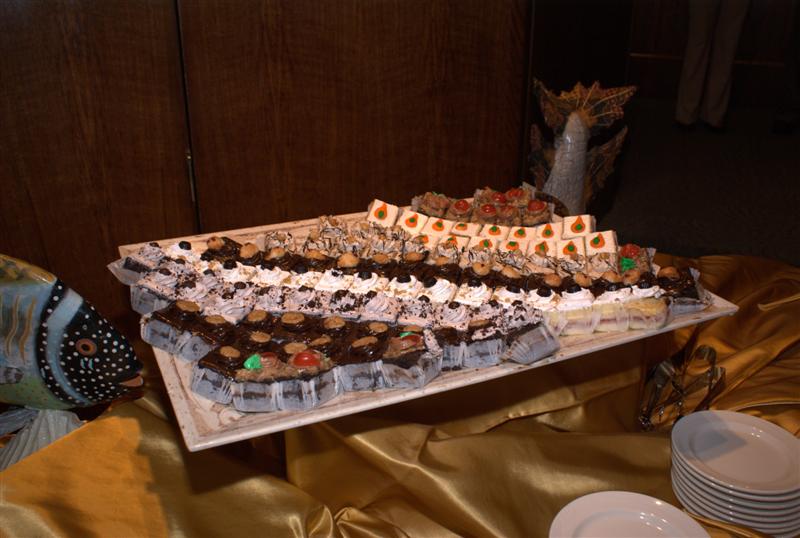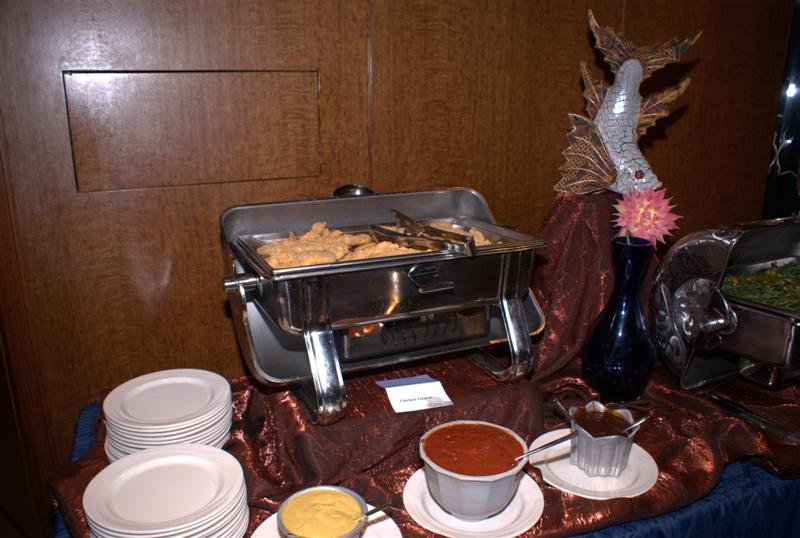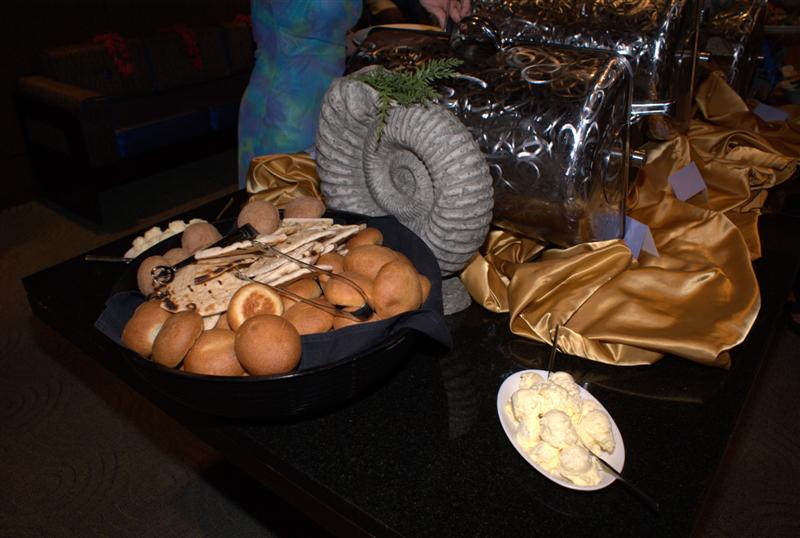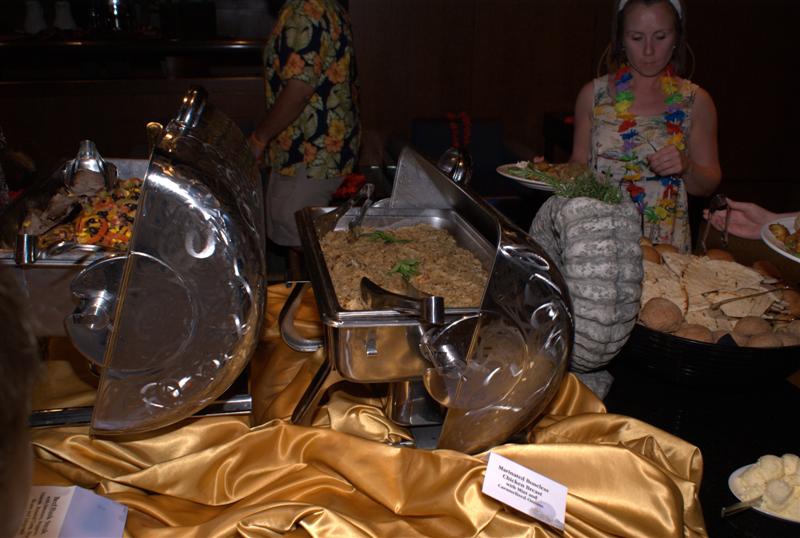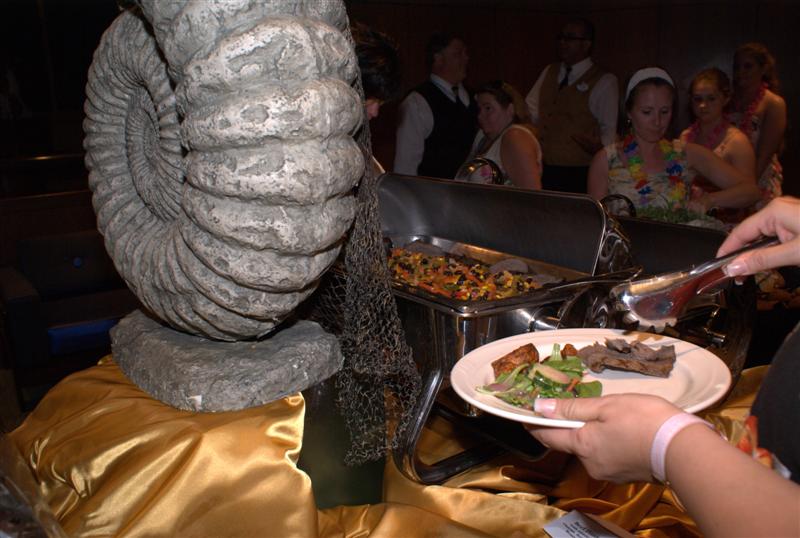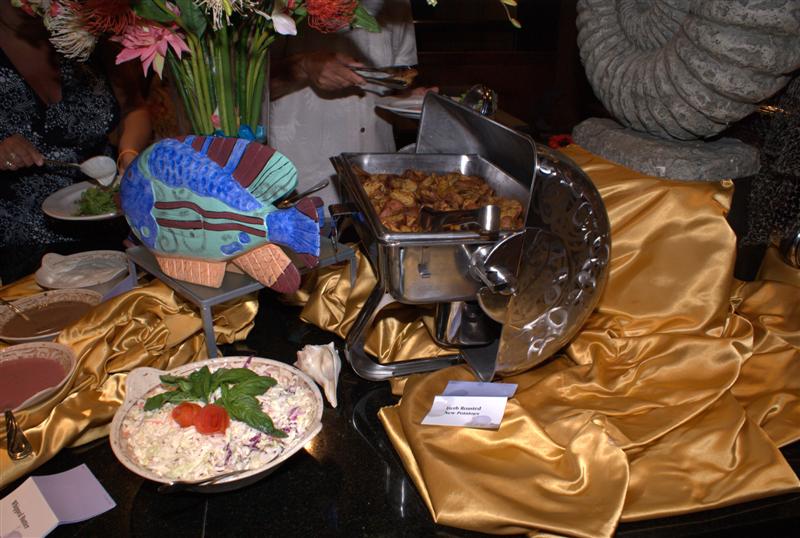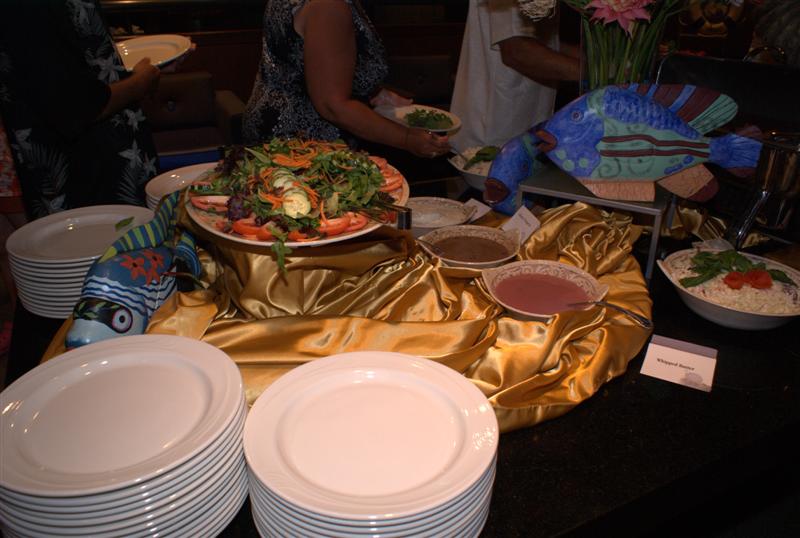 Lisa and Luke: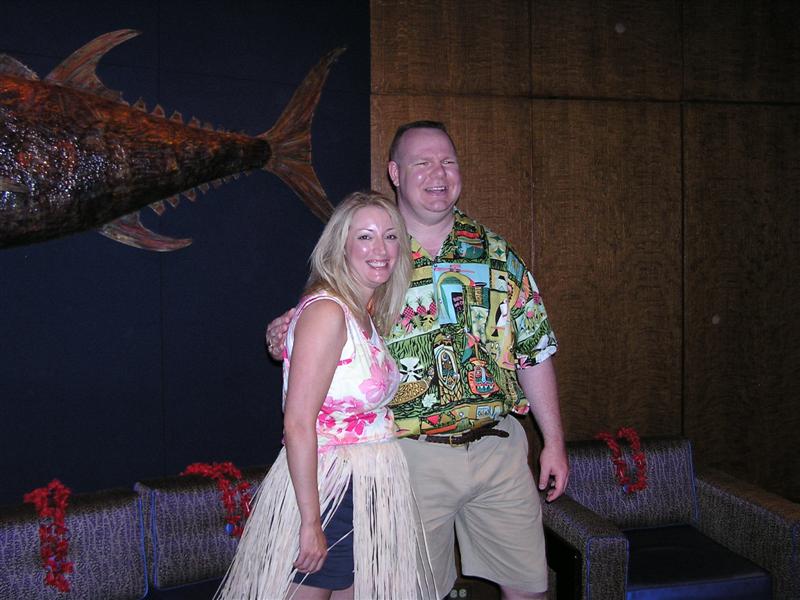 There was an open bar for the adults, and free-flowing sodas for the kids!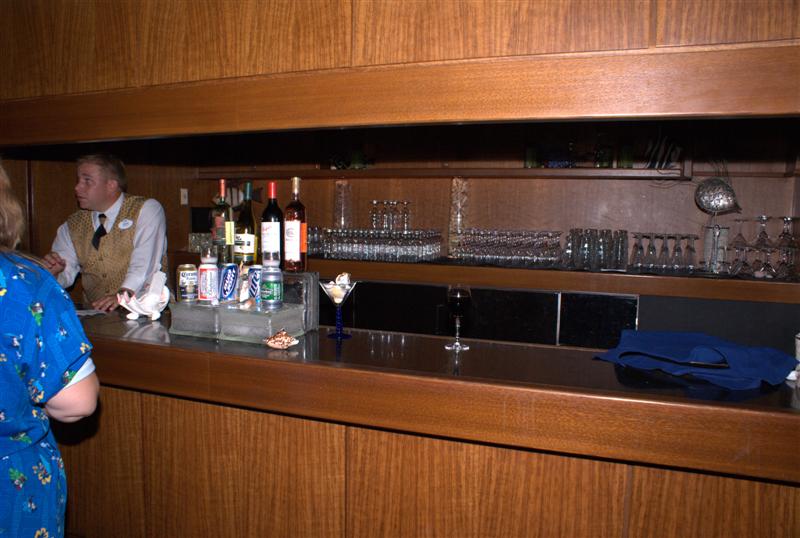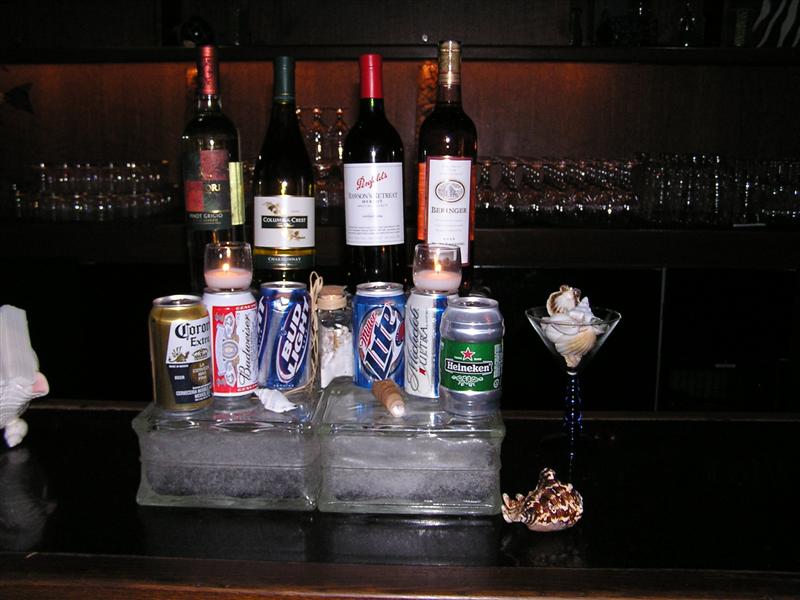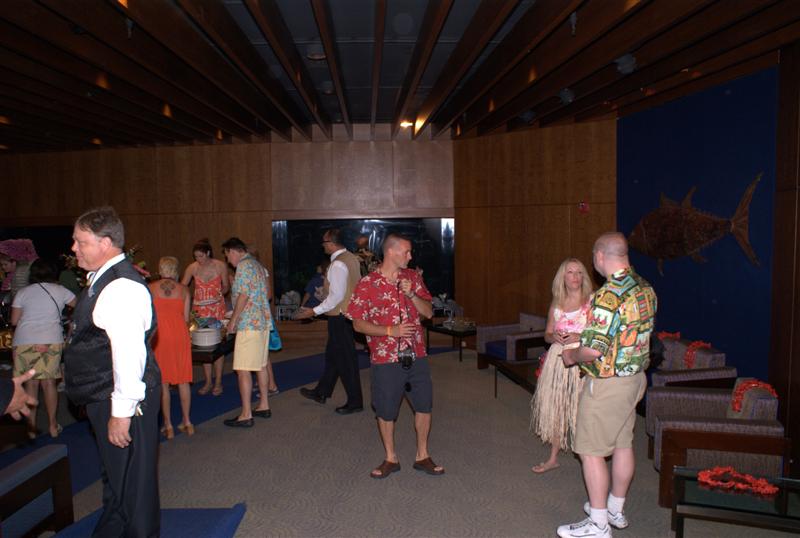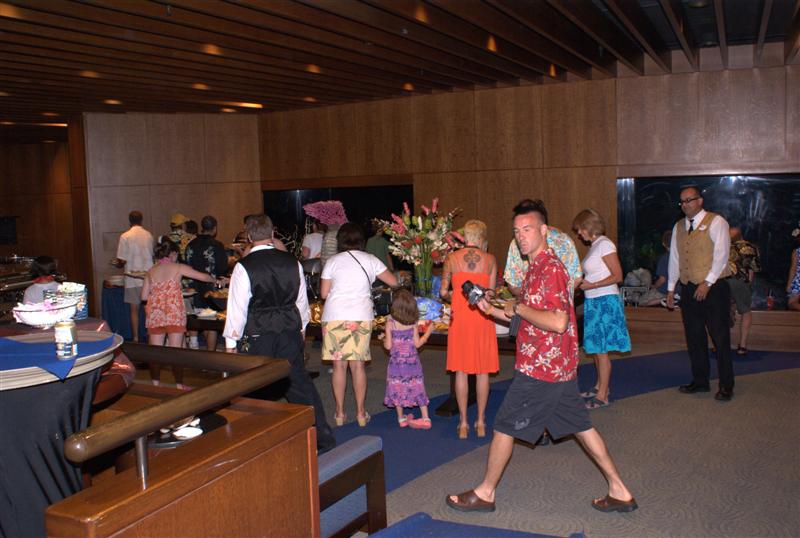 Steve and Tara welcomed everyone to Tikifest! There were several Disney CMs present as well; some in a work capacity, and several were there to enjoy the event with us...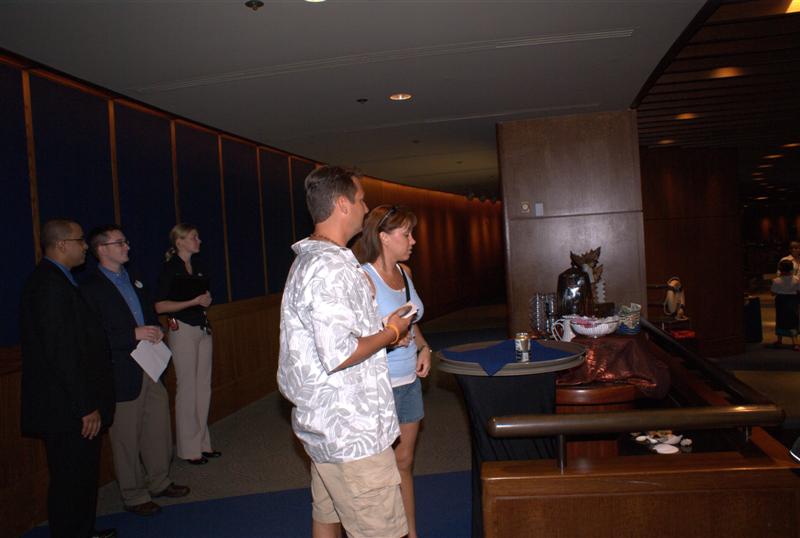 Goody bags!! They each contained volcano soap, magnets, pins, and a special CD of Hawaiian music.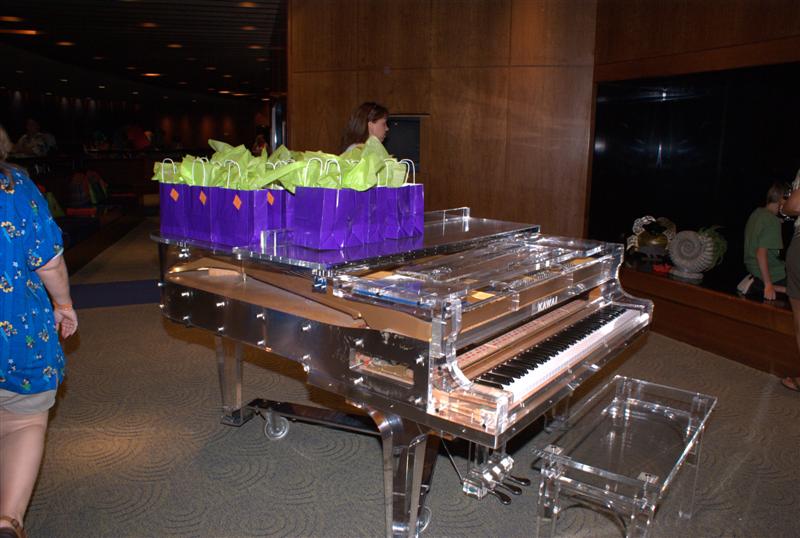 The table settings were very pretty; each table had a candle burning, and you can't see it in this picture but the underneath tablecloth was iridescent and reminded you of being under the sea....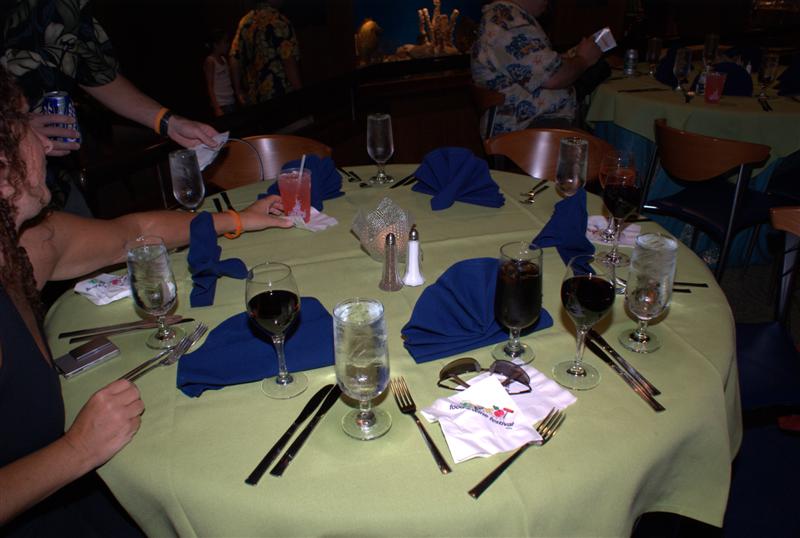 There were beautiful ocean-themed displays all around the room: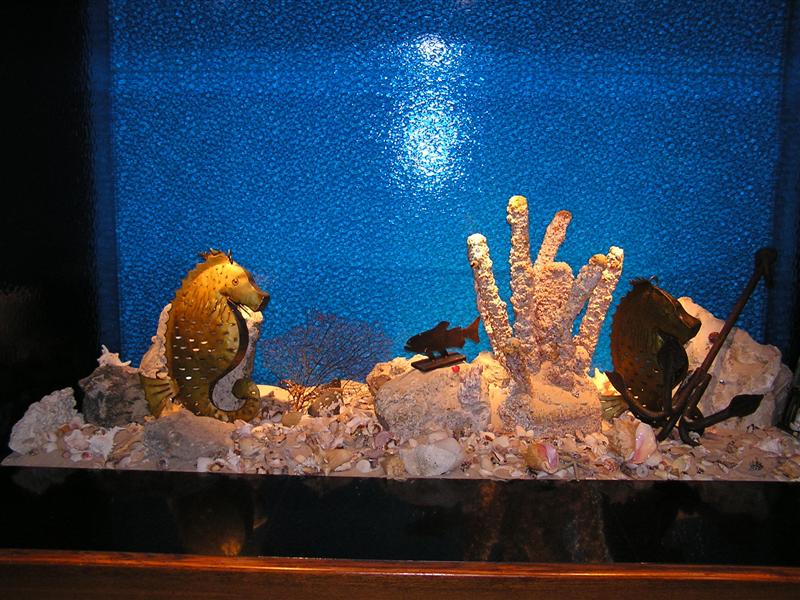 Hi Eddie!!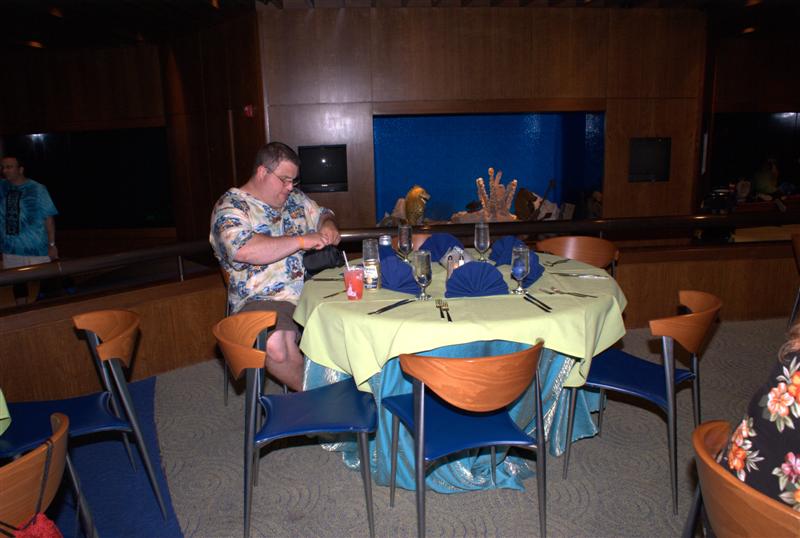 Hi Maryann! And Hi Luke!!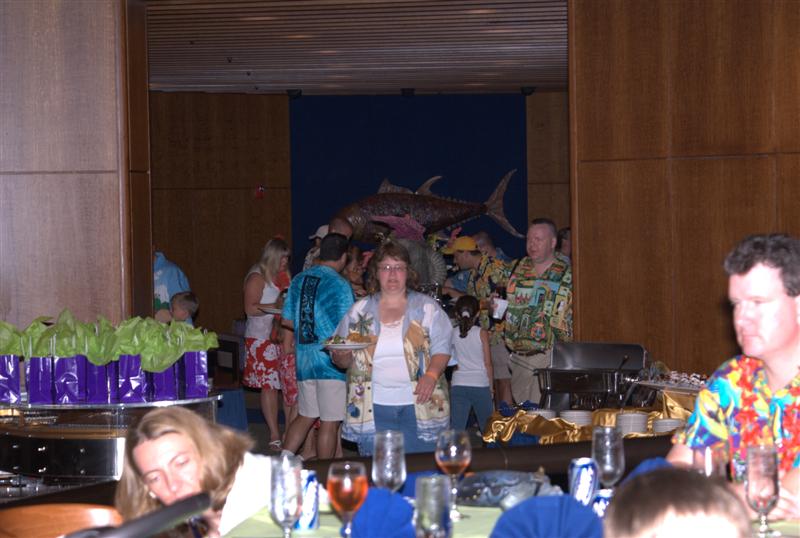 Hi Sean!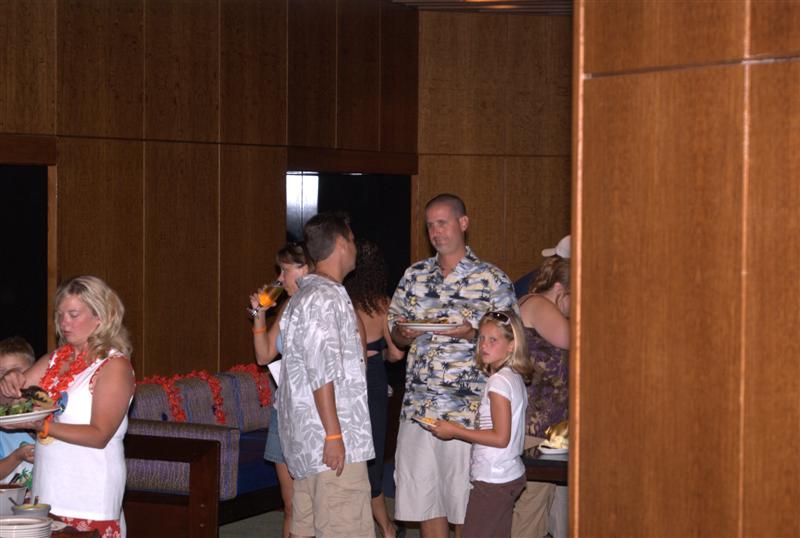 There were several LARGE glass aquarium walls in the lounge, and the kids really enjoyed watching all of the sea life swim by....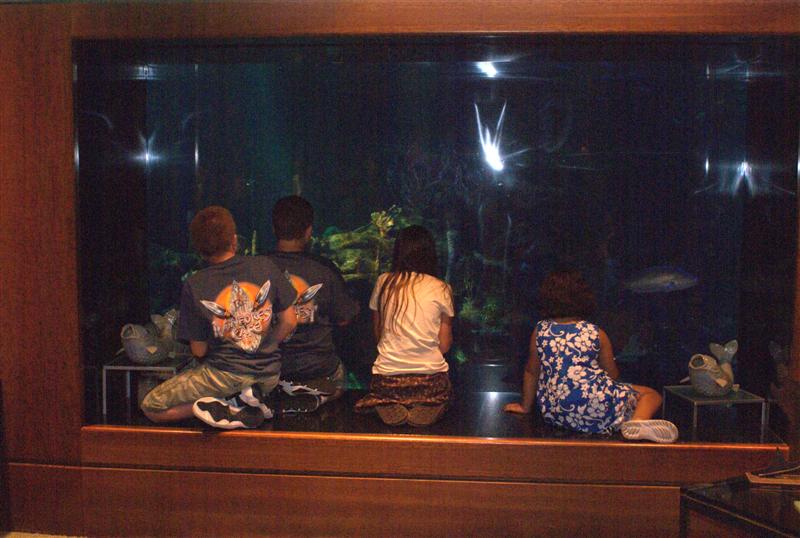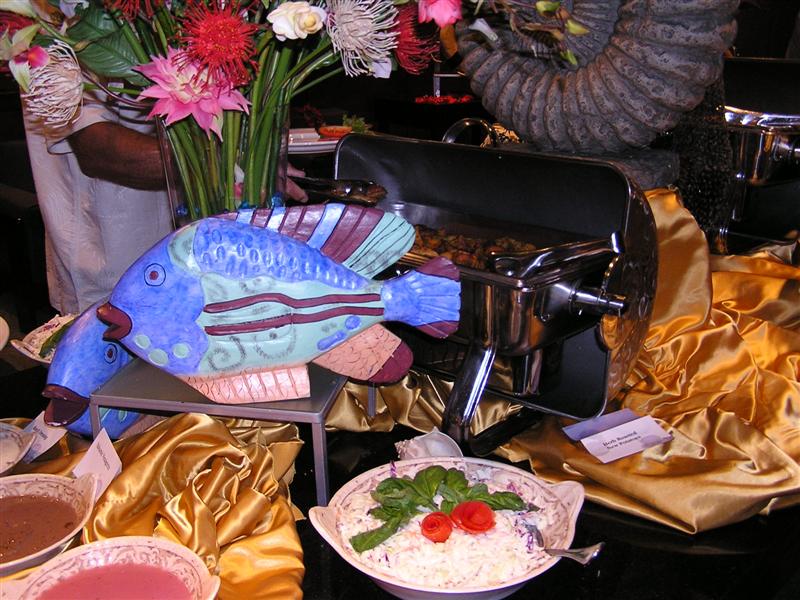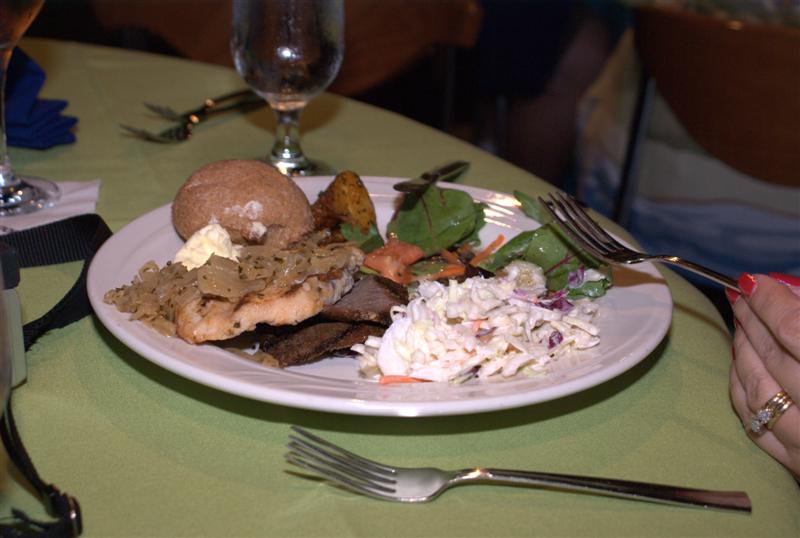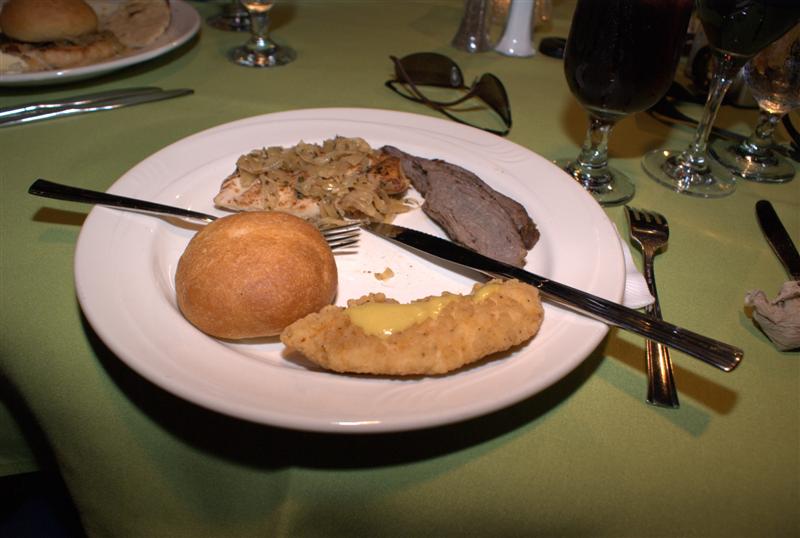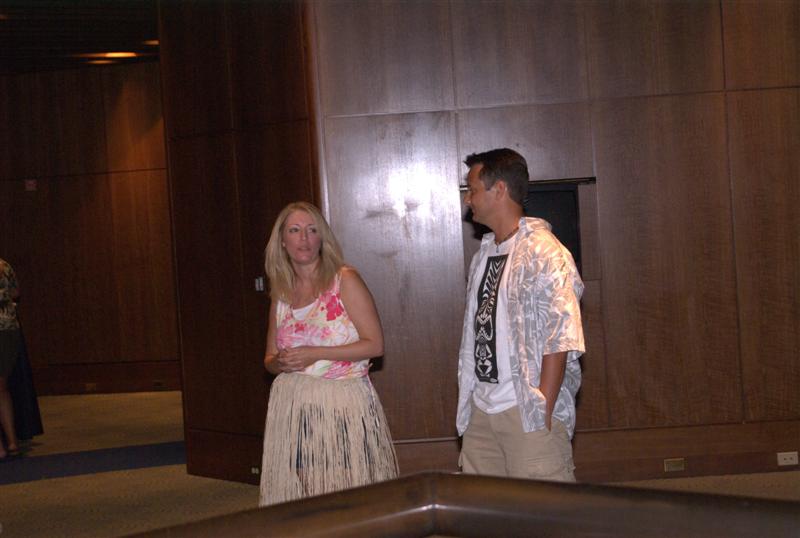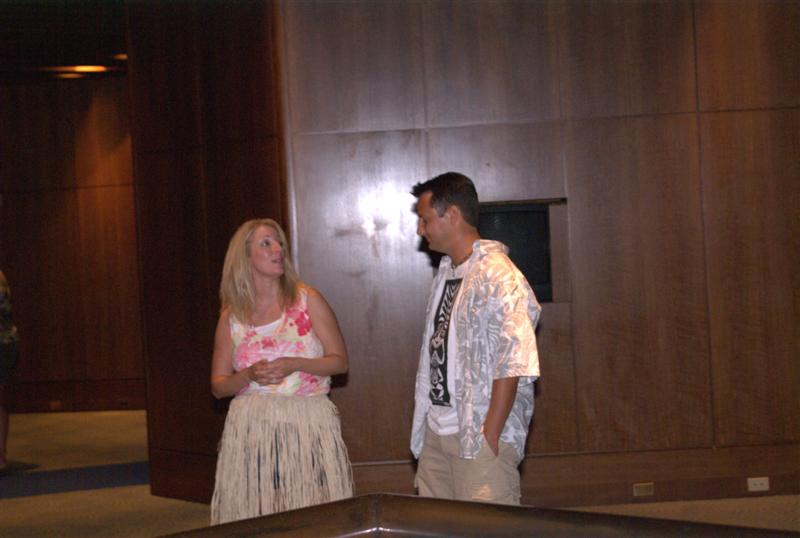 Steve gave a brief speech, thanking everyone for attending, and giving special thanks to those who helped make this event happen. At this point, I need to mention that I noticed Steve's tiki t-shirt and was admiring it.....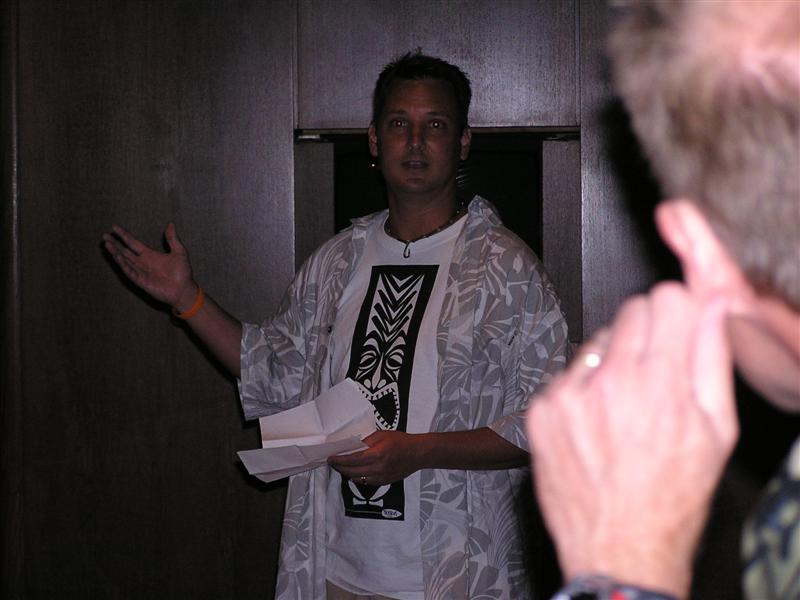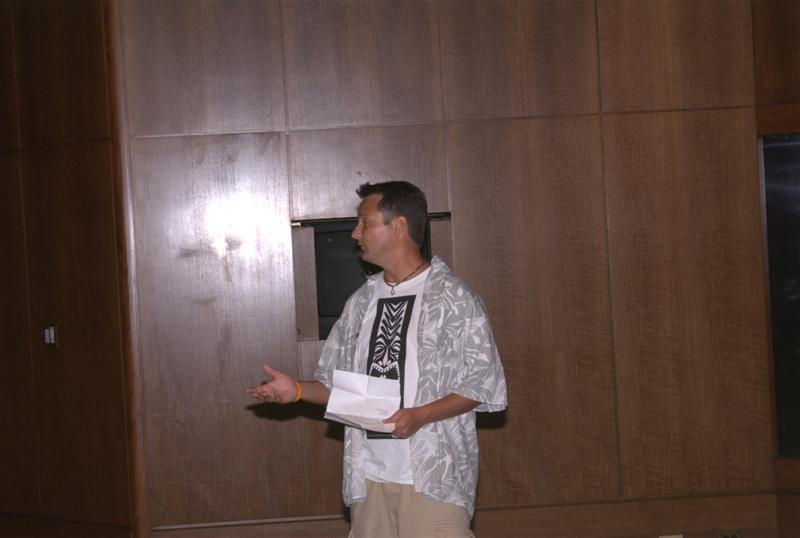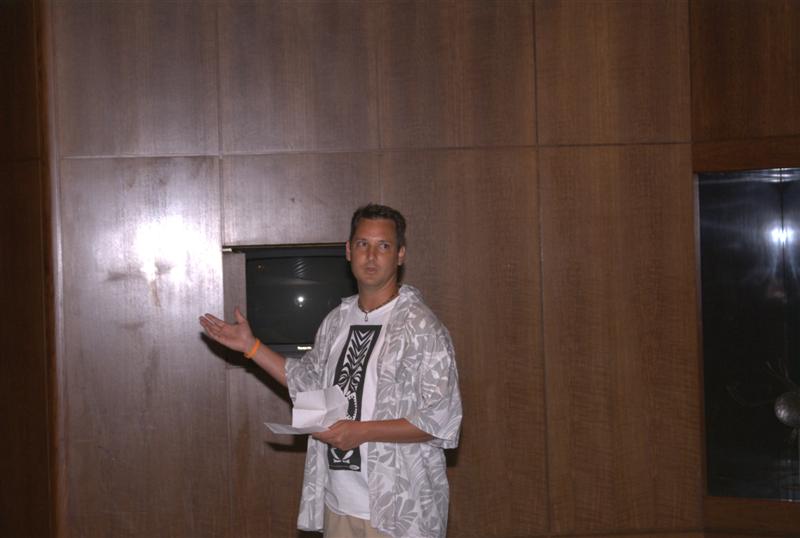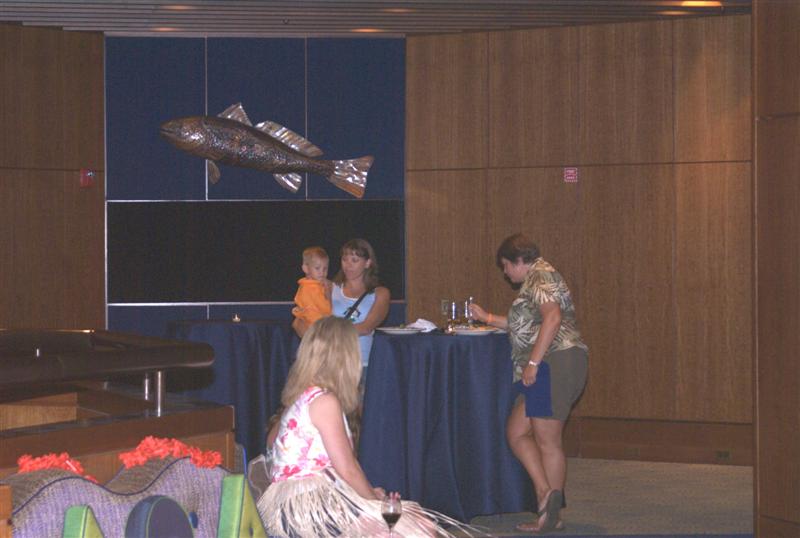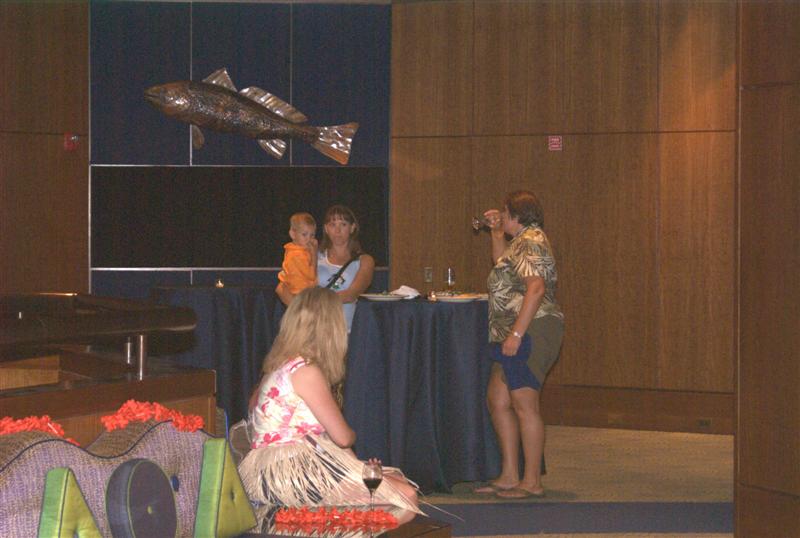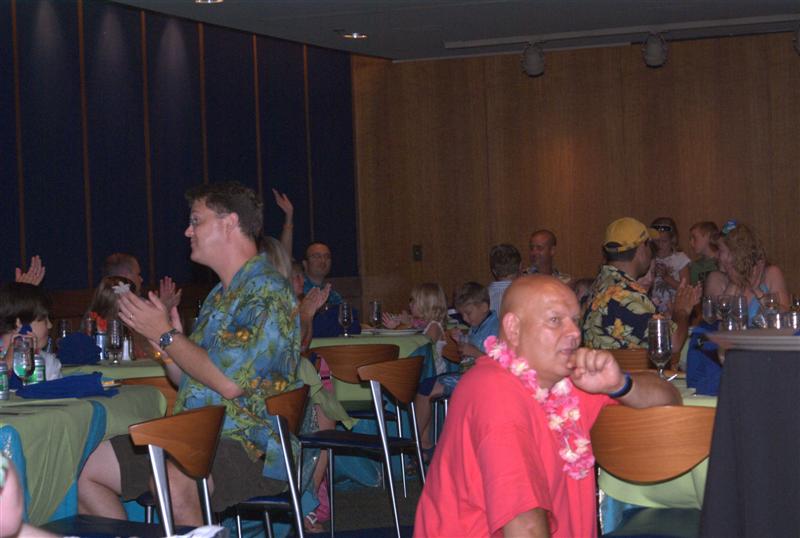 Hi Aaron, Hi Lori!!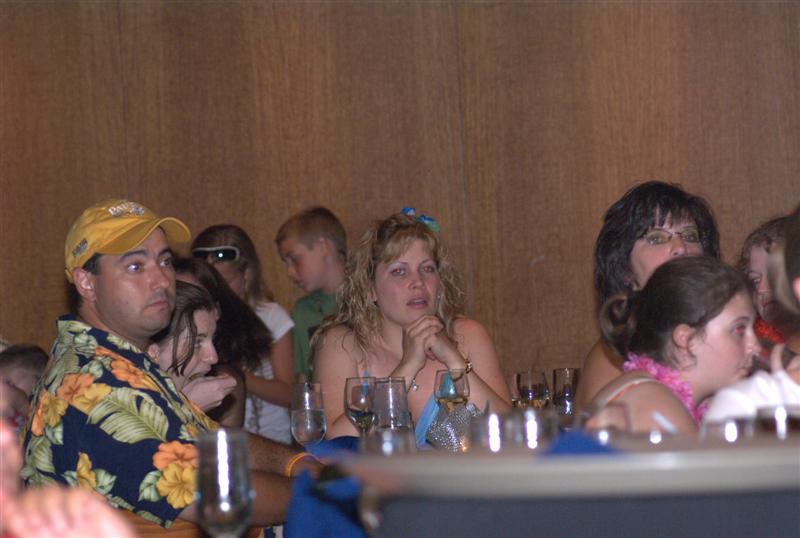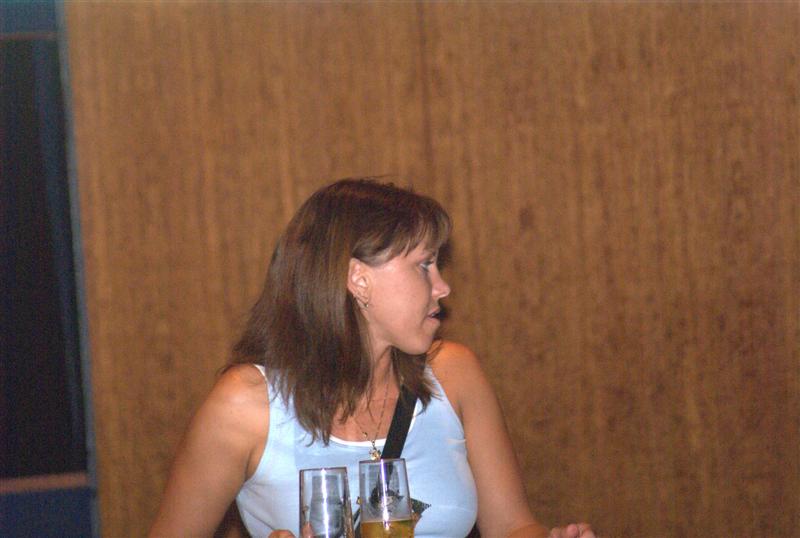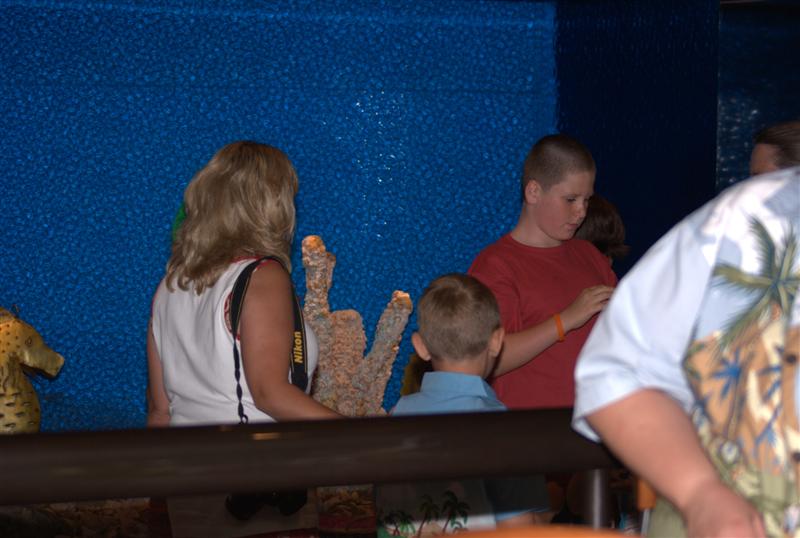 In addition to the fish, sharks, and stingrays, we saw a few divers in the tank!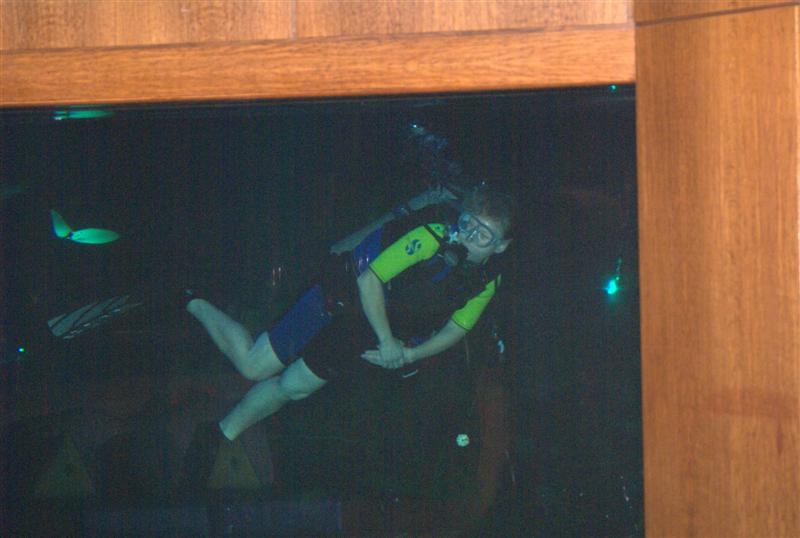 The kids were able to make their own leis: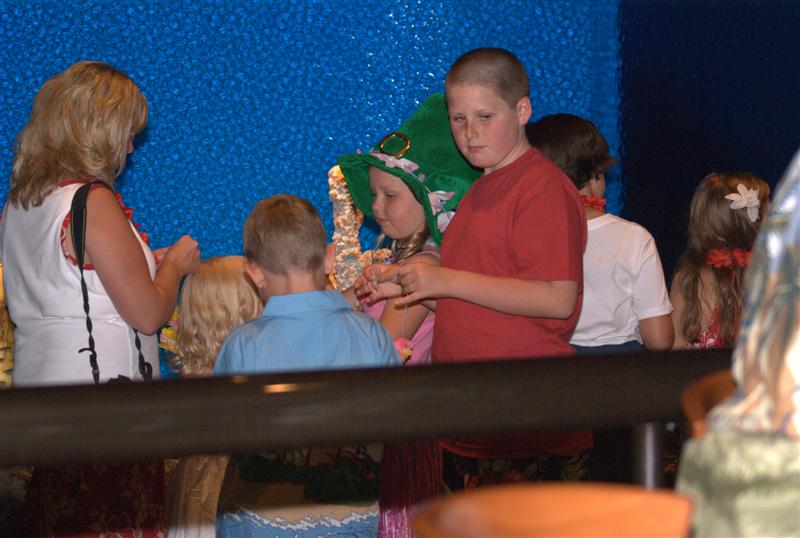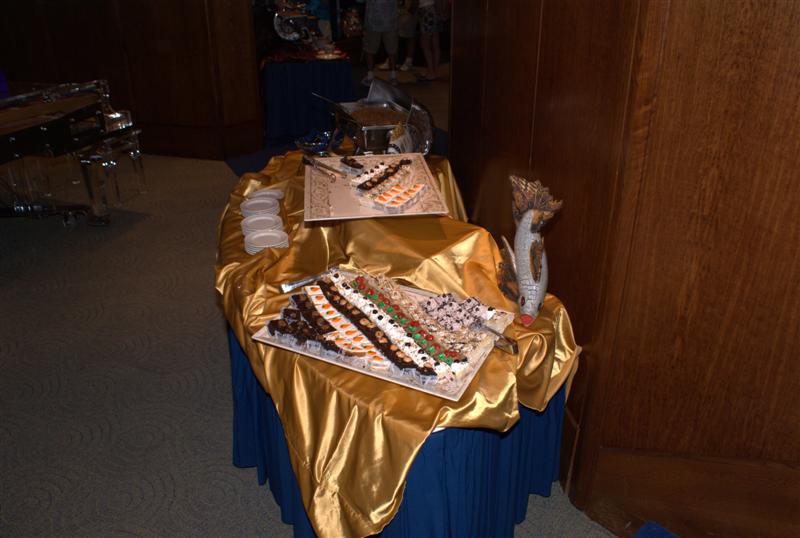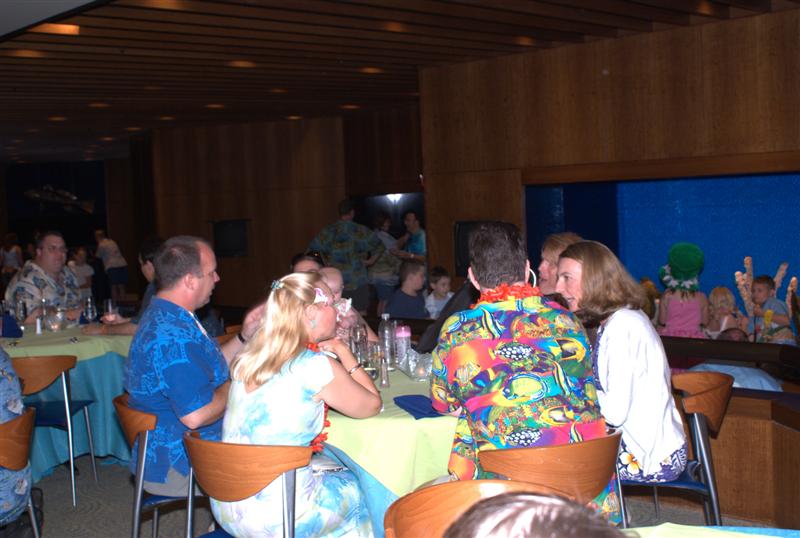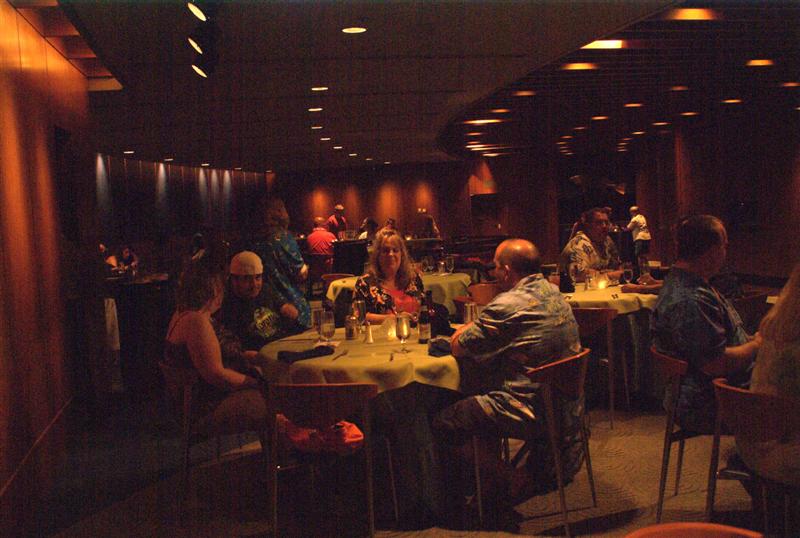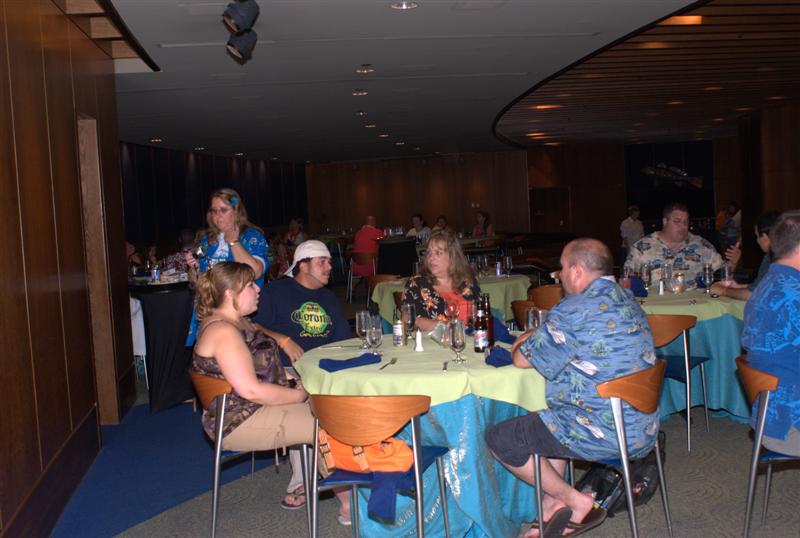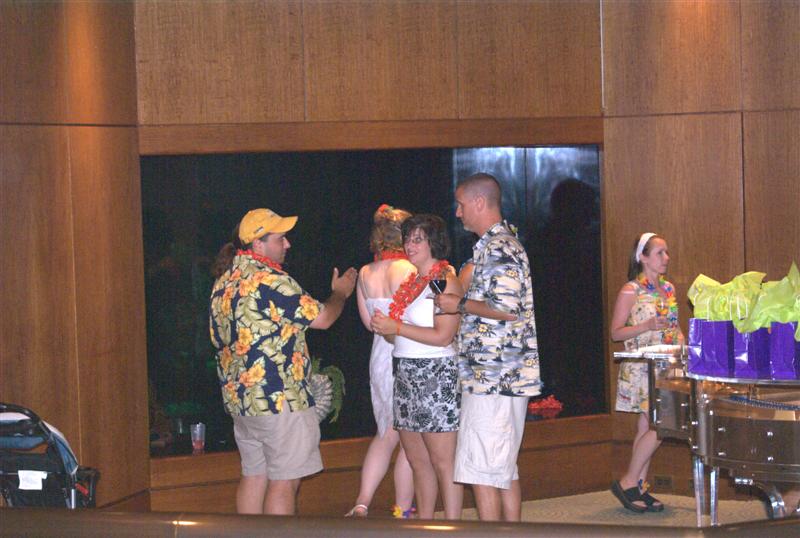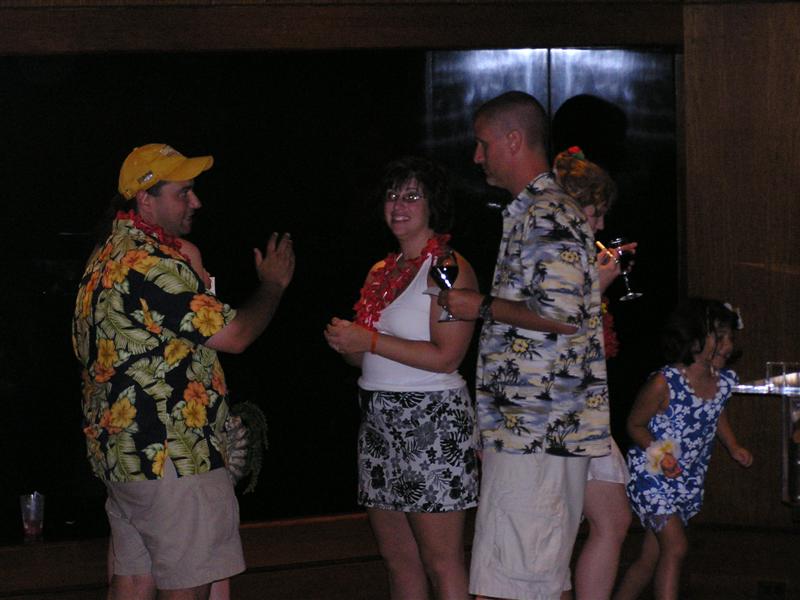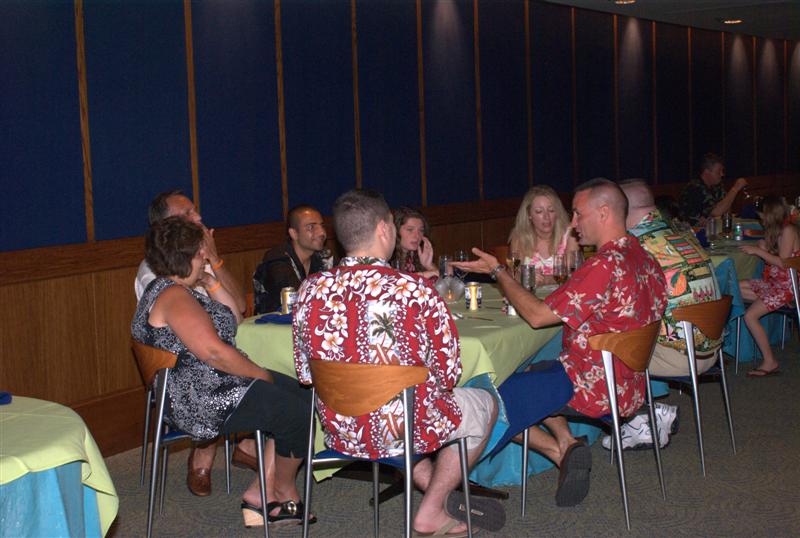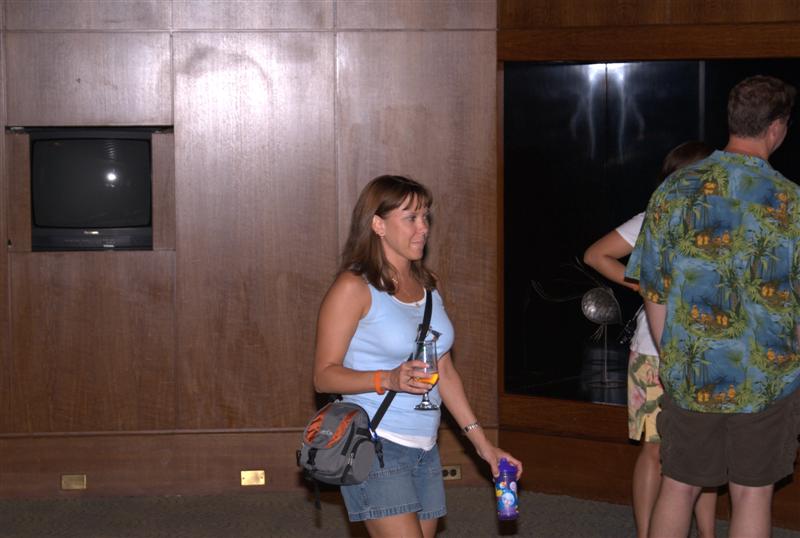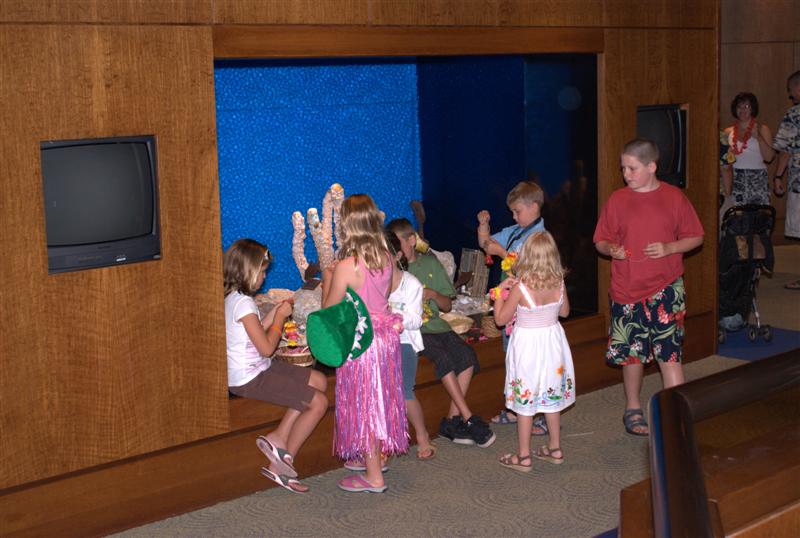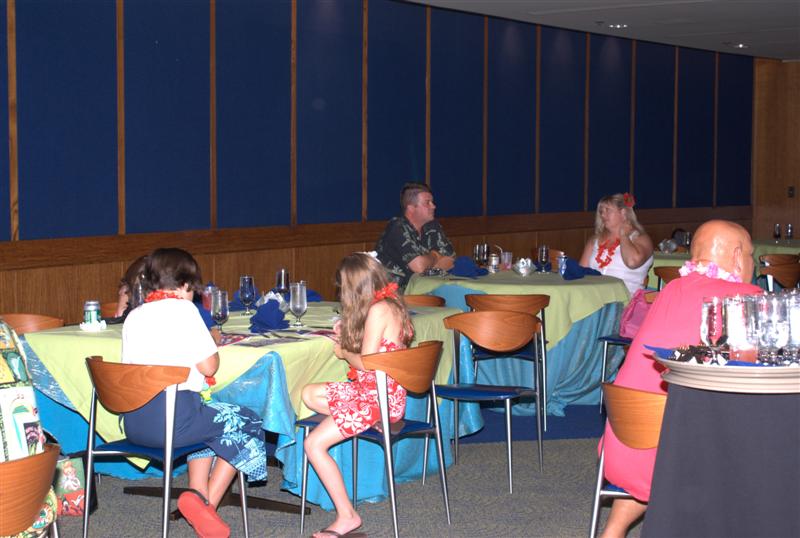 We had special surprise guests!!! Several of the CMs from the Polynesian joined us and entertained us. They were wonderful: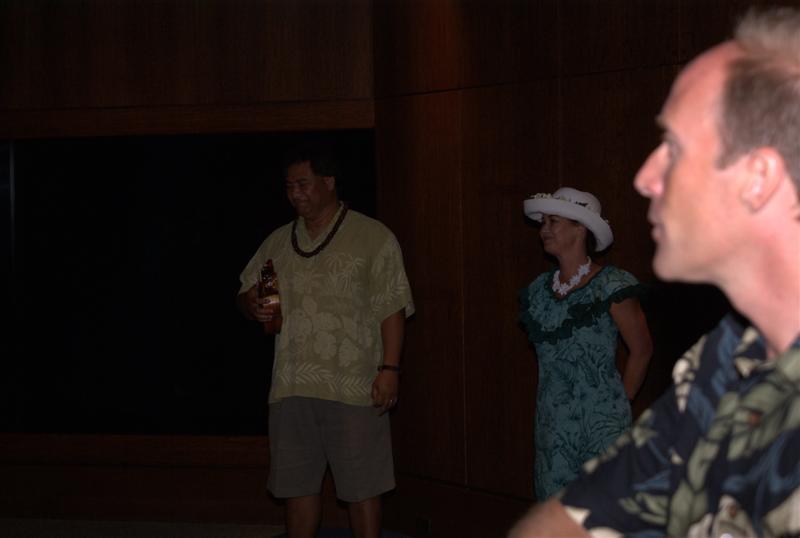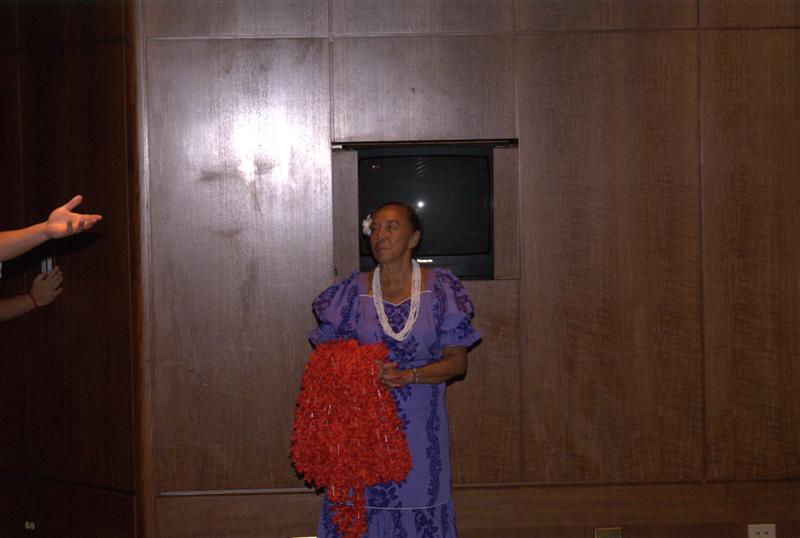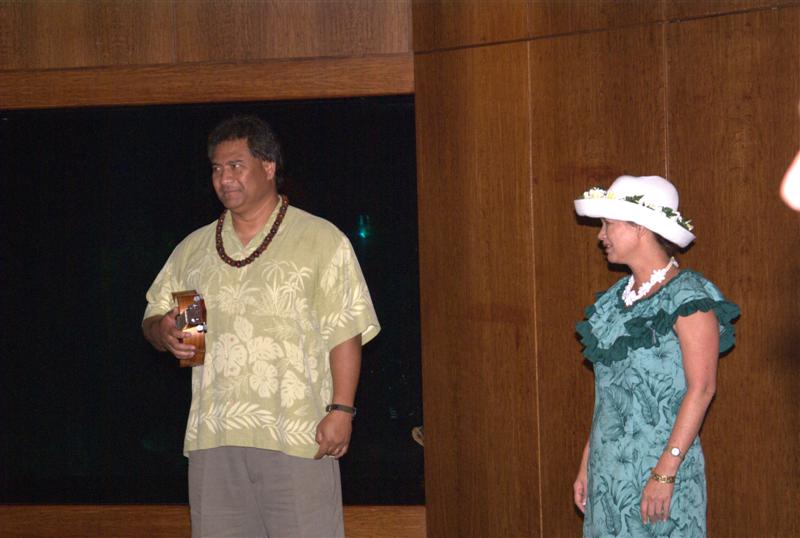 We were treated to a beautiful performance of traditional Hawaiian dance: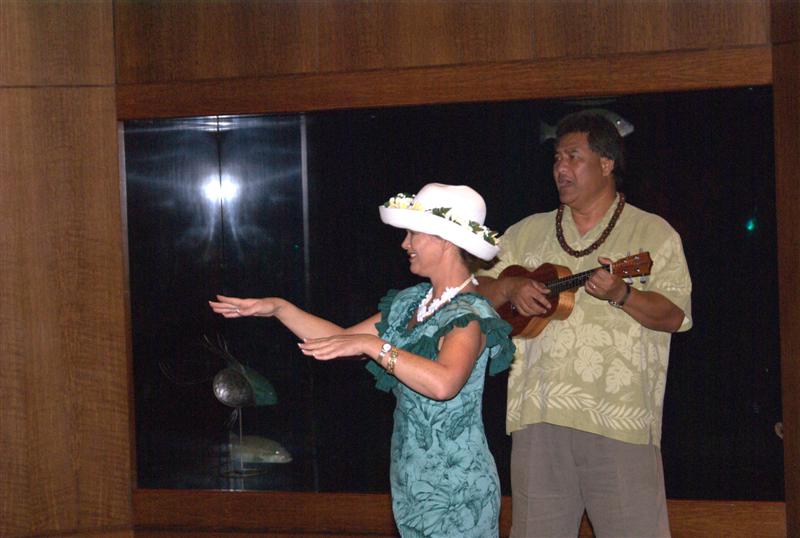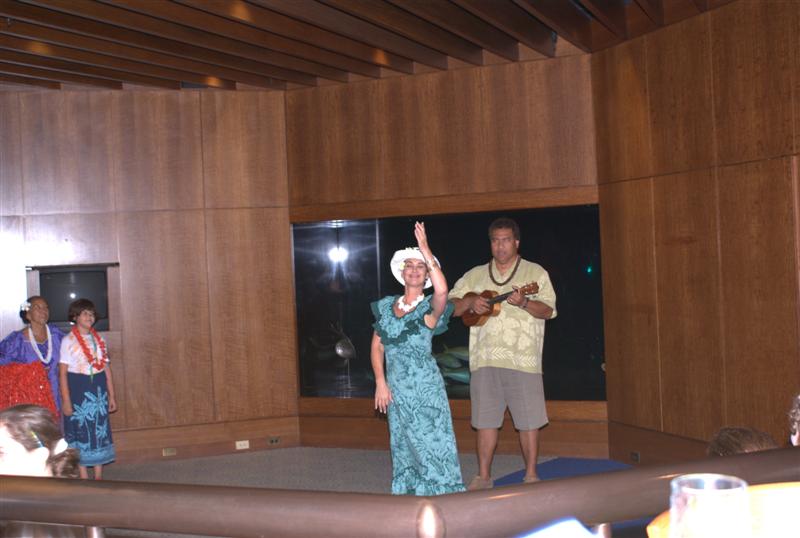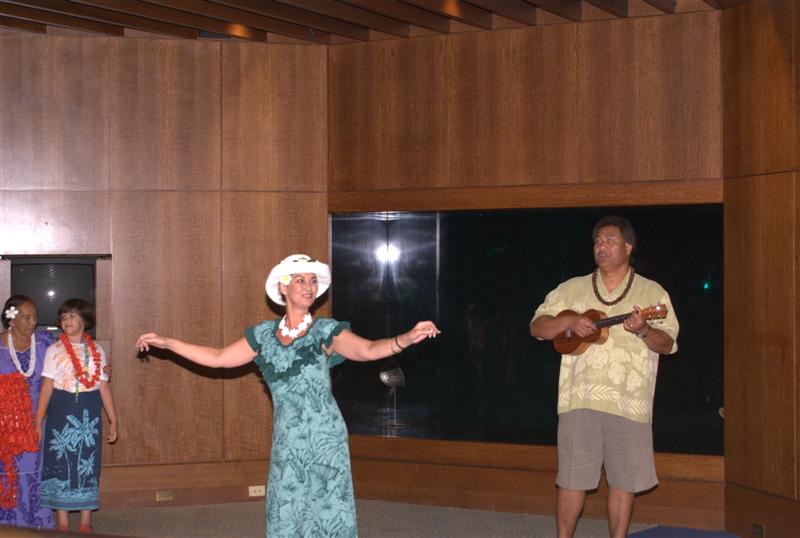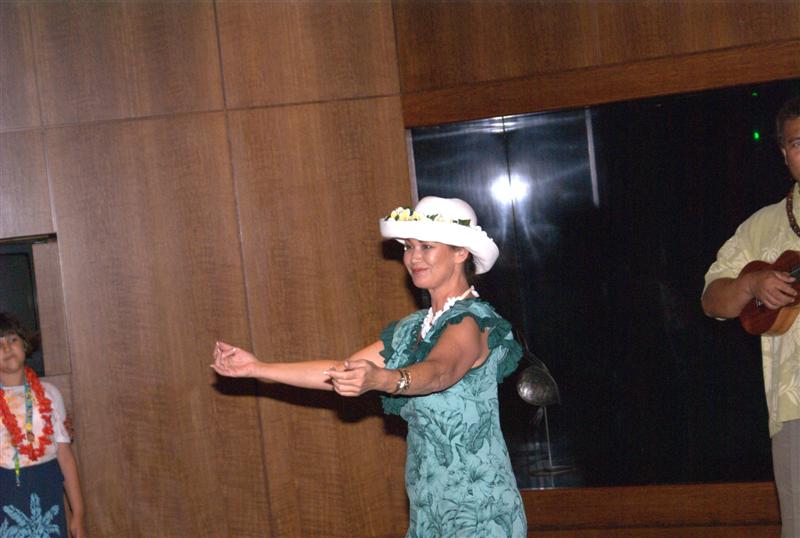 Then they invited the kids to come up in front and learn to dance too: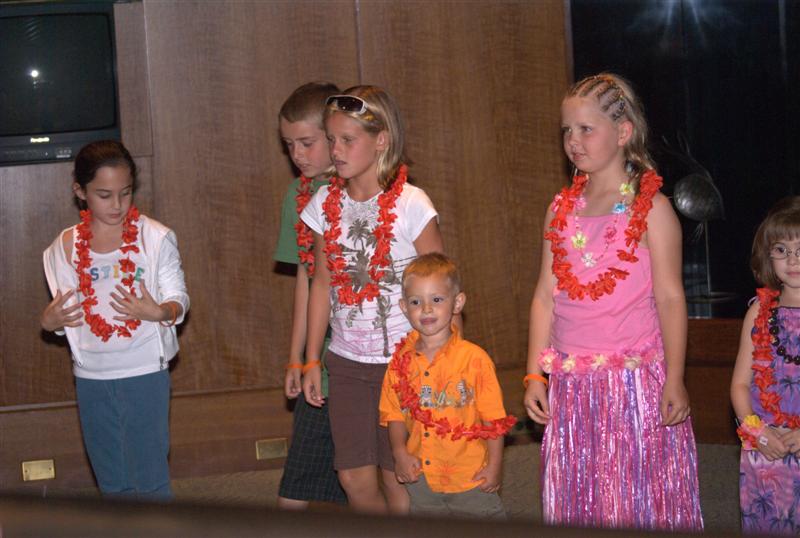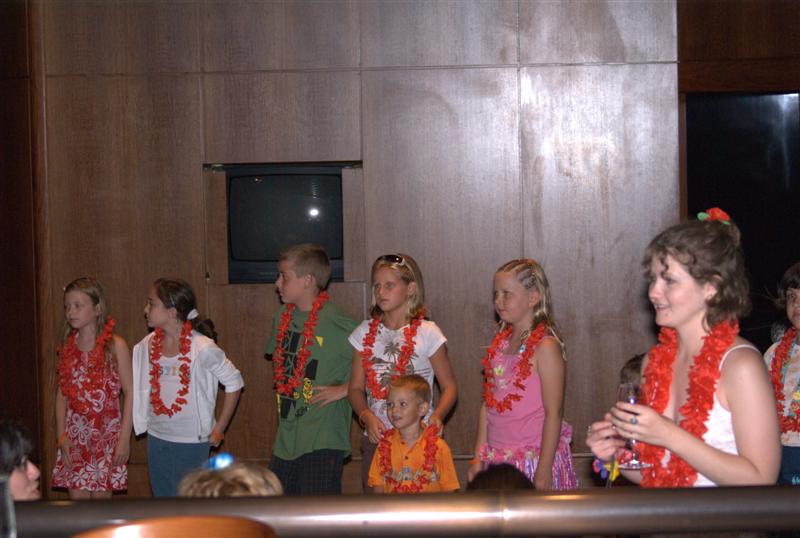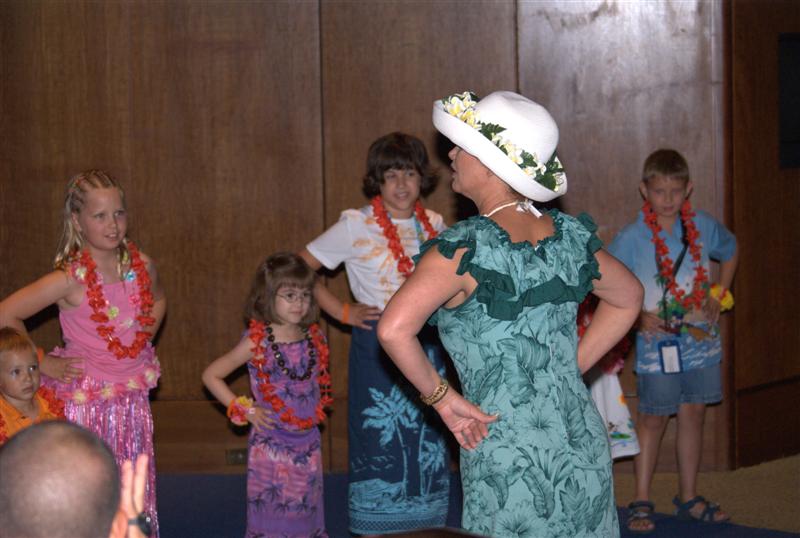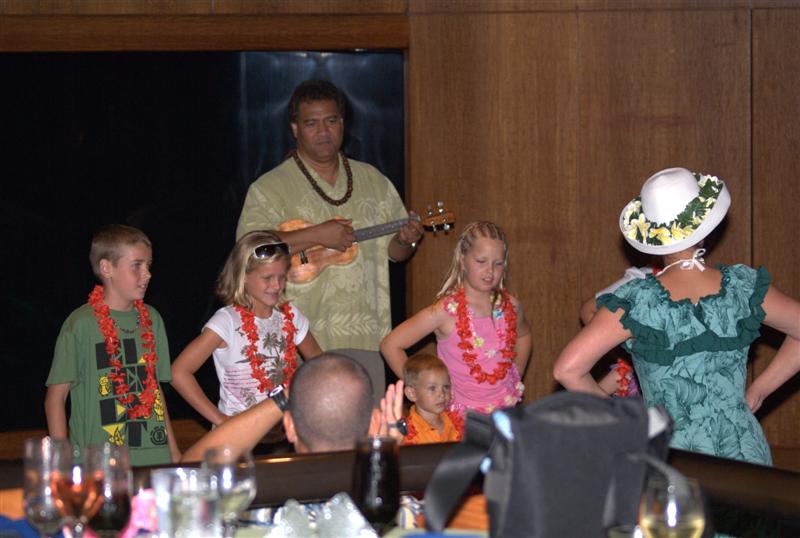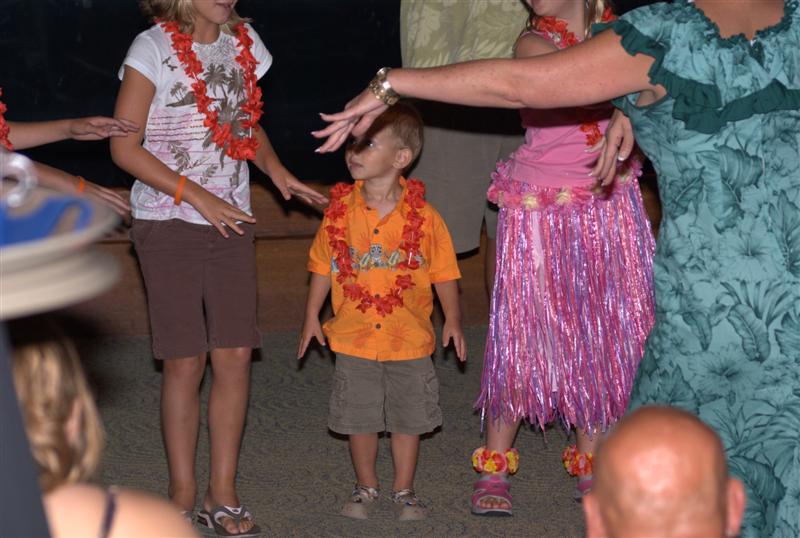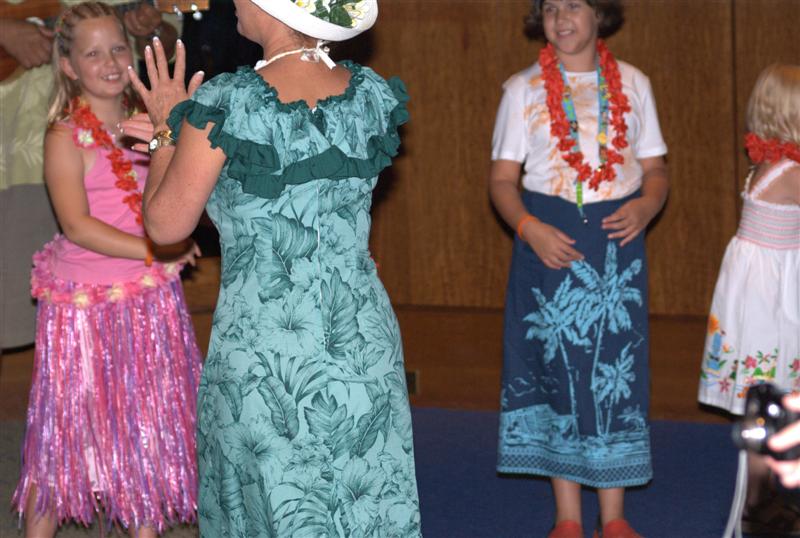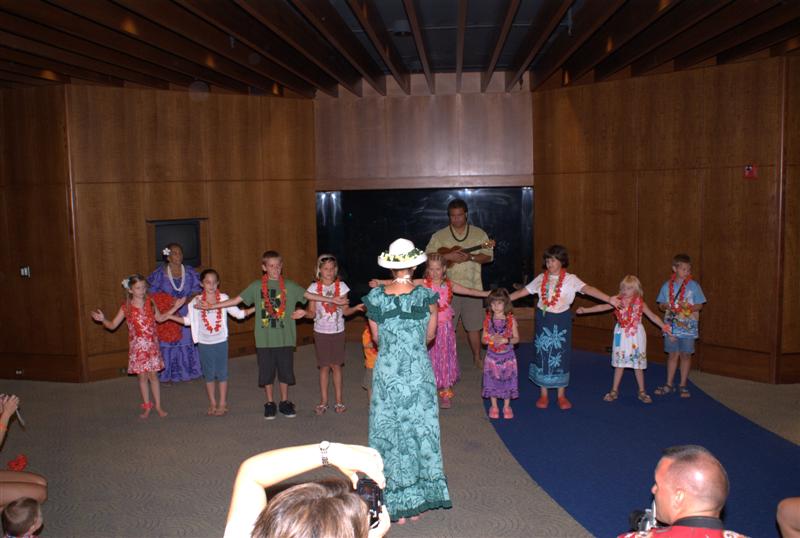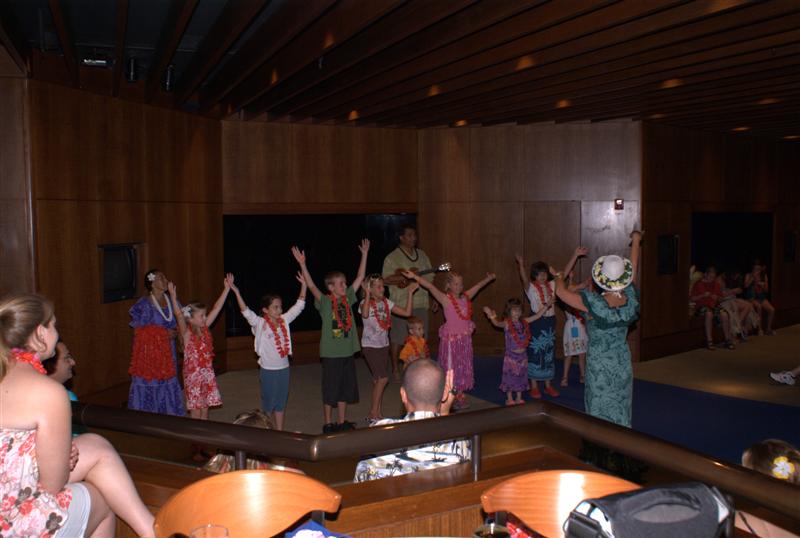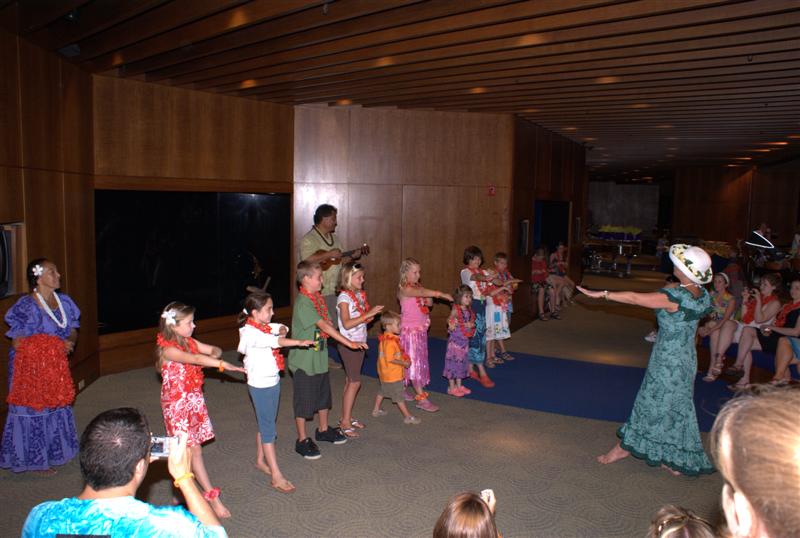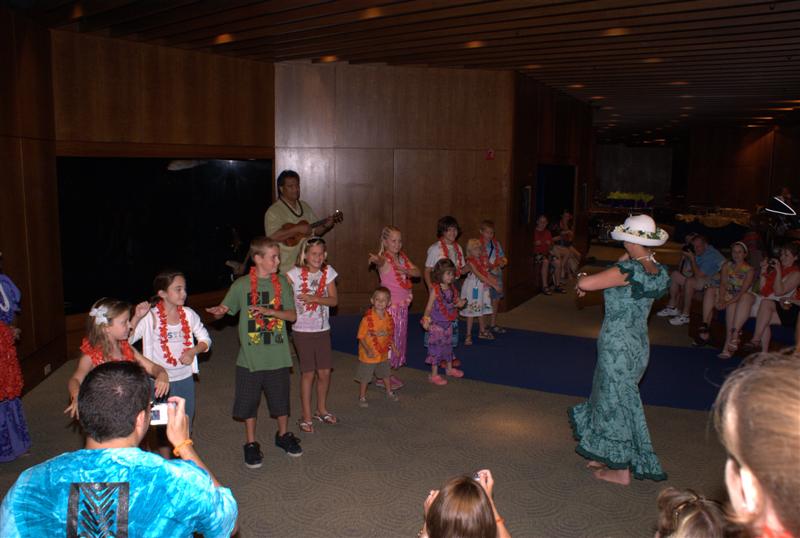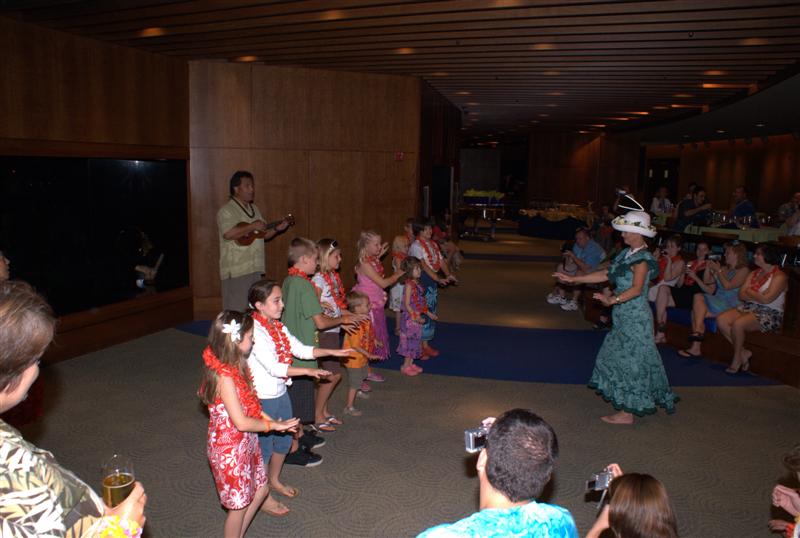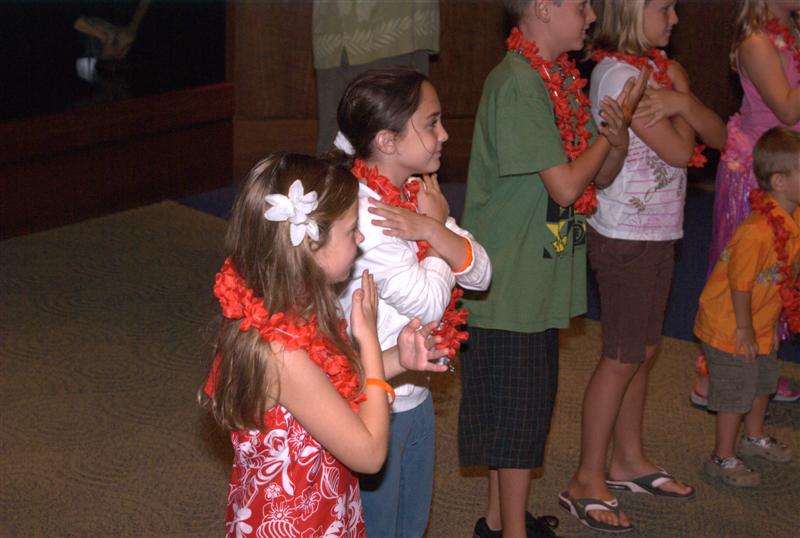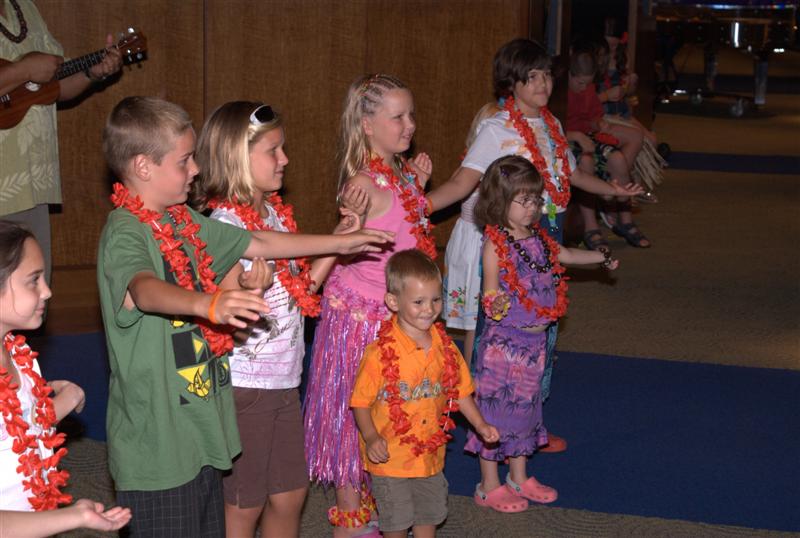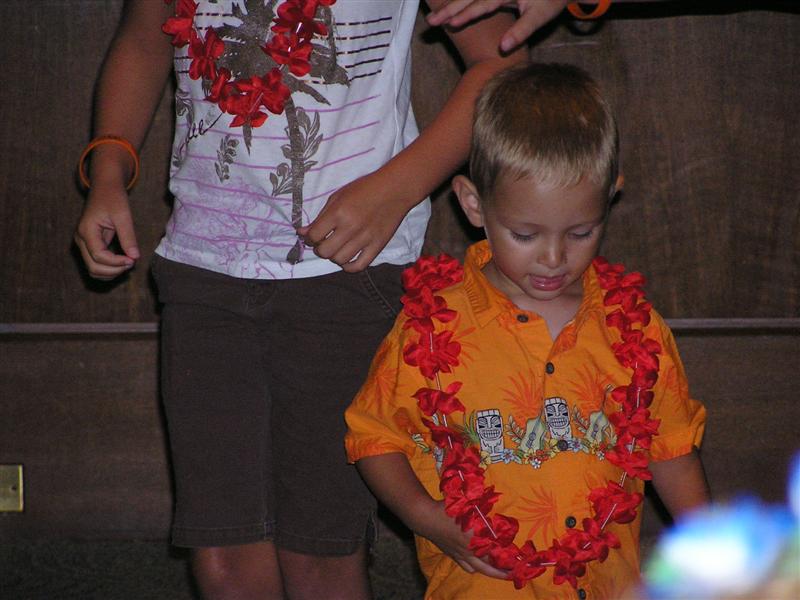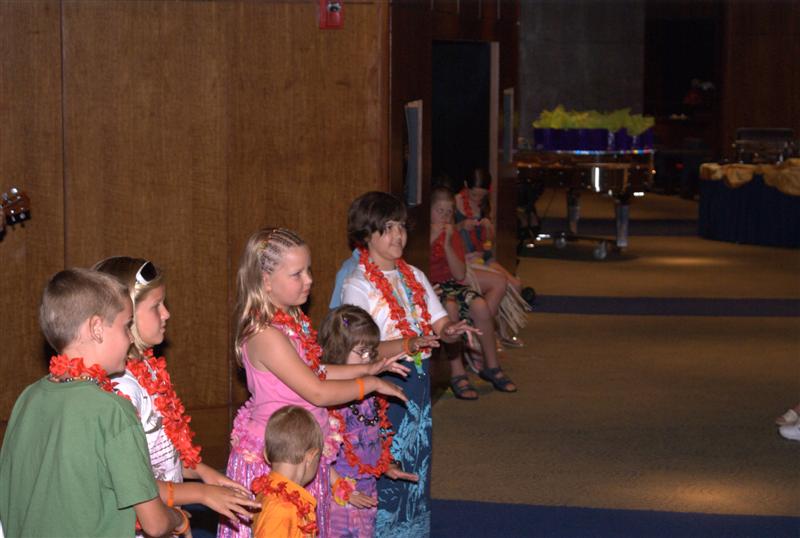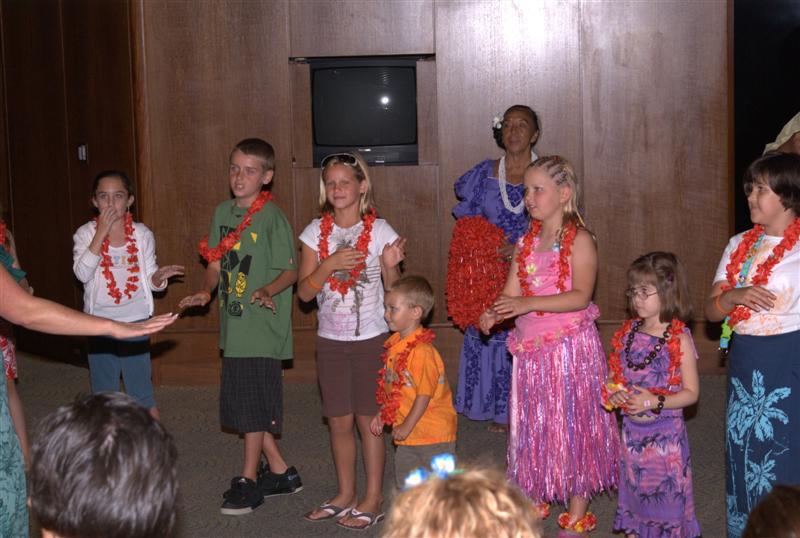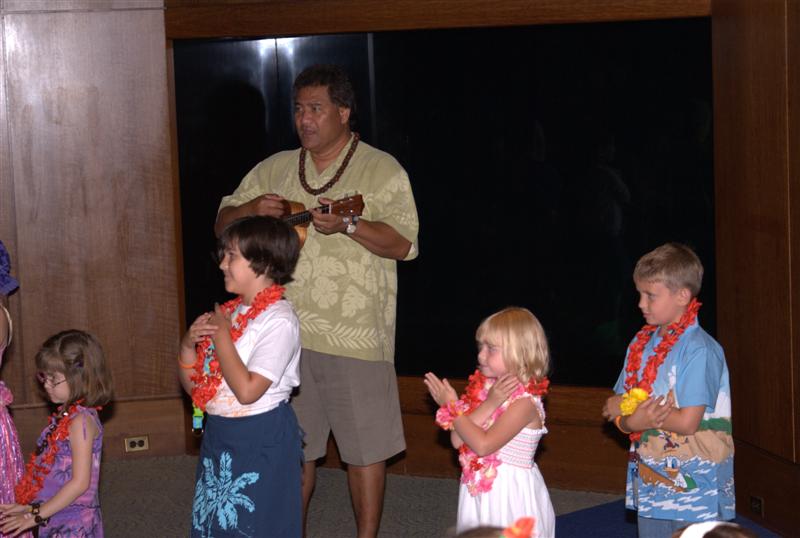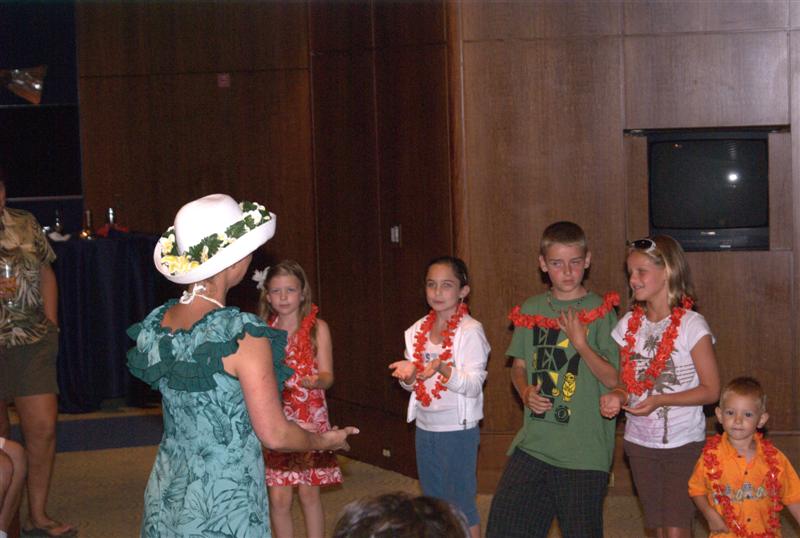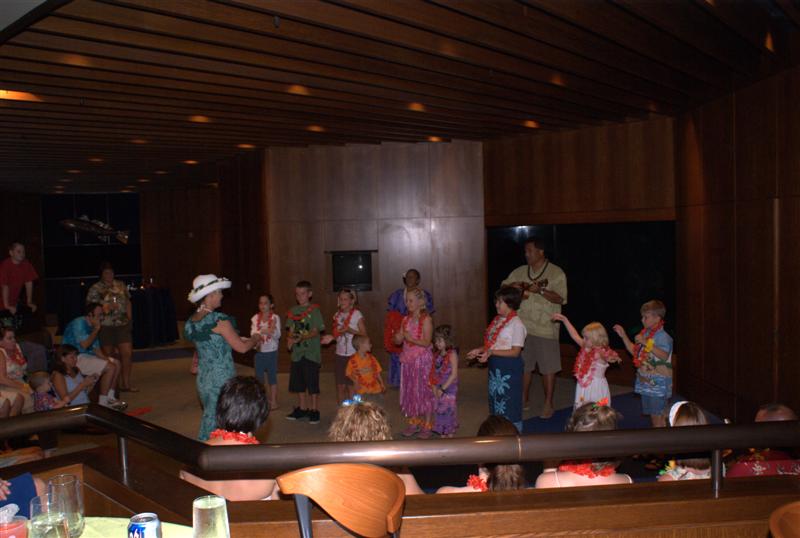 We all applauded the wonderful job that the kids did!!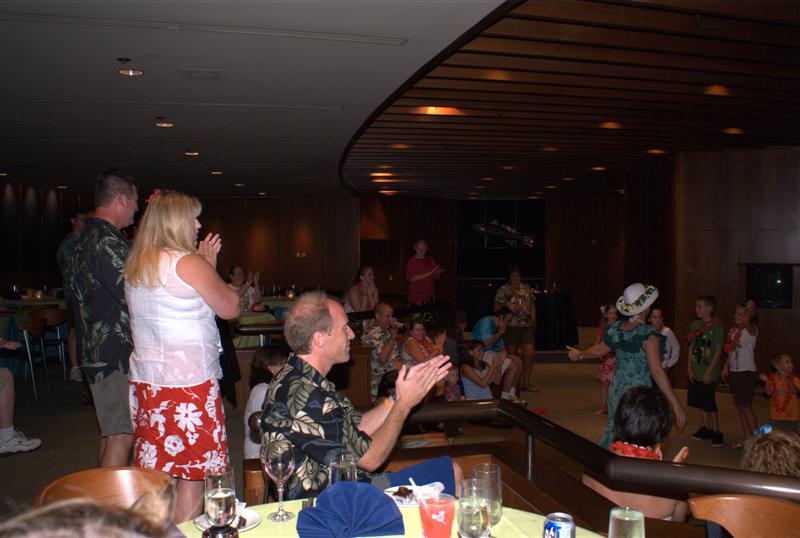 Then the kids were asked to bring their parents up for a lesson!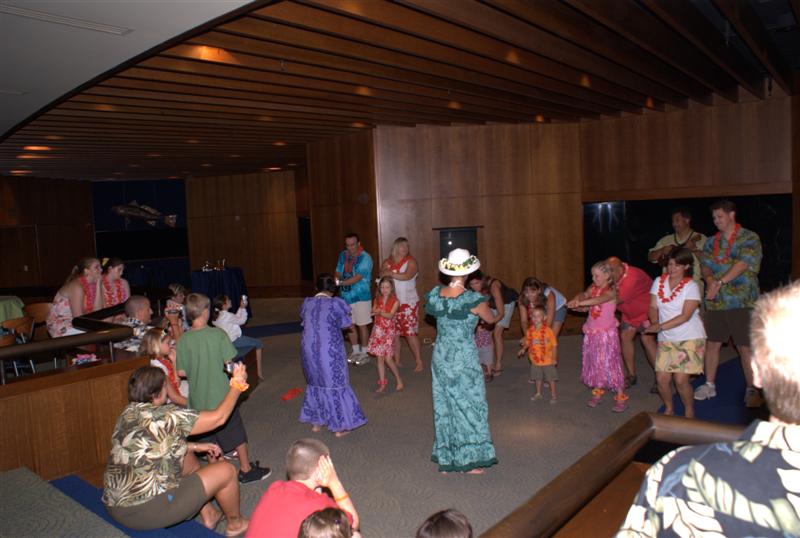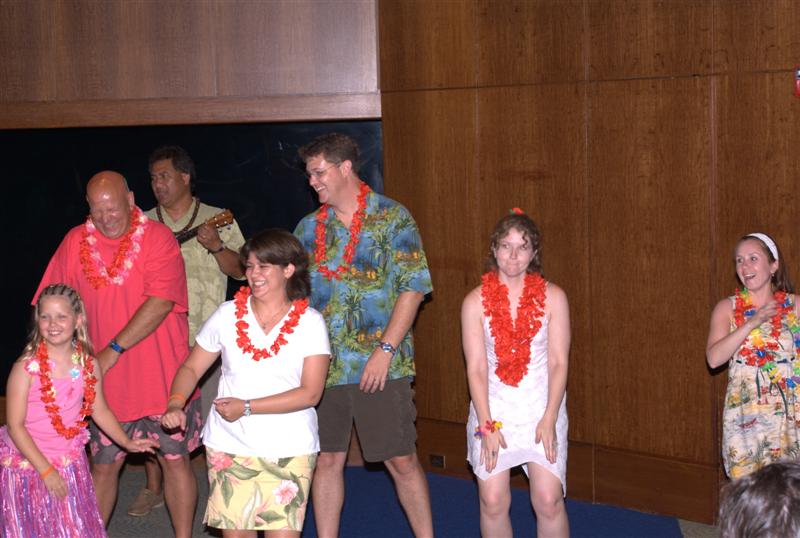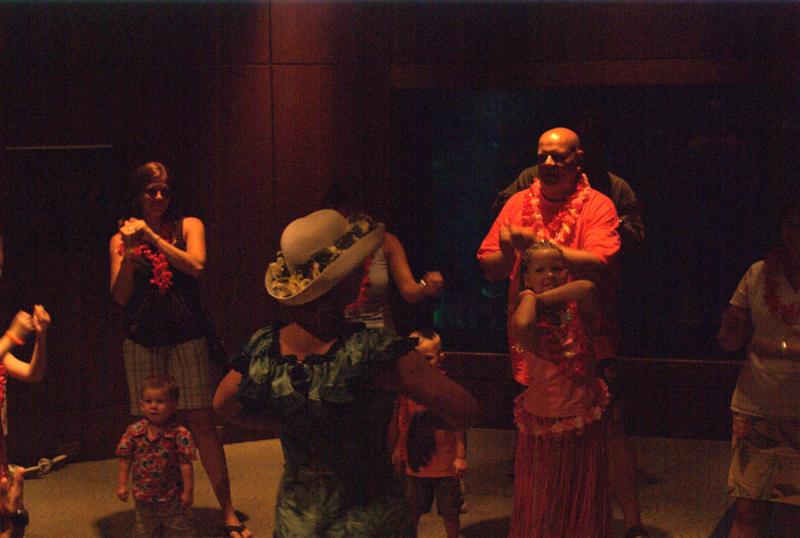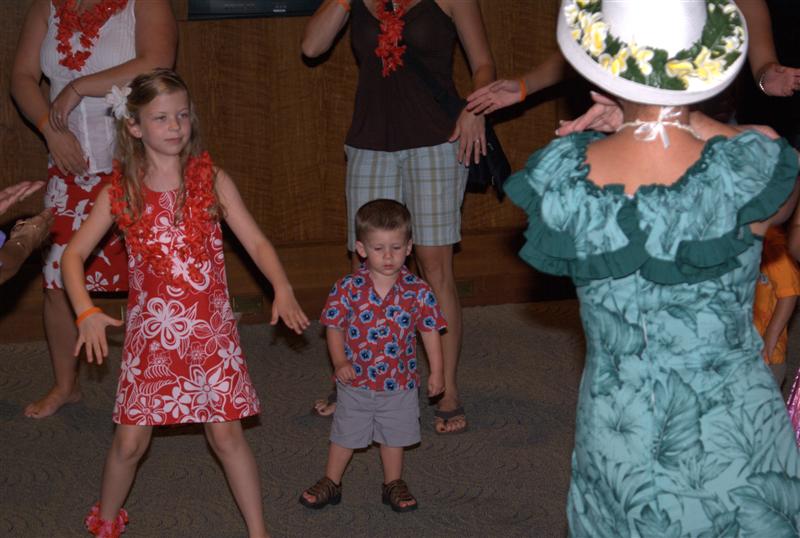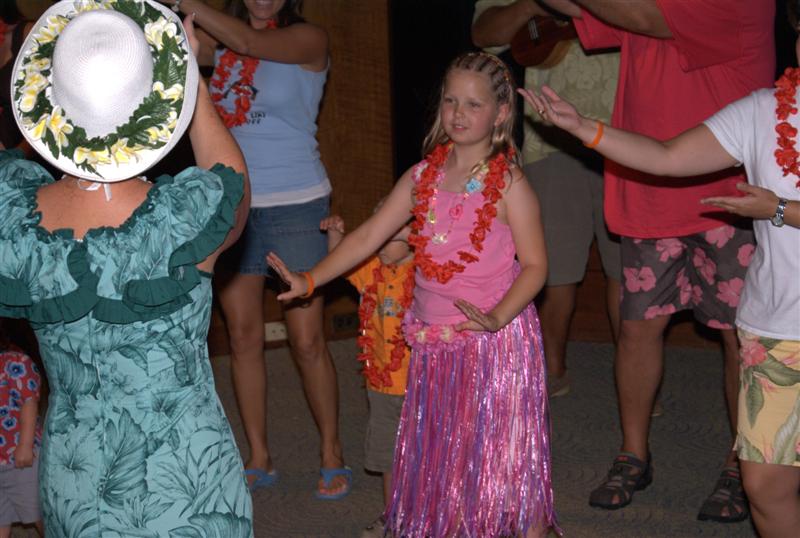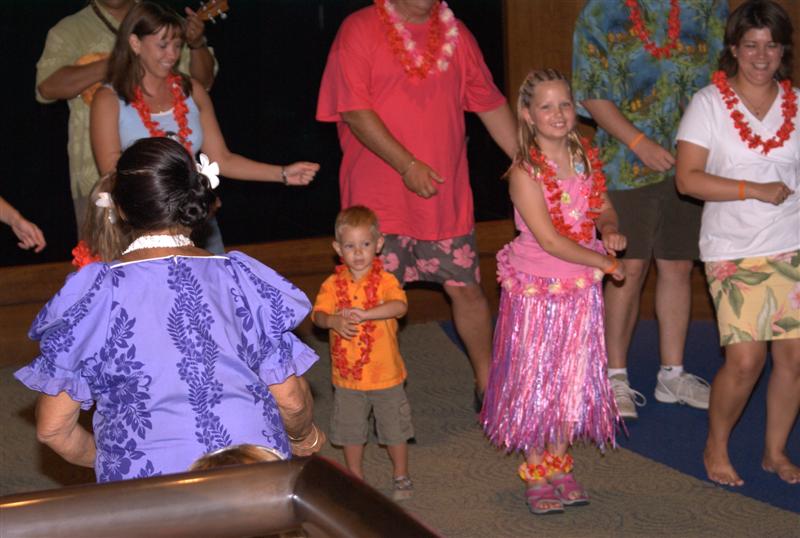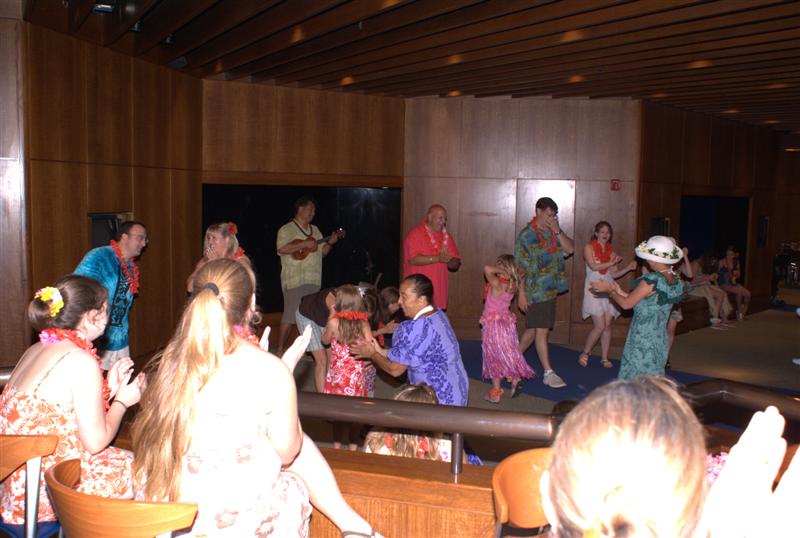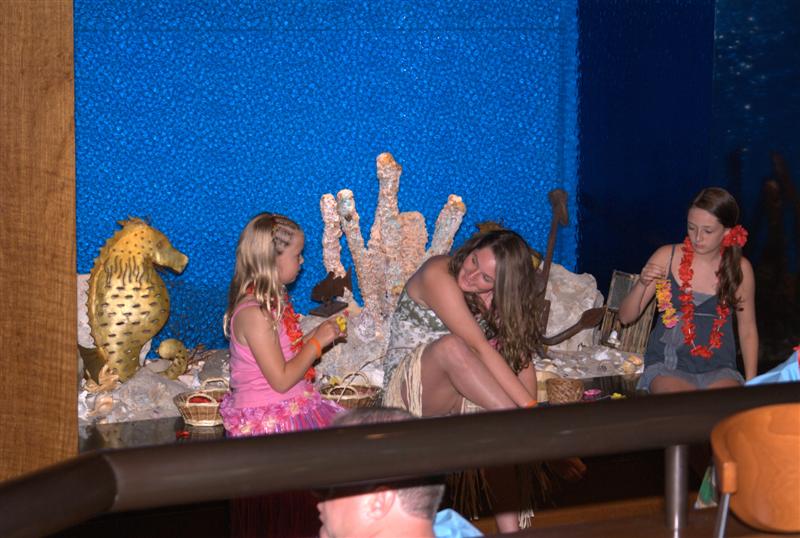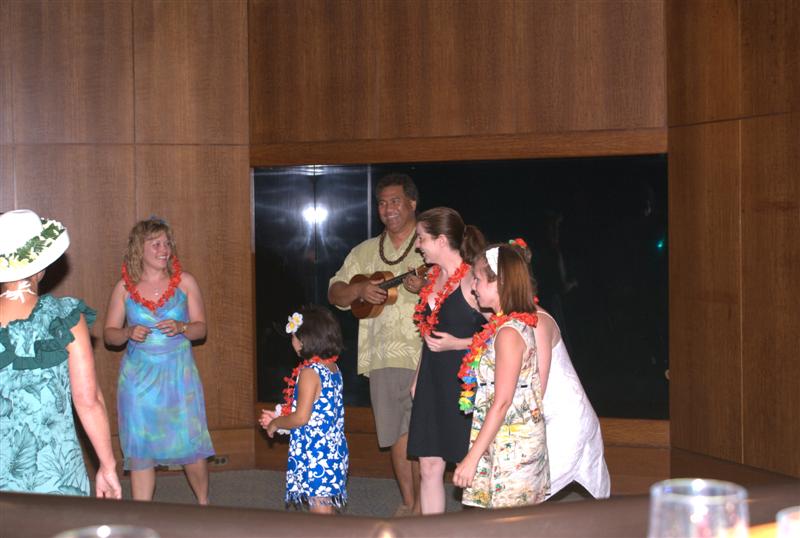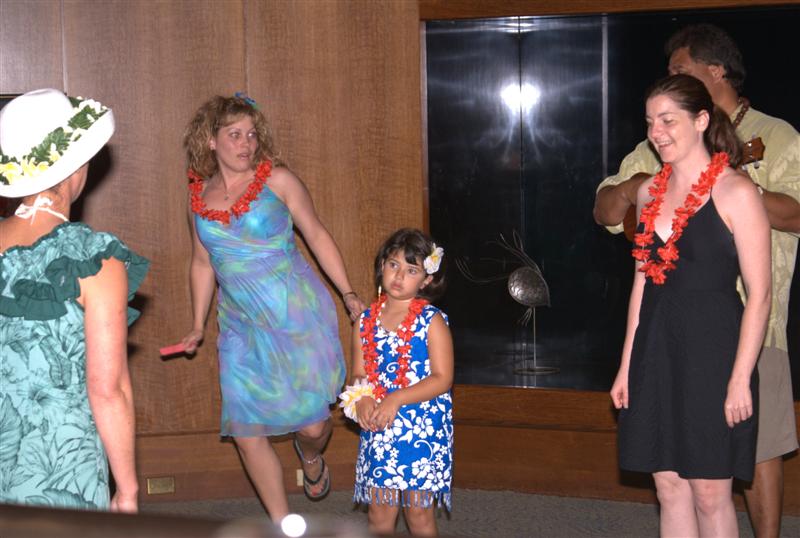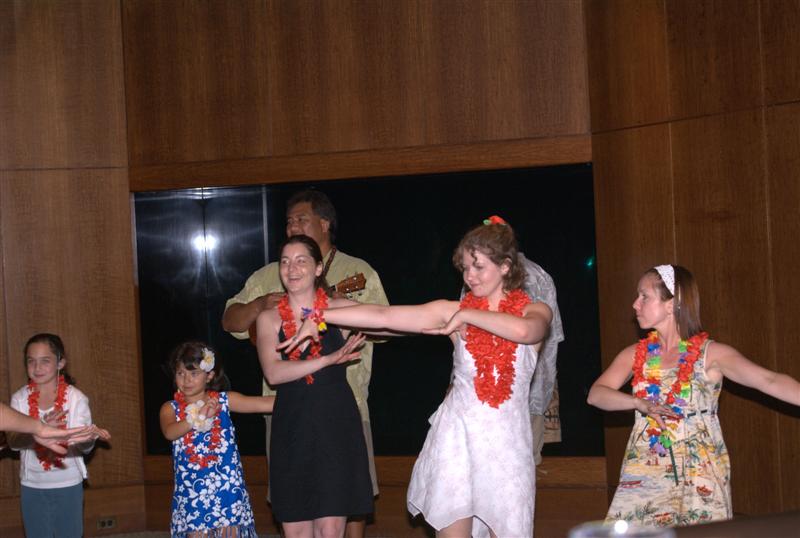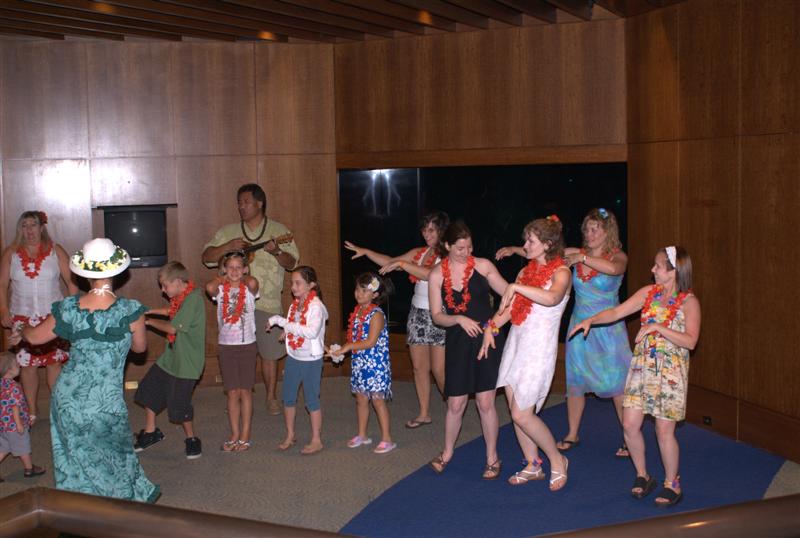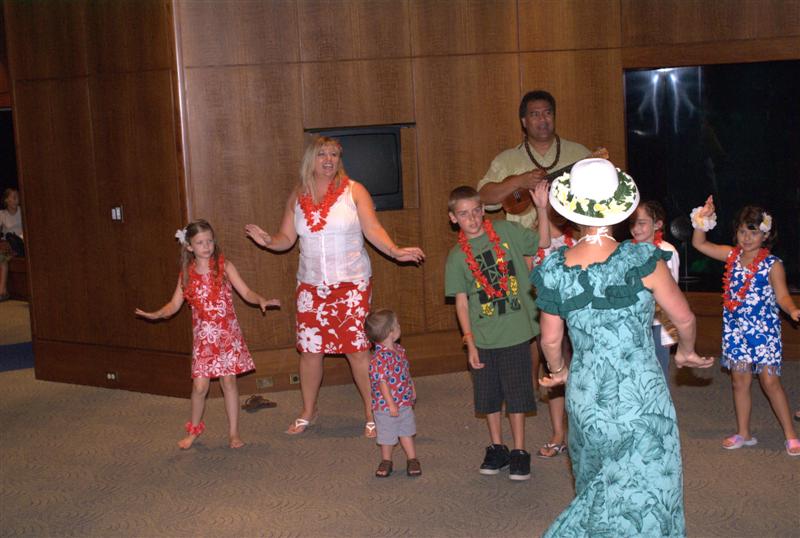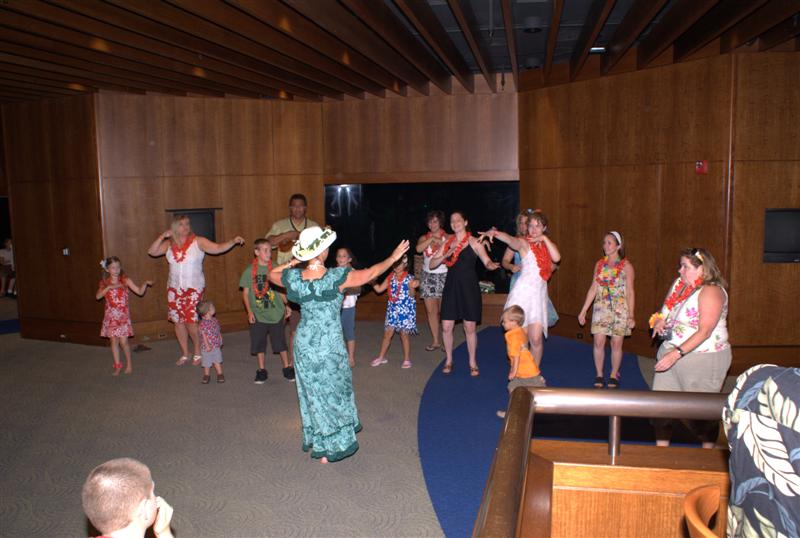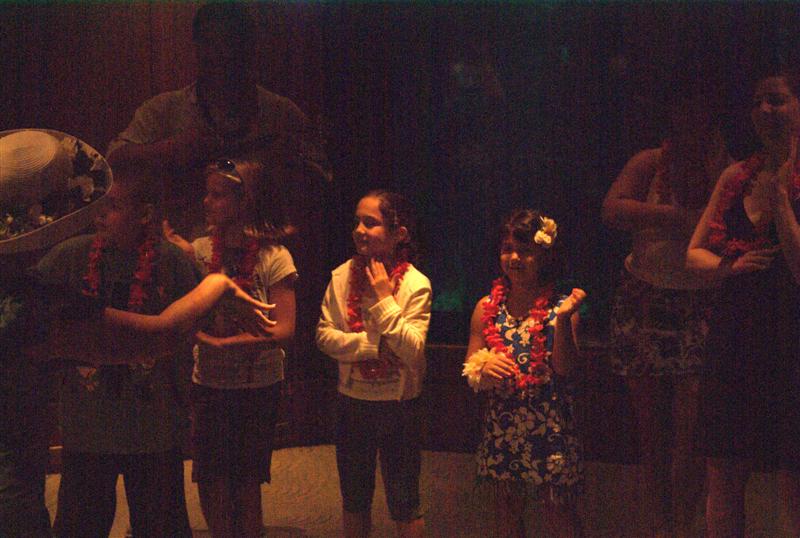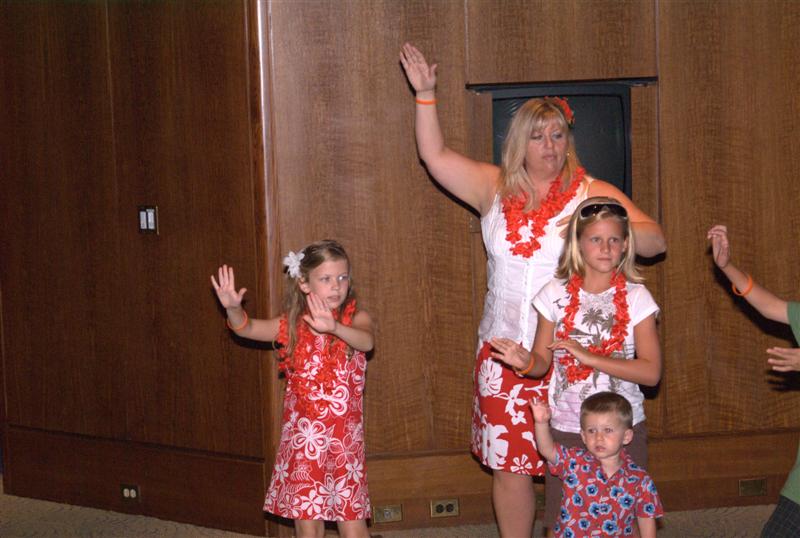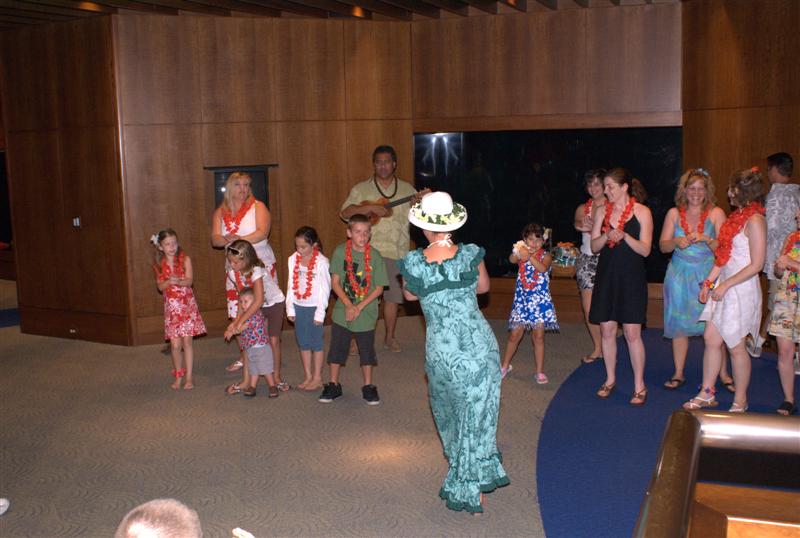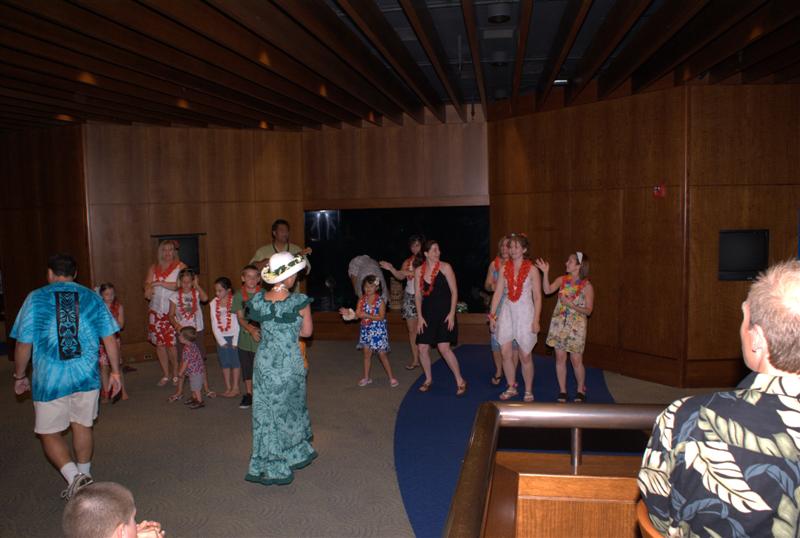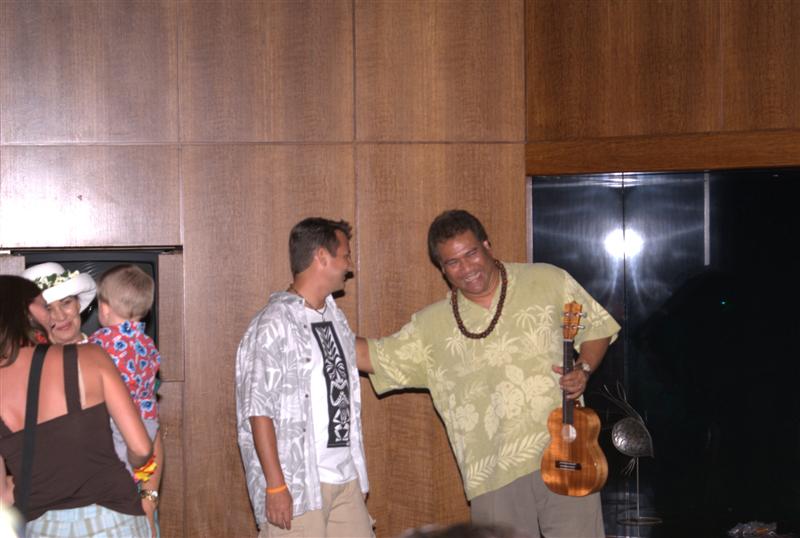 After the hula lessons, everyone posed for pictures: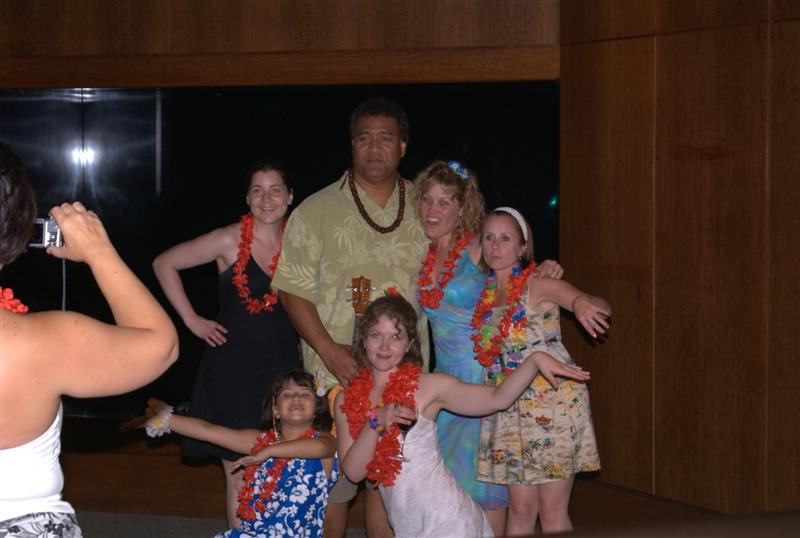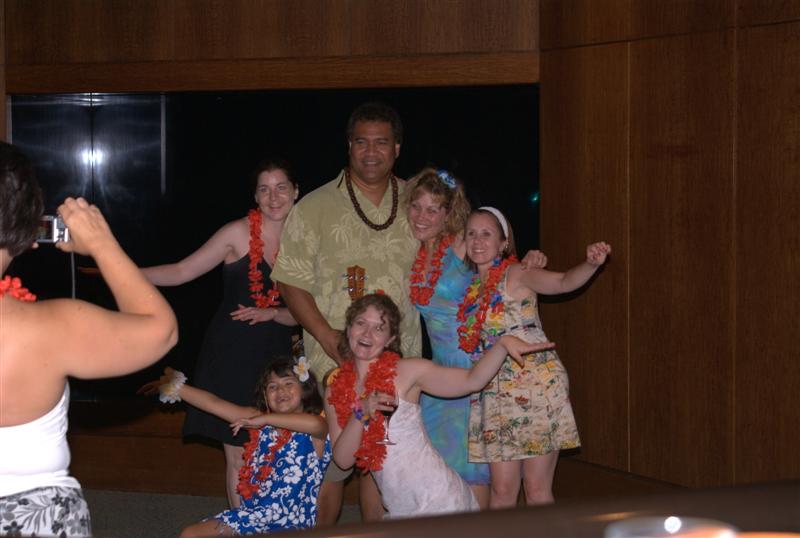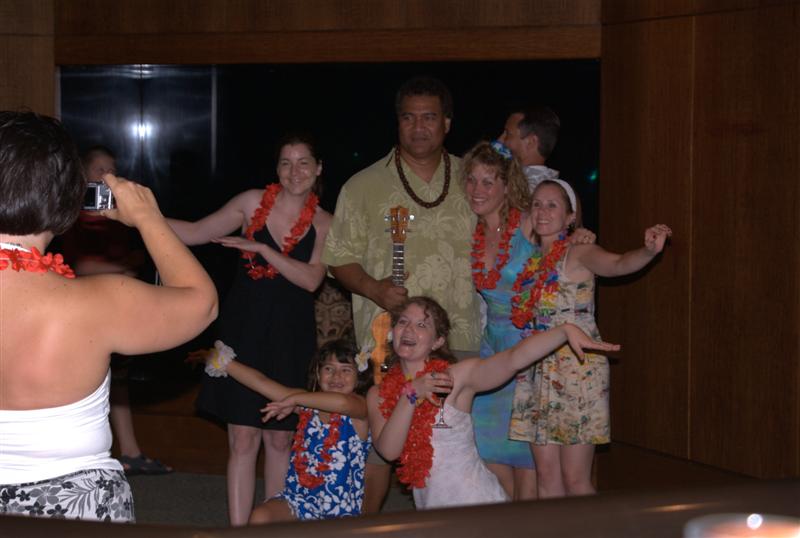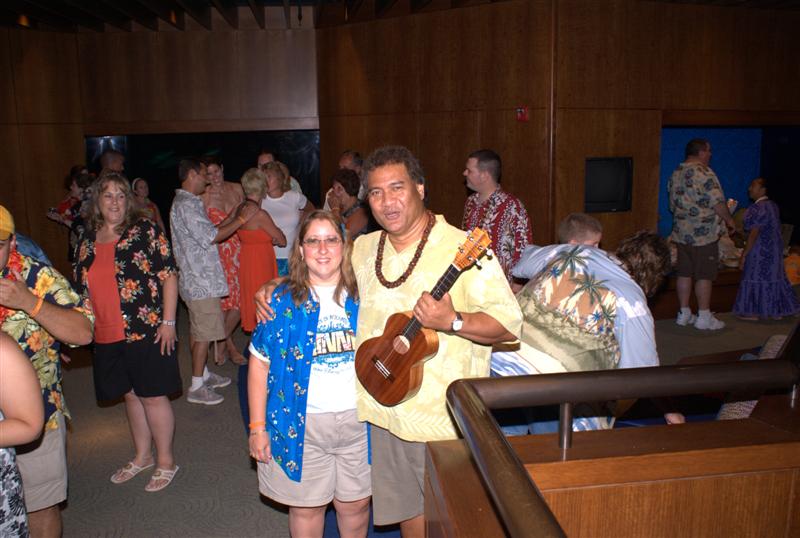 During dinner each person in attendance was given 1 raffle ticket. The tickets were put into a hat, and the numbers started being called. The prizes ranged from Tiki-pens, to Disney books, to Tiki t-shirts (I was hoping to win one of these!!), to Park Hopper tickets....all the way up to the GRAND PRIZE which was an Authentic Tiki Drummer created by Disney Imagineering, and was made from the same mold as the Tiki Drummers that are in the Tiki Room attraction at Disneyland and Disney World. (This, I didn't even dream of winning! LOL)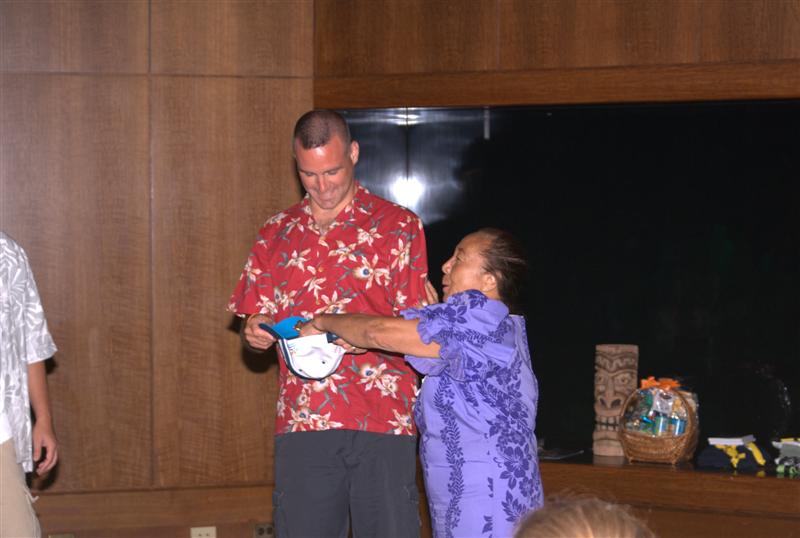 Wait! A few more tickets had to be put into the hat!!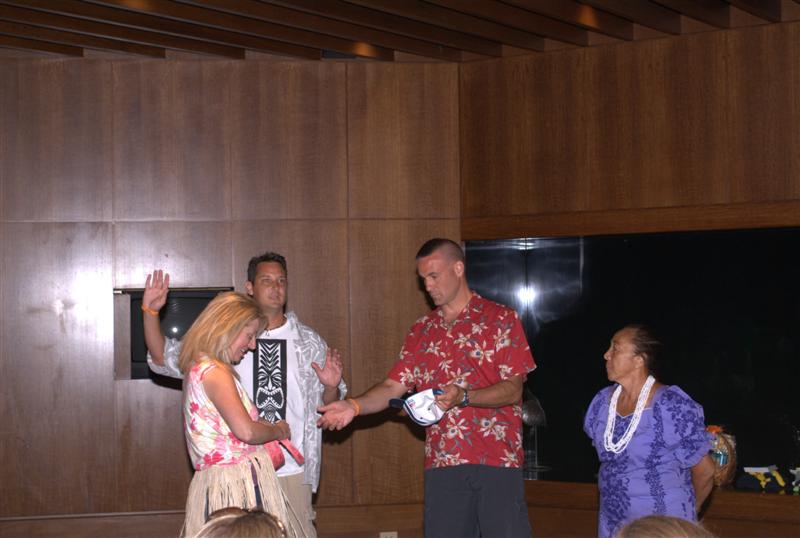 "And the first winner of a tiki pen is......!"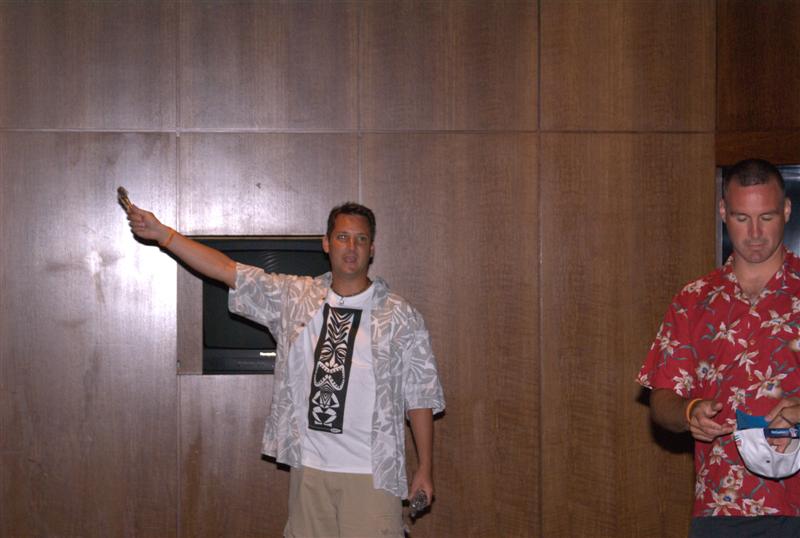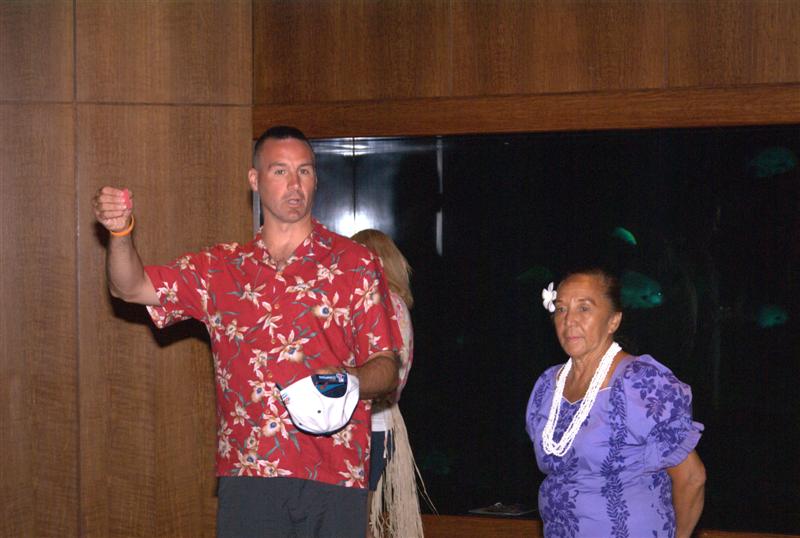 Eddie is a winner! I think he won a tiki pen!!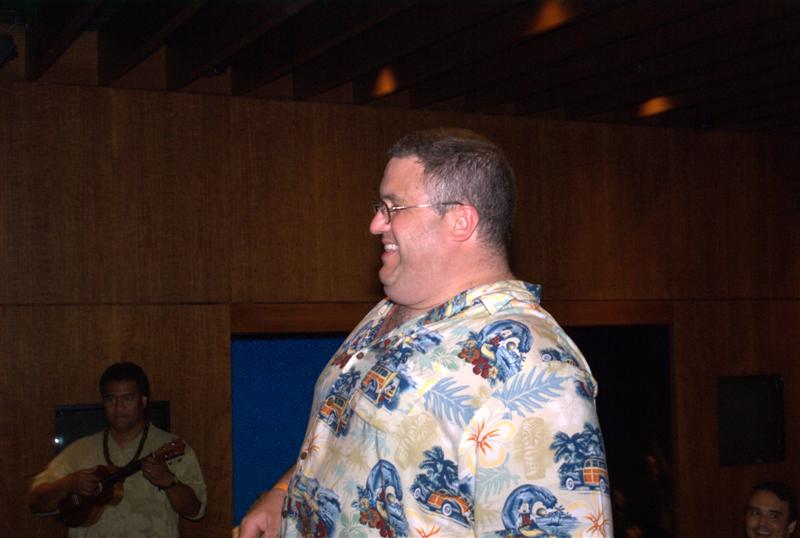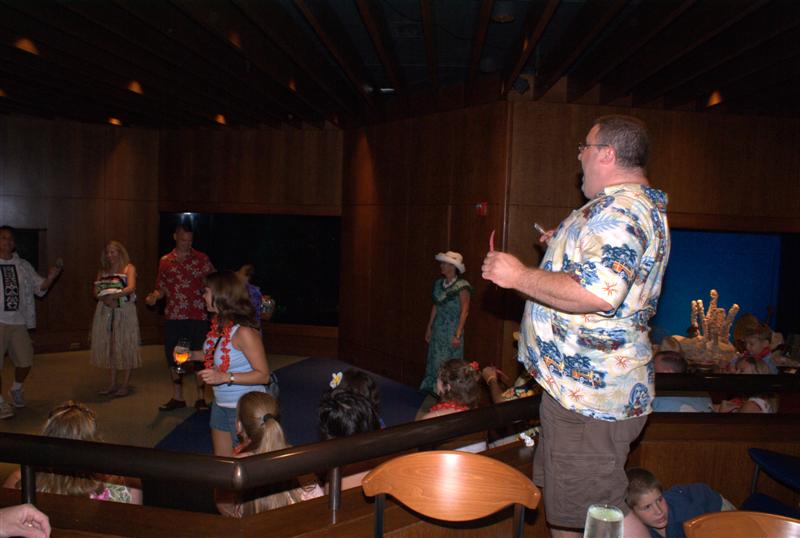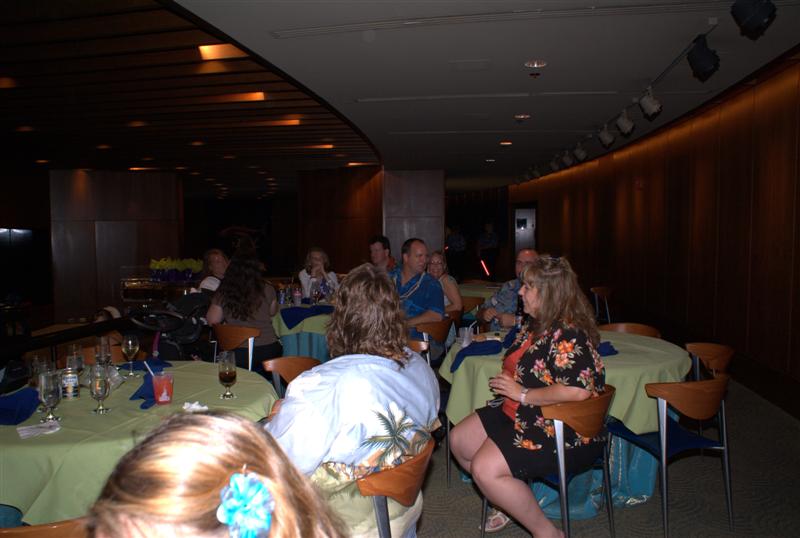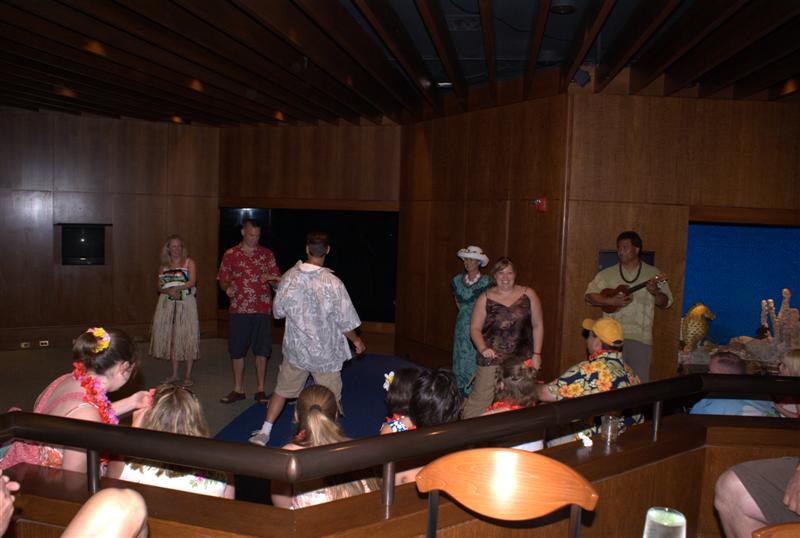 Tara did an EXCELLENT job of delivering the prizes to the winners, as they were being called...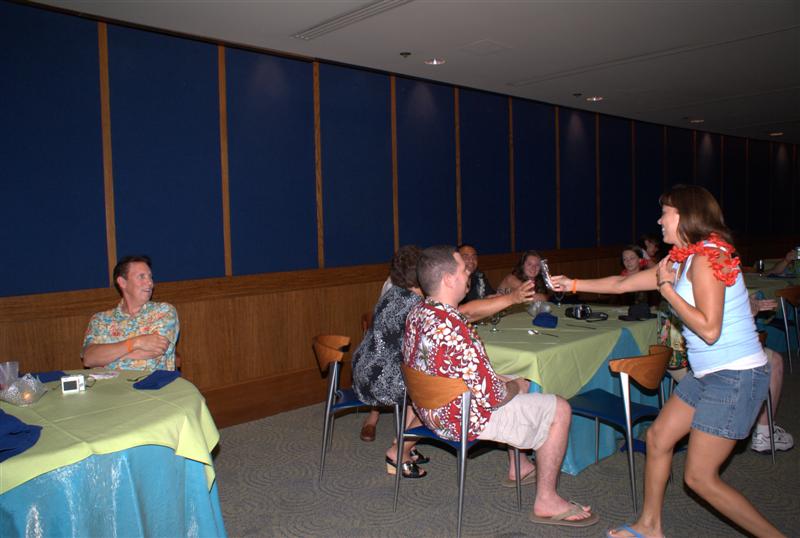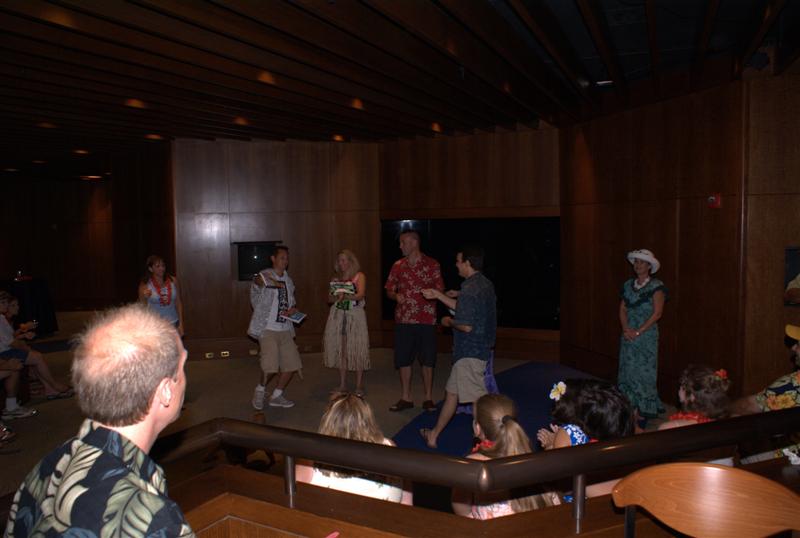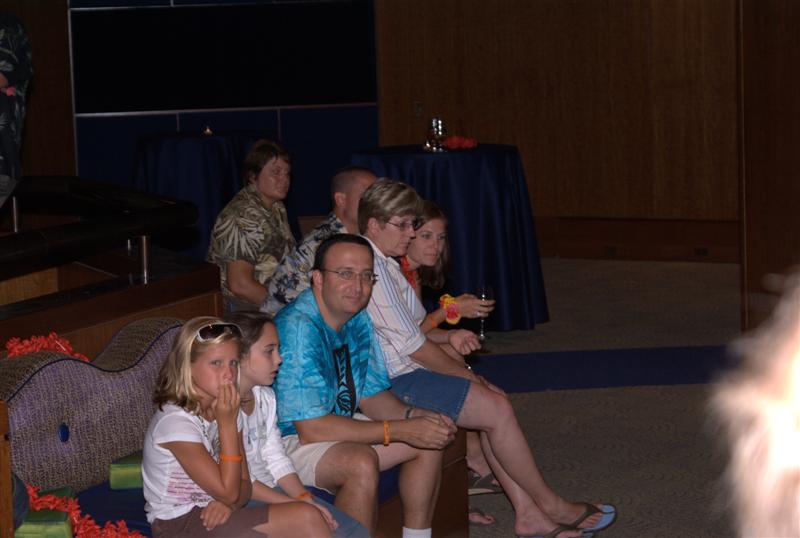 Ann won something! A lanyard I think!!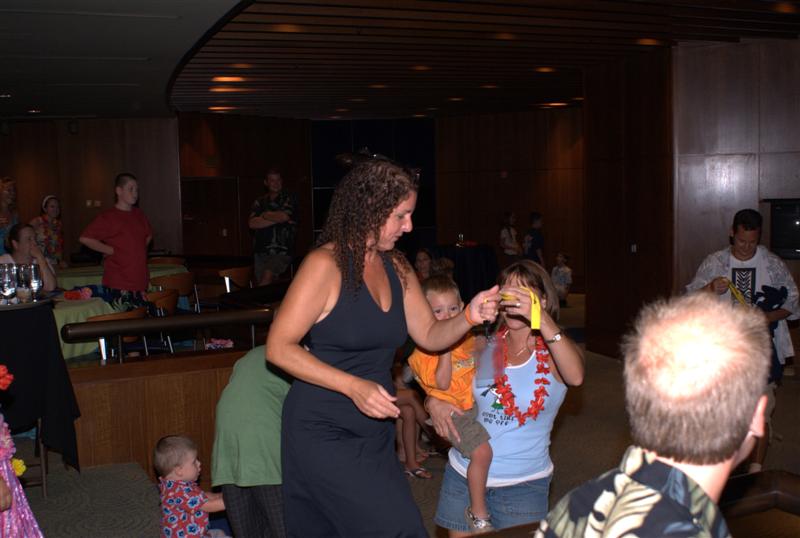 Next, the tiki t-shirts were being raffled off! (I hope I win one of those!!!)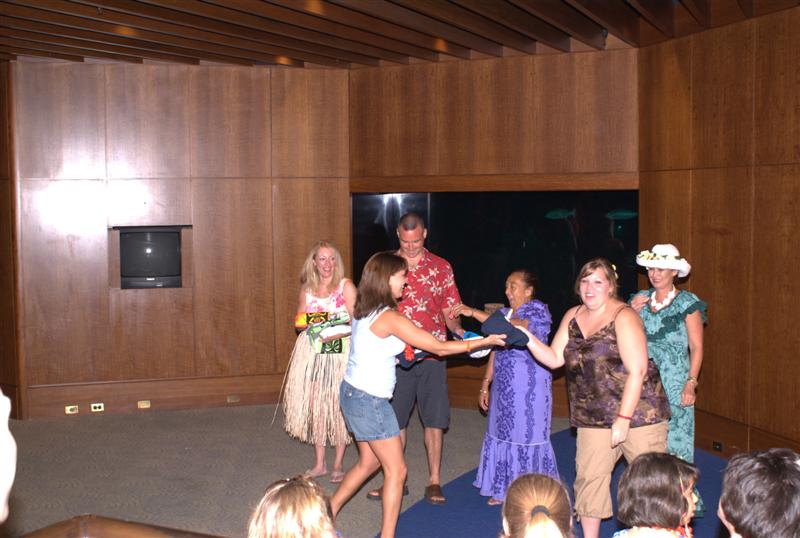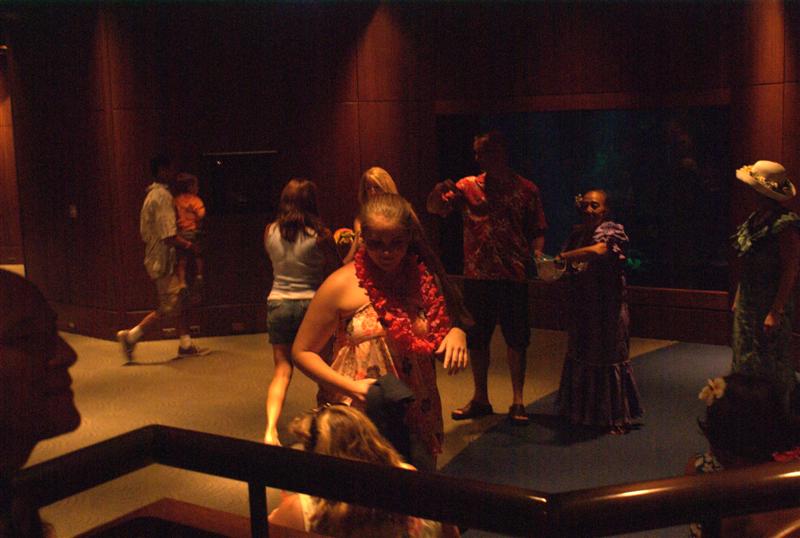 YES! YES! YES! I won an orange and yellow tie-dyed tiki t-shirt!!! WOO HOO!!!!! I'm staring at my winning ticket in disbelief! LOL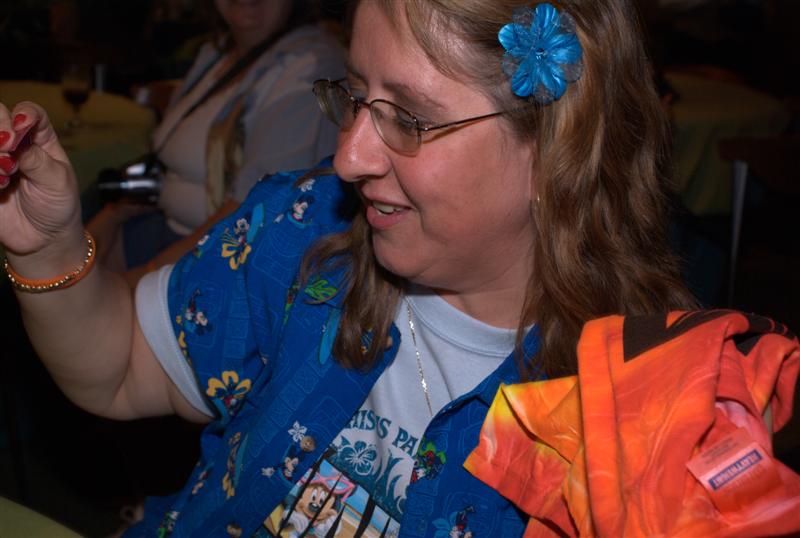 And there goes ANOTHER winner of a tiki t-shirt!! And another! The tiki shirts were flying!!!!!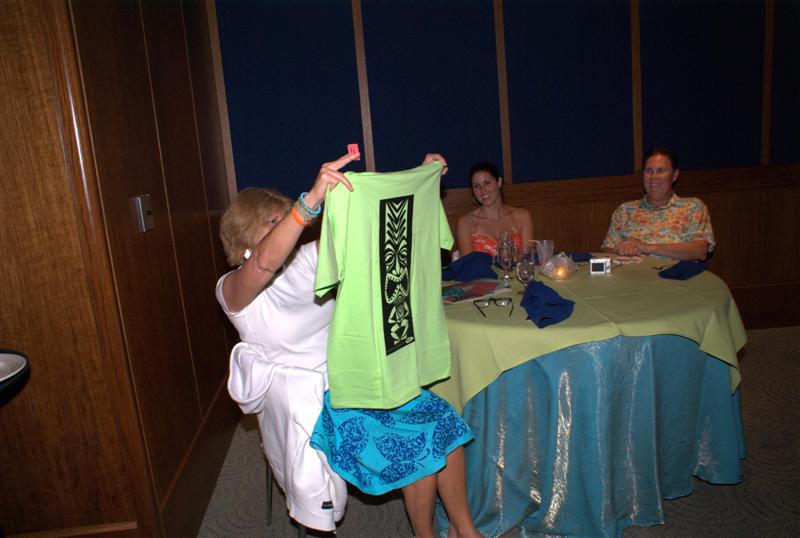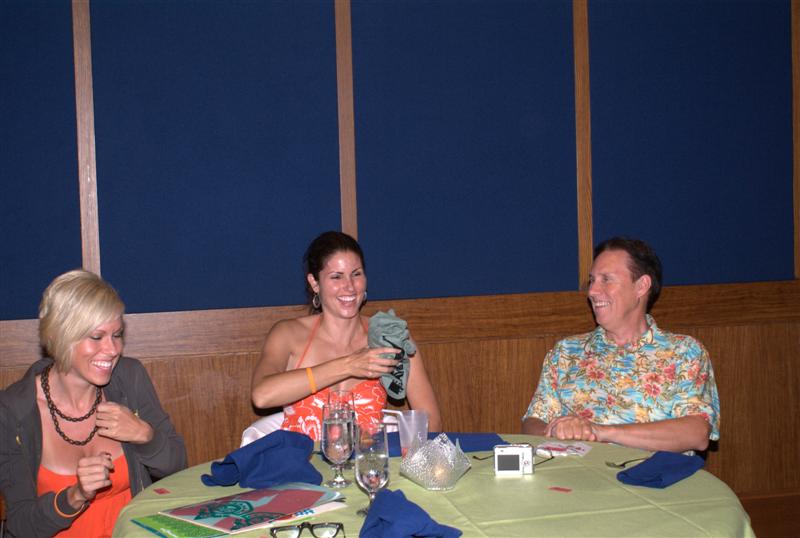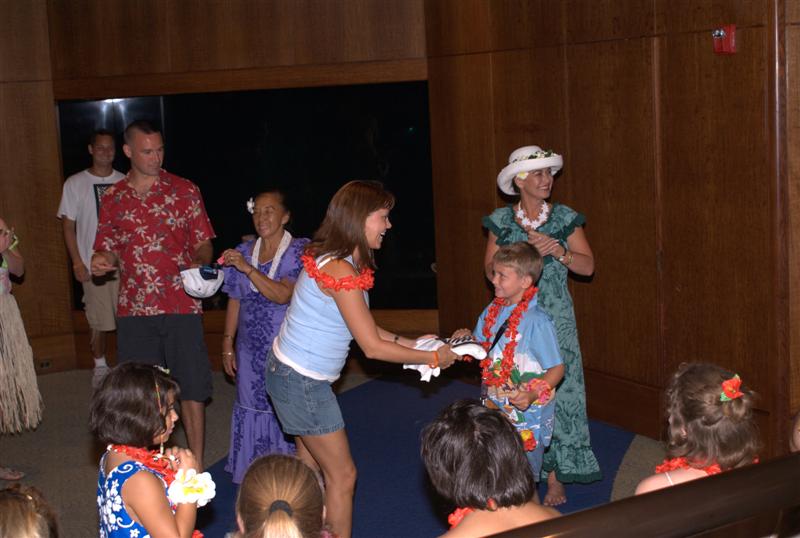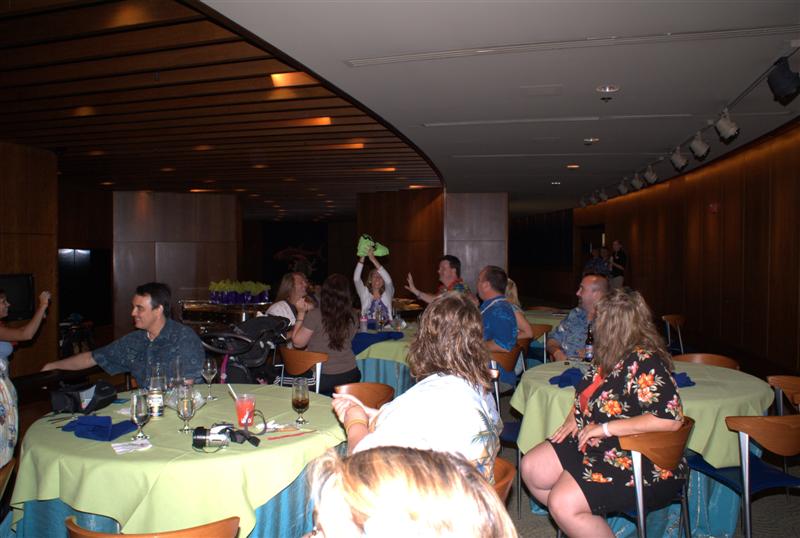 Luke was the winner of a beautiful basket filled with Hawaiian goodies! Yay Luke!!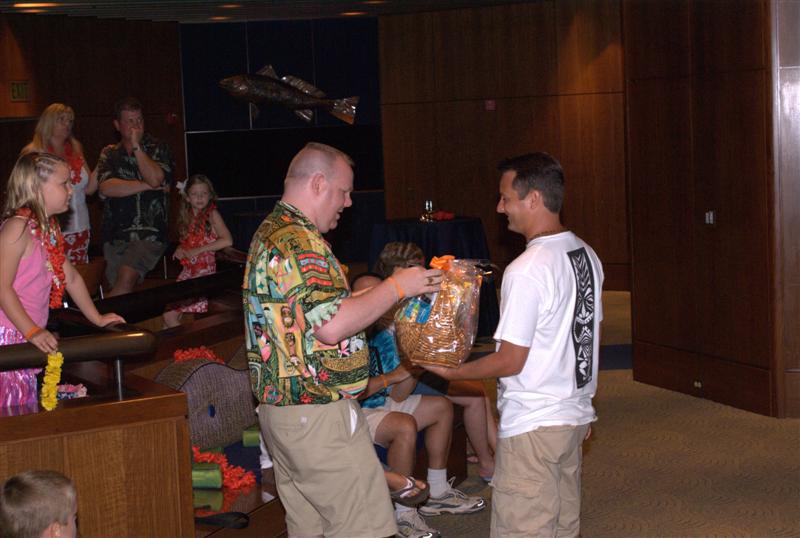 A hand-carved tiki statue was another great prize, and Tara delivered it to the winner!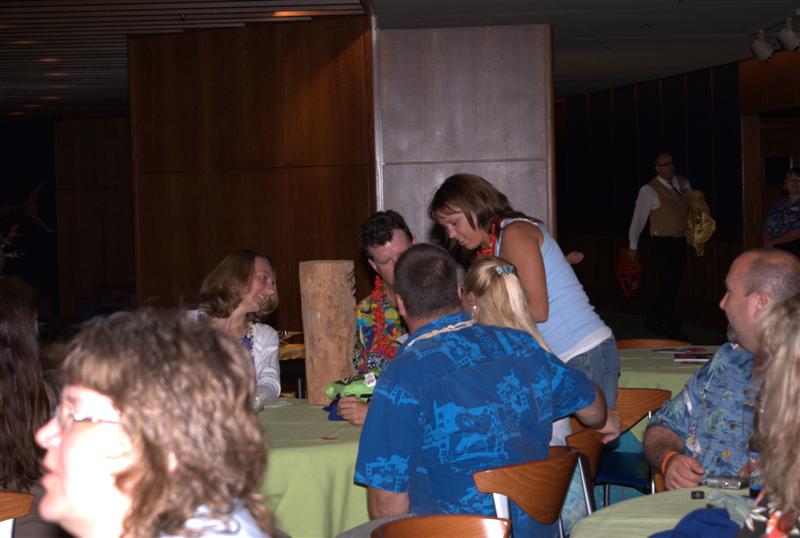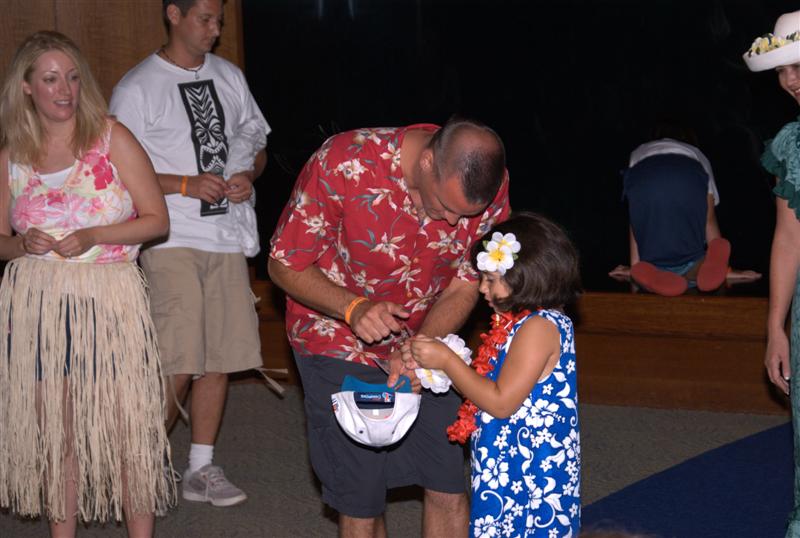 But the GRAND PRIZE was still up for grabs... Who would win it? John and I had already won a t-shirt, so we only had ONE ticket left in that hat to be pulled...
Well, the look on my face says it all... WE WON THE TIKI DRUMMER!!!!!!!!!!!!!!!!!!!!!!!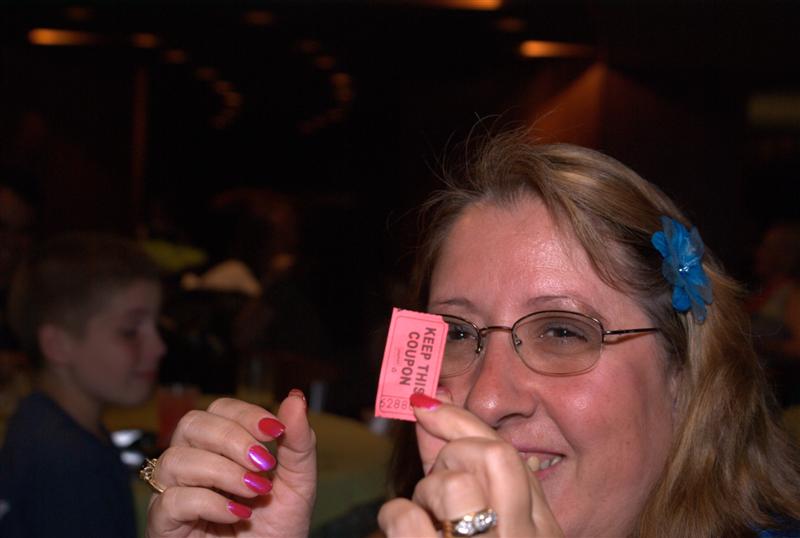 Here's what the tiki drummer looks like as seen in the Tiki Room attraction at WDW. It's one of the smaller drummers that you can see from the side (he stands a couple of feet tall and lights up, from what I was told!). Our personal drummer will be delivered to me from California any day now and I'll post a picture of him in his new home: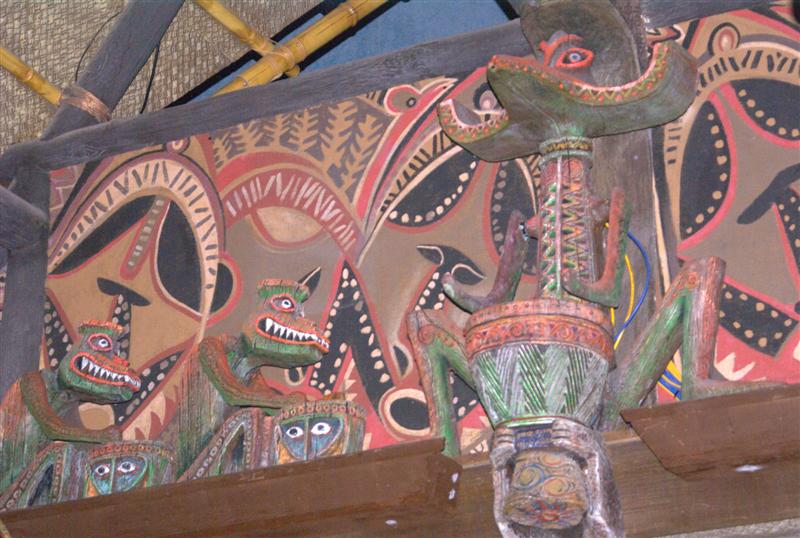 After all of the prizes had been won, and all of the dancing had been done, we all chatted together and then headed out to our PRIVATE VIP spot for viewing ILLUMINATIONS! That was one of the surprises that Steve had for us!!!!!
We took a few moments and all gathered together to pose for some group shots before heading over to our VIP Viewing spot: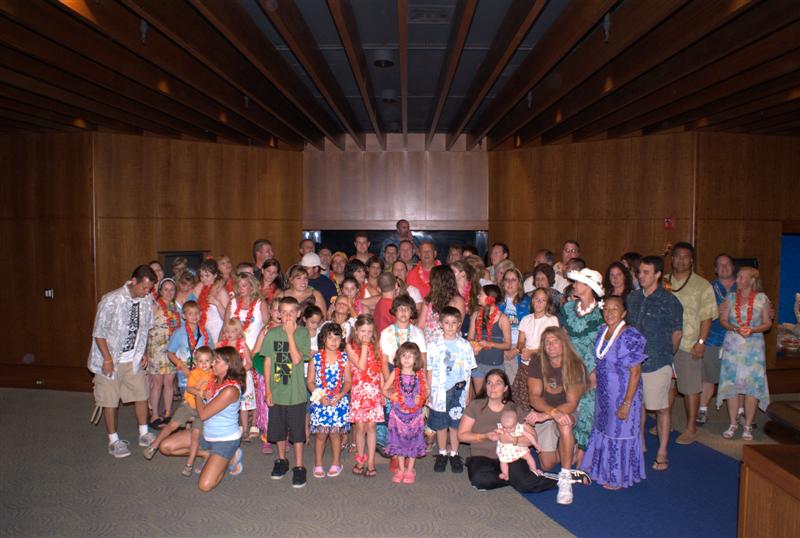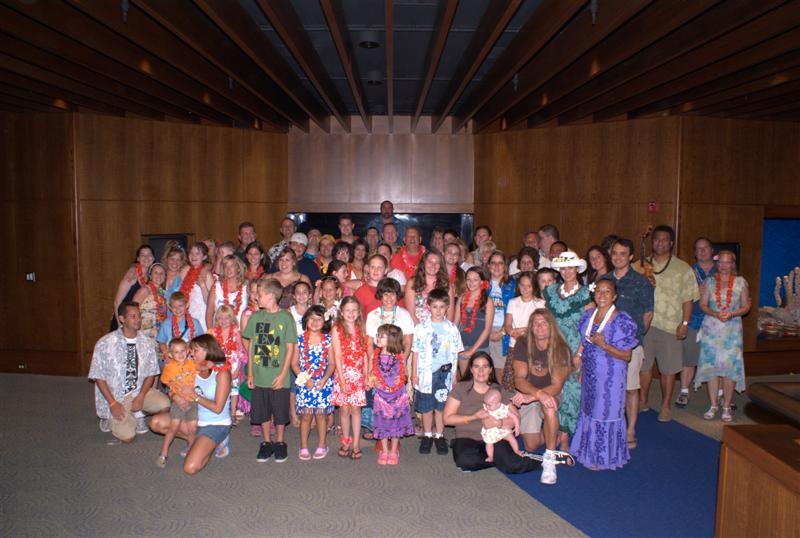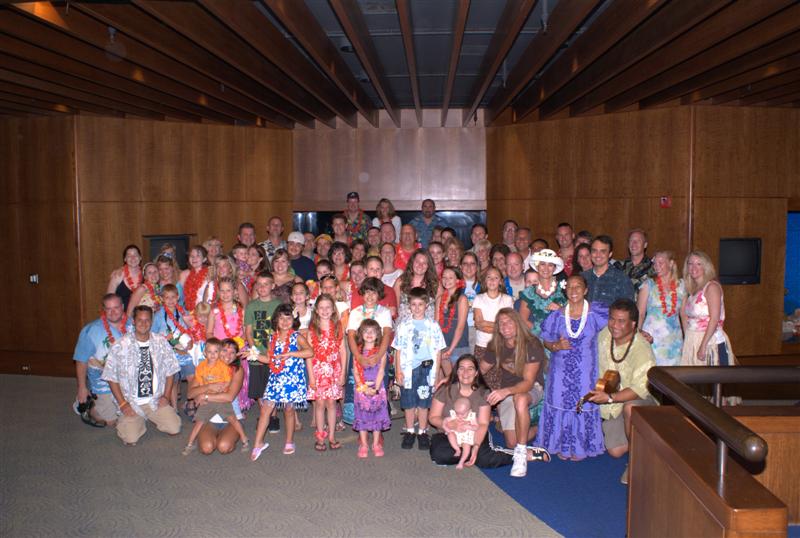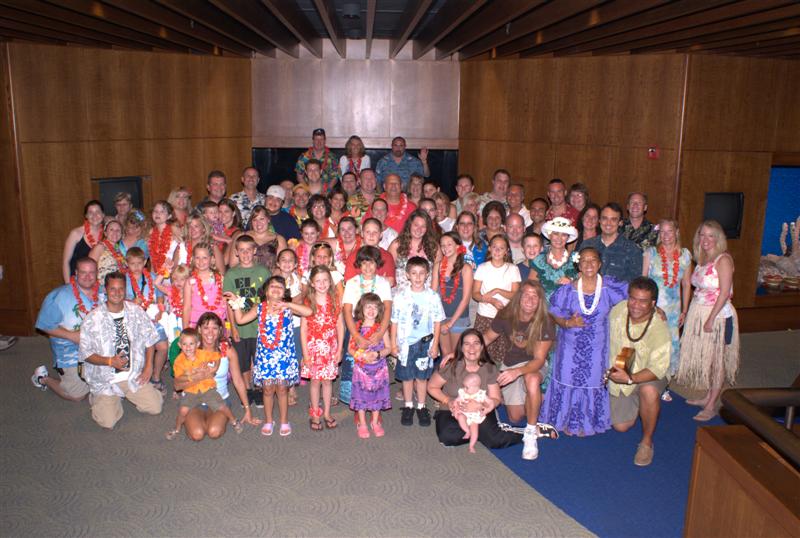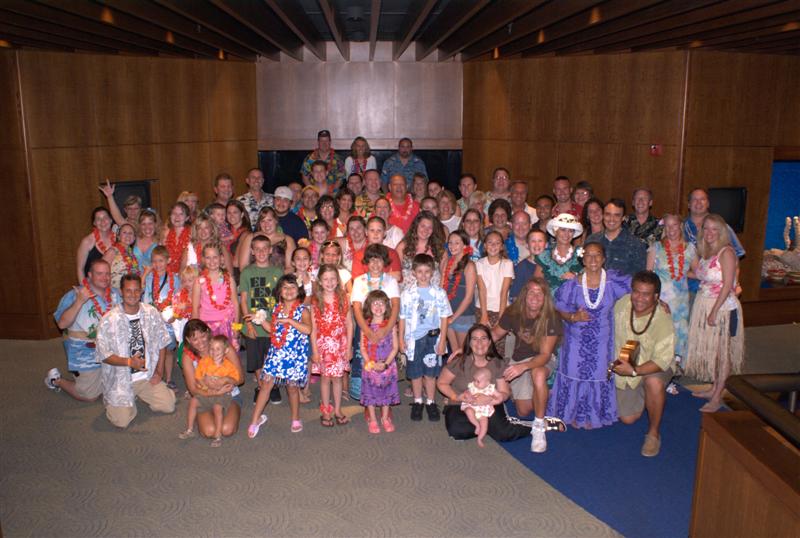 We had the best spot ever for viewing IllumiNations. Never before had I been able to view it in its entirety without some kind of tree or building or pole in my way!!!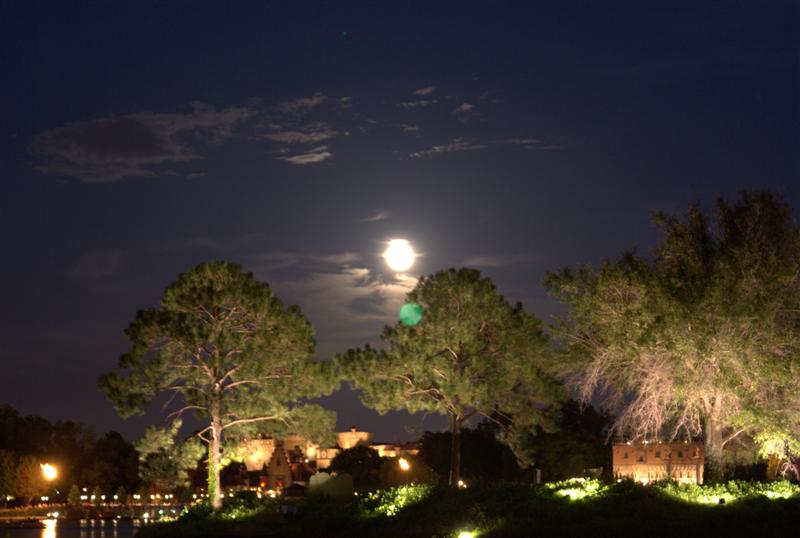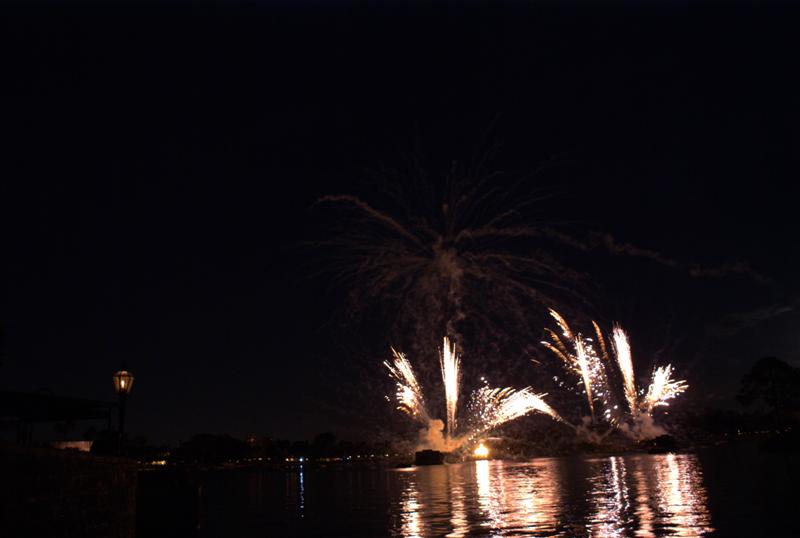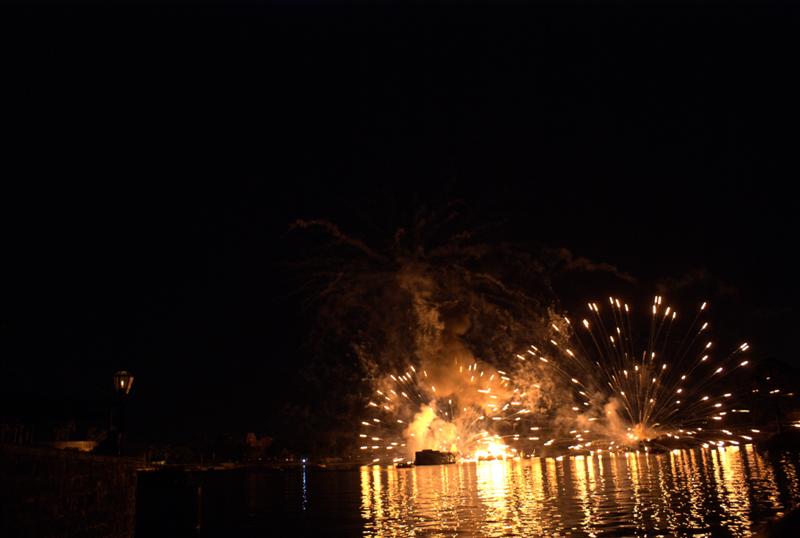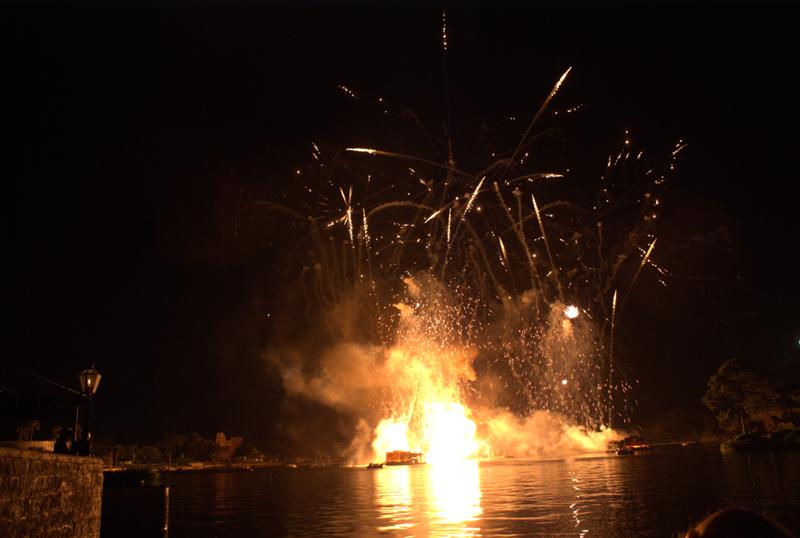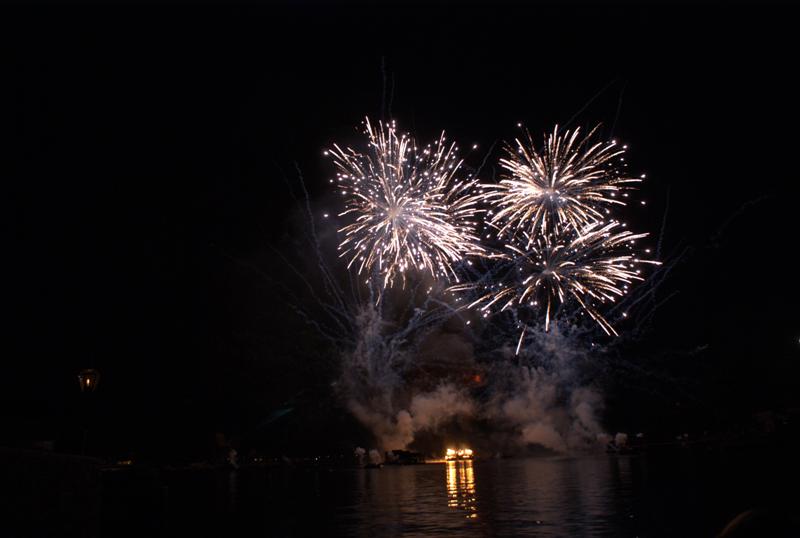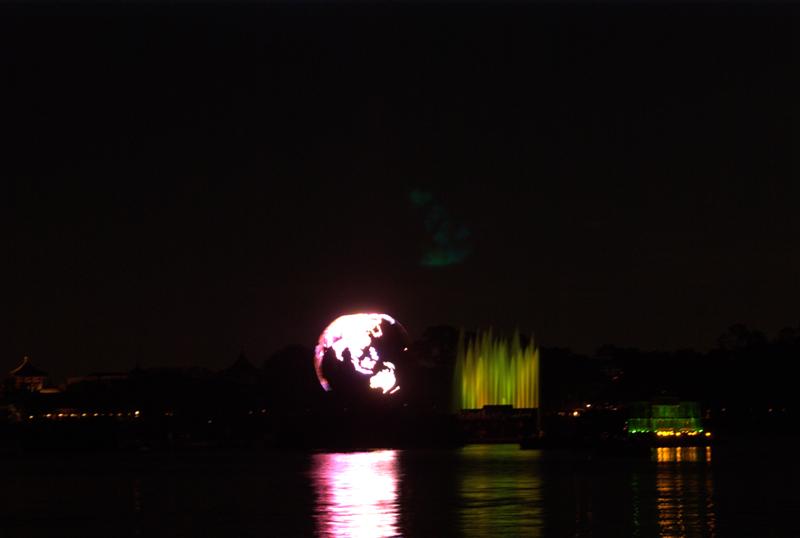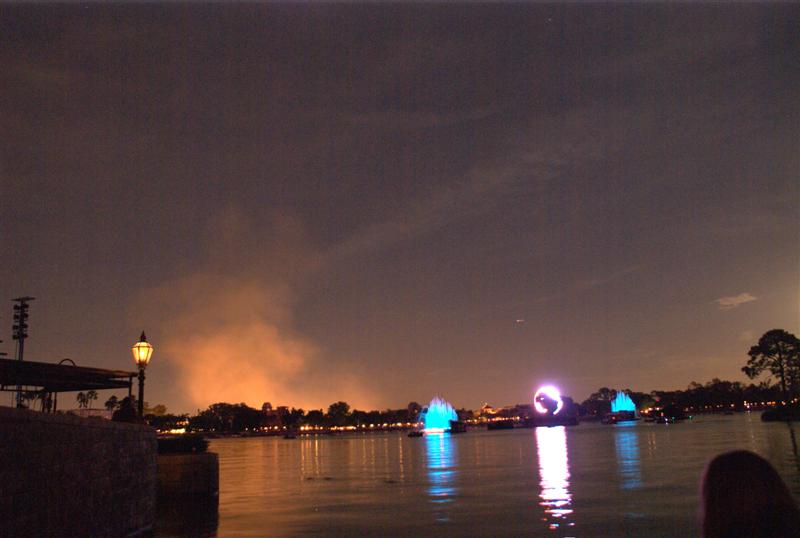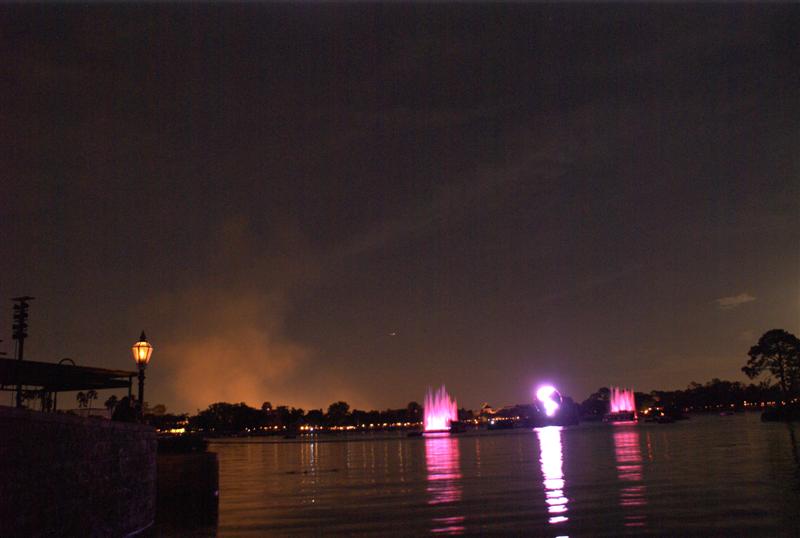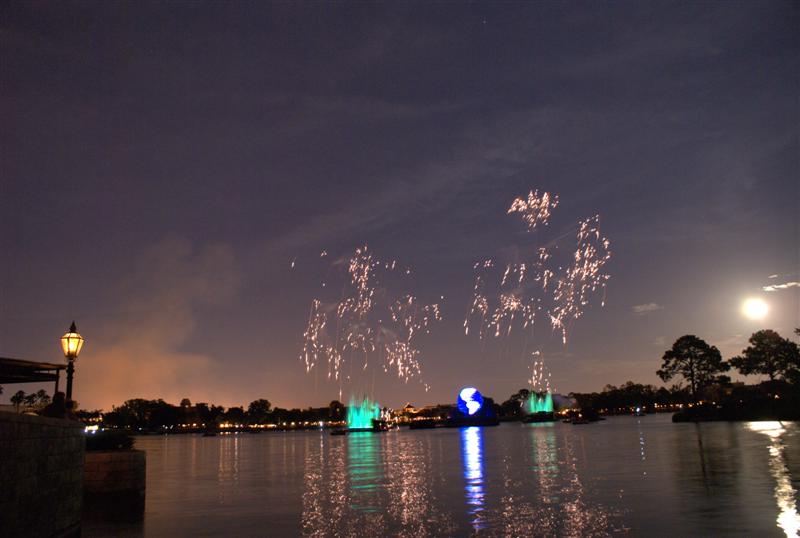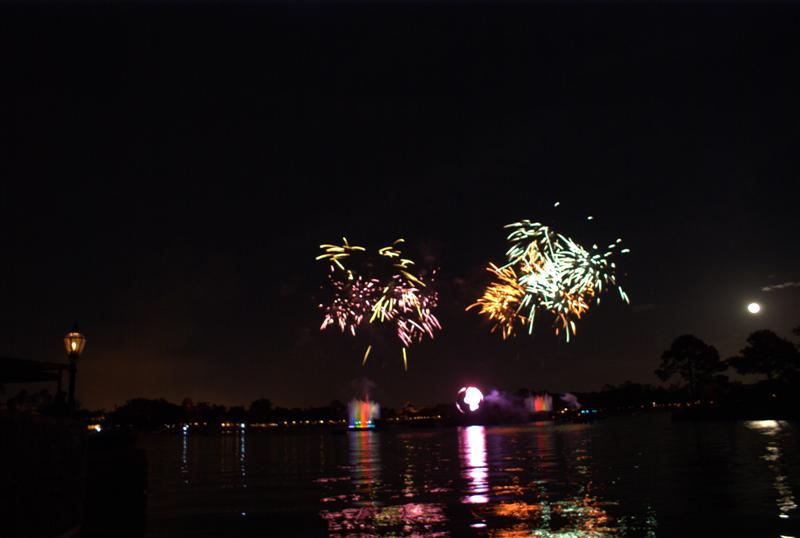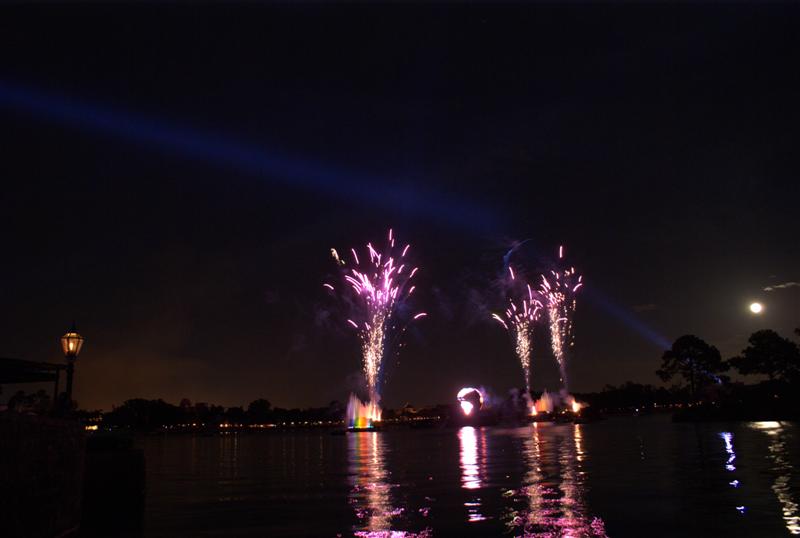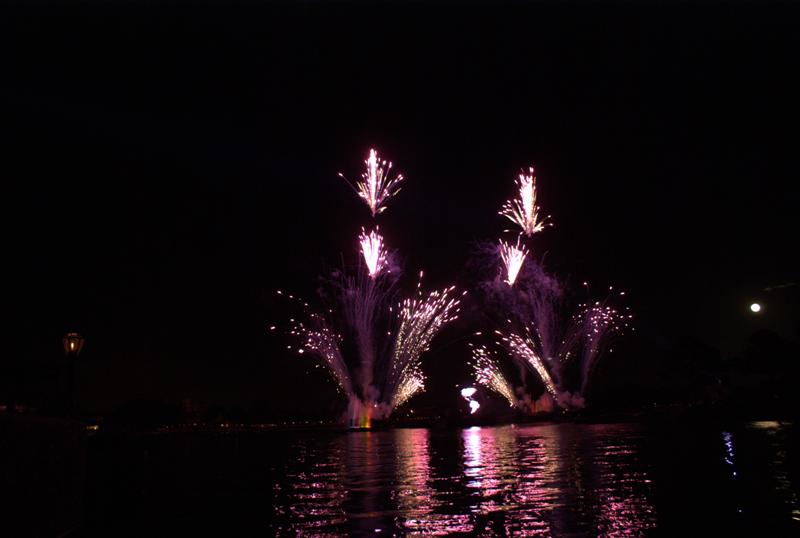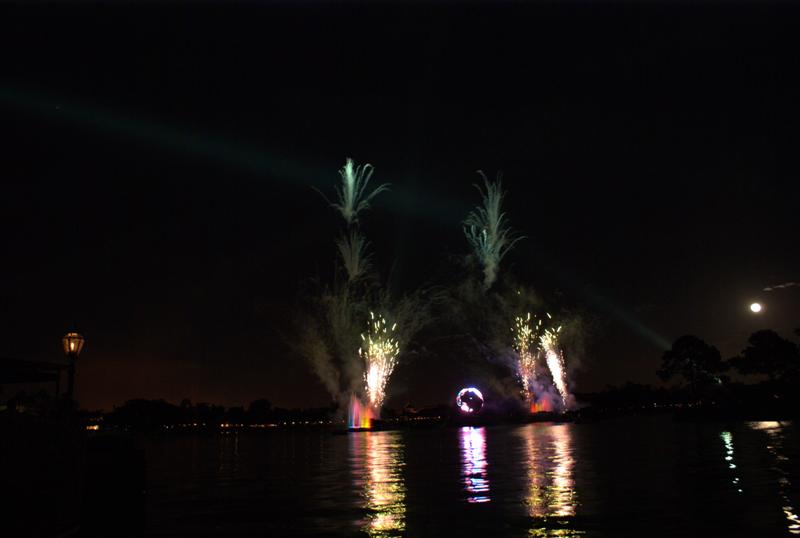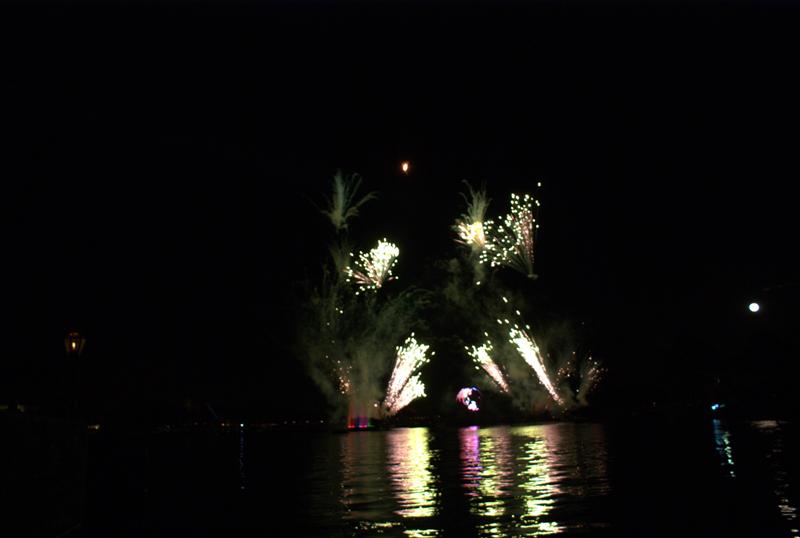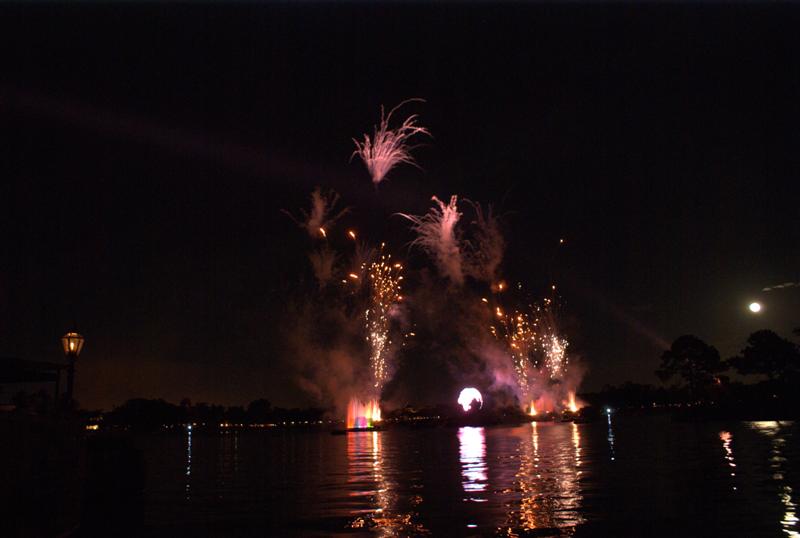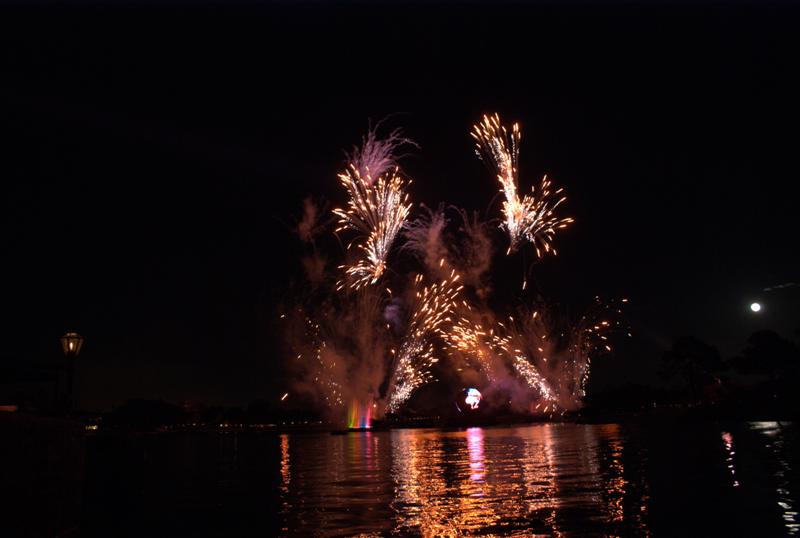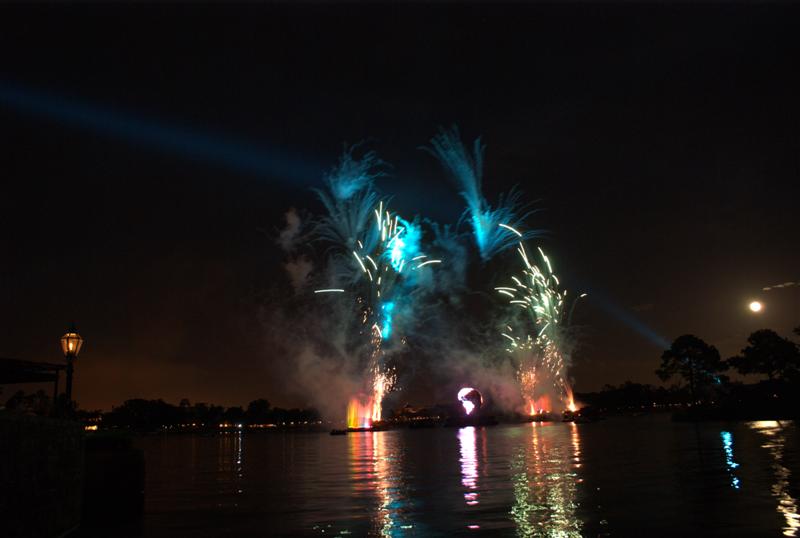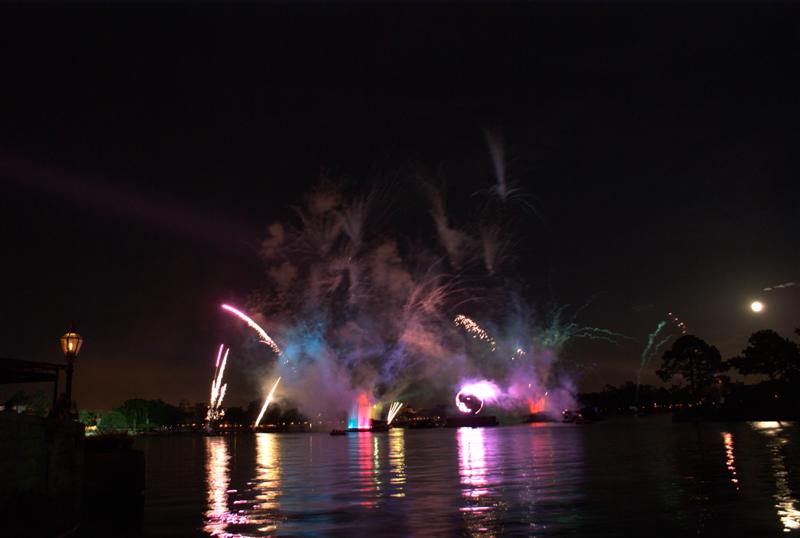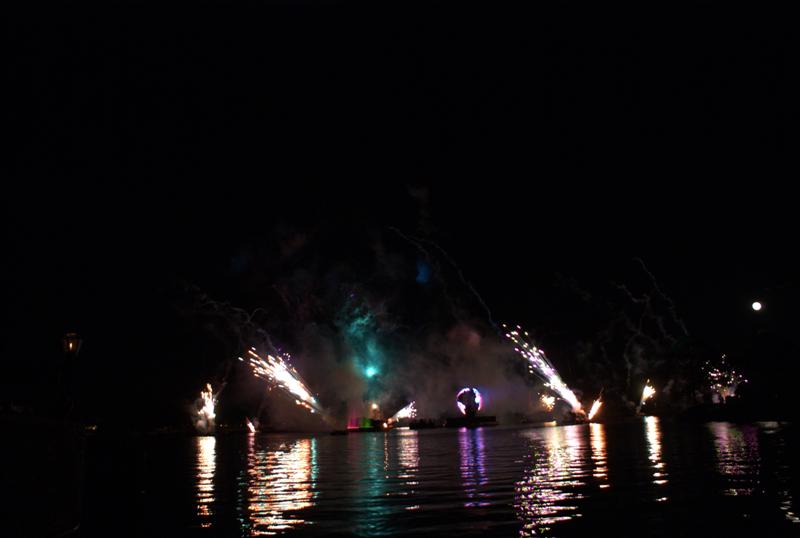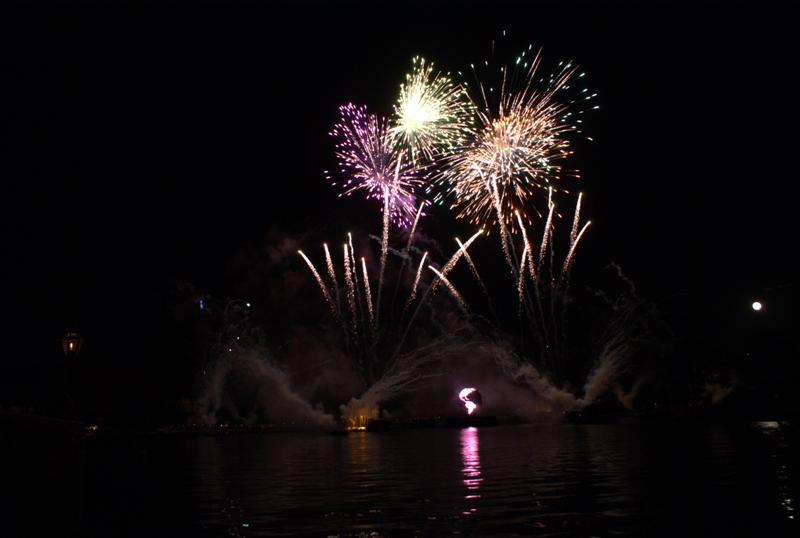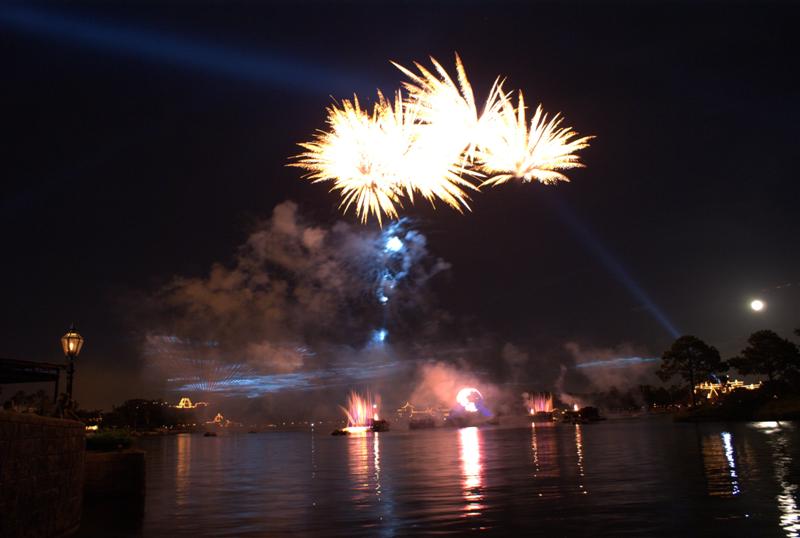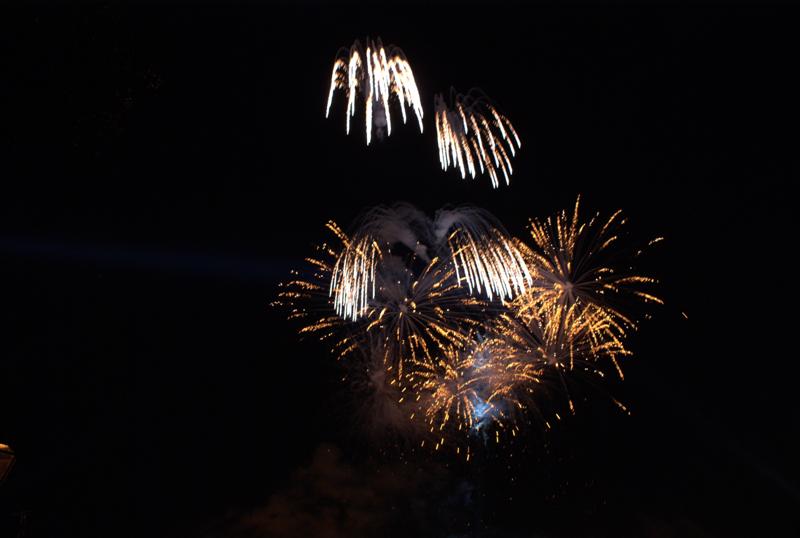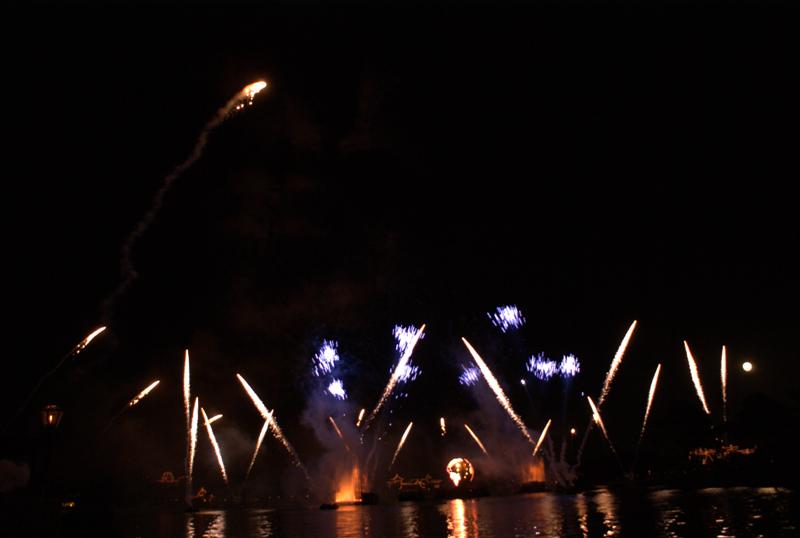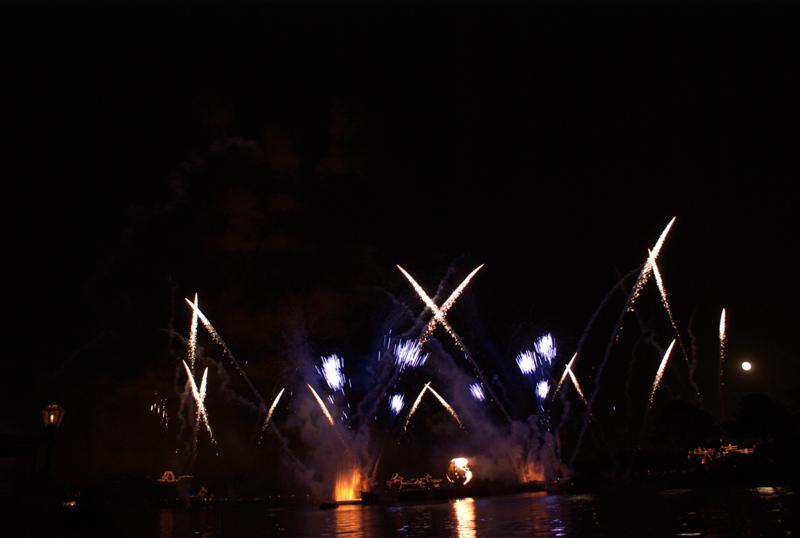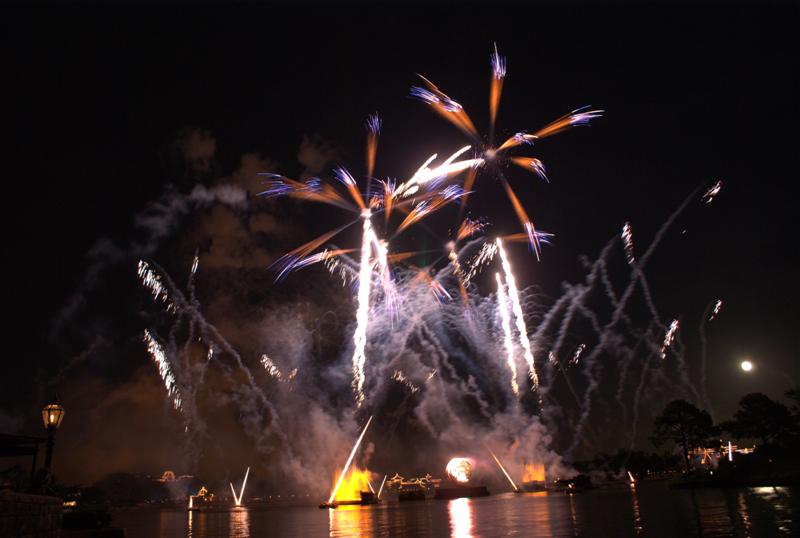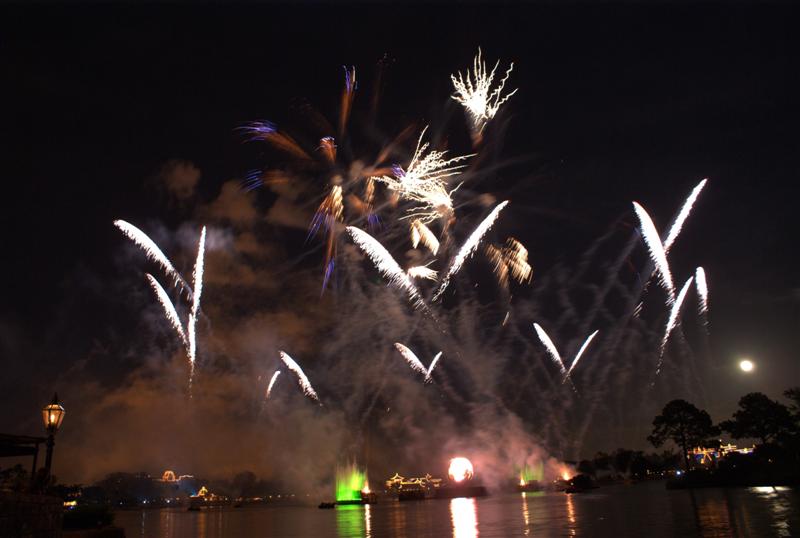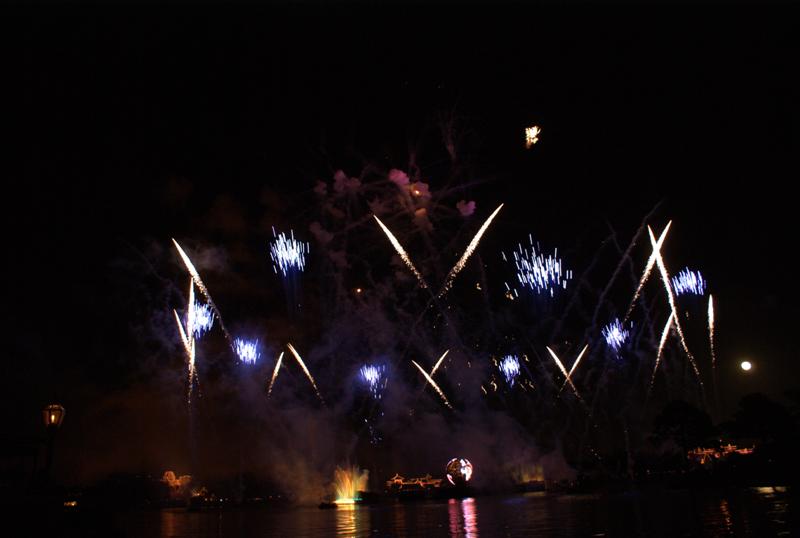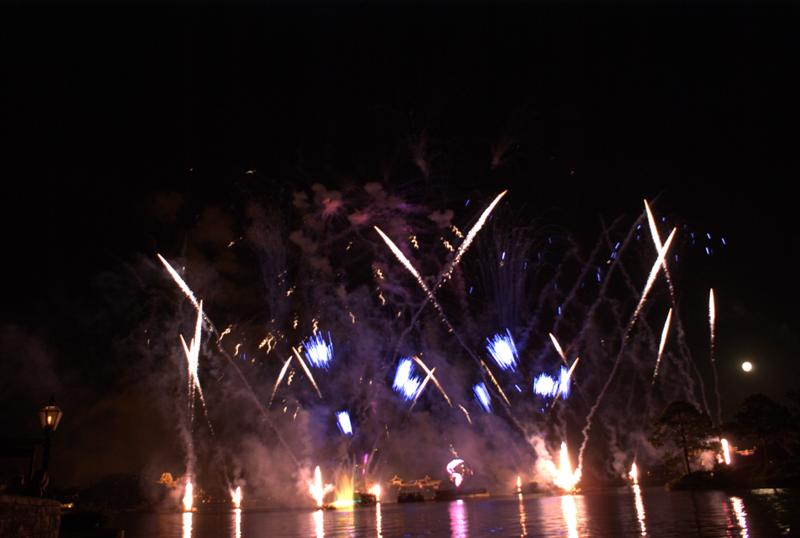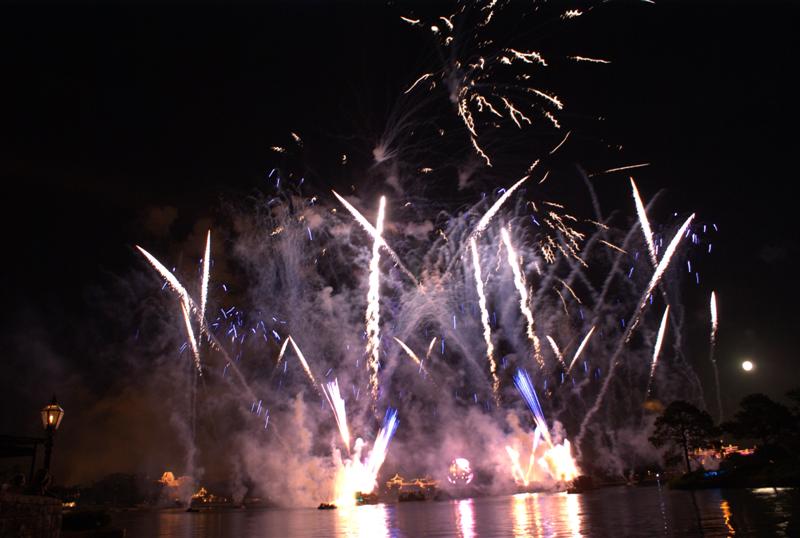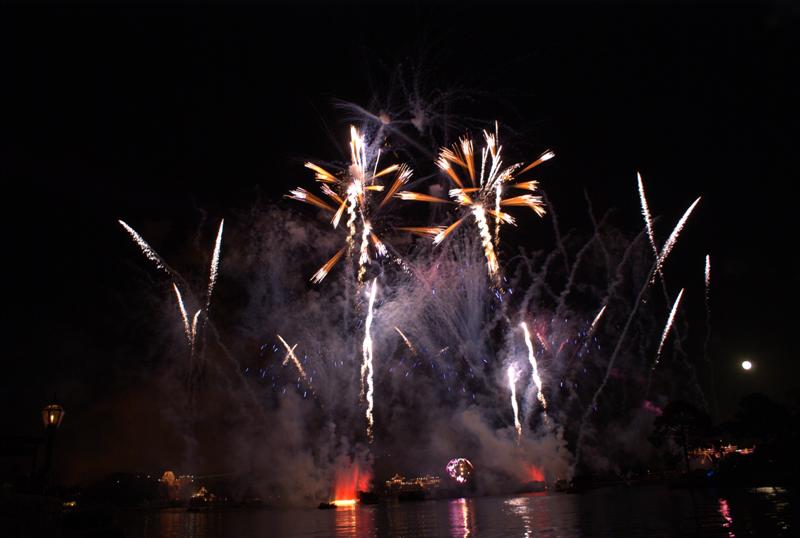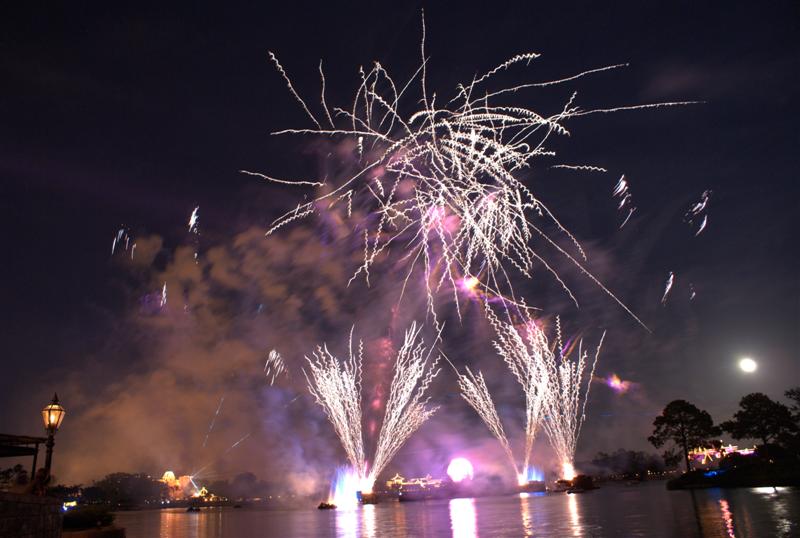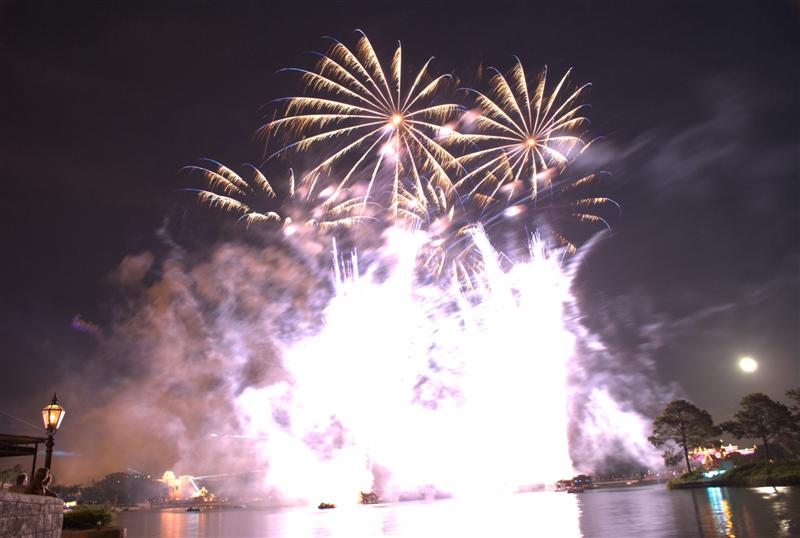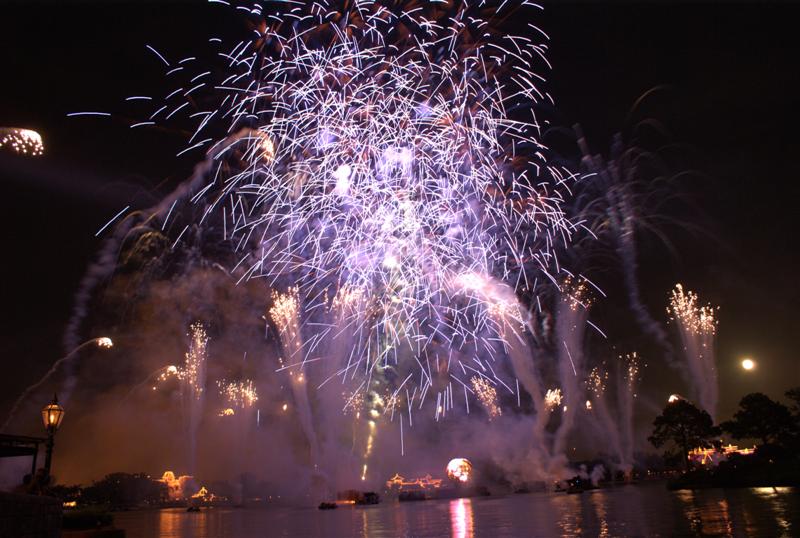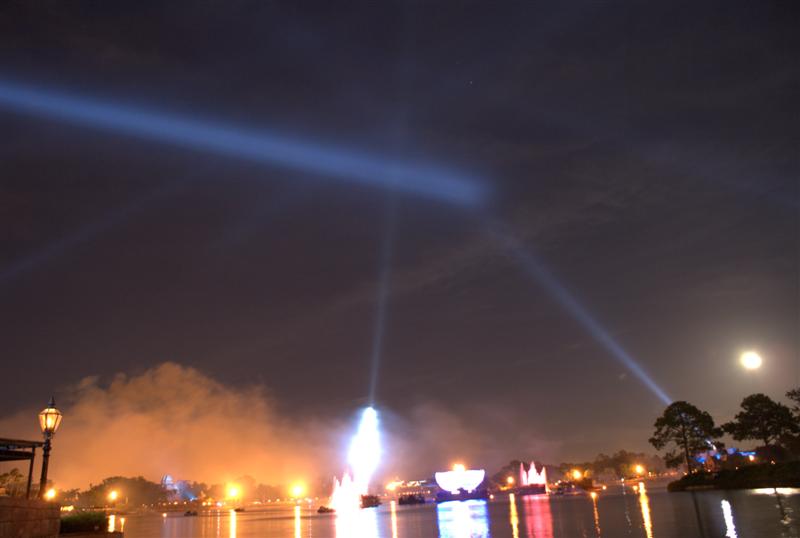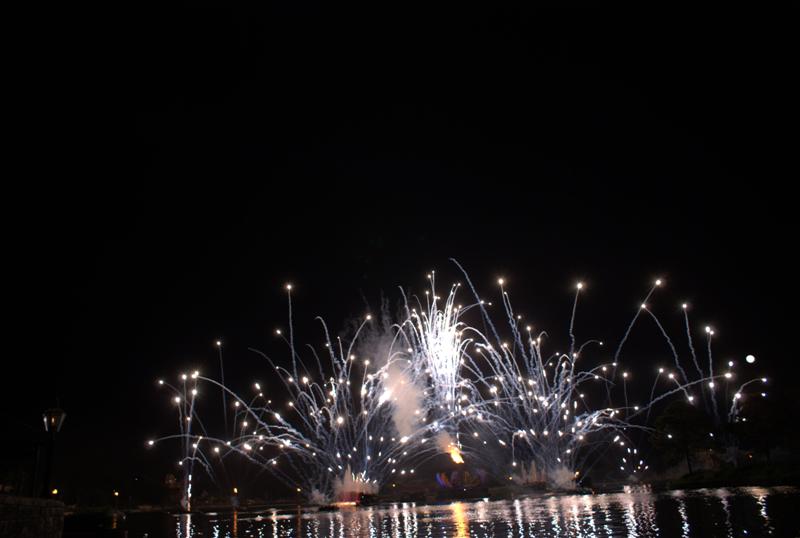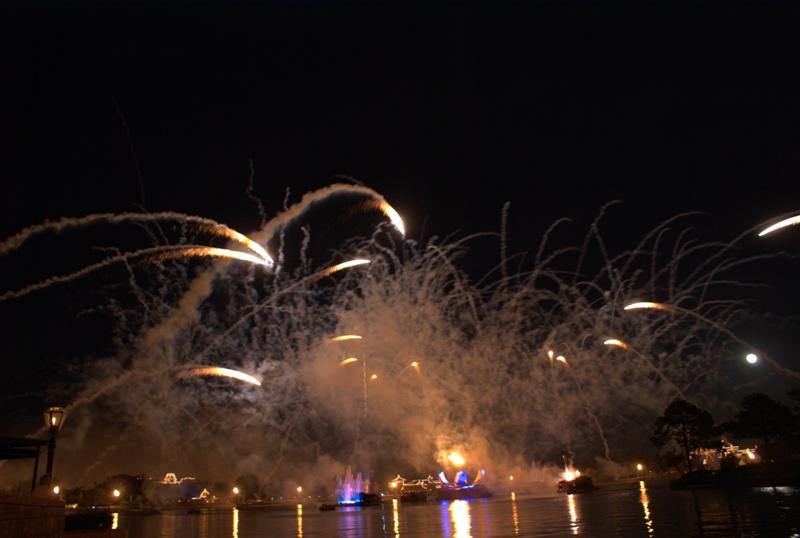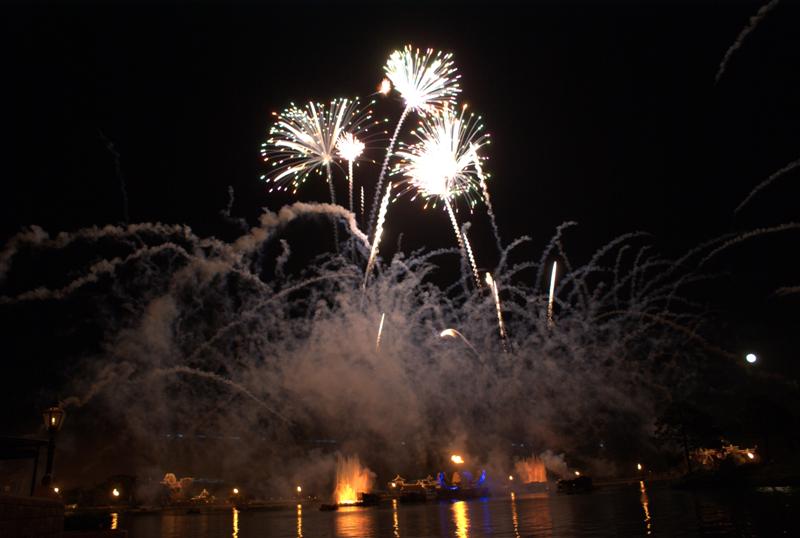 What a PERFECT ending to a perfect party!!!!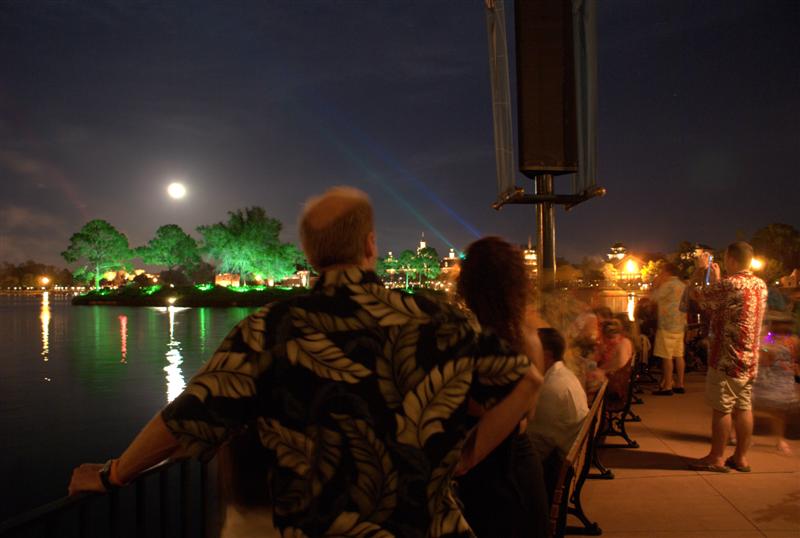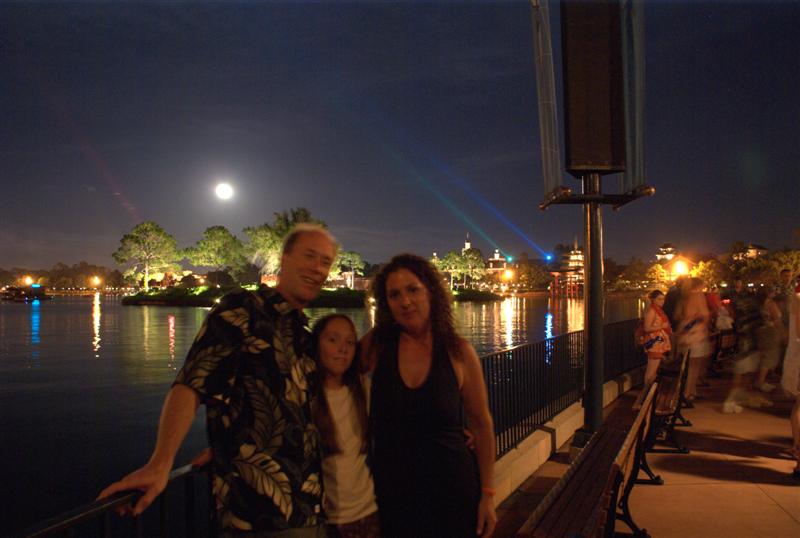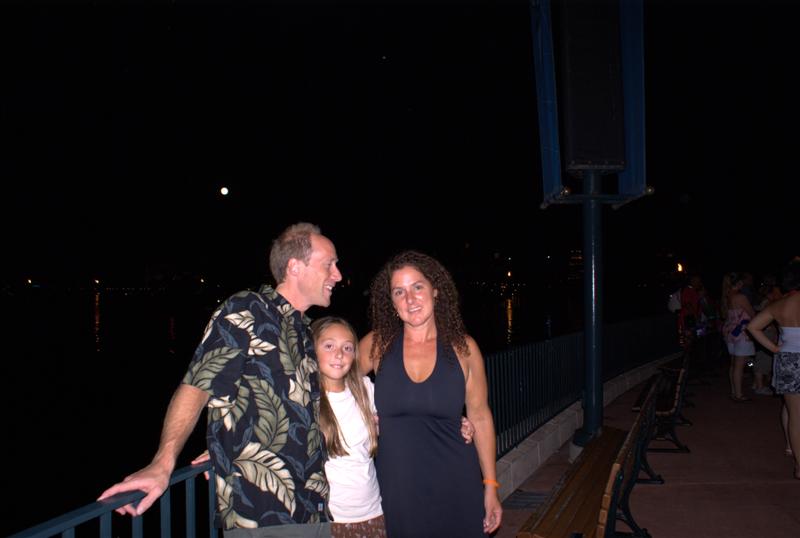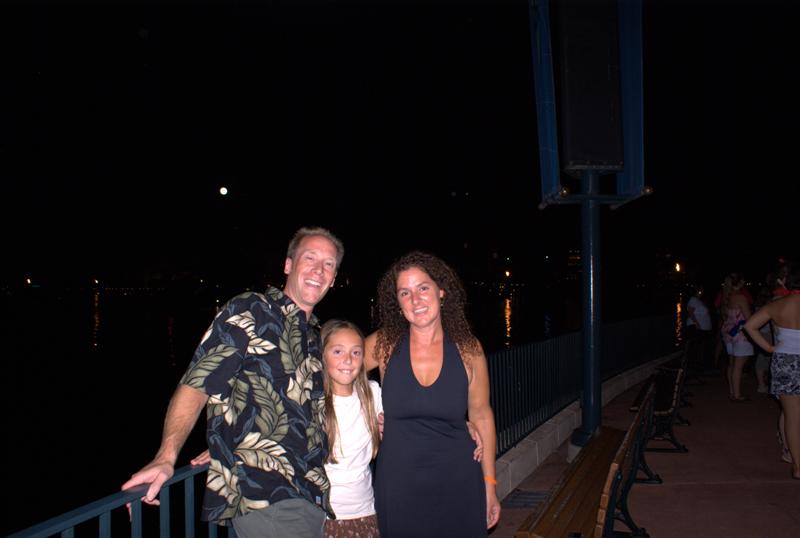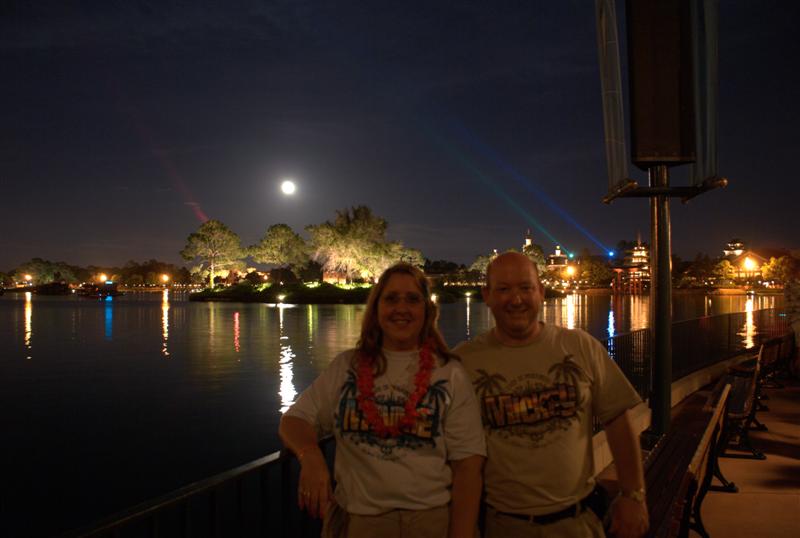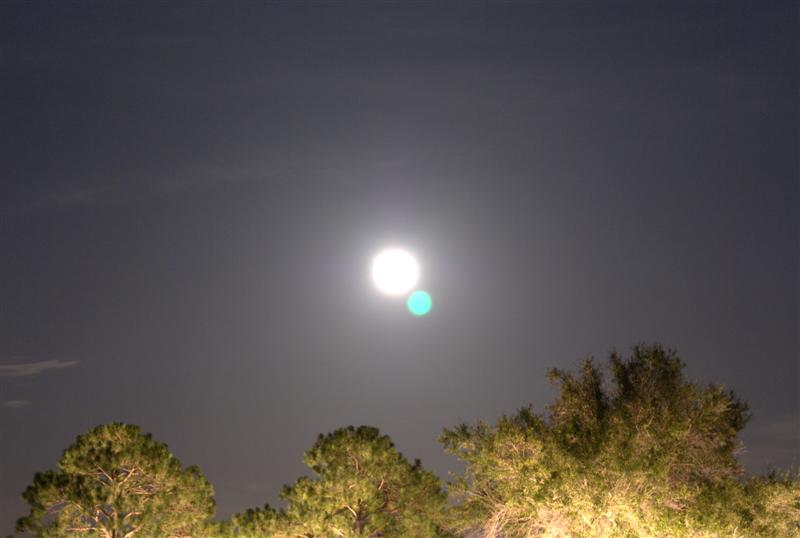 It was SUCH A PLEASURE to meet so many wonderful people who, until that time, I had only had the pleasure of "talking to" online!!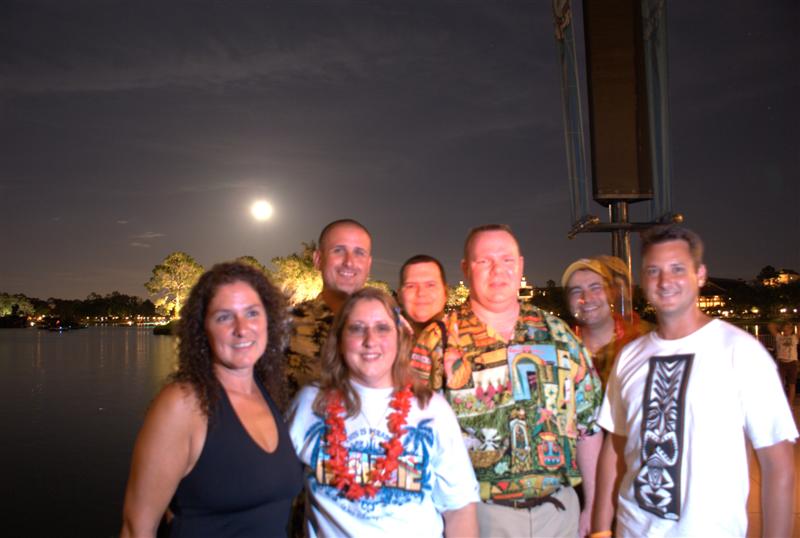 ALOHA to all of my new Tiki friends, and MAHALO to everyone for making it such a special event!!