We had been wanting to take a trip to Vermont for years, and finally did on a sunny weekend in fall of 2001. There is a lot to see and do in Vermont but since our trip was only for a weekend we had to choose an area and limit ourselves to that one area. That summer we were flipping through the tv channels and caught part of a documentary on the history of ice cream and saw that the first Ben & Jerry's ice cream factory was in Waterbury, Vermont. They said they have tours at the factory so John and I decided we'd base our trip around Waterbury and see what else there is to do there. After a quick search on the internet I found that there were a few cute country-type places to see there. Here are some pictures and comments from our trip. We hope you enjoy them!
Our home for the weekend was the Old Stagecoach Inn located on Main Street in Waterbury.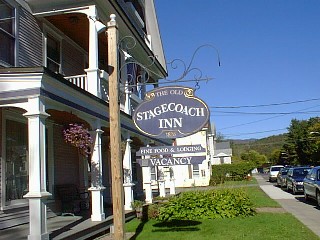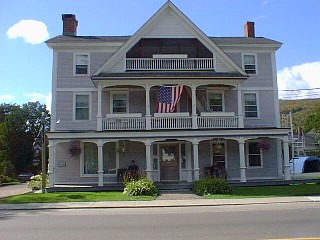 We had a family suite which was much larger than I had anticipated. It had 2 bedrooms and large common room with a kitchen area and living room area. One of the bedrooms had 2 twin beds in it for the boys and the other other bedroom had a full-sized bed, for us.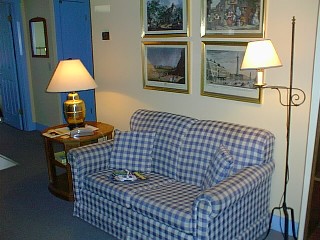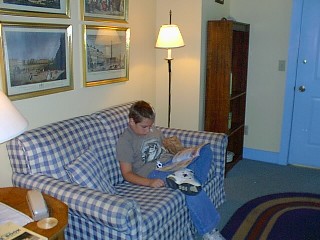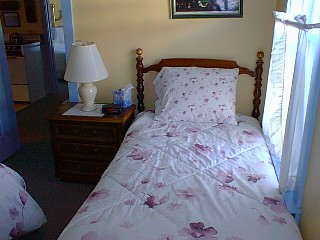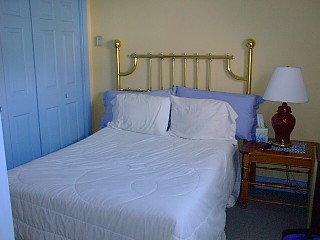 We had breakfast each morning at the inn; it was included with the price of the rooms. There was a buffet table set up with 3 varieties of coffee, teas, juice, fresh fruit, granola, milk, muffins, fruit jams, and hot cinnamon rolls. You could help yourself to those items. While we started eating, the waitress came over and took our order for other things such as eggs, omelets, Belgian waffles, pancakes (with or without fresh banana), bacon, sausage, ham, etc.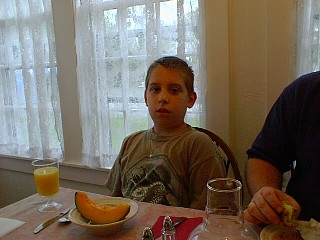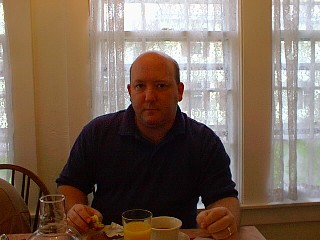 Robby made friends with the resident African gray parrot named Coco. In the picture below you can see Coco eating Robby's leftover cantaloupe, he's holding it in his talons.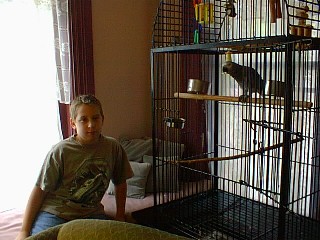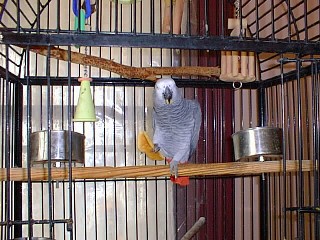 Here are a couple of pictures from the inn's living room. Craig found one of the comfy chairs, John and I are in front of the fireplace.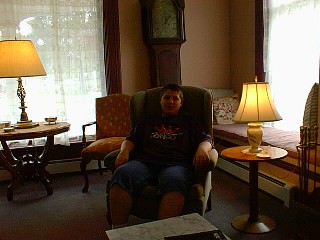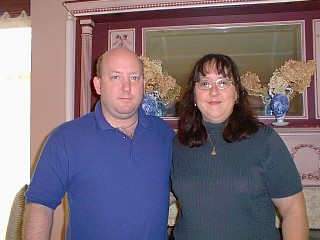 We had beautiful weather this weekend, we took some pictures around the grounds of the inn.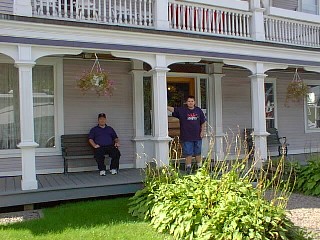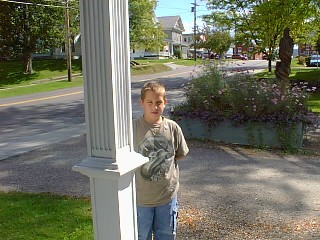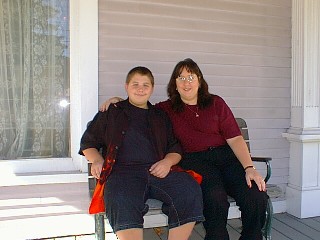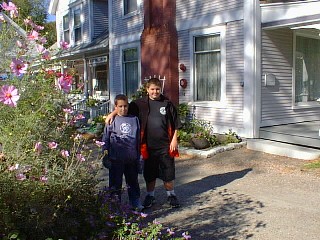 Right outside the door to our suite was a porch with tables, chairs, and very comfy Adirondack chairs.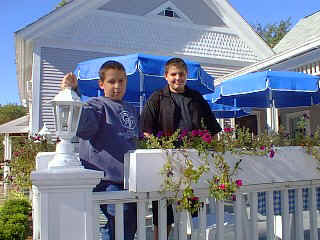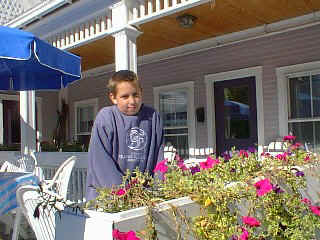 This is the side entrance of the inn, leading to the dining room.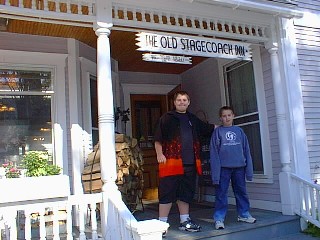 On Saturday night after dinner we to the game room at the inn which also serves as a bar. While John and I sipped our drinks at the bar, Craig and Robby played a game of chess on an antique chess set. The pieces were fashioned after Aztec and Mayan characters.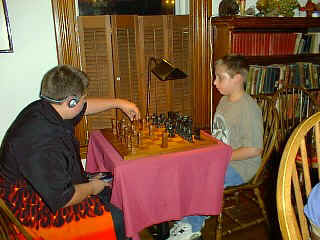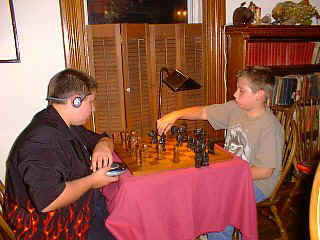 We went to Morse Farms Maple Sugar Works in Montpelier, VT. It was interesting to learn the process of turning sap into maple syrup. FYI- It takes 40 gallons of maple sap to make 1 gallon of maple syrup! The Morse family has been making maple syrup for over 200 years. I have to say, this is the BEST maple syrup I have ever tasted.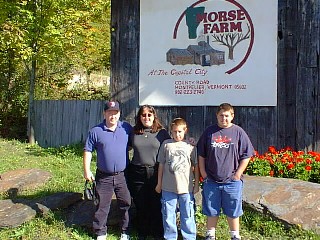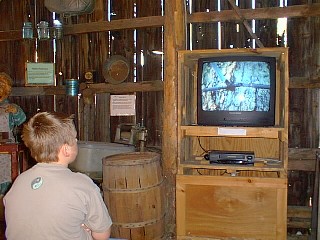 In the picture below on the left you can see the "sap line" which is tubing that runs from all of the trees from behind the farm, down into the barn where they process it into syrup. The Vermont countryside is beautiful and you can see the beginnings of fall colors in the trees.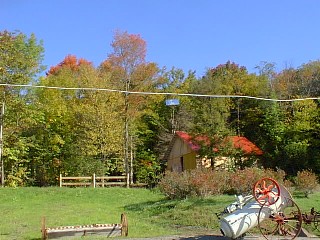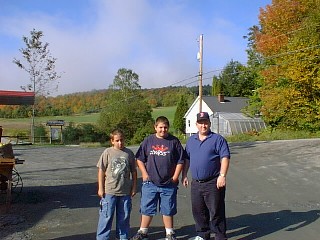 In the shop at the farm they sell all varieties of maple syrup and candy and other things made from maple. Craig and I decided to try a "maple creemee" and they were delicious! Sort of like a maple version of the Dole Whip they sell in Disney World. Hey Christie, eat your heart out, no maple candy for you! :D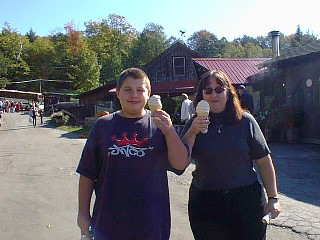 Our next stop was the Cabot Cheese Annex. We got to sample over a dozen varieties of cheese. Then on to Cold Hollow Cider Mill. We saw how they take apples and turn them into cider and go to sample some cold, fresh apple cider.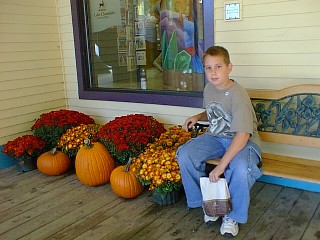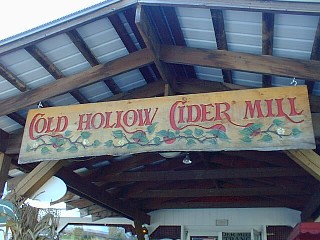 Vermont is a very picturesque state, great photo opportunities wherever you look. This is the scenery right behind the cider mill. And of course our "self portrait" photo that John and I snap of ourselves on every vacation :}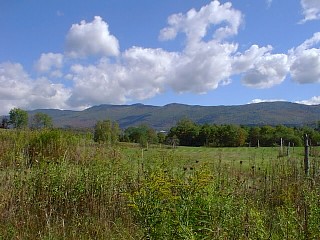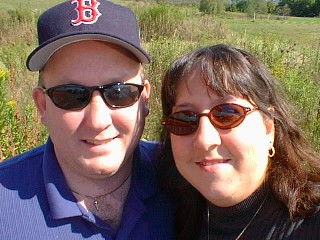 We ate most of our meals at a restaurant on Main Street, Waterbury, called Arvad's. It was a family restaurant with a pub atmosphere and had great food. We ate lunch "al fresco" on Saturday afternoon...we didn't want to be inside while the weather was so nice outside!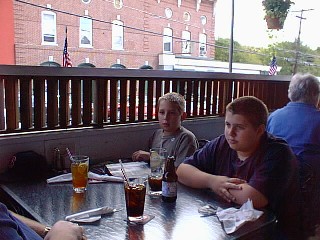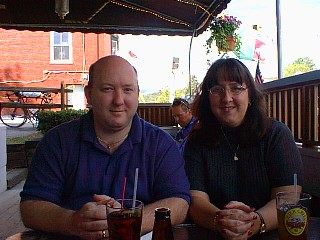 On Saturday night we had a late dinner at Arvad's, in their downstairs dining room.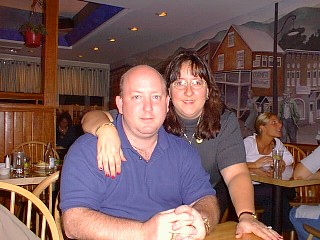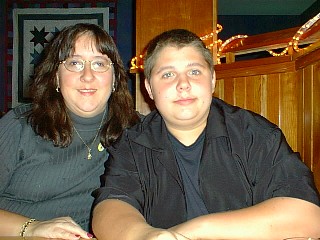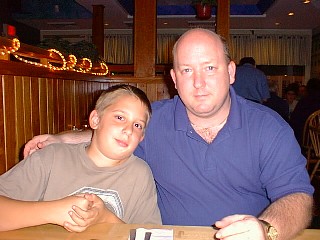 We found quite a crowd at the Ben & Jerry's ice cream factory! We took the factory tour, tasted samples of ice cream, and Craig was even chosen to spin the "prize wheel". He won a Ben & Jerry's magnet, which I'm hoping he'll add to my collection on the fridge. *hint-hint, Craig!*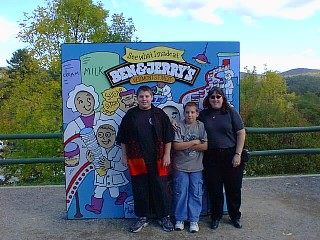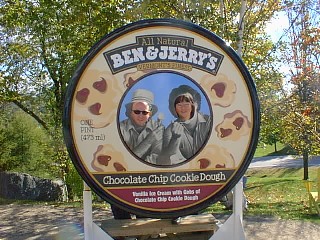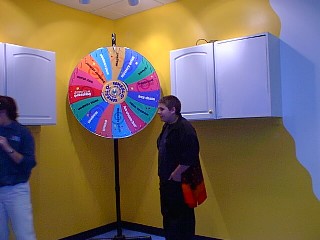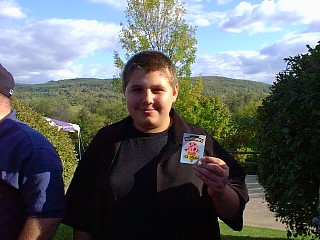 They have an interesting thing to see there...its called the "Flavor Graveyard" where they pay respects to flavors that have died and gone to Ice Cream Heaven. LOL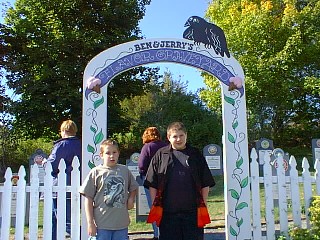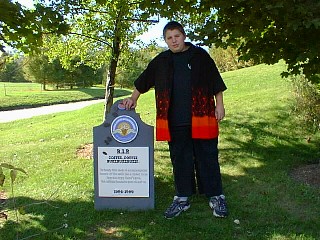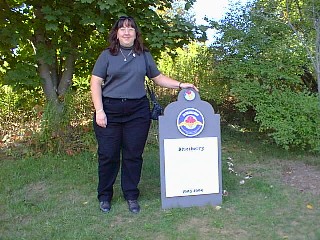 They have a pretty nice playground there and after having to wait an hour to take the tour, I can see why! They also have comfortable Adirondack chairs and tables with umbrellas. As you can see, even around the Ben & Jerry's factory there is beautiful scenery.