On the morning of our anniversary, July 8th 2005, John and I took an early bus to Epcot because we were booked to do the 8:30am "Around the World at Epcot" Segway Tour.
We checked in at Guest Services which is immediately to the left, after you go through the turnstiles. There we were given name tags and then escorted over to a building in Innoventions in Future World, where we met up with the other tour guide/trainer, and our fellow tour-mates.
We first watched a video that explained some of the basics of using a Segway, then we had the chance to actually get onto them ourselves. The tours are kept to only 10 people for a reason; they really train you well before you even step onto a Segway, so the smaller group lets the tour guides give more individual lessons.
At first we balanced ourselves, and learned how to stop, since that is the more important aspect of operating a Segway. LOL There are no brakes on a Segway. YOU are the brakes! LOL After learning to stop and go, zigzag around small orange cones on the floor, and then finally learning to go up and down a ramp successfully, we were brought out to the hallway and were able to choose the Segway machine that we'd use for the outdoor portion of the tour. This is the part we'd all been waiting for! The Segways were all lined up against the wall, and we each chose a machine.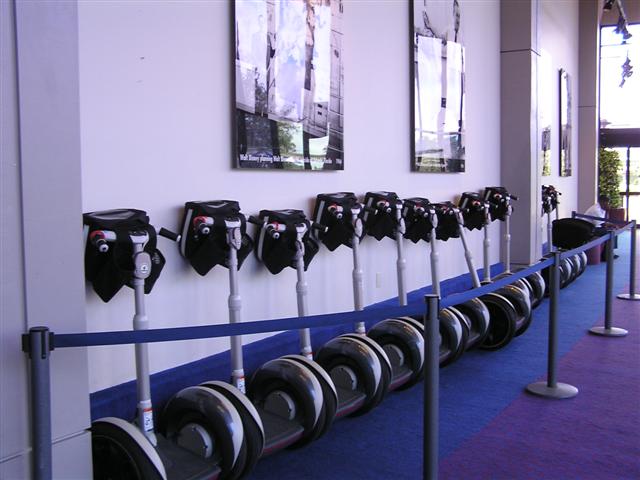 We then practiced riding up and down the hallway, to make sure we were all comfortable enough on our newly chosen Segways, to go outside.
It was such a wonderful feeling to finally be outdoors and gliding along with almost no effort at all. This has got to be the closest to flying, as I've ever felt. It is true what they say about the Segway; you no sooner *think* of stopping or slowing down or going faster, than you feel the machine responding! The handlebars don't steer the machine. The grip on the left handle controls the turns. Turn the handle away from you and you left; turn in towards you and you go right. How far you turn the handle determines how sharp of a turn you make. When you want to stop you simply lean back slightly, and the machine will come to a gentle stop. Well, that's what you hope will happen! LOL
We were a great group, according to our tour guides! Nobody fell off, no collisions, etc. As she said at the end of the tour "Yay! I don't have to fill out any paperwork because there were no accidents!" LOL
Here are pictures from when we were able to stop to "free ride". Prior to this, and after this, we were taken into and around almost every country in the World Showcase. It was amazing to go up through the gardens in Japan and zigzag the columns in Italy, and inside many of the buildings. The tour guides gave us a lot of info about the structures of each country too, and some background info as well, such as how the King of Morocco actually owns all the buildings there (in the Morocco section), but rarely visits.
This tour was so much fun that we already have booked to do it again on our next visit to Disney World in October 2005! At least we'll go into it already knowing how to ride them, so I think we'll enjoy the touring part just a little more this time :) We also plan on bringing our video camera with us next time.
At the end of the tour you are taken back to where you started, and the tour guides give you a small token to remember the tour by! You find yourself wishing you could stay on the Segway all day. The smile on your face from this extremely fun experience, however, lasts at least for the rest of the day! :)
*Note- You cannot take pictures while ON the Segway. The below pictures were taken during our "break time". This is when you can take as many still or video pictures as you like. The tour guides will take your picture for you, using your own camera. John took the pictures of me, while he was resting in the shade. There's a water fountain at this area too*
(pictures got messed up, I'll be adding them back in soon. Sorry!)