Disney Restaurants - July 2007
(Dinner and breakfasts at the Kona Cafe, lunch at Whispering Canyon, lunch at Marrakesh, lunch at Plaza Restaurant)
After being on the South Beach Diet for 8 weeks, John and I really looked forward to our Disney restaurants meals! Here are our restaurant pictures. And miraculously, within a few days of being back home, we had gained nothing during our trip! That's Disney "magic" for you! LOL
Our first meal of the trip was dinner with several of our friends who live in Florida. I have to admit that BOTH of the drinks in this picture are MINE! LOL I hadn't yet finished my Lapu Lapu before I my Blue Glow-tini arrived!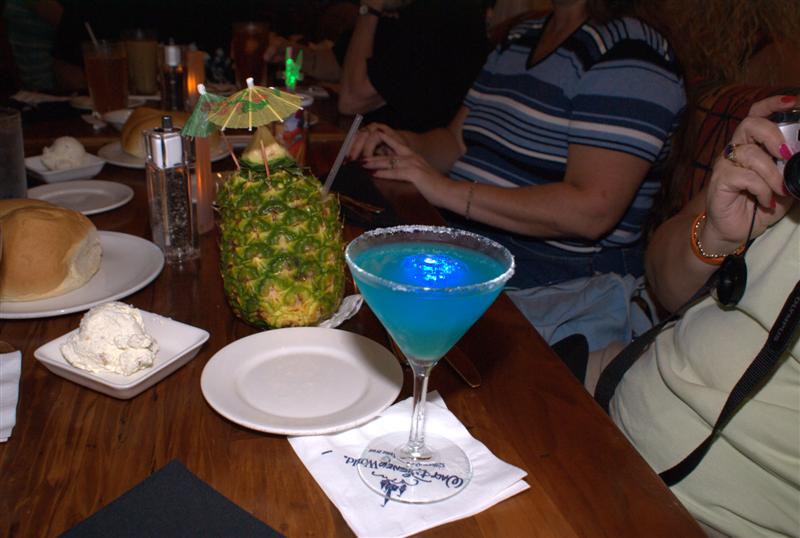 Here are the "Pirates Punch" cups that feature either a light-up Tinkerbell (in green) or Captain Hook (in red!). The pirate punch is some sort of raspberry lemonade, but you can ask for soda instead.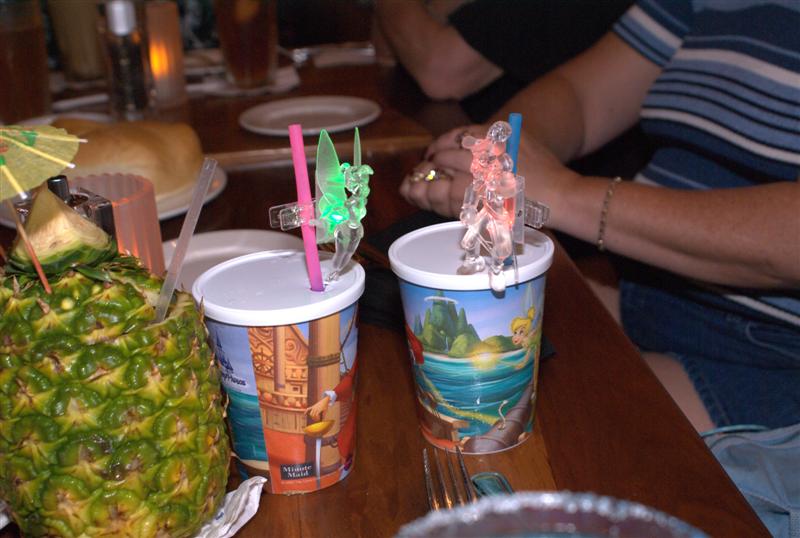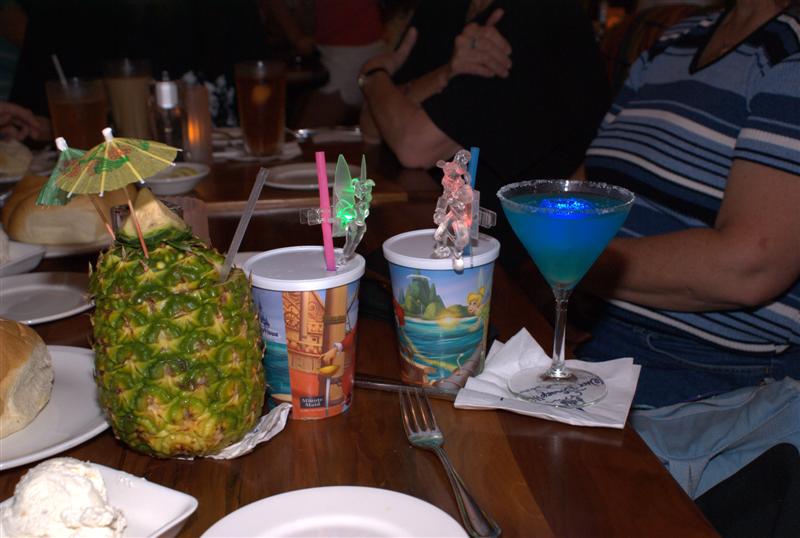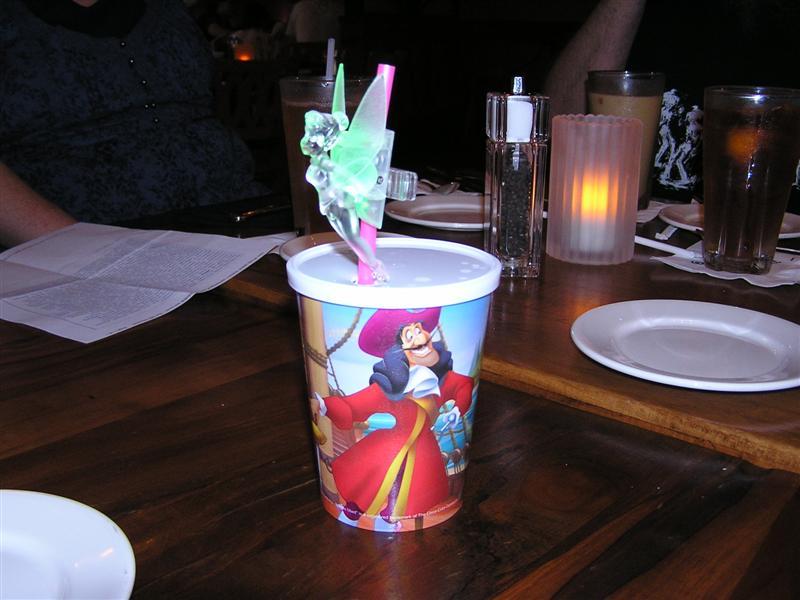 Our bread arrived with macadamia nut butter. Yumm! It's the same butter that comes with the pineapple-macadamia nut pancakes at breakfast!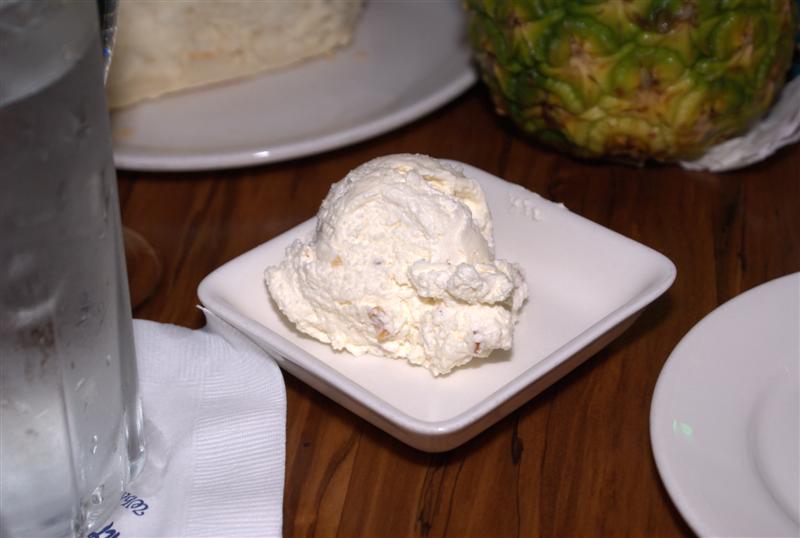 Some pictures of our friends...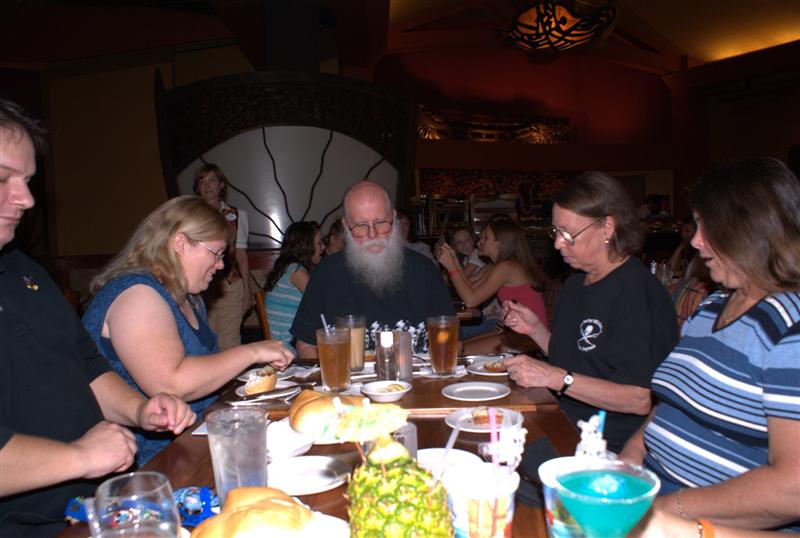 Everyone at our table was given a complimentary "shrimp toast" appetizer! I loathe seafood but I had to try a bite and I was surprised that I LOVED it and I ate my entire piece myself.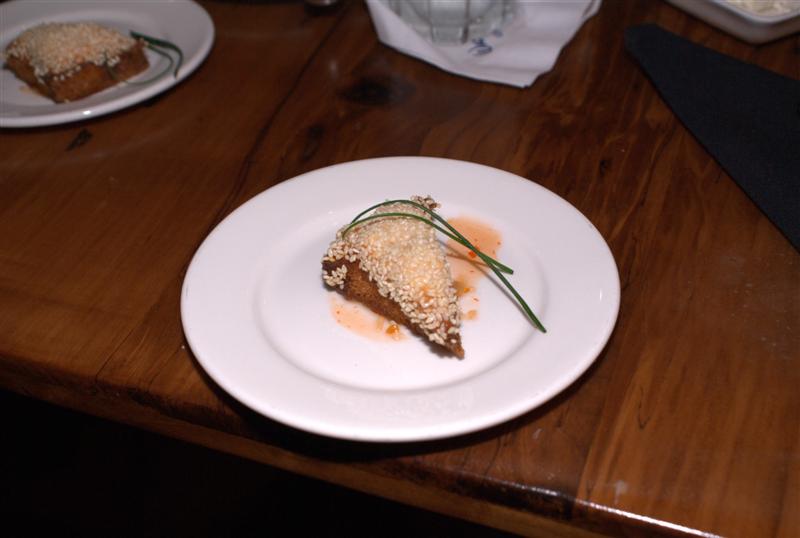 We always get the Sticky Wings appetizer. They were better than ever on this night...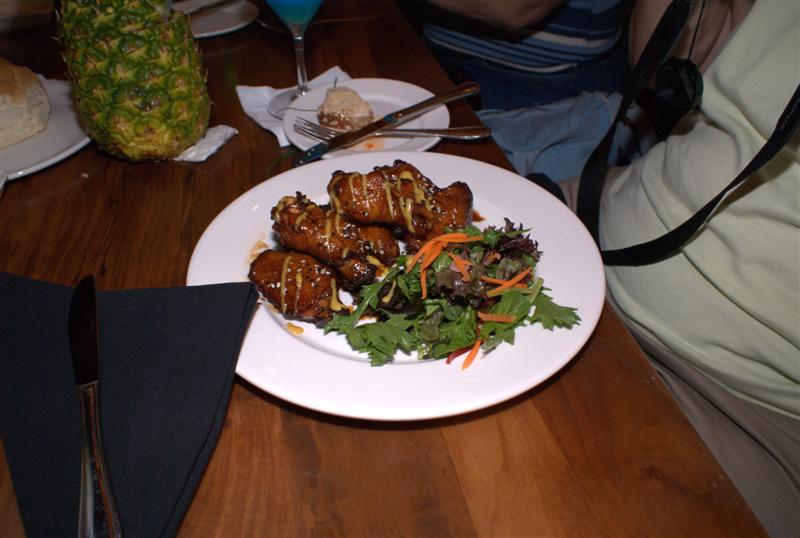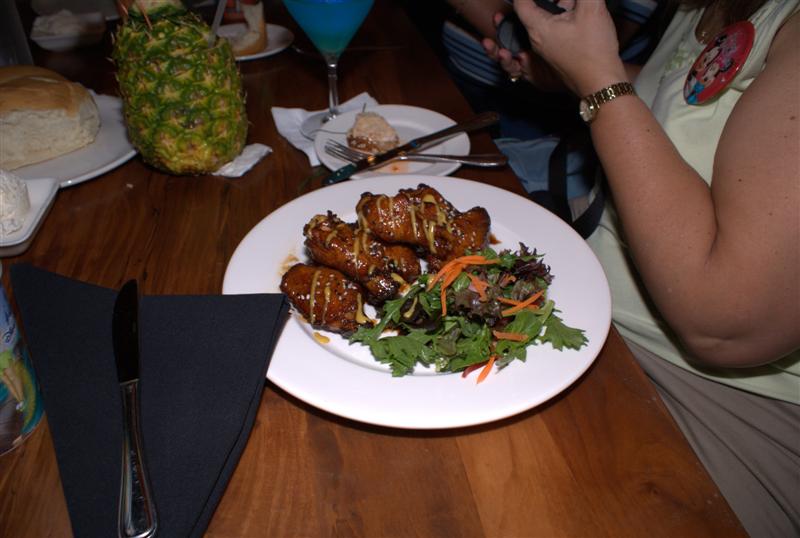 I'm looking rather "happy" in this picture because in all seriousness I'd drank more alcohol on this ONE day than I had in probably the previous 6 months! But let me explain! LOL At the airport that morning we thought it'd be fun to upgrade our seats from coach to first class. Well we were glad we did because we ended up with a 2 hour delay once we were ON the plane. Being in first class, they immediately bring you over a drink, and then when we were delayed they kept refilling my vodka and orange juice! LOL Then add to that the Lapu Lapu, and the Blue Glow-tini...and well, you can see why I'm smiling...and squinty-eyed! ROFL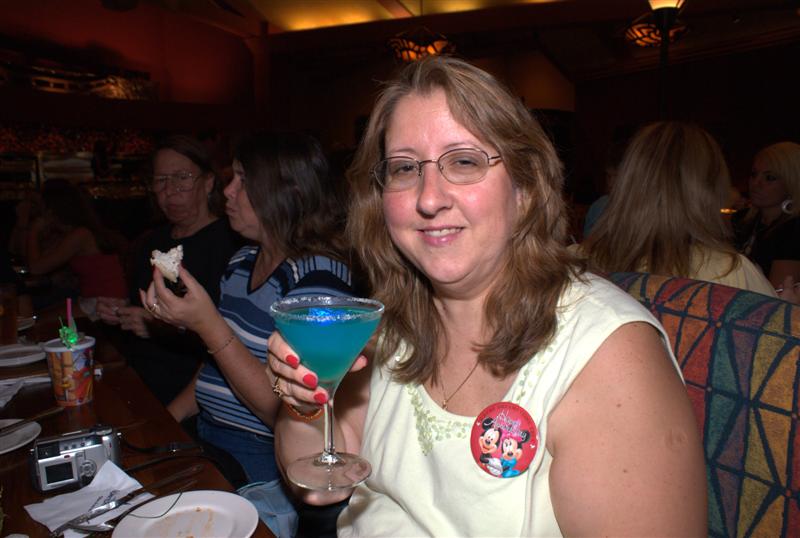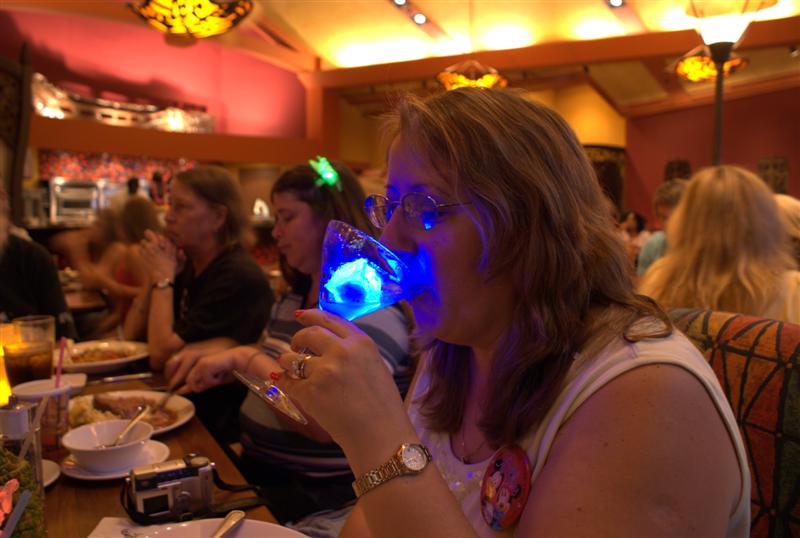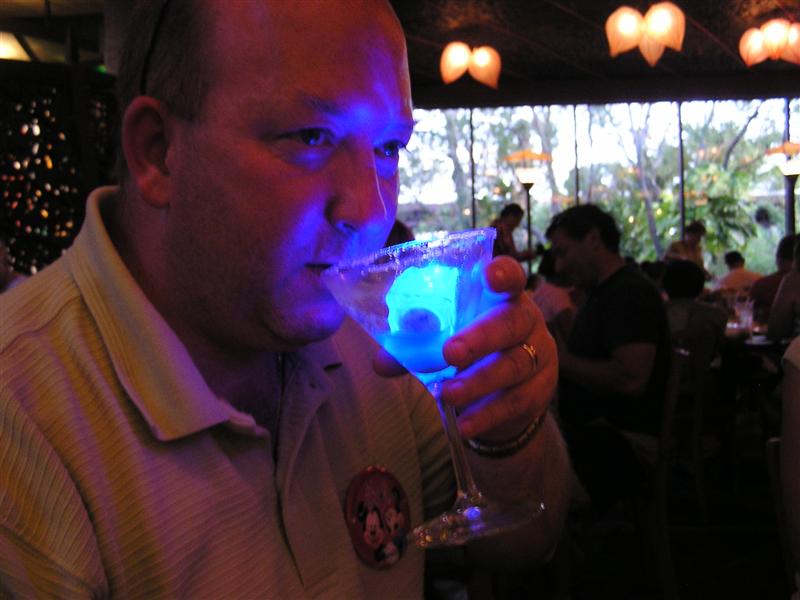 A nice shot of my glow-tini!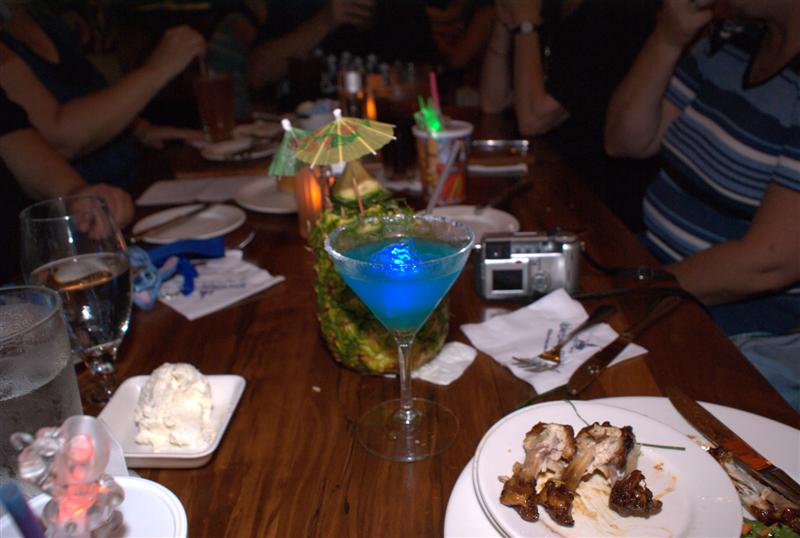 This is the Beef Teriyaki and John and I get this almost every time we have dinner here. It was excellent, as always!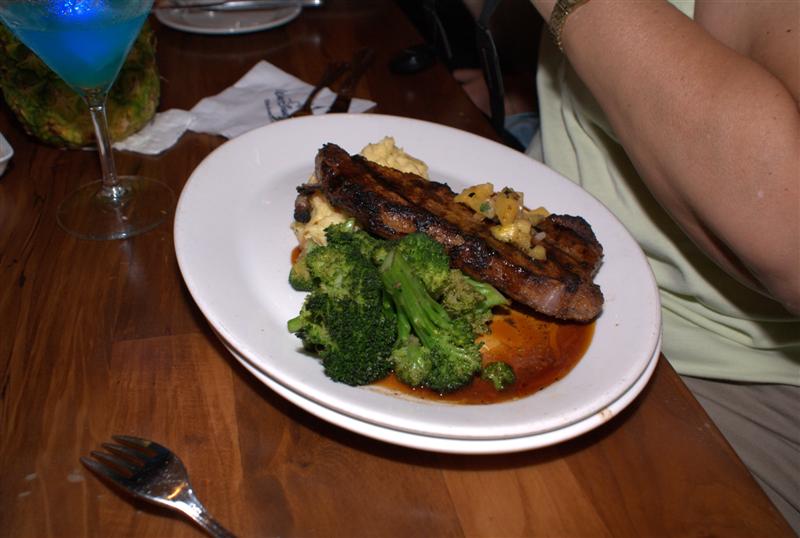 Our friends know me well and didn't dare take a bite of their food before I had a chance to take pictures of it all! LOL I don't know exactly what some of these dishes are, but don't they look great???

This is some sort of shrimp and scallops dish...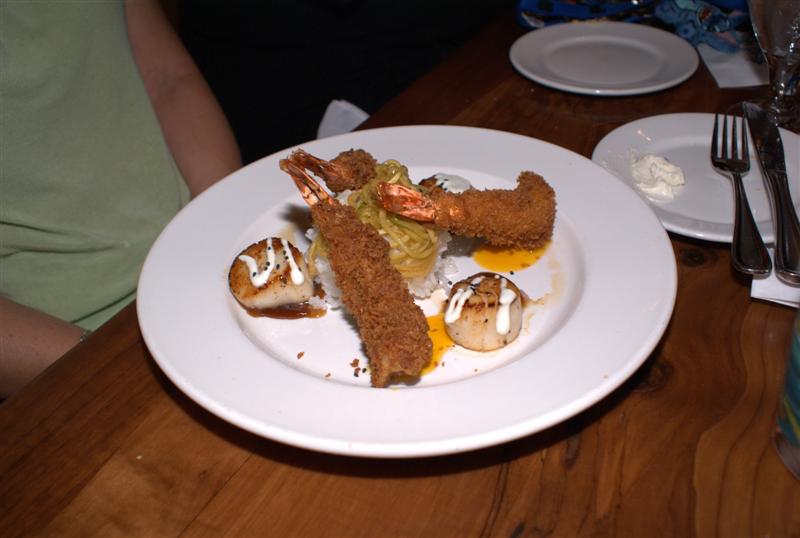 Turkey medallions wrapped in bacon...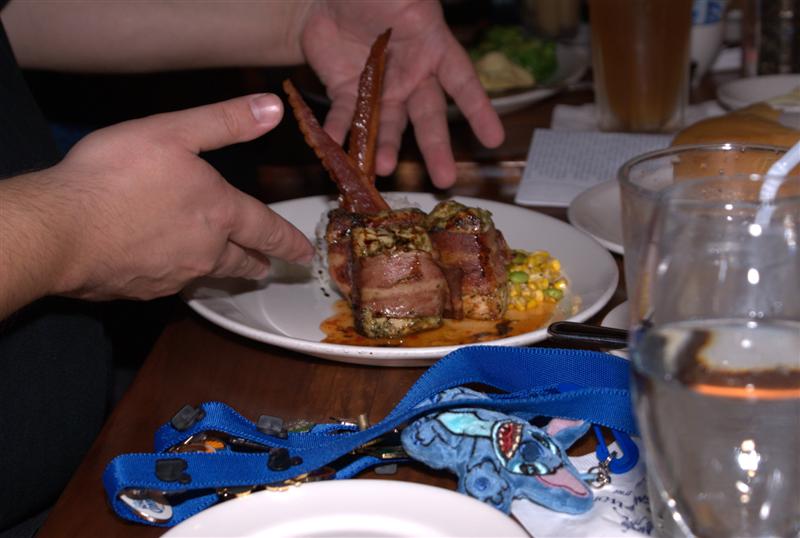 Prime rib...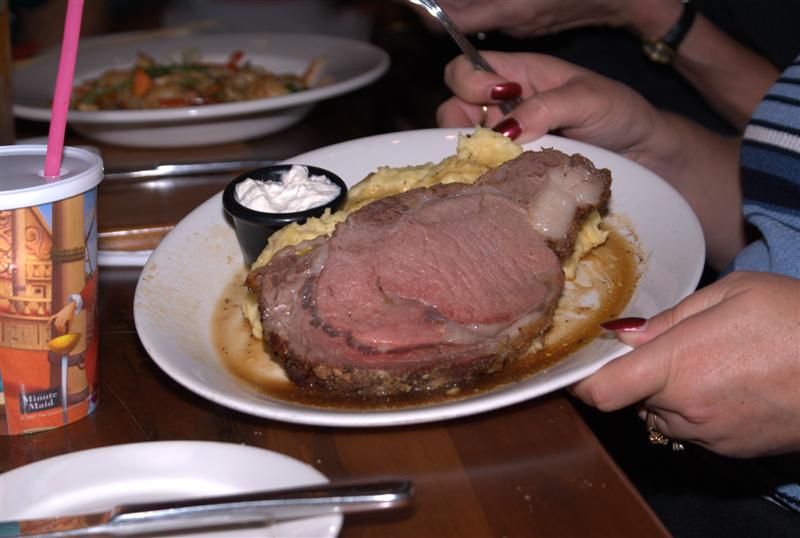 Our server was EXCELLENT and took some pictures of all of us.... (Hi everyone!)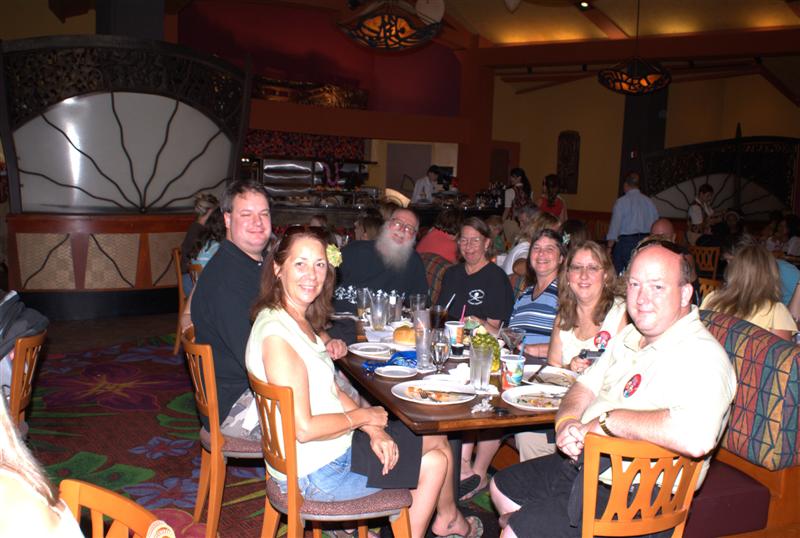 I'm still happy and my eyes are still not quite open all the way! (ROFL)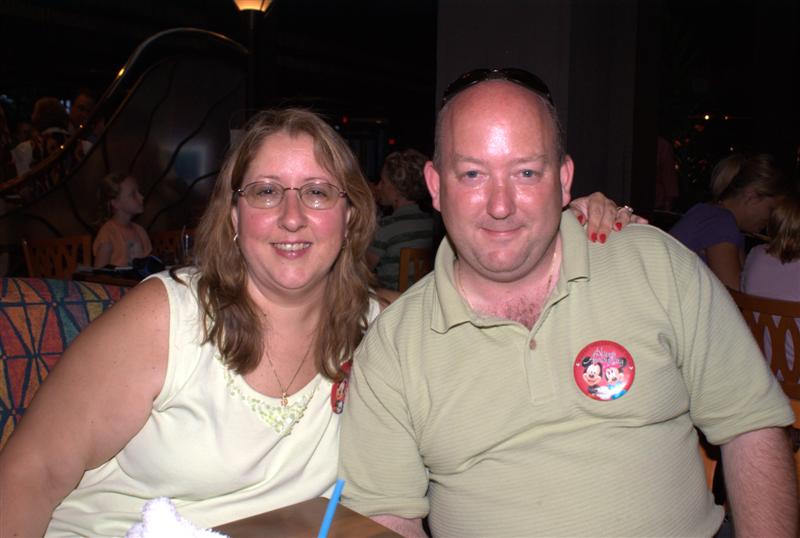 Awww...my lapu lapu is all gone?!?!!??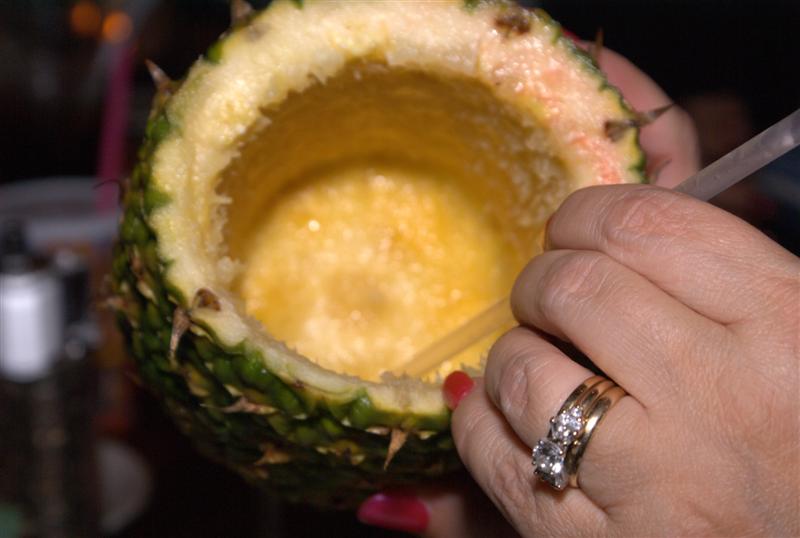 Our server saw that John and I were wearing "Happy Anniversary" pins and brought us out this amazing complimentary dessert!!! They're "cocoa puffs" and they used to be on the menu, but from what I understand they only have them for special occasions now. They were goood...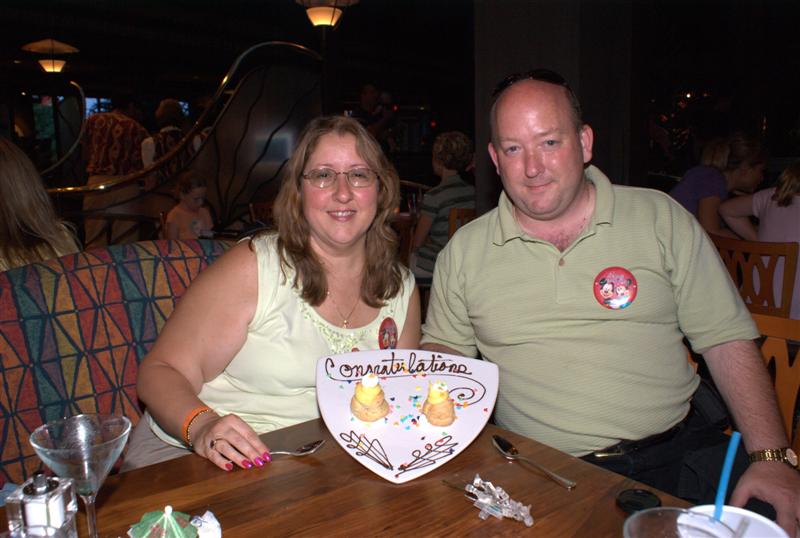 For dessert, most of us ordered the Kilauea torte AKA Chocolate volcano cake...with a side of vanilla ice cream!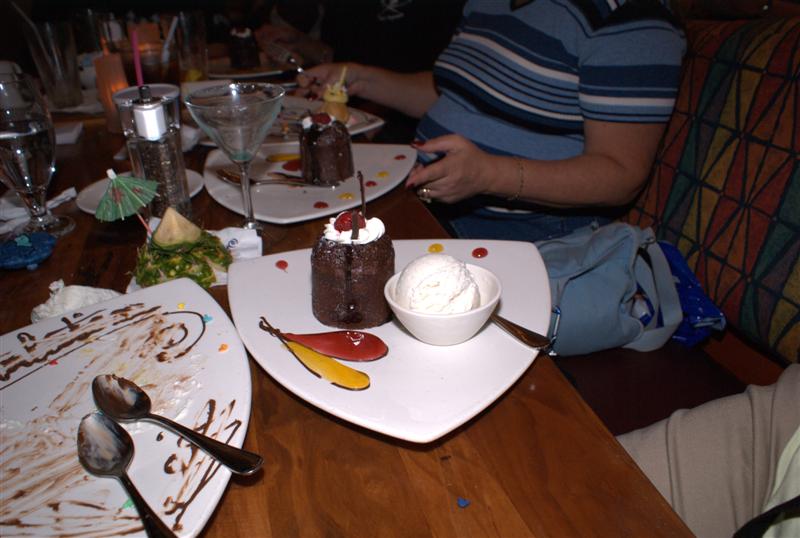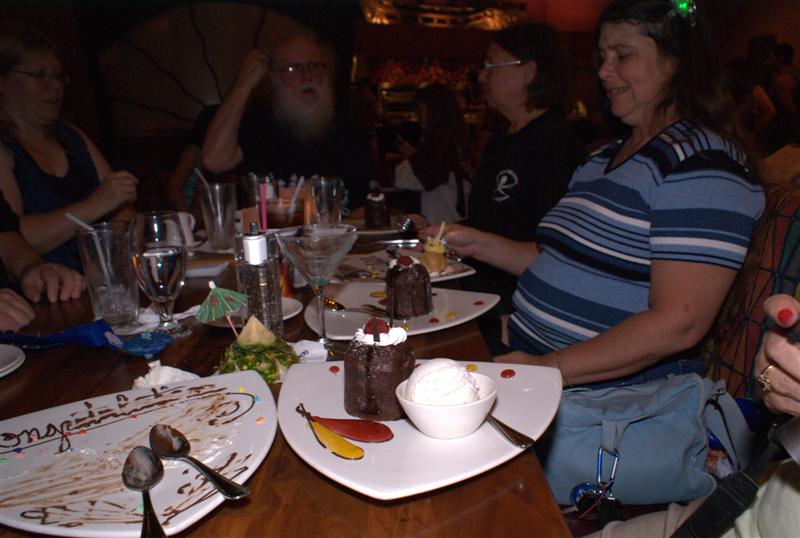 John's plain vanilla ice cream (I notice in this picture that they threw a couple of M&Ms on the plate! LOL)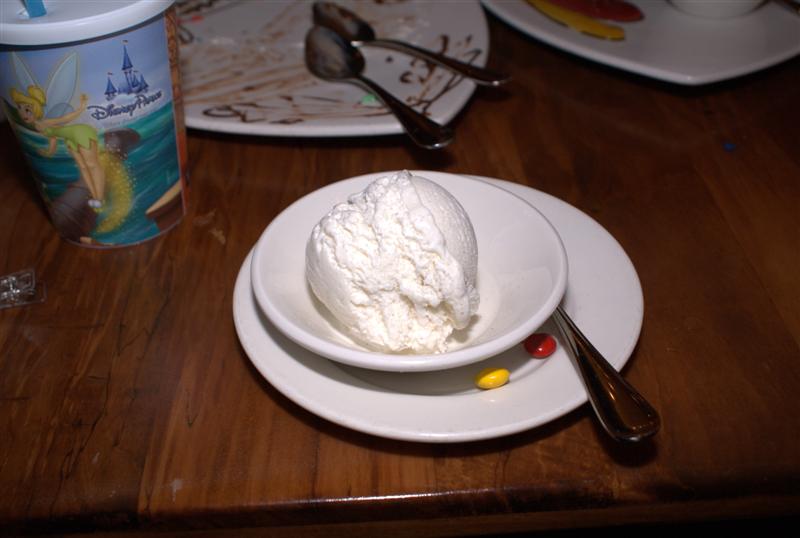 Someone ordered the cheesecake!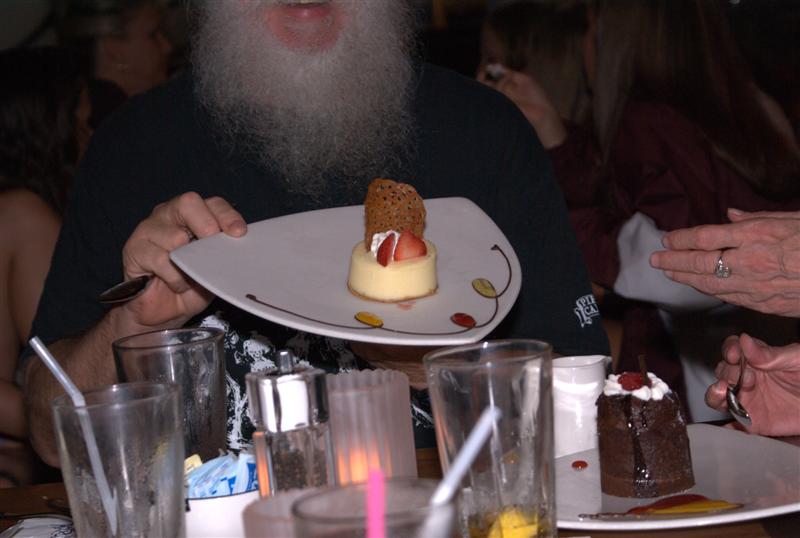 Ahh...the liquid chocolate lava flows....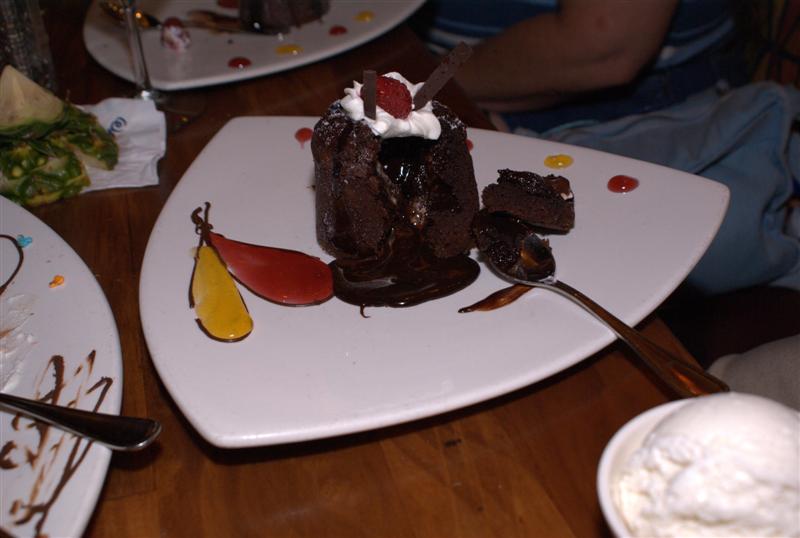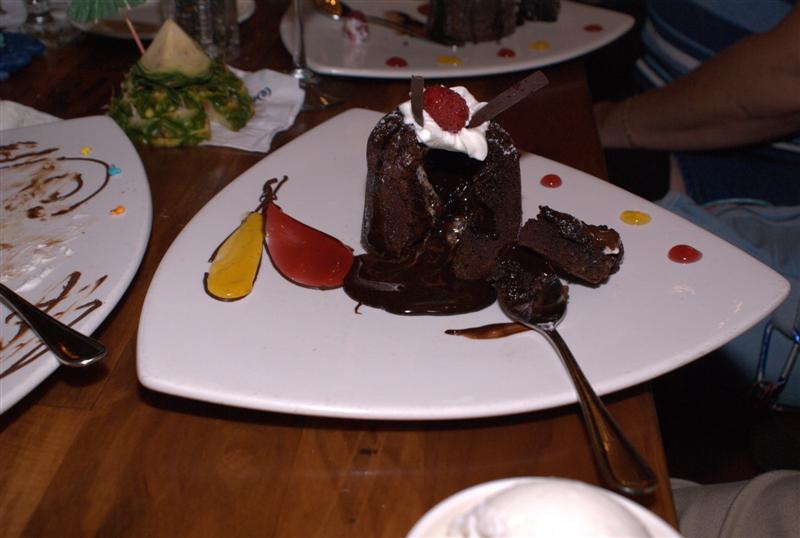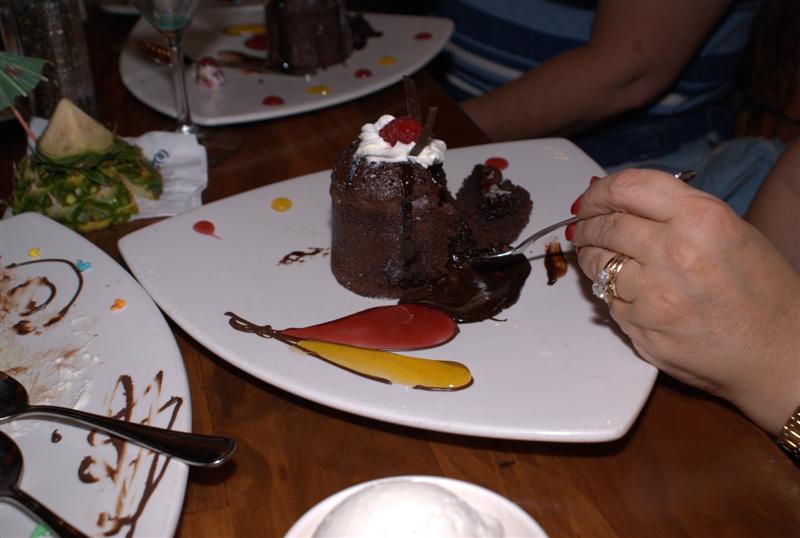 Each morning we had breakfast at the Kona Cafe...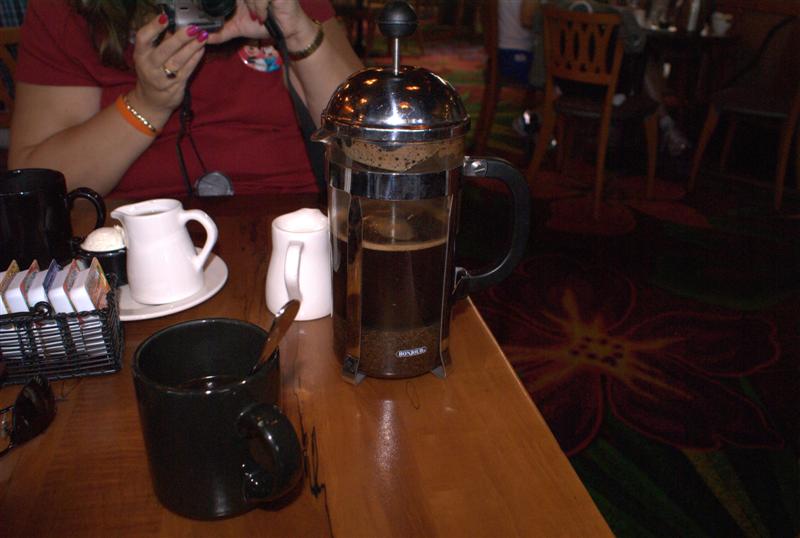 We ordered the Kona coffee press pot each morning and it was excellent!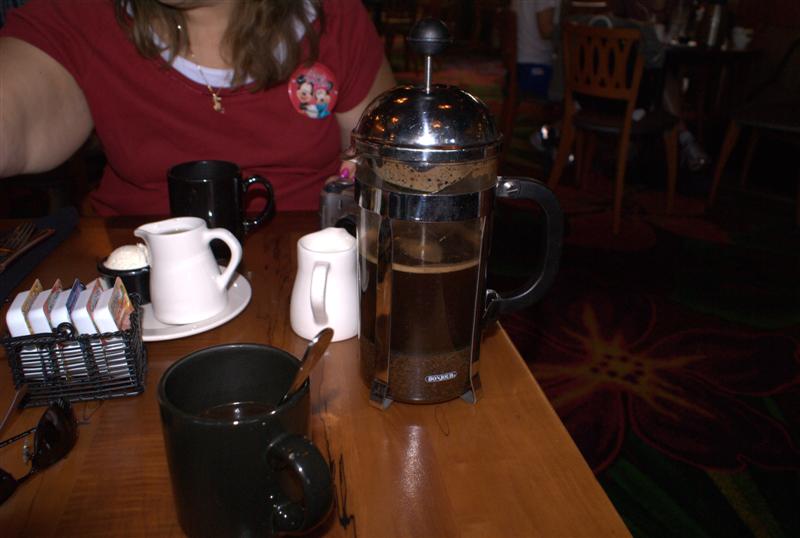 Tonga toast!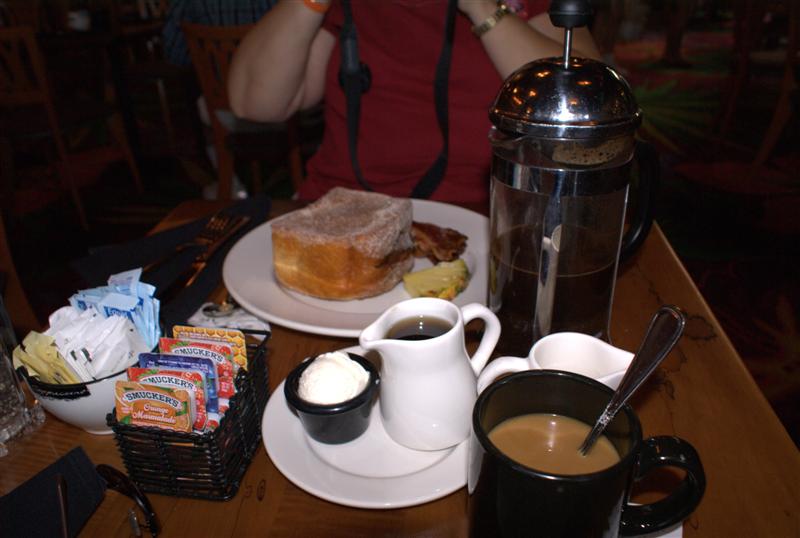 Tonga toast, close up!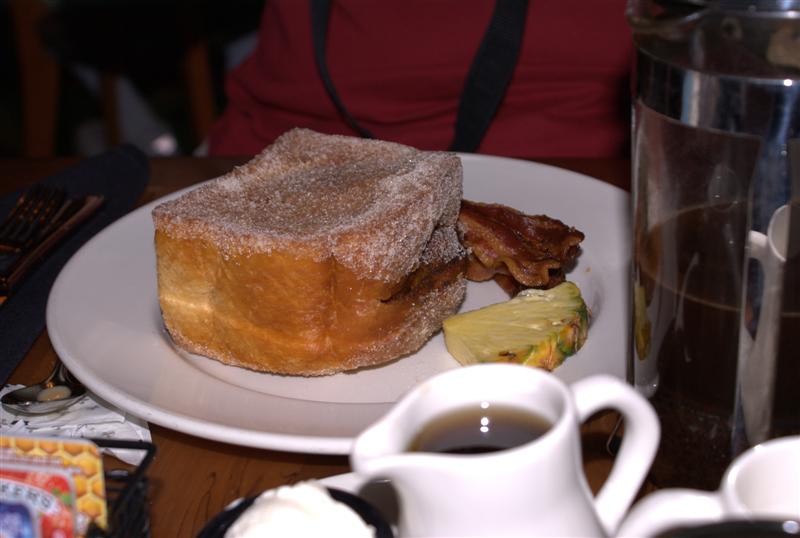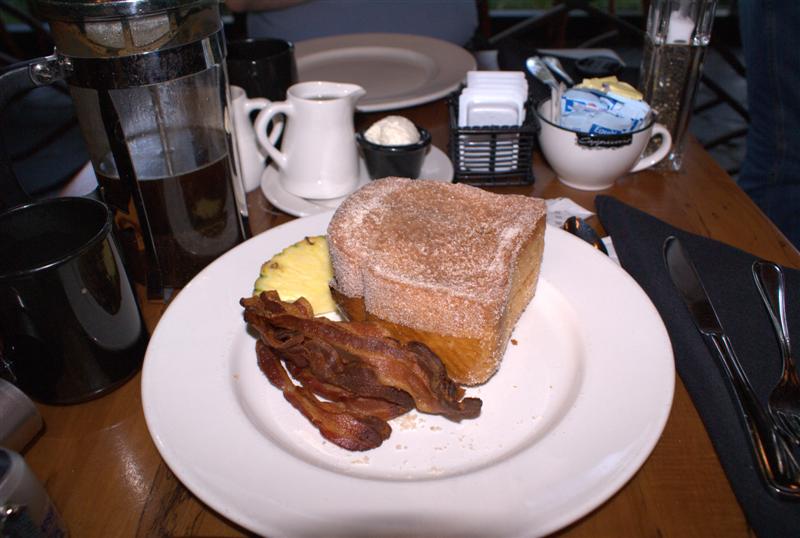 In this picture you can see the fresh banana stuffed inside...it's SOOOO good...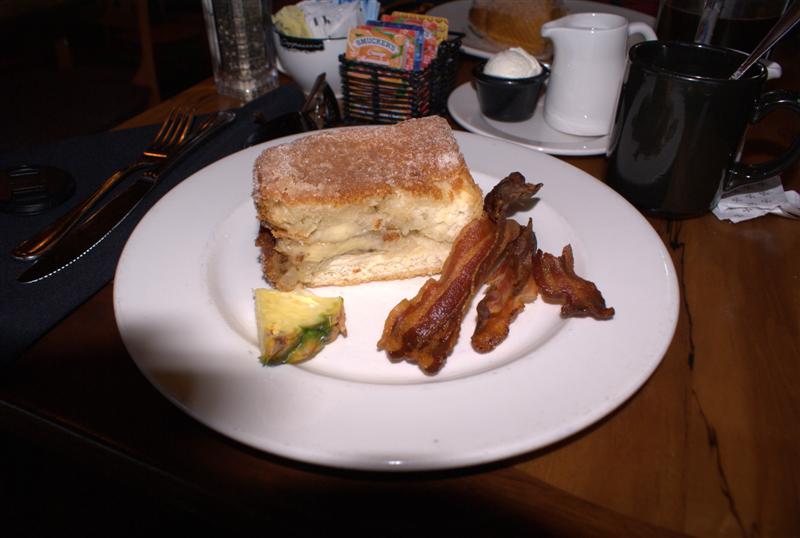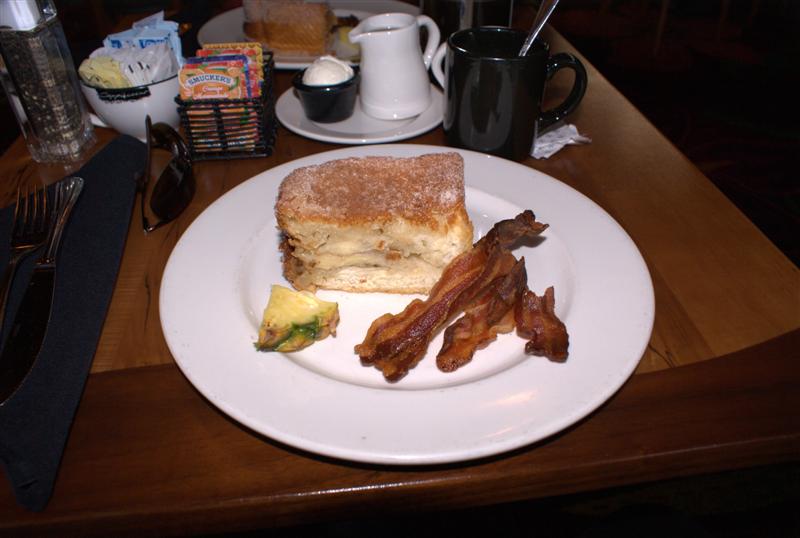 Nothing like a fresh cup of Kona coffee to start your day off right! And notice my eyes are finally open! ROFL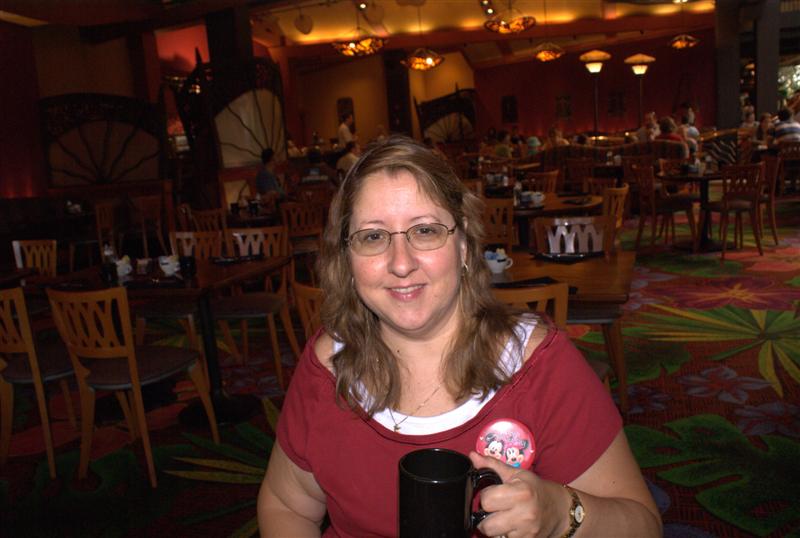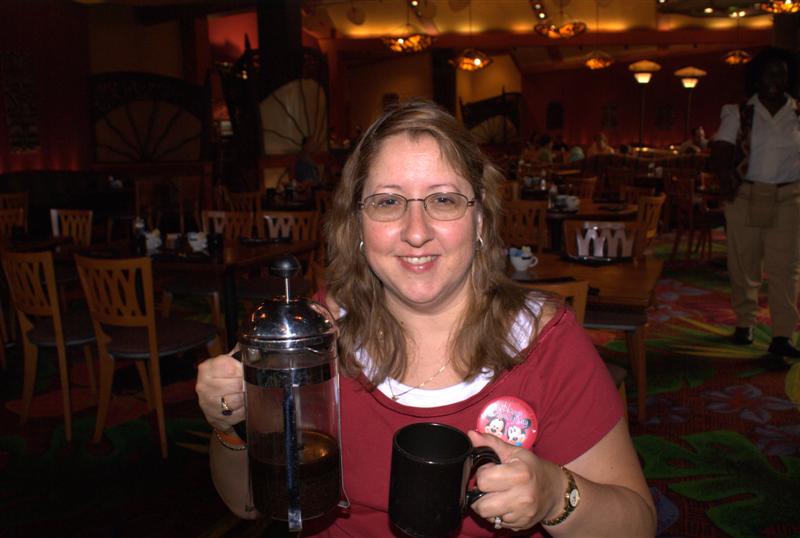 We went over to the Whispering Canyon at the Wilderness Lodge for lunch! Back in 2005 John had the rainbow trout and it was excellent, so we wanted to go back again. It's only on their lunch menu.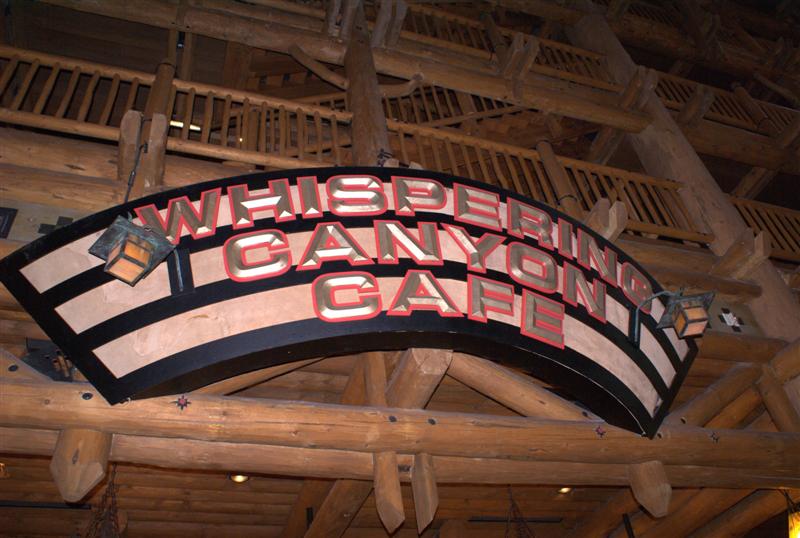 Sometimes the servers put on quite a show; here's a server bringing "large" drinks to another table. lol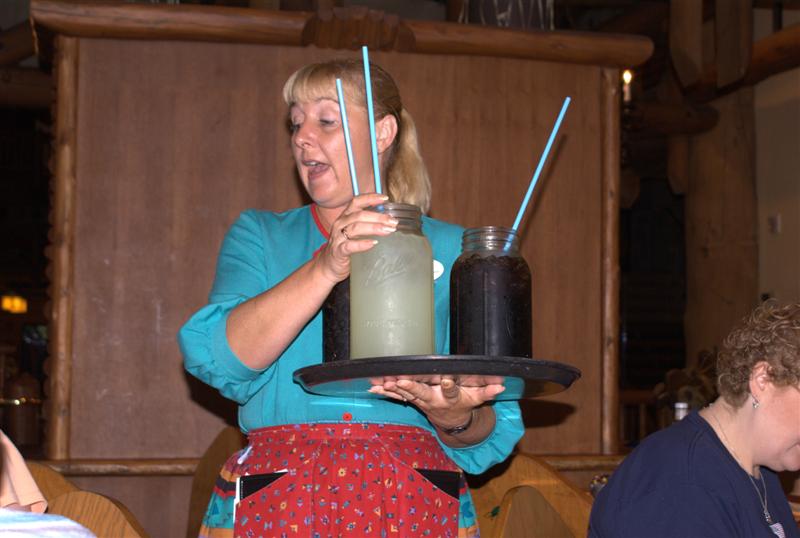 I ordered iced tea and I was thrilled when our server brought over lots of lemon AND an extra glass of ice! JUST how I like it!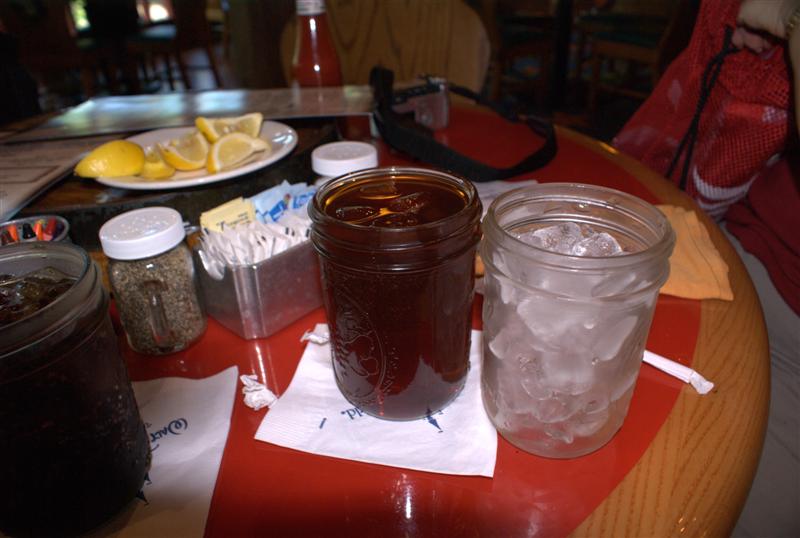 I had the western corn chowder; it was very good!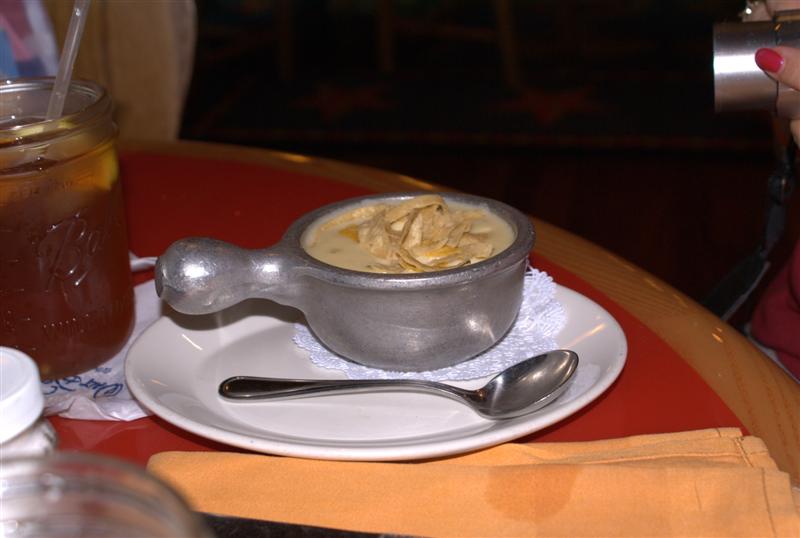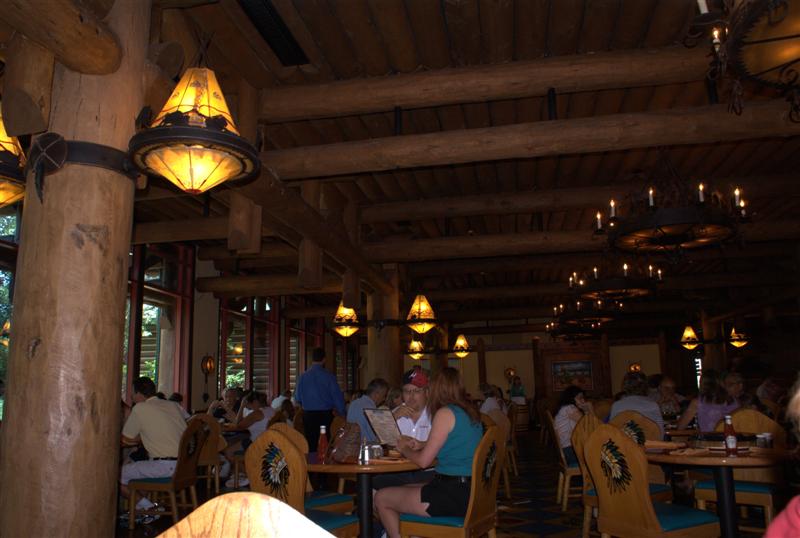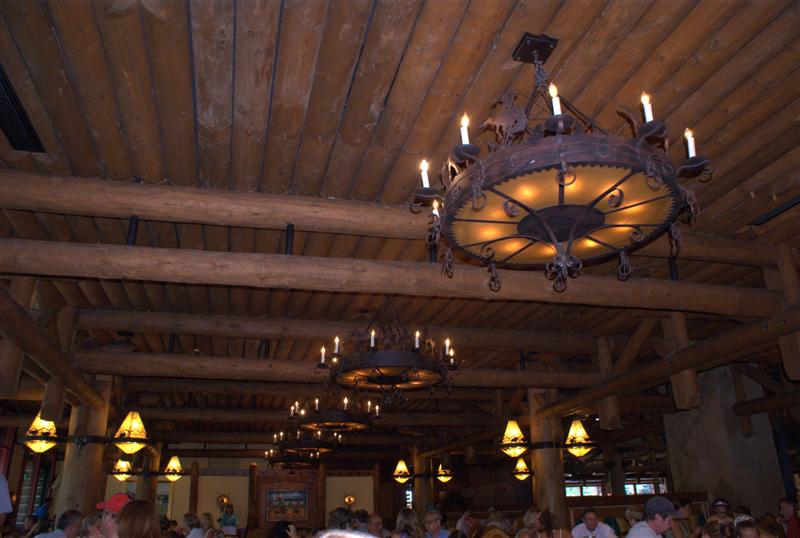 At long last, John's rainbow trout!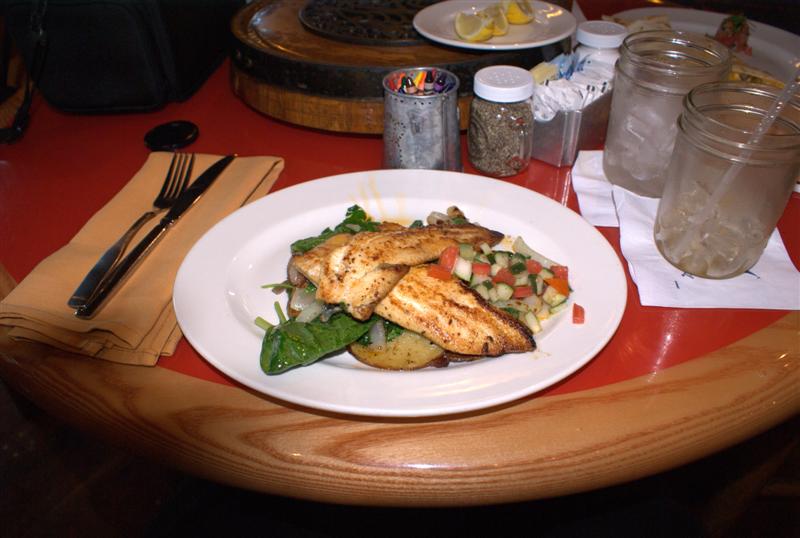 I had chicken quesadillas which is an appetizer, but it was just the right amount of food, along with the chowder, for lunch. It was very good.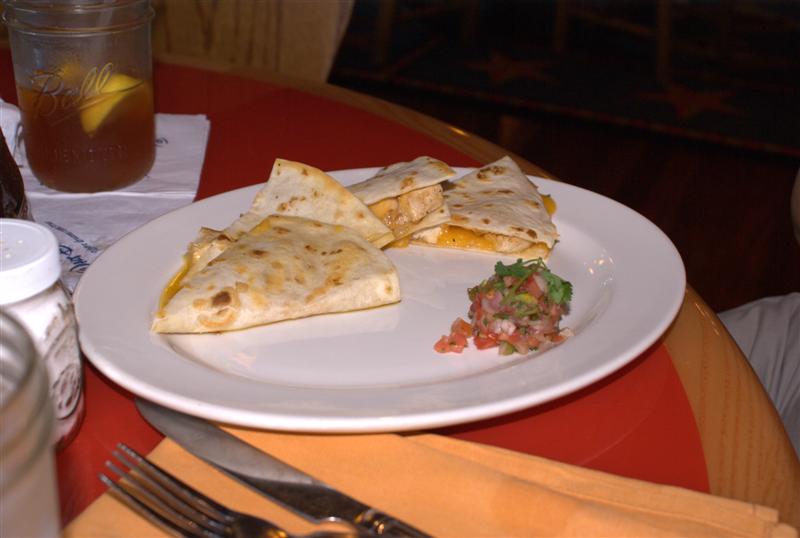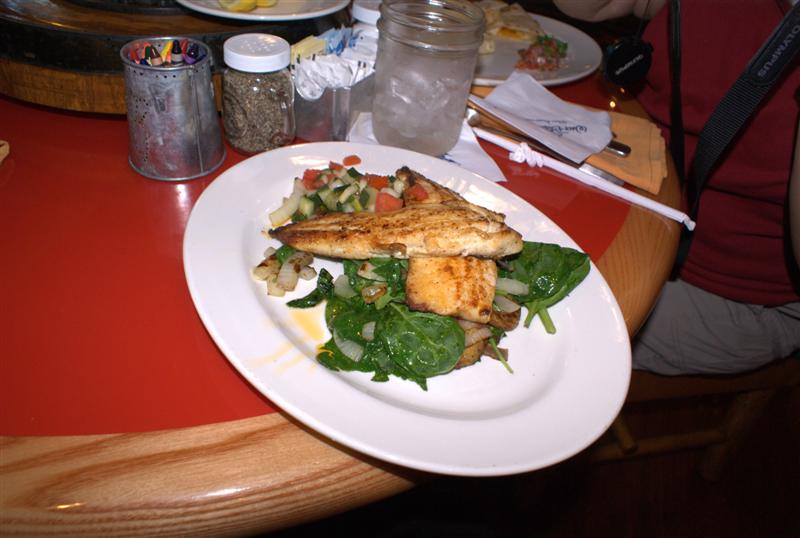 They called the kids up to participate in a pony race. All of the kids seemed to be having a great time.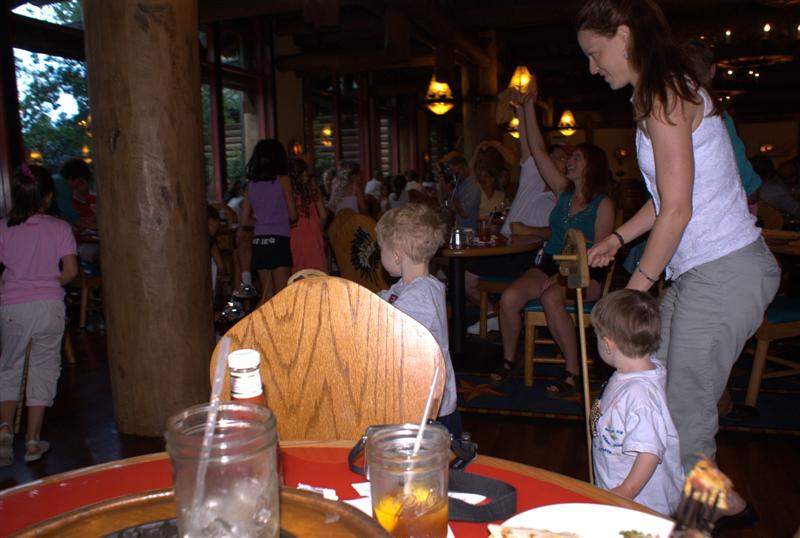 We were twirling our napkins and cheering the kids on.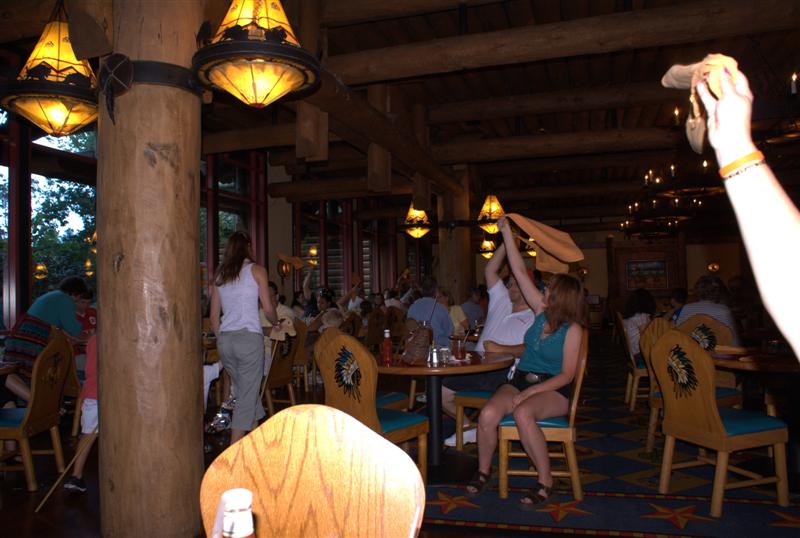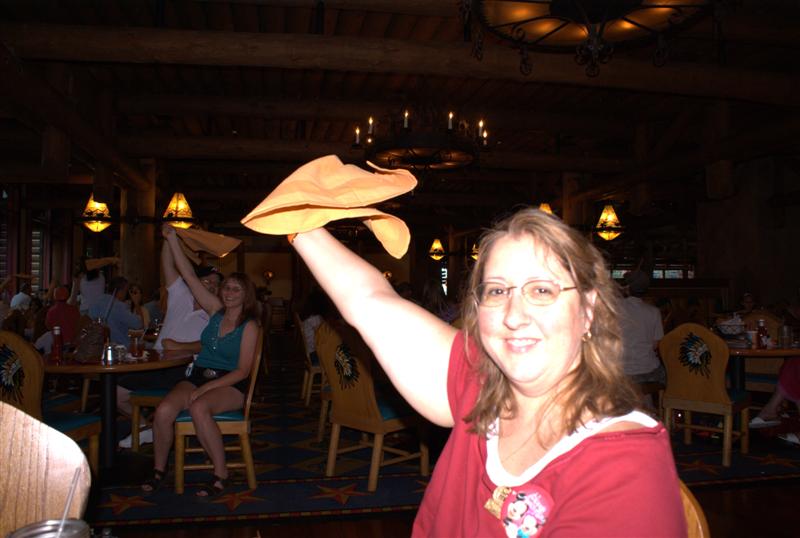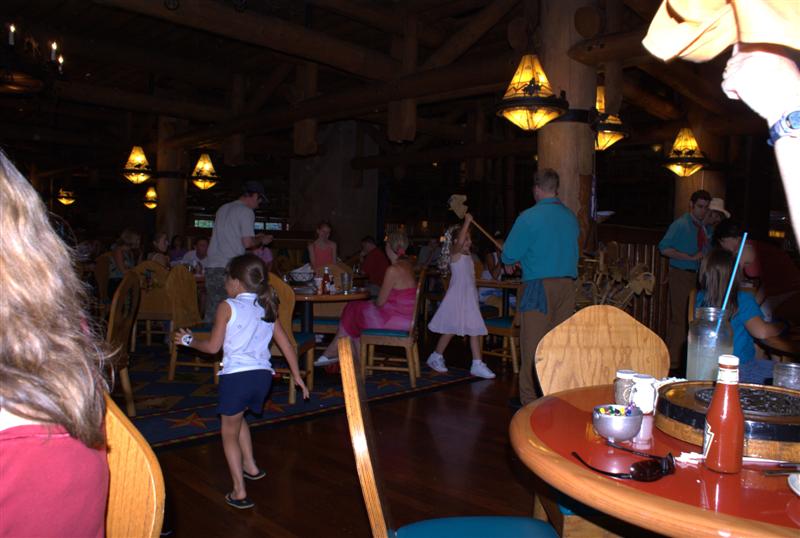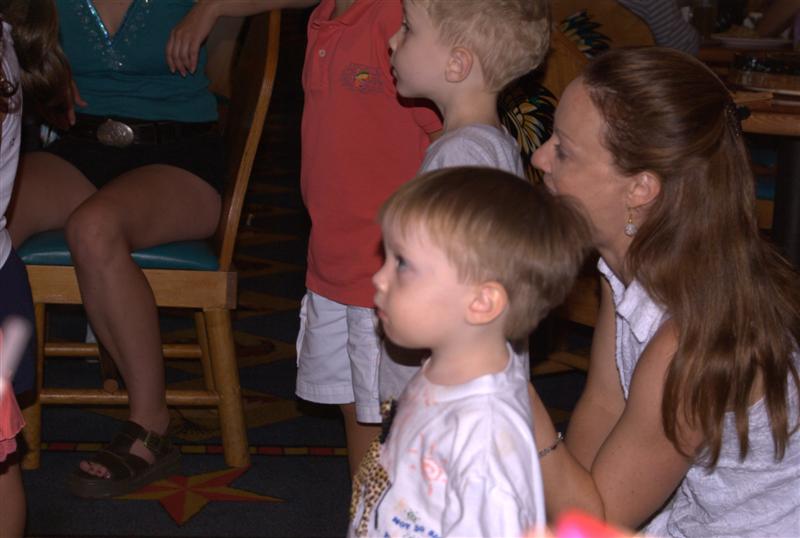 On our way back to the Magic Kingdom via boat, John snapped these pictures of the geyser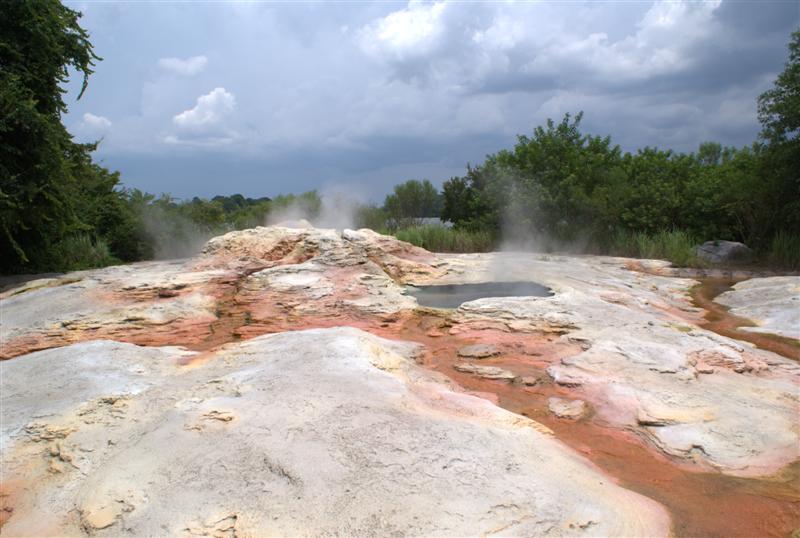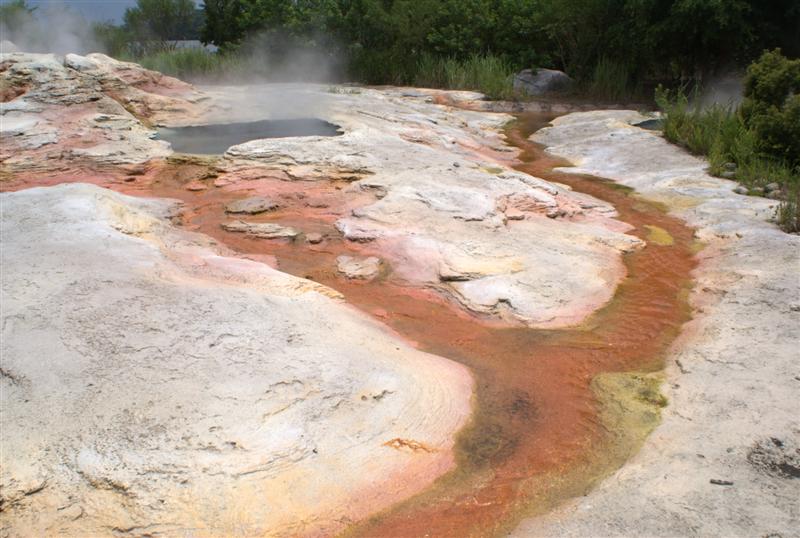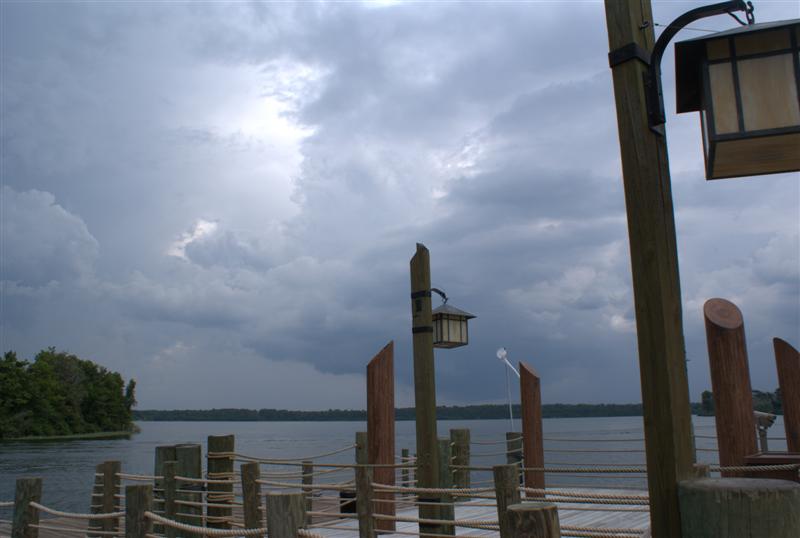 Another breakfast at the Kona Cafe. Today, we had pineapple-macadamia pancakes which are my favorite!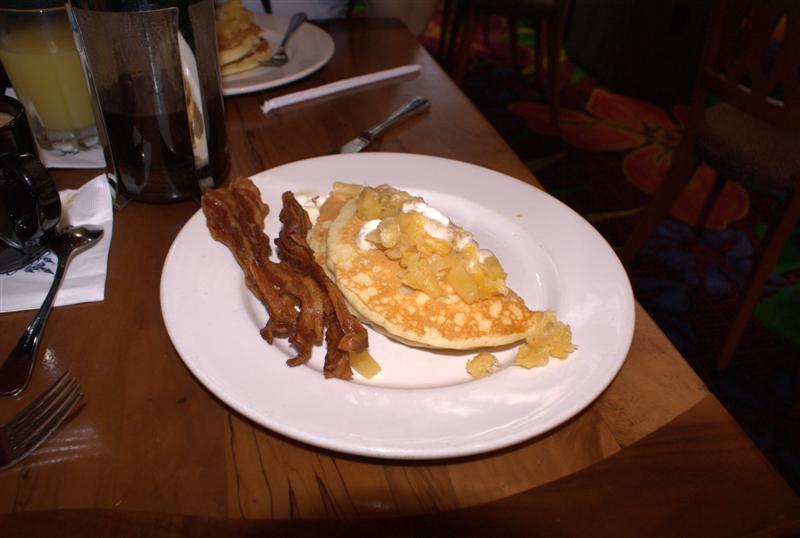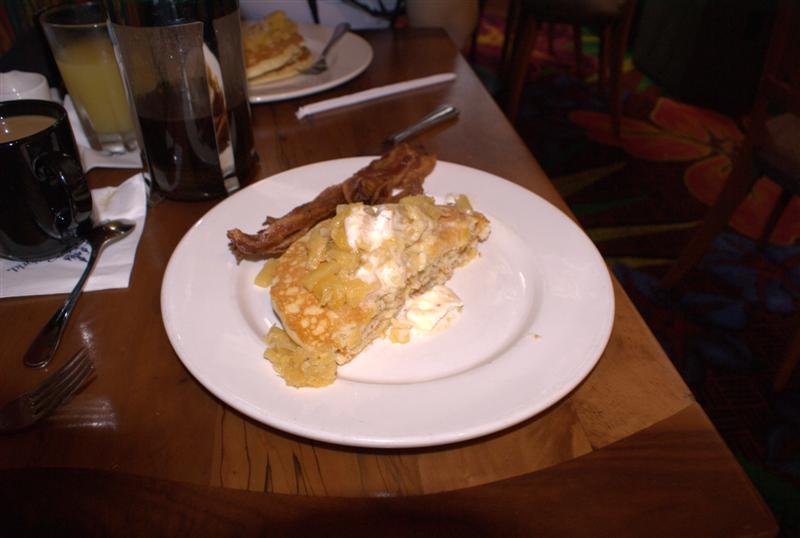 Our server brought us more cocoa puffs, in celebration of our anniversary :)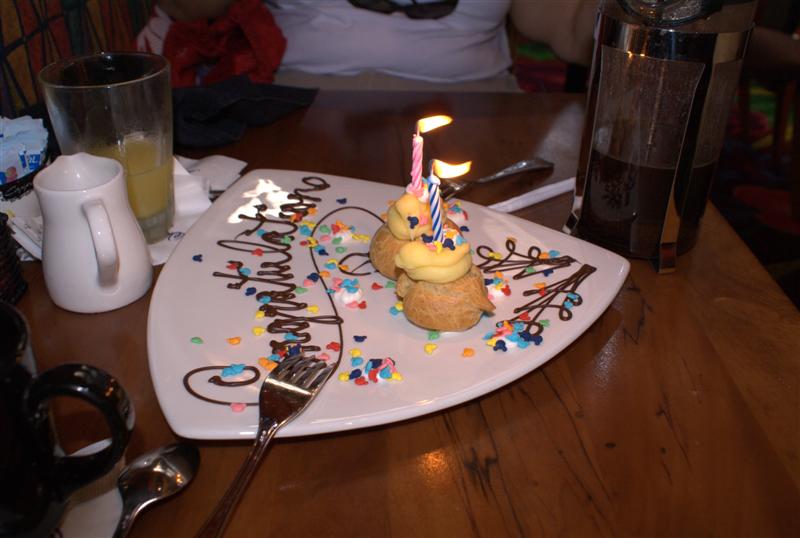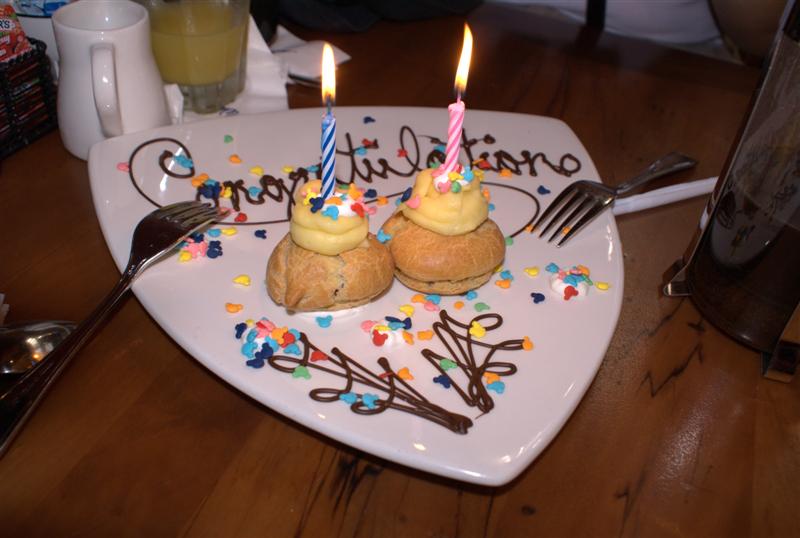 We had lunch at Restaurant Marakkesh in Morocco in Epcot.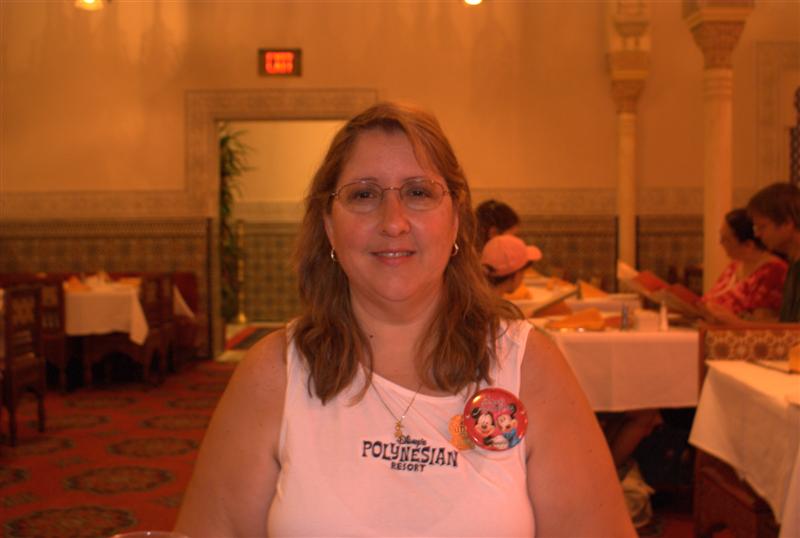 It's a very pretty building and restaurant but the lighting is dim and up high, so it's not easy to get good pictures.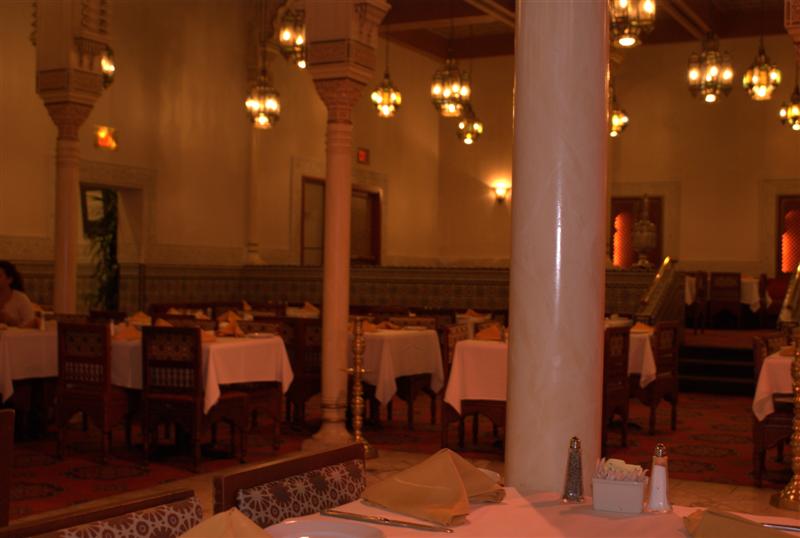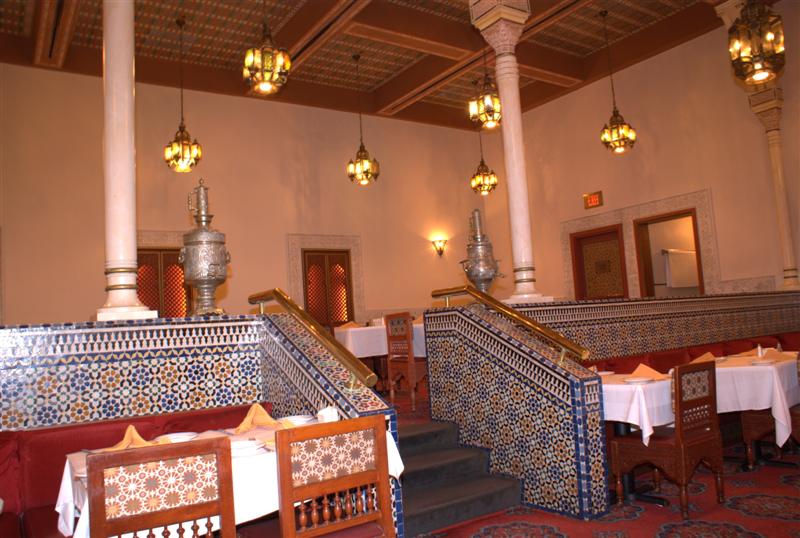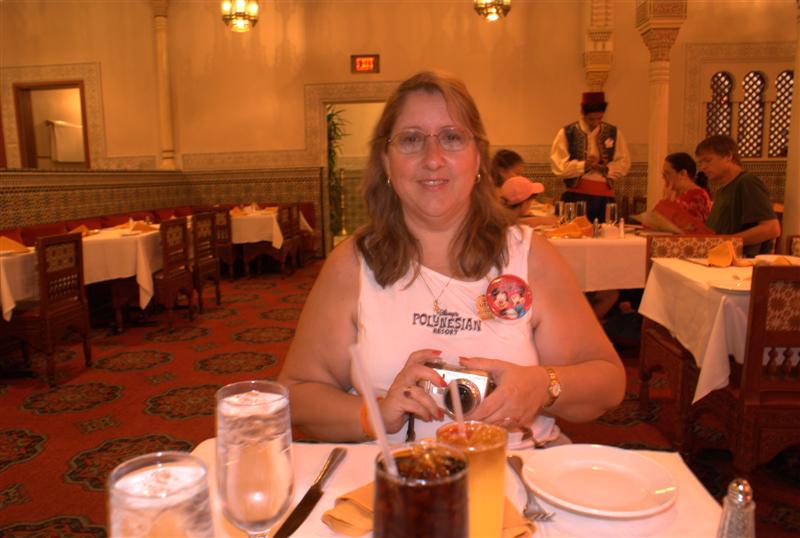 John ordered a diet coke and I ordered a "Night in Casablanca" which was very good!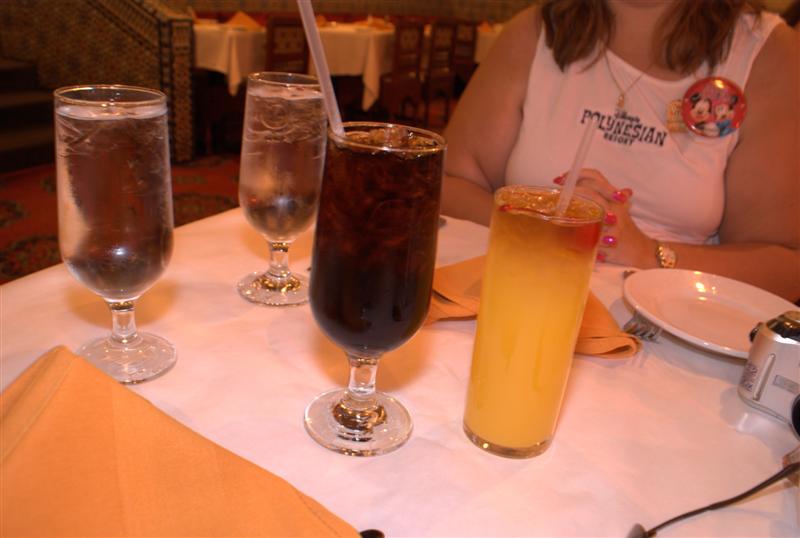 Jasmina salad... yum..it has a great balsamic dressing...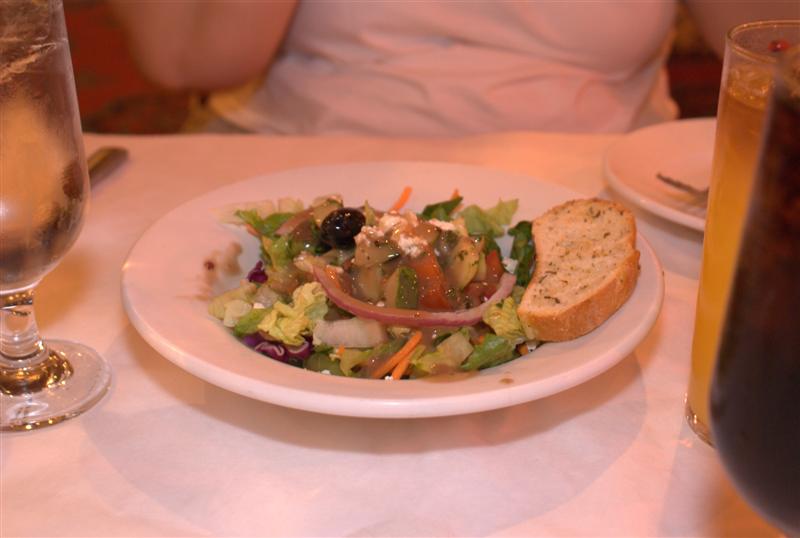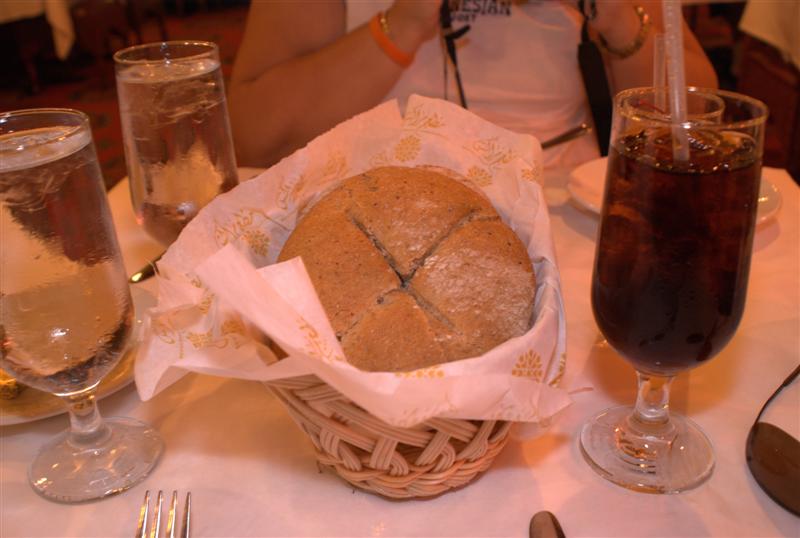 John ordered the lemon chicken which he said was great.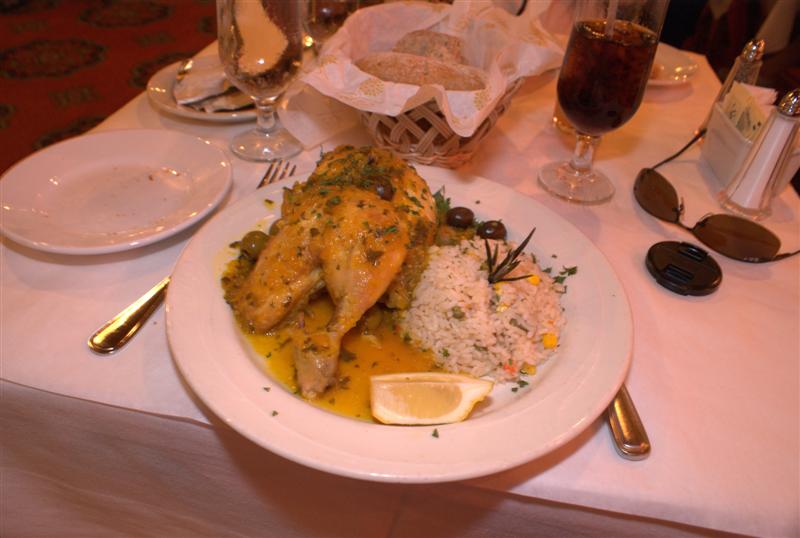 I had the chicken kebobs which were as great as the last time we had lunch there. This is now an Epcot favorite for us!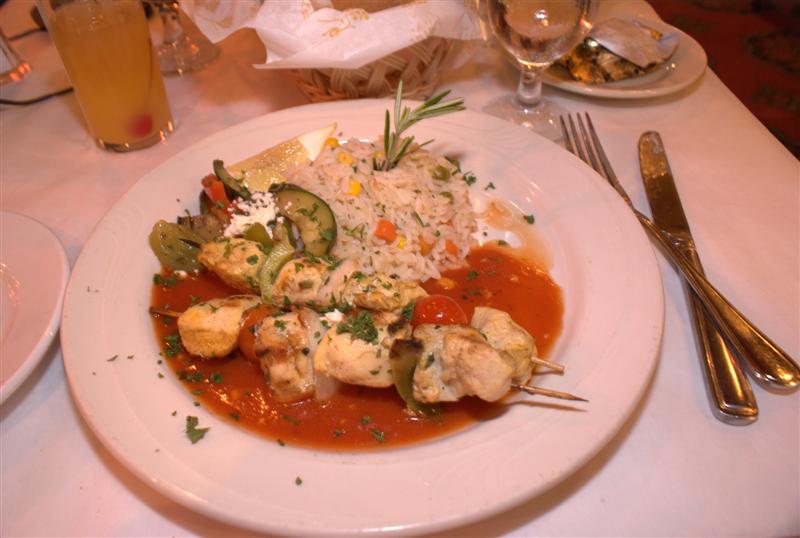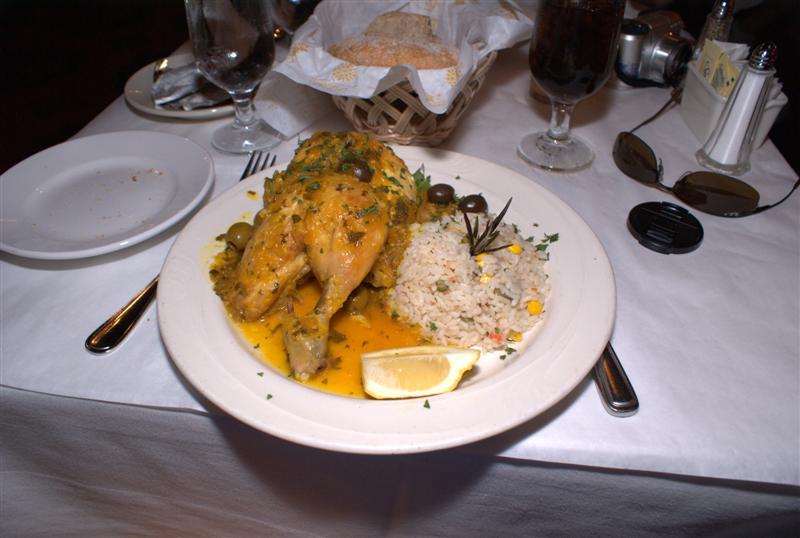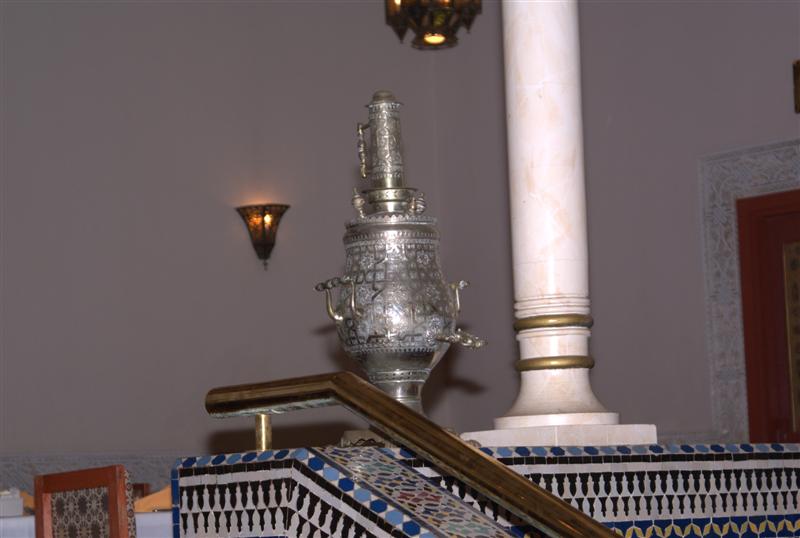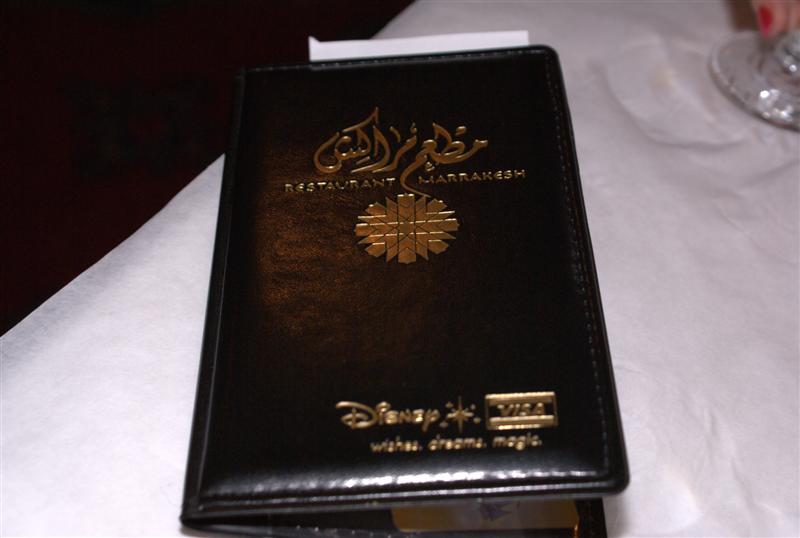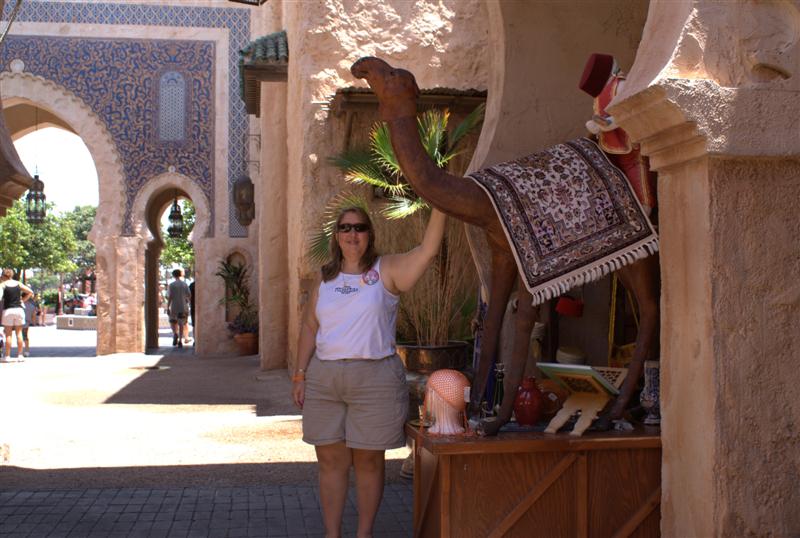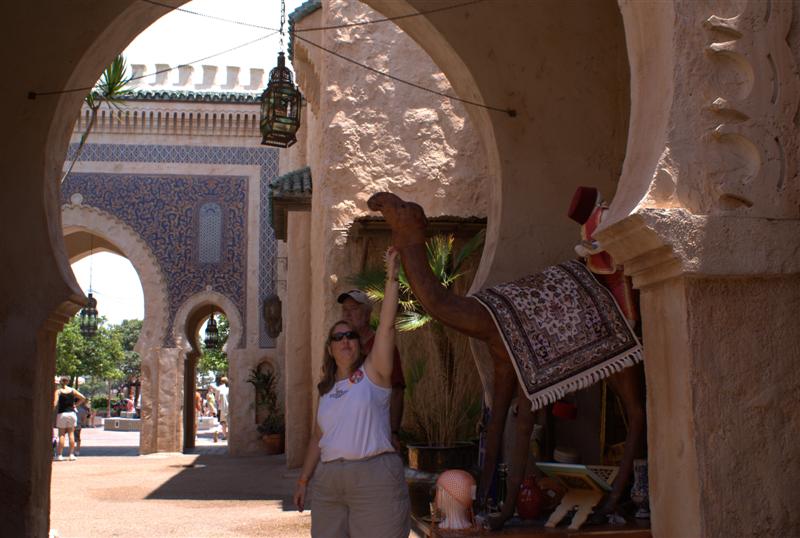 Here I am in Japan, buying boxes and boxes of rice candy for my son!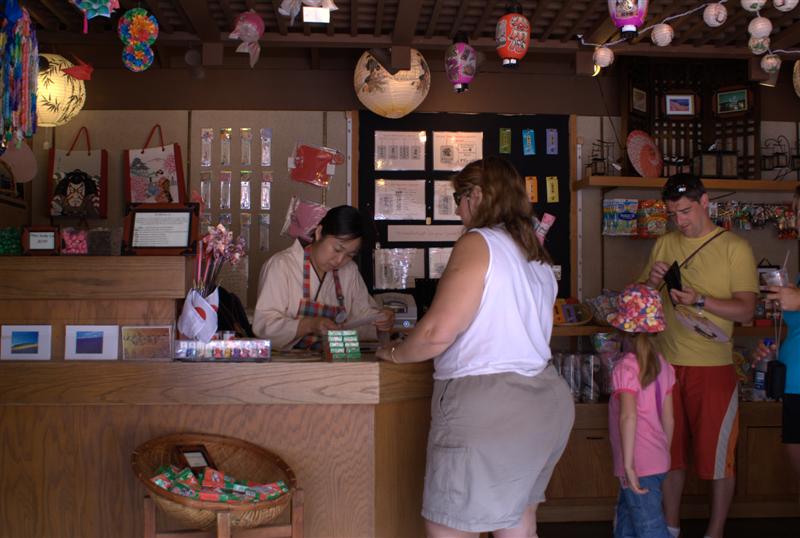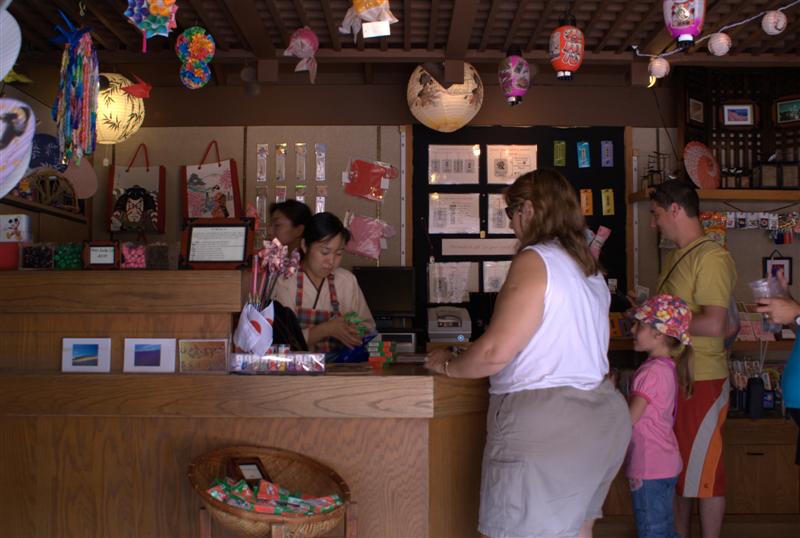 Later that day I had to introduce John to school bread... he took a few pictures outside of Kringla Bakery in Norway, while I went inside to purchase one for us to share...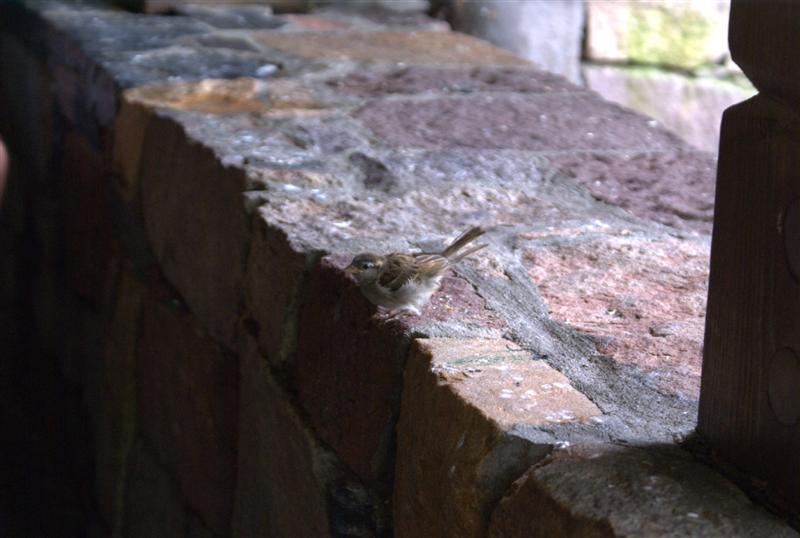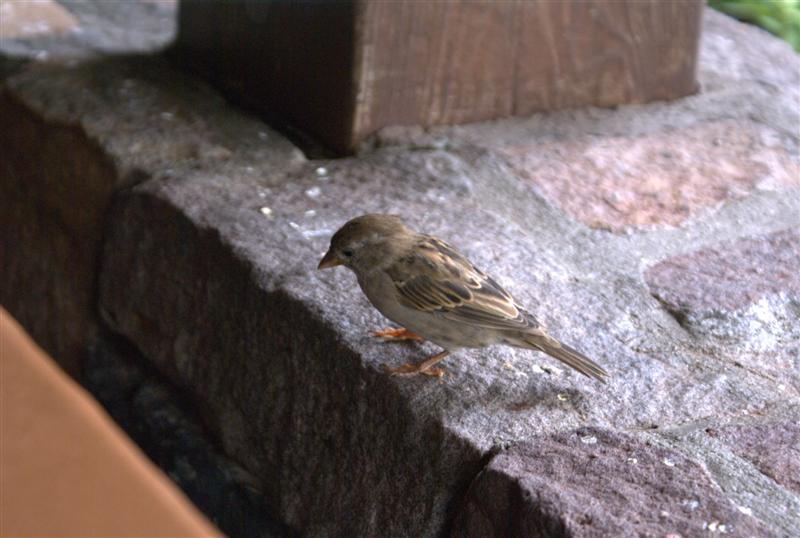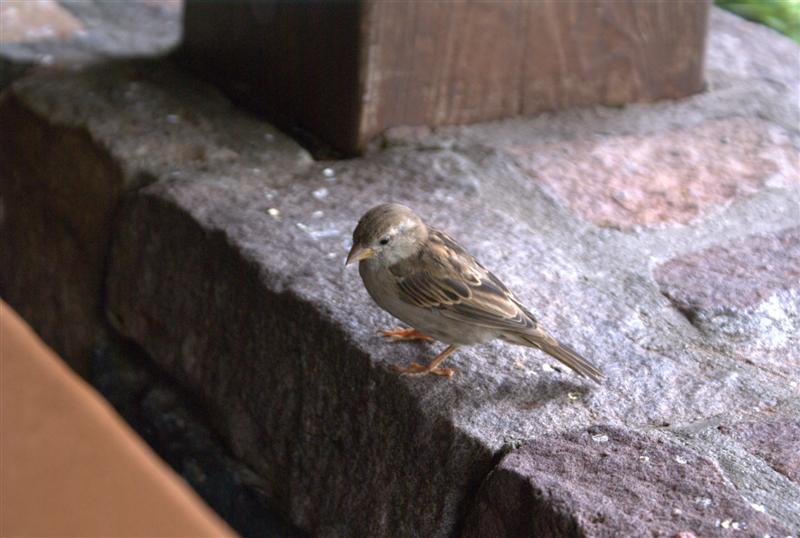 John said that the school bread was just as good as I told him it was!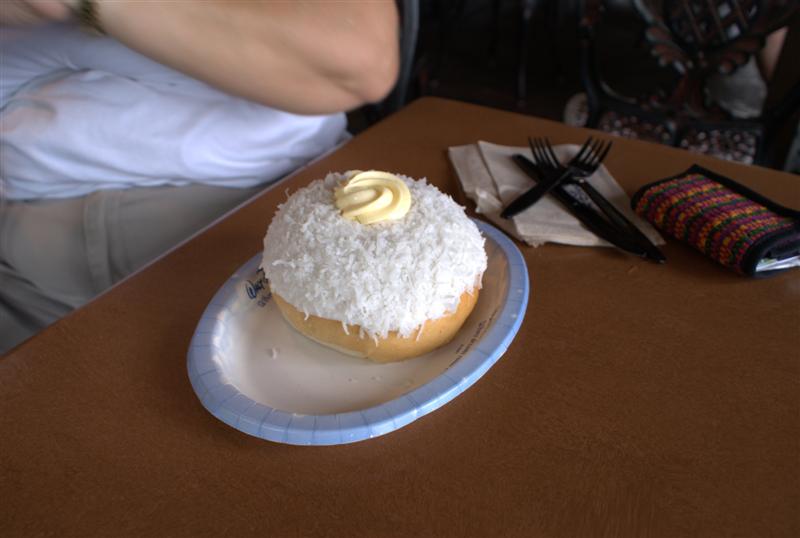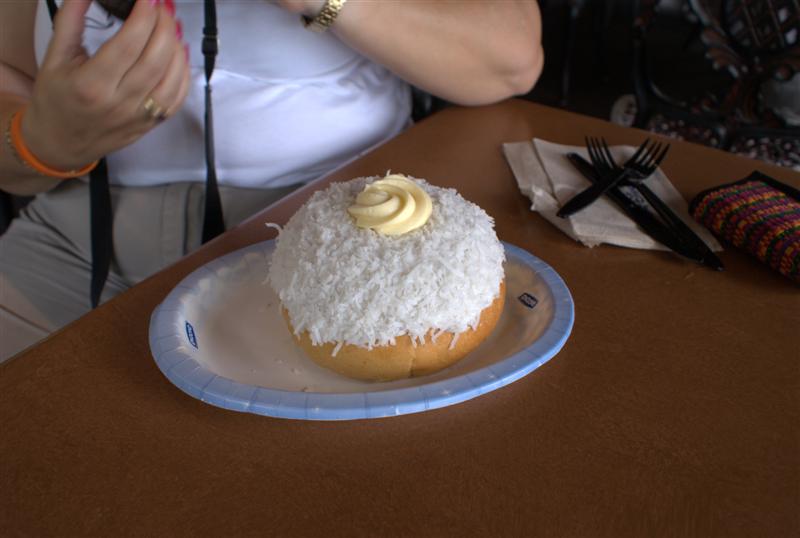 On our last day we went to the Plaza Restaurant for lunch. While waiting outside for them to call us, we saw a Streetmosphere CM walk past us, and into the Plaza....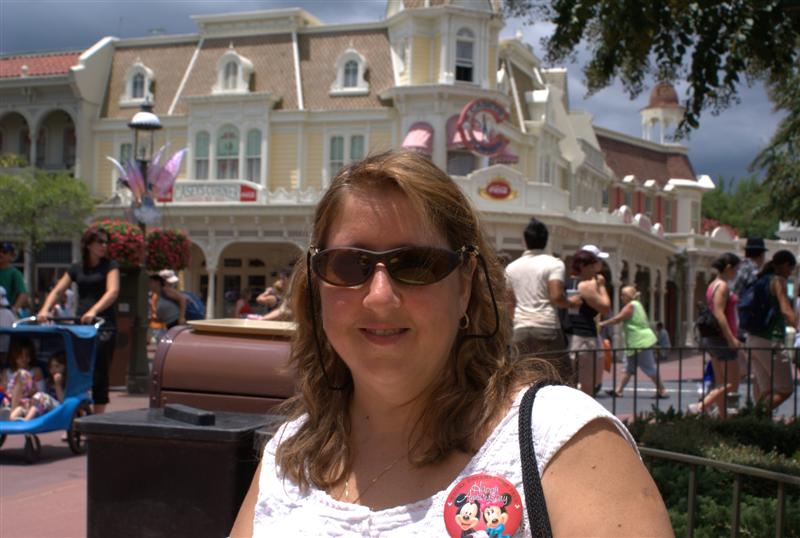 John snapped a picture of her as she made her way into the restaurant... Unbeknownst to us at that moment, we'd be seeing more of her, inside!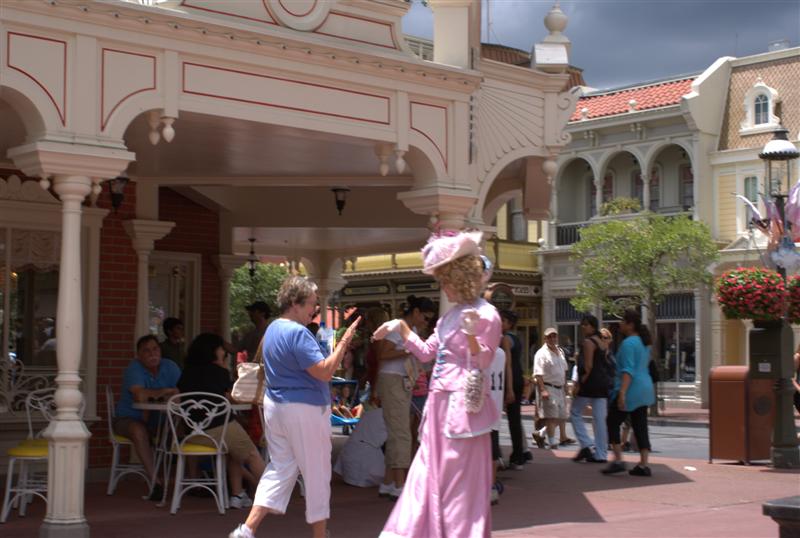 A moment later John and I were seating inside the restaurant and the CM who seated us casually asked us where we were from. We told her we were from Massachusetts and we made small talk with her for a minute or two. Then we sat down and started to look at our menus when we heard the woman start to speak loudly to everyone inside, telling us to practice saying "oooh..." and "ahh.." and to practice applauding, and twirling our napkins, etc! I was kind of half listening to her, but still trying to decide what to order for lunch! I vaguely heard her say that SOME family inside the restaurant is the 100th Guest family, and that they'd win a free dessert, a special certificate, AND (according to her, the best of all) the chance to pose for a picture with her! Well as she's saying this, John and I looked at each other and had a feeling they'd say OUR name, because this had been one of those trips where a LOT of special things happened! (See my Tikifest page! LOL)... So she announced "The BROWN FAMILY from Massachusetts!!!" and we cheered and she came over, gave us the certificate, posed for pictures with us, and basically made a bigger fuss when she realized we were celebrating our anniversary as well! Here are the pictures from this fun and most unexpected event!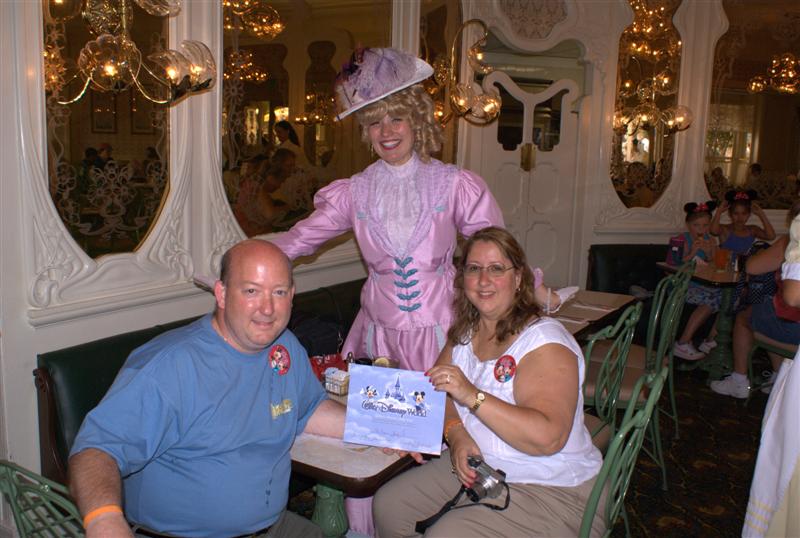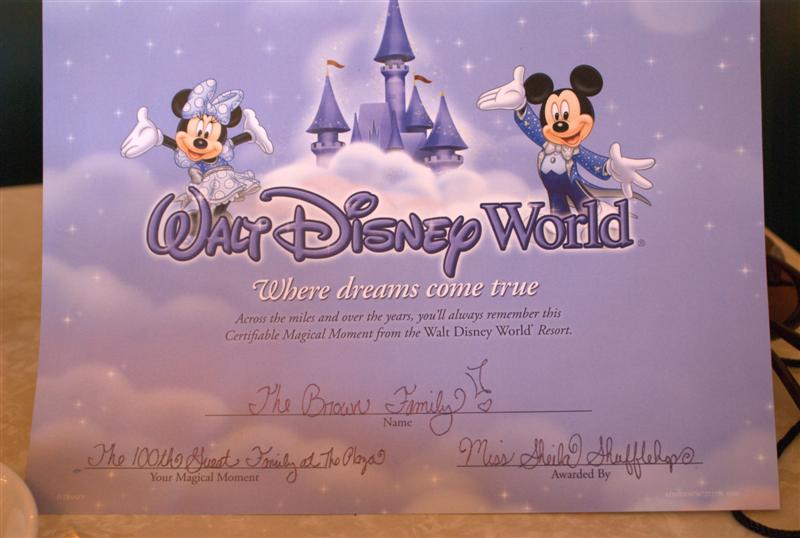 THE BEST hamburger and french fries I've ever had in my life....(keeping in mind that we were fresh on our break from South Beach Diet still! LOL)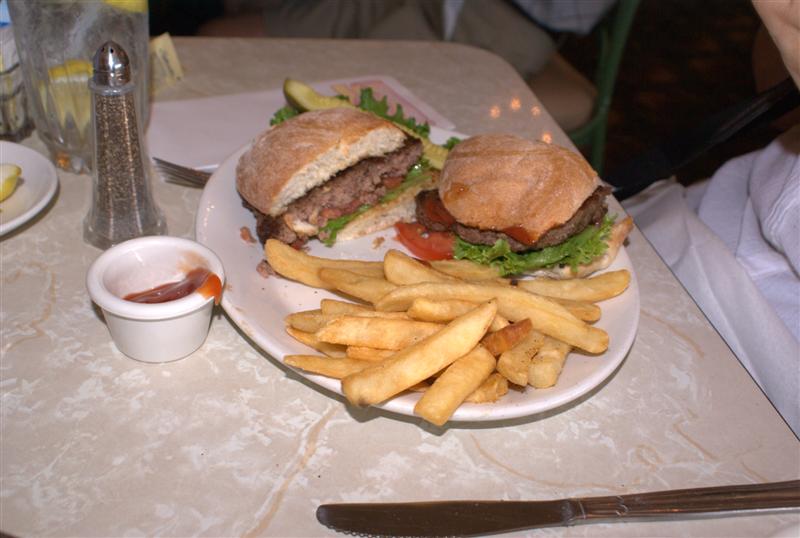 John's chicken/ham/cheese sandwich which he said was very good!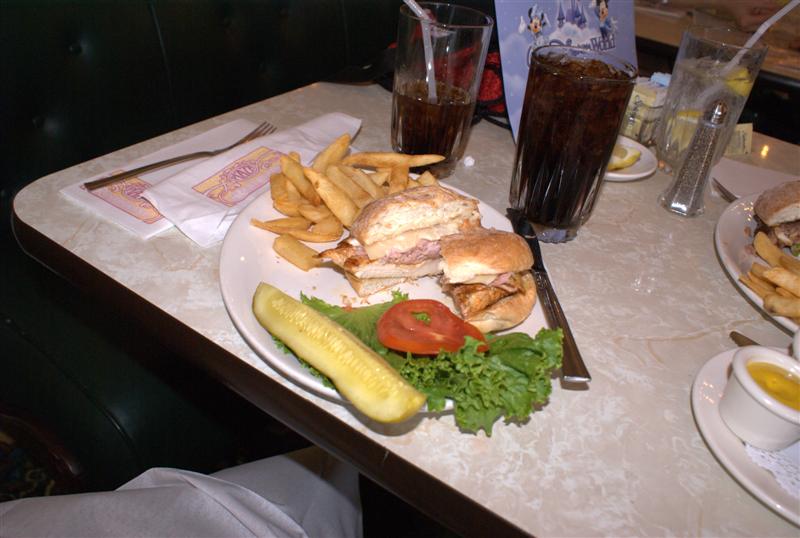 Our free dessert! LOL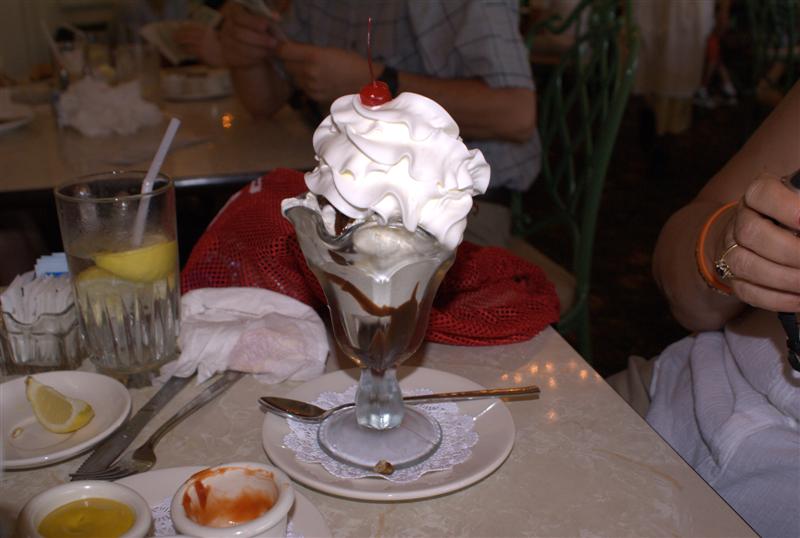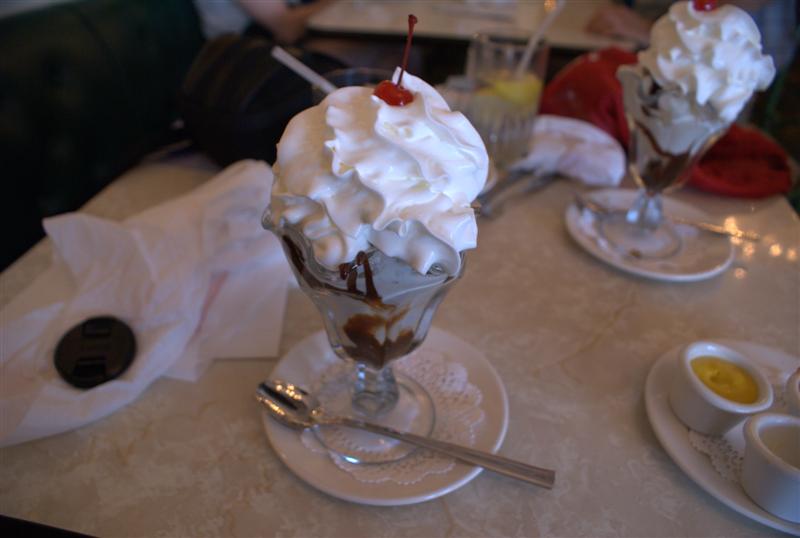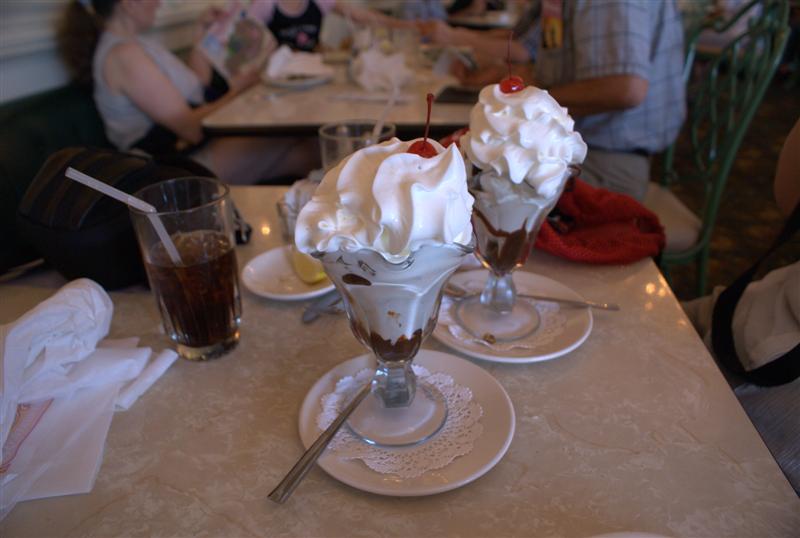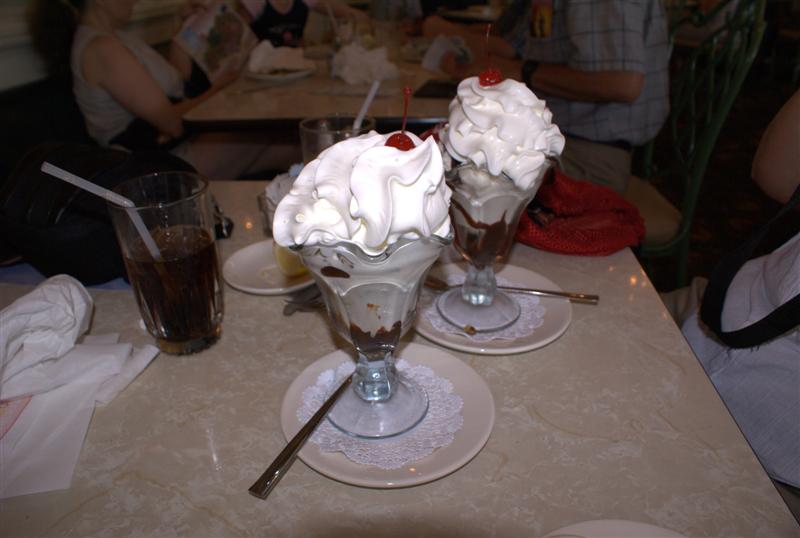 All of the above pictures were taken by John! All of these pictures below are of the SAME meals, but taken by Terry. I don't have the energy to drag these up to their John-counterparts! LOL