Disney Restaurants - Oct/Nov 2005
Lunch at The Plaza Restaurant, Dinner at Cinderella's Castle, Lunch at Sunshine Seasons at Epcot, Dinner at 'Ohana, Lunch at Columbia Harbor House, dinner at the Kona Cafe, and lunch at Pecos Bills. Scroll down, and enjoy! :)
Plaza Restaurant - Main Street - Magic Kingdom
Forgot to take pictures of lunch entrees! But we had the turkey sandwich, and it was excellent! (Turkey Sandwich - smoked turkey, bacon, lettuce, vine ripened tomato and mayonnaise on toasted multi-grain bread, served with German potato salad) Just pretend you see a picture here ;)
Desserts:
Strawberry Sundae: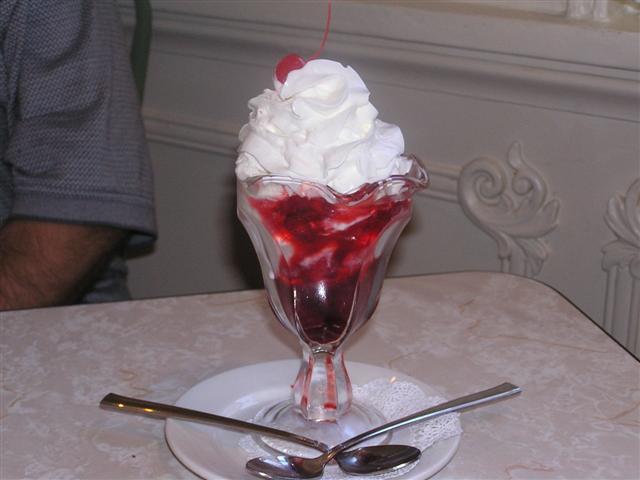 John and I shared a banana split, but by request, ours had only vanilla ice cream and only hot fudge topping :)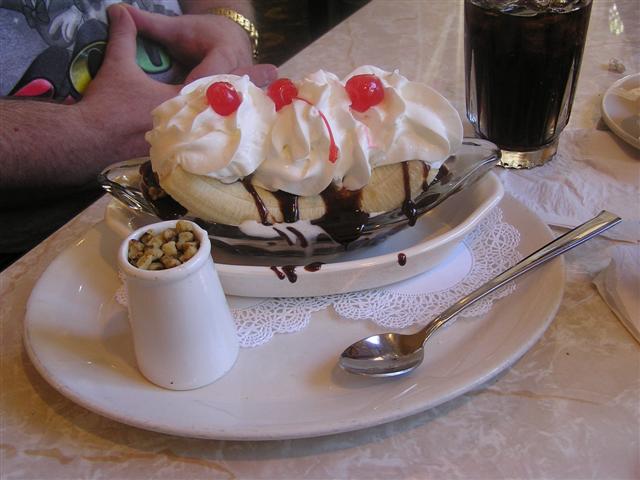 Dinner at Cinderella's Castle:
Appetizers:
Salad with field greens and balsamic vinaigrette, it was delicious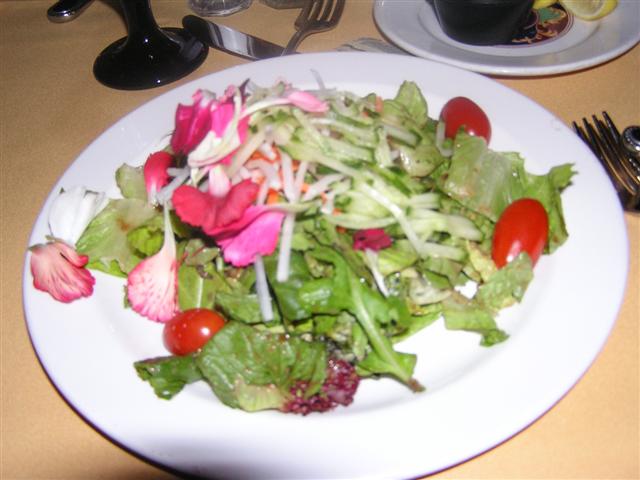 Seafood spring roll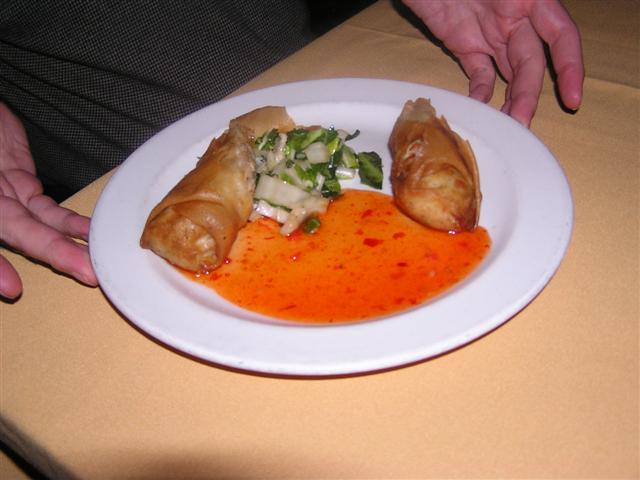 Jumbo Shrimp Cocktail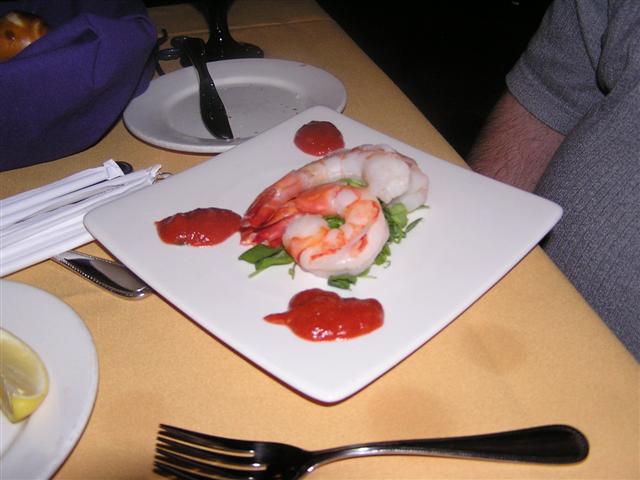 Entrees:
We all had Filet mignon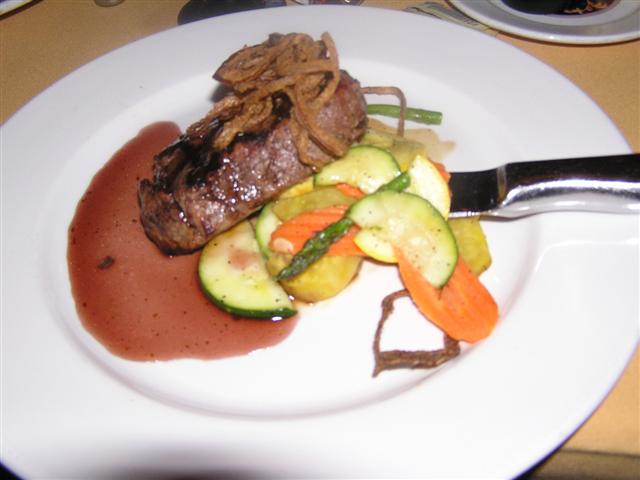 Our server, who was madly in love with Cinderella LOL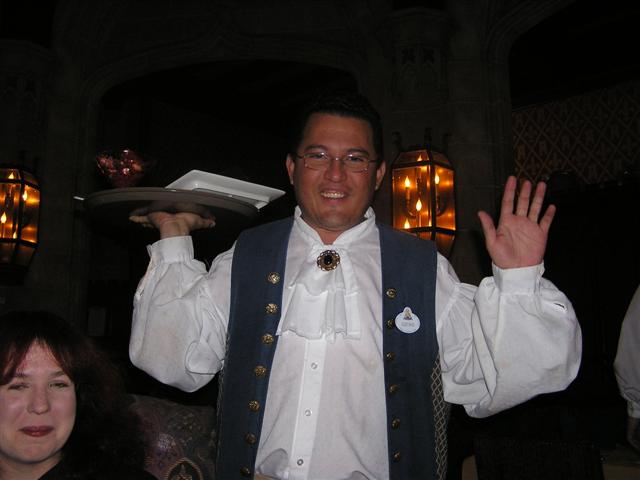 Chocolate Fairytale: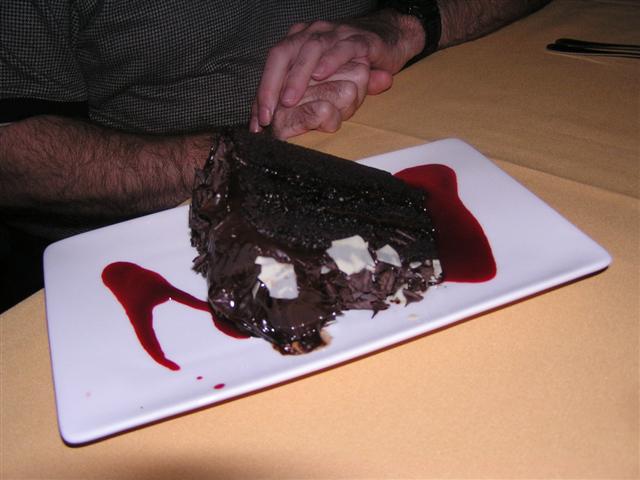 Fantasyland Sundae: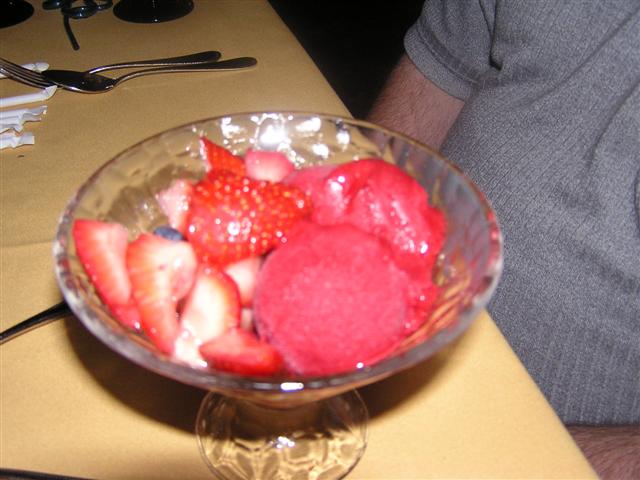 Key Lime Creme Brulee with a graham cracker biscotti: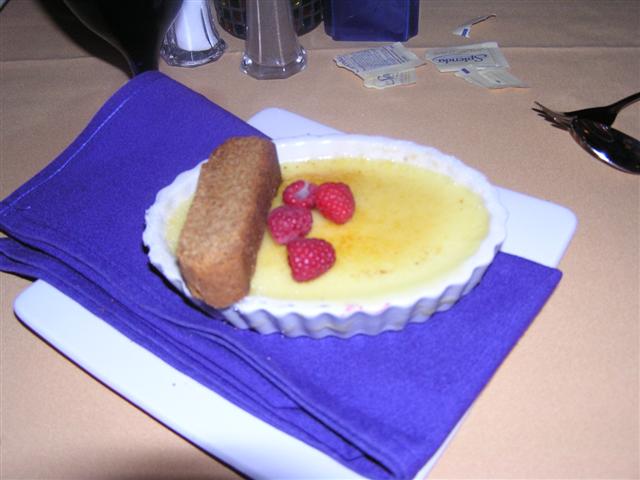 Enjoying a wonderful dinner with great friends: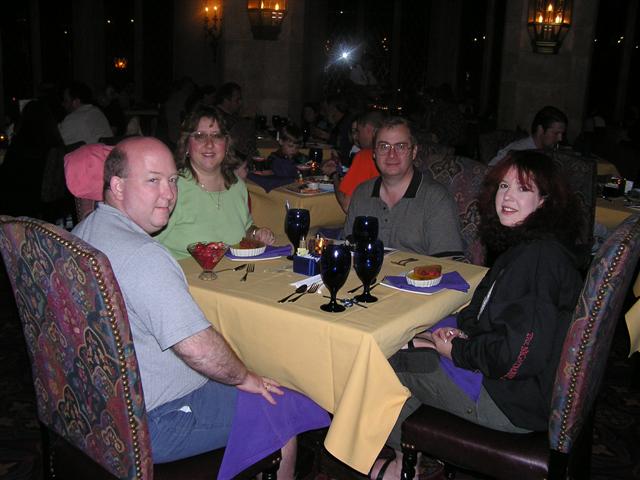 Sunshine Seasons inside The Land at Epcot:
Grilled chicken flatbread, with strawberry shortcake for dessert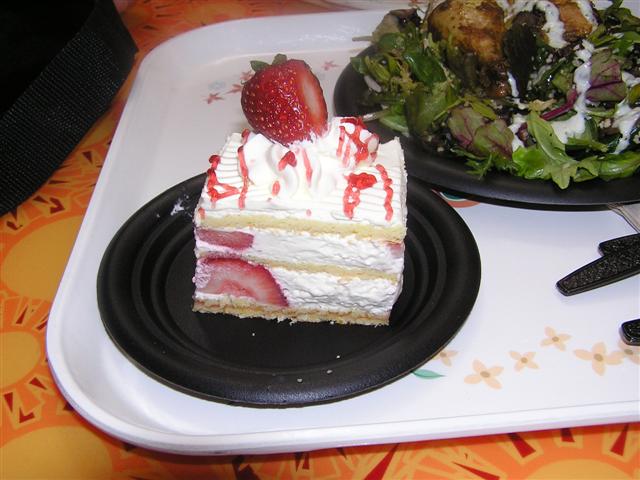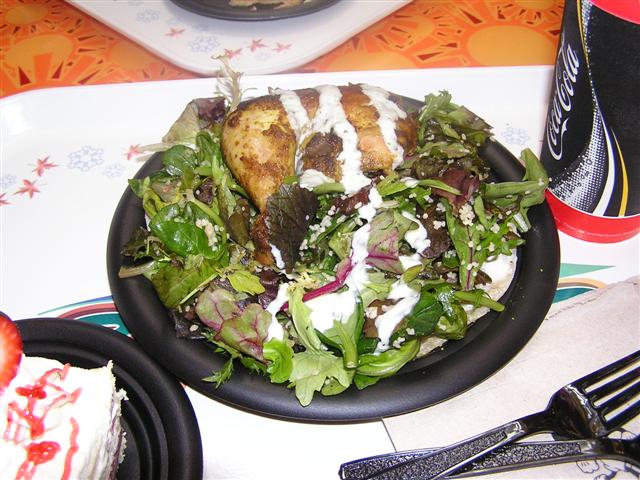 'Ohana at the Polynesian: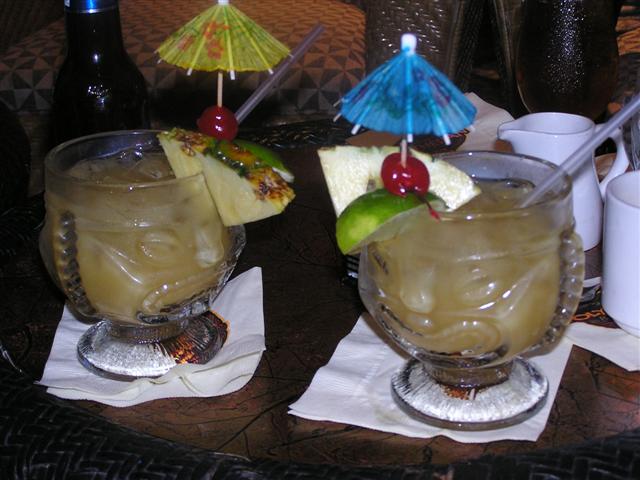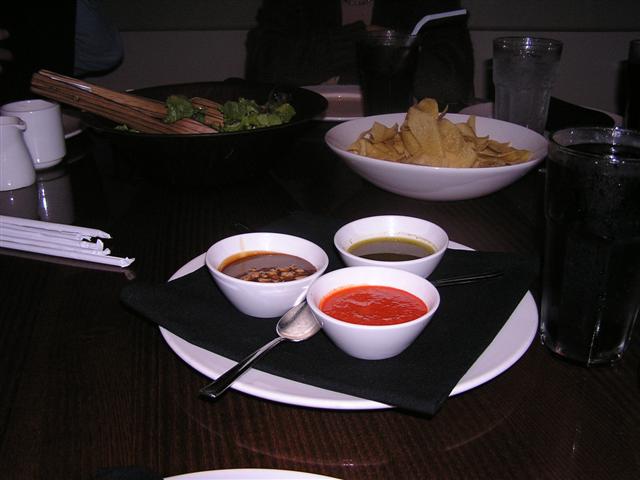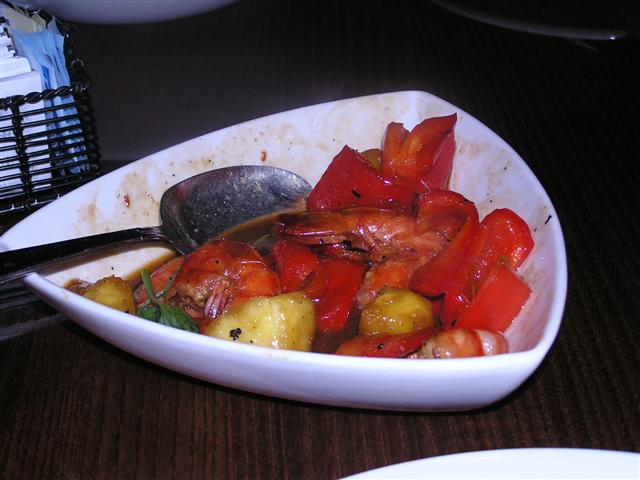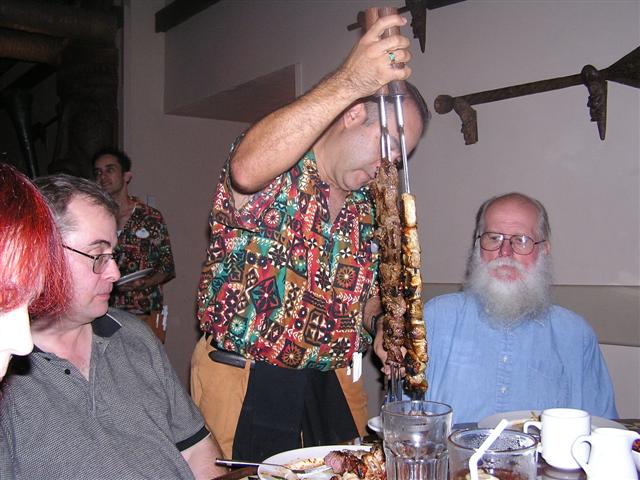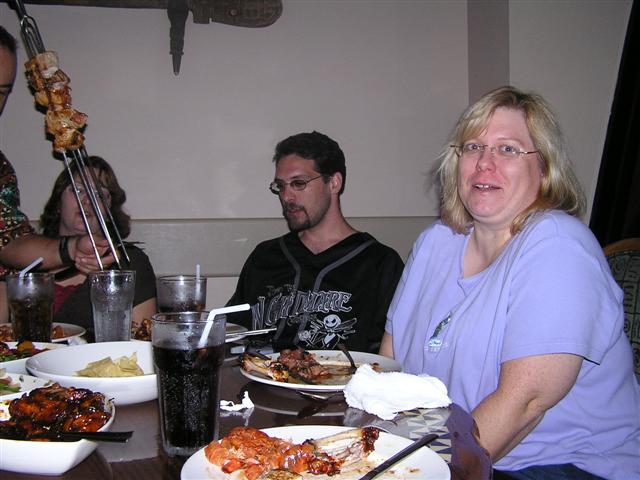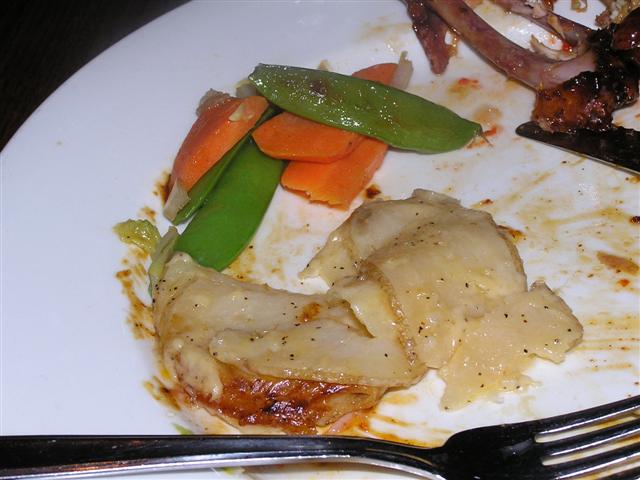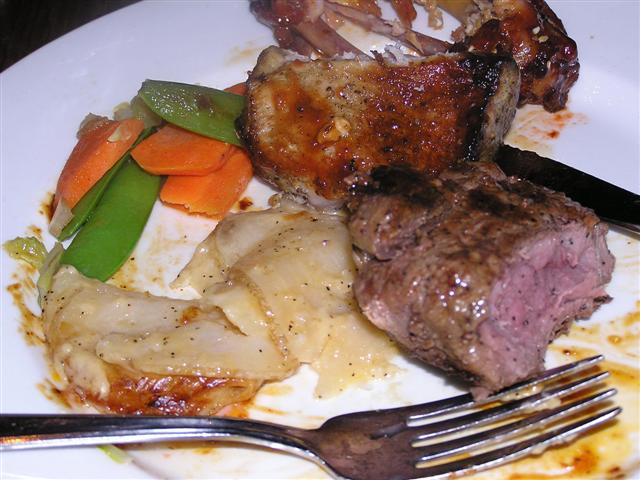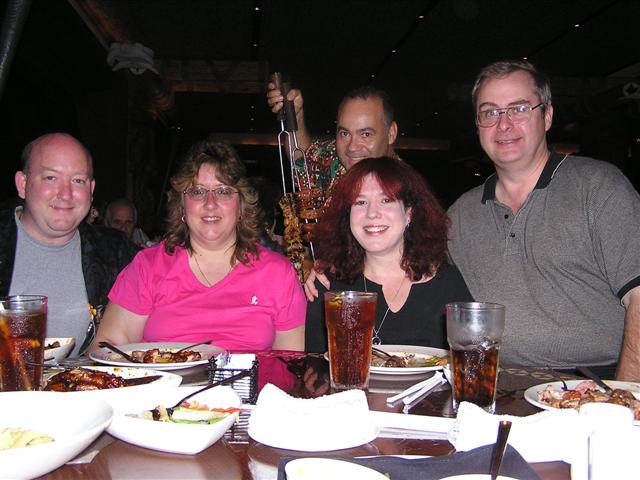 Specialty cake I ordered from the Grand Floridian bakery to celebrate our VMK Meet and also John's promotion!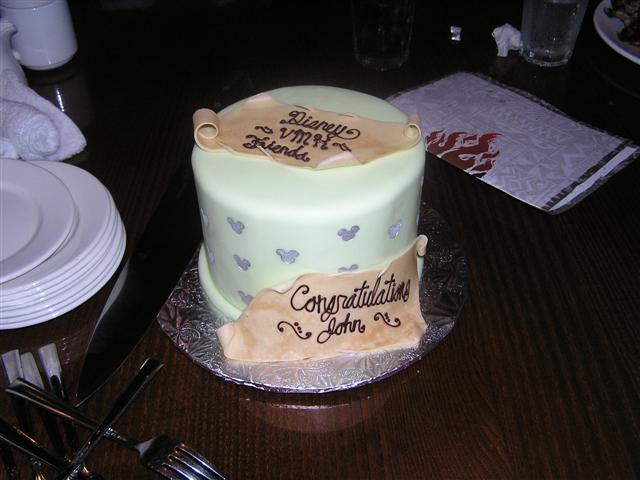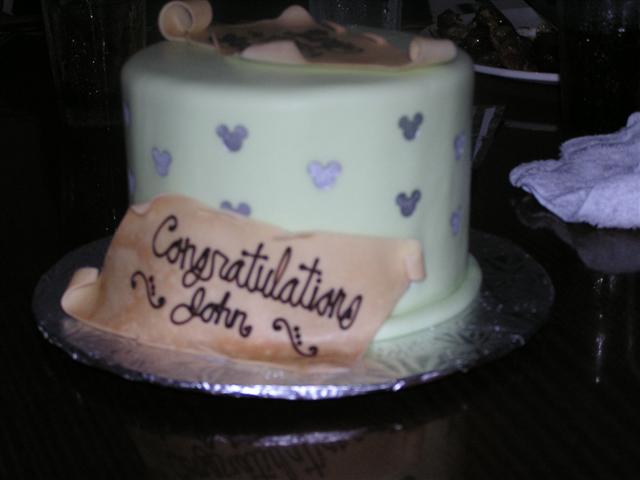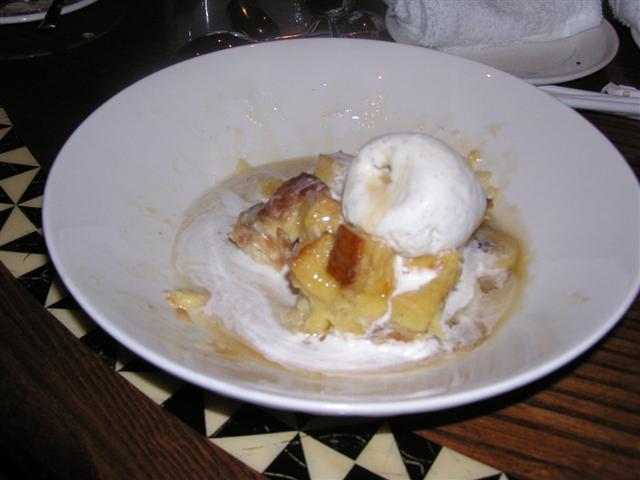 Columbia Harbor House in the Magic Kingdom
Love this place! This was our first-ever experience with a counter service restaurant inside Disney World. We were pleasantly surprised!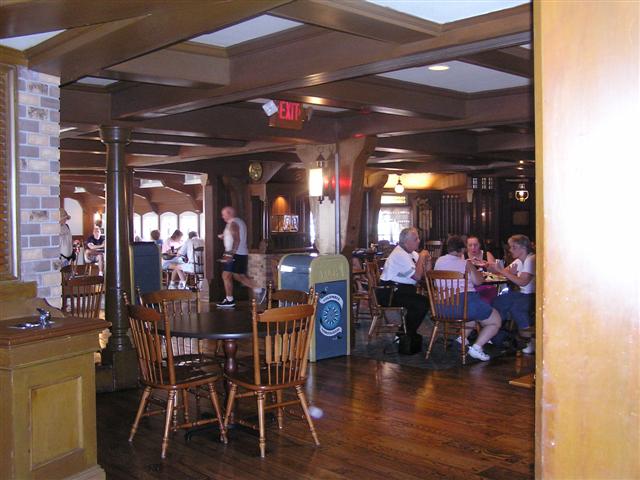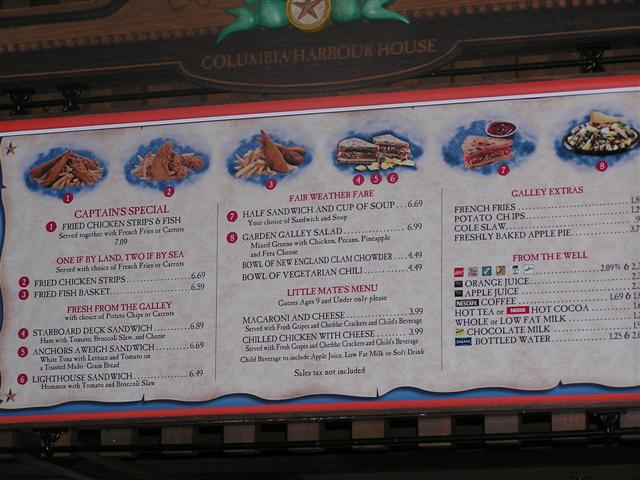 The stairs leading to the second floor. (Great tip I learned on the DIS boards; that you are welcome to sit upstairs!) It's nice and quiet up there, and has a lot of windows that overlook Liberty Square: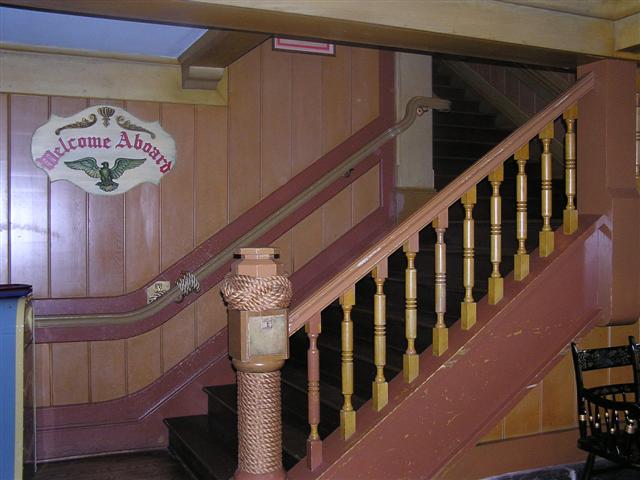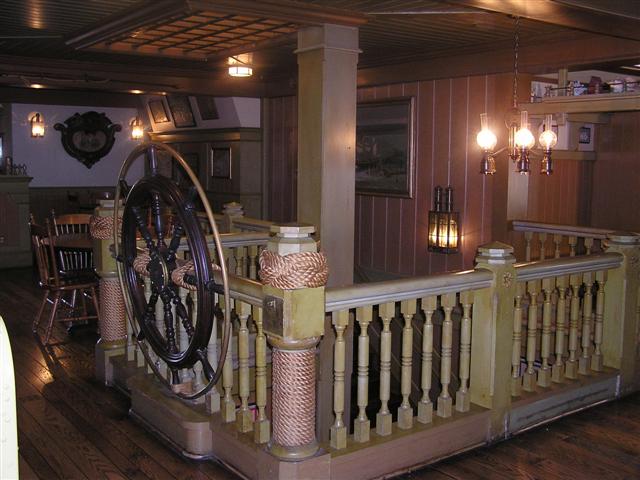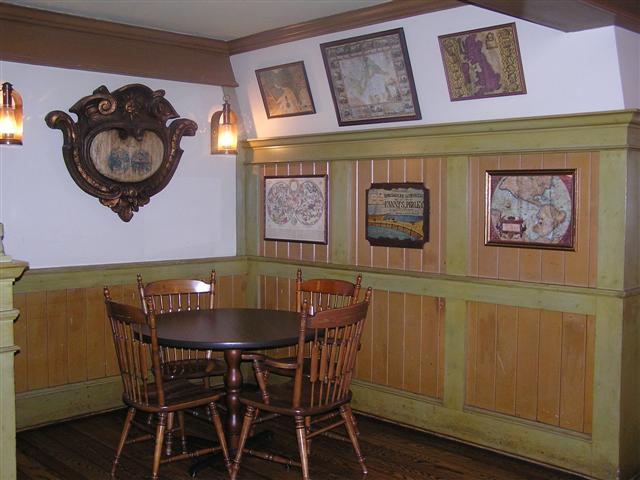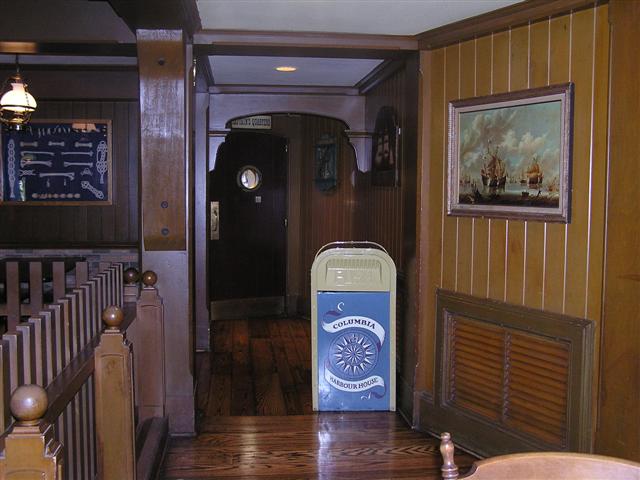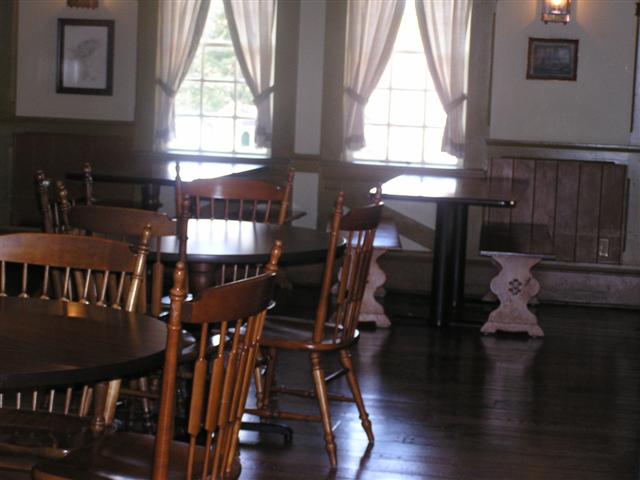 Looking down to the first floor, lots of great themed decor all around: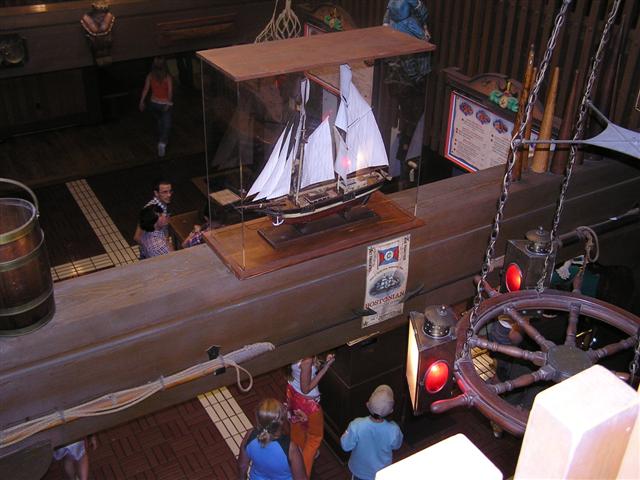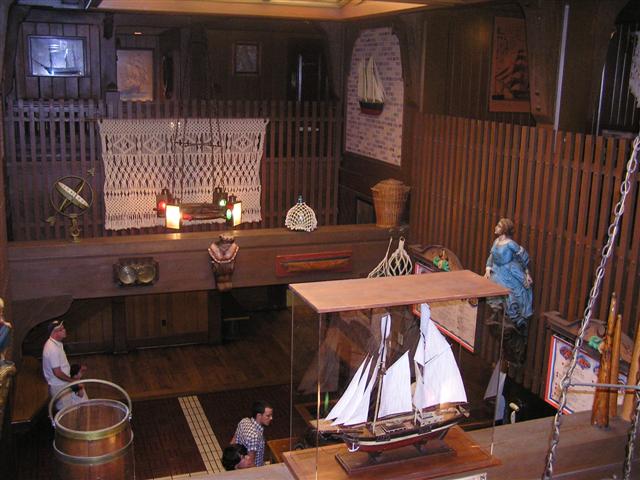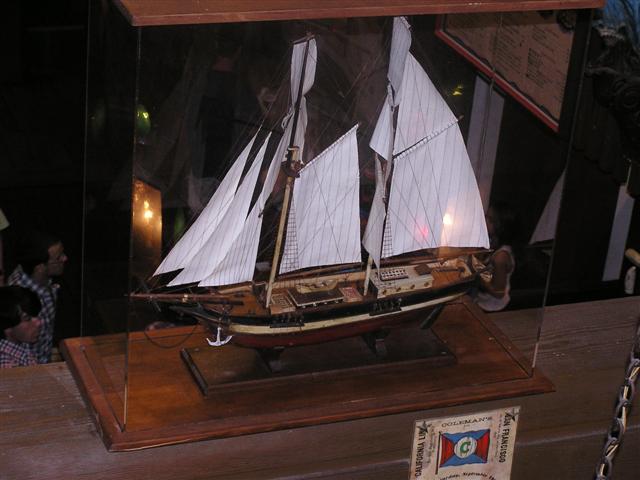 And most importantly, the food was great! The best Fish & Chips I'd had in a very long time. We got the combination basket that also included chicken strips. The apple pie for dessert was very, very good, too!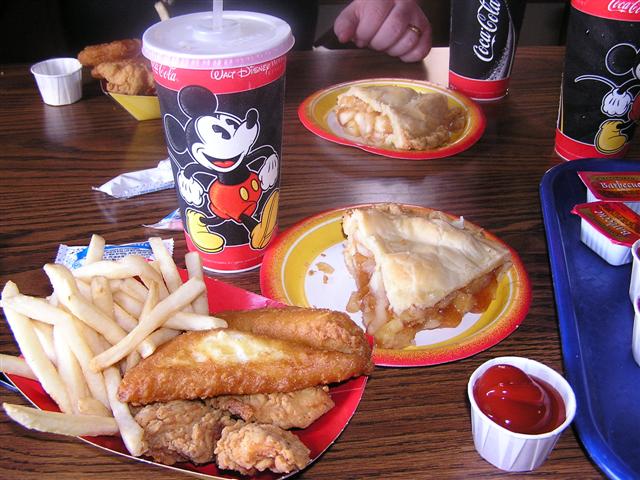 Dinner at the Kona Cafe at the Polynesian resort:
We were served a new item; bread with an olive oil dipping bread. It was wonderful!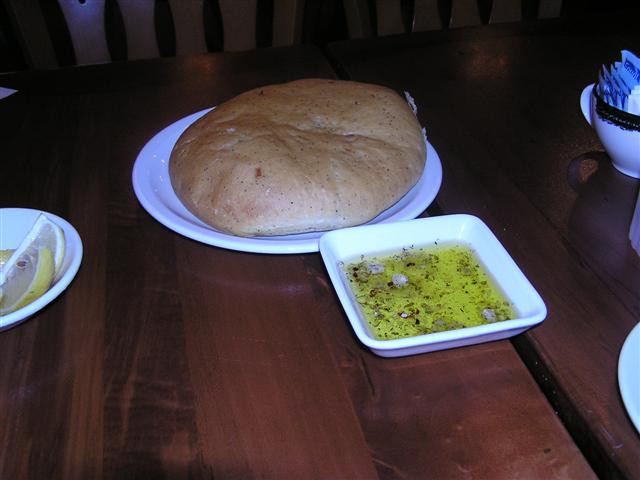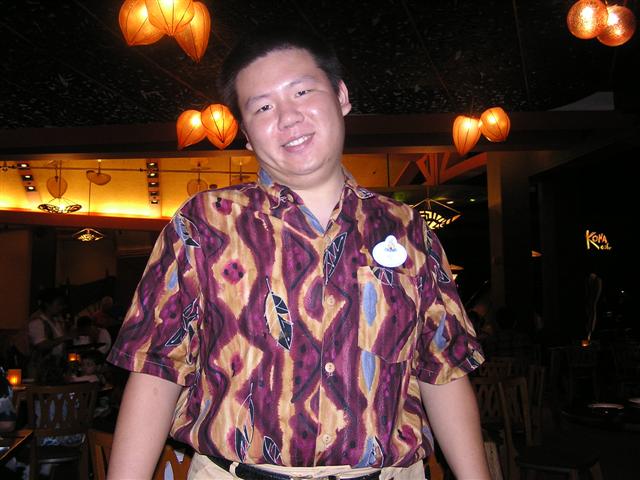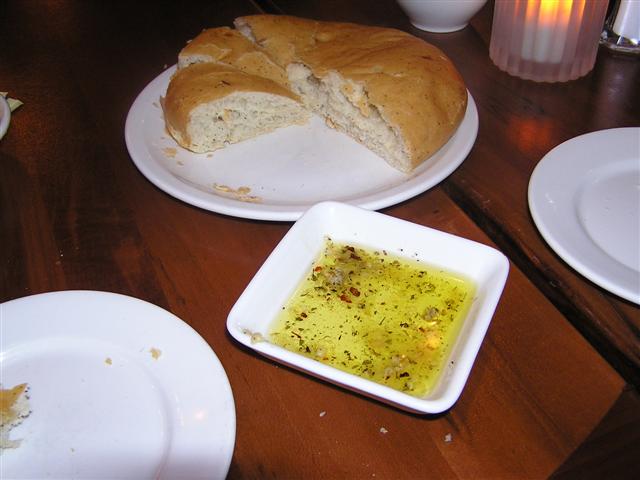 Delicious sticky wings! We were surprised at how good these were. They were even better than the sticky wings we had at 'Ohana the night before.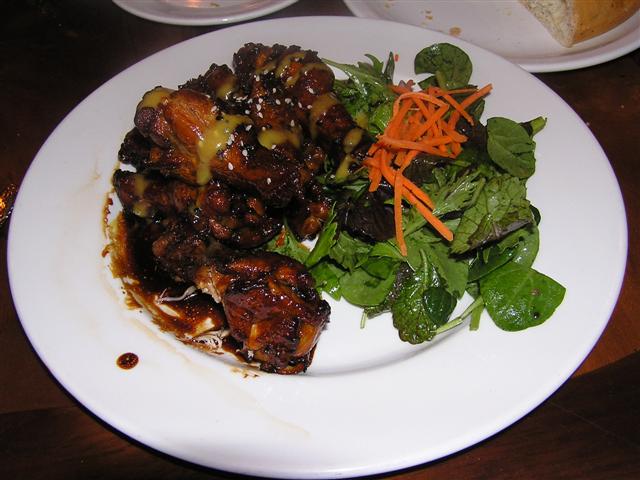 Beef Teriyaki, with a side order of shrimp: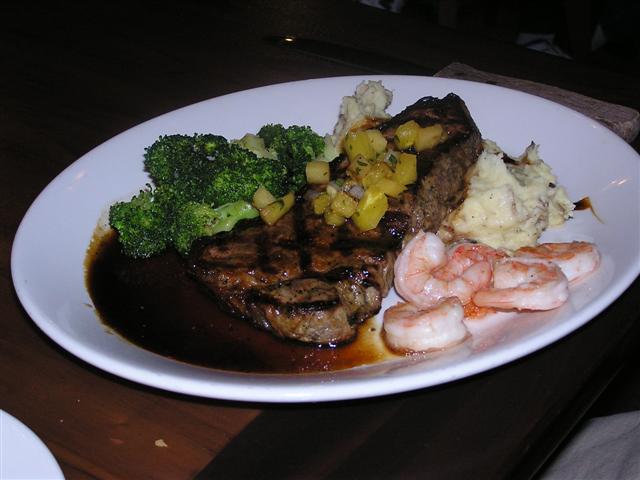 Banana-Caramel Creme Brulee... Mmmmmm!
Pecos Bills at the Magic Kingdom
I had the shredded pork sandwich which was actually very good! John had the double bacon cheeseburger which he said was very good as well. The only dessert option here was the Peanut Butter Mousse Brownie. I think I'd return here again for a quick lunch.
THE END :)