Welcome to my Restaurants Page! These pictures were taken during our July 2005 trip.

We started out at Whispering Canyon Cafe. John had the trout which was excellent. I hate, yes HATE all seafood, but he asked me to try a bite so I did. I have to say, it was actually VERY VERY GOOD! And this from someone who hates seafood! It had a wonderful flavor and delicate texture, I loved the seasoning they used; and it did not have a fishy taste at all.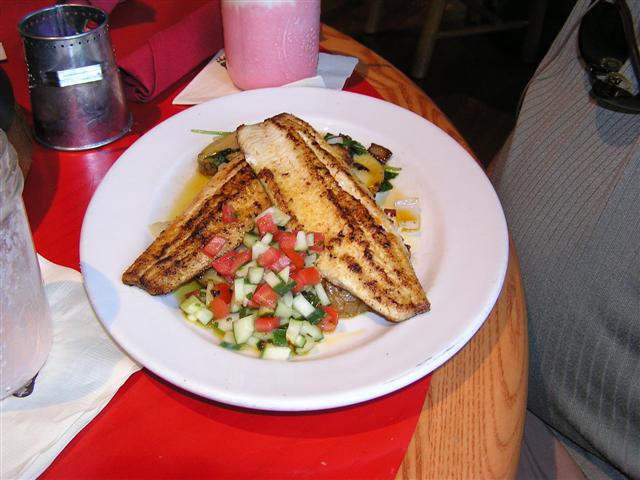 I had the shredded pork sandwich. It was very, very good too, but HUGE and I couldn't even finish half of it.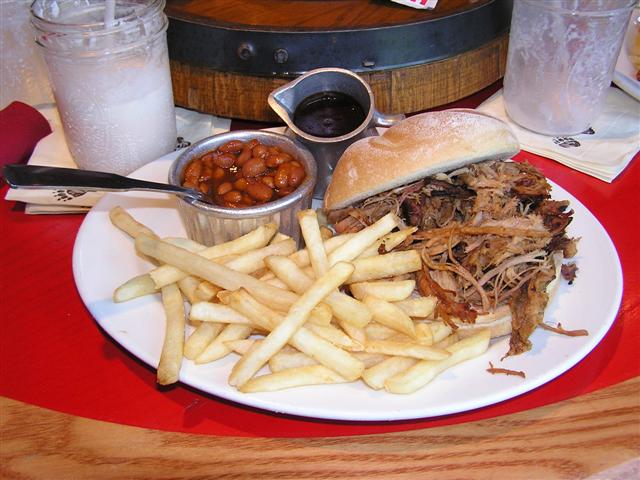 Craig and Robby each had cheeseburgers. They were big. I think they were 1/2 pounders, which is the same size that we saw at all of the sit-down restaurants at Disney World. Also, notice the milkshakes in the pictures. Whispering Canyon has "bottomless" milkshakes. All you can drink! We each had a different flavor; vanilla, chocolate, strawberry, and orange cream. You can try different flavors with each refill. I think only Robby was able to drink more than 1 though! lol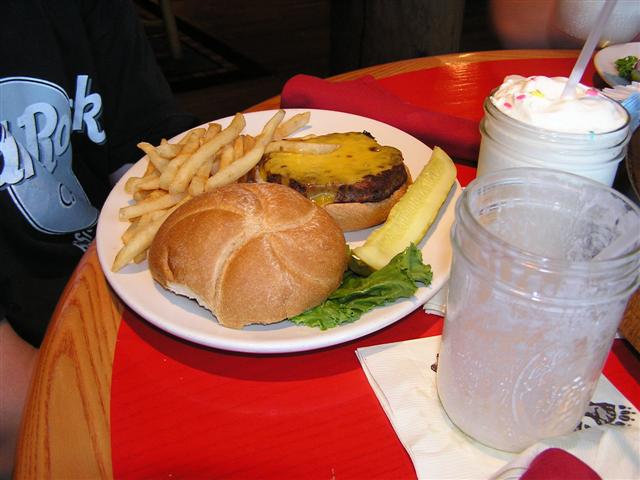 I totally forgot to take pictures of our entree's at dinner at Cinderella's Royal Table. John and I had the filet mignon and it was excellent, just as it was 4 years ago too. Not sure what the boys had, but I know they liked it. lol For dessert, the 4 of us shared the white chocolate slipper, filled with dark chocolate mousse, and the chocolate fudge cake. Both were excellent!!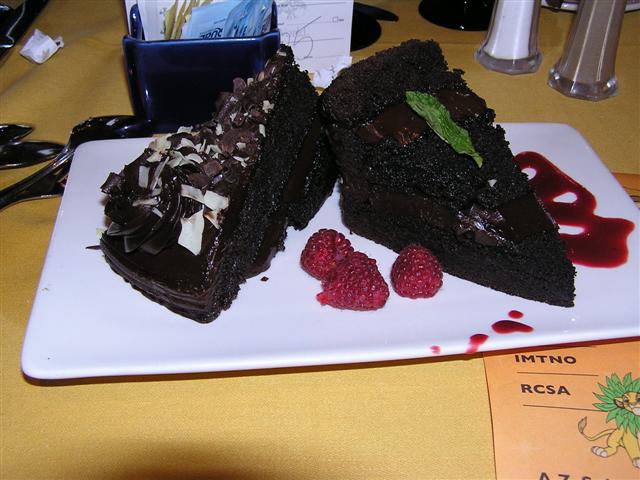 We tried Teppanyaki for the first time on this trip and we really enjoyed it! It was fun watching the chef prepare our meal right in front of us. The following pictures are in chronological order:
This is Teppanyaki restaurant. You walk up the big set of stairs to enter the building. I found out afterwards that there is an elevator inside! ;)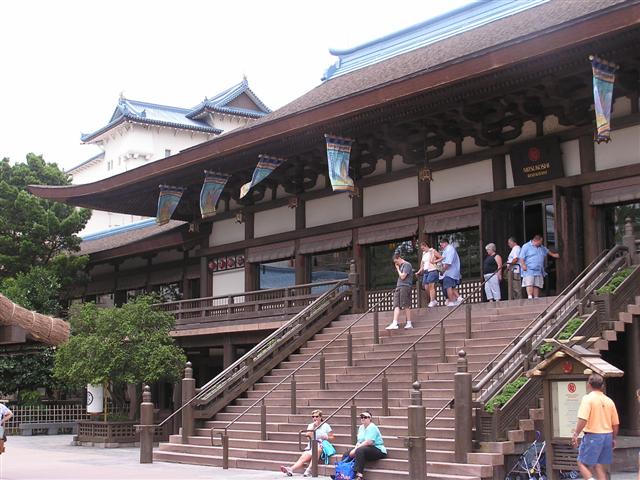 This is the hostess desk. We were among the first diners of the day, and before we were seated, the servers and the Chefs came out, made a short welcome speech, then we were shown to our table.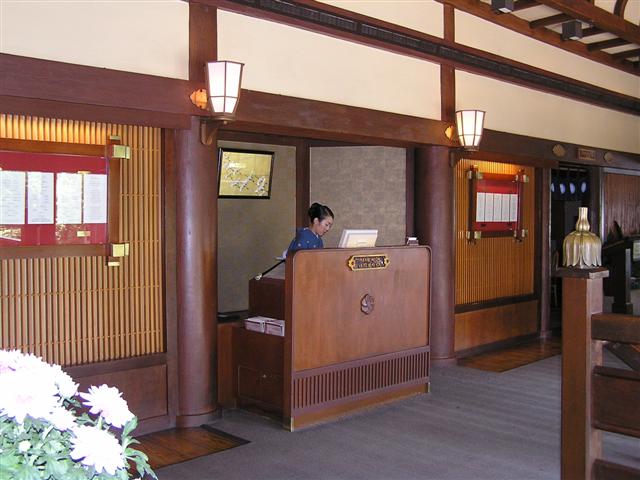 Seating area near the hostess desk.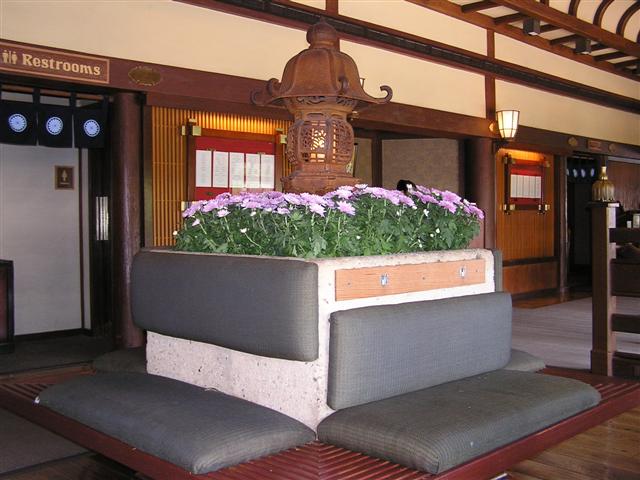 This is what the tables look like. The rooms all lead into one another.
The tables seat 8 people. We are a family of 4, and we were seated with another family of 4.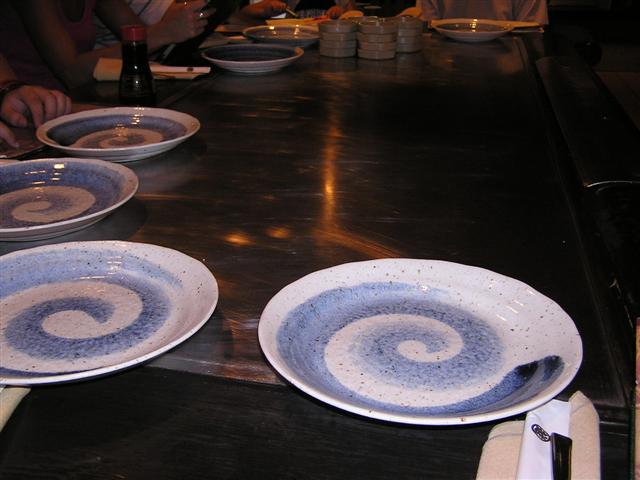 The server comes out and greets you and takes your drinks order. She came back with our drinks and with small dishes of a seaweed "salad". The empty dish below was John's. Craig and Robby didn't even try the seaweed. But I foolishly thought it looked good, and though What harm can it do? It's green, and she called it a "salad"! LOL Let me just say this: I put a small forkful in my mouth and I chewed...and chewed...and chewed...and it seemed like it just wasn't breaking down enough to swallow it. lol Eventually I was able to swallow it, and a couple of hours later I still had that gross fishy, oily taste in my mouth! Try the seaweed salad at your own risk! ;) John loved it, by the way. lol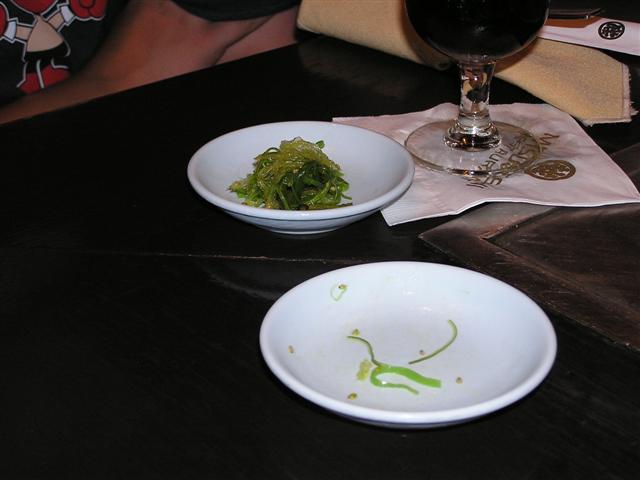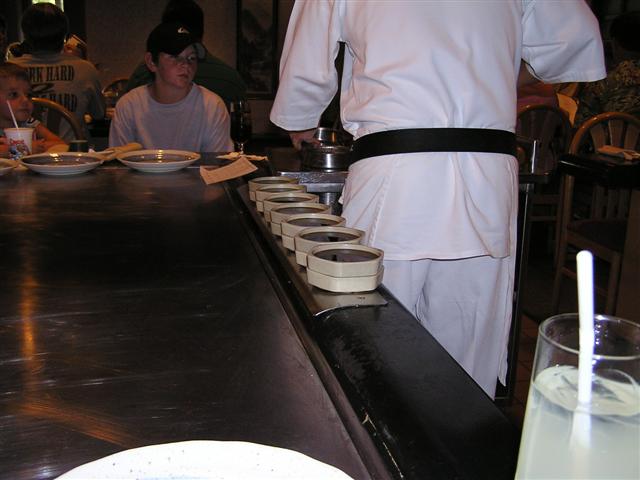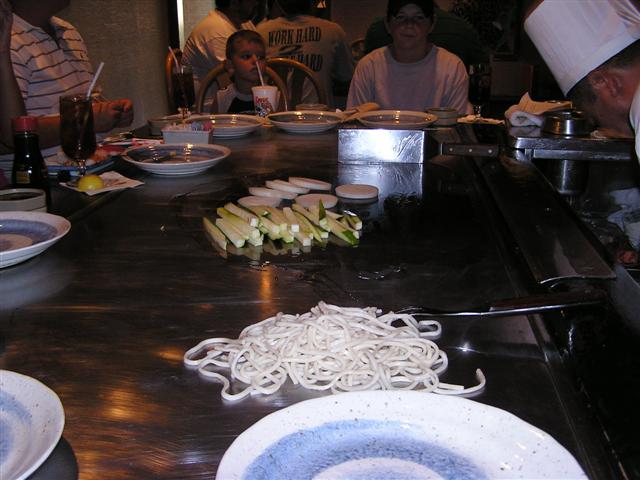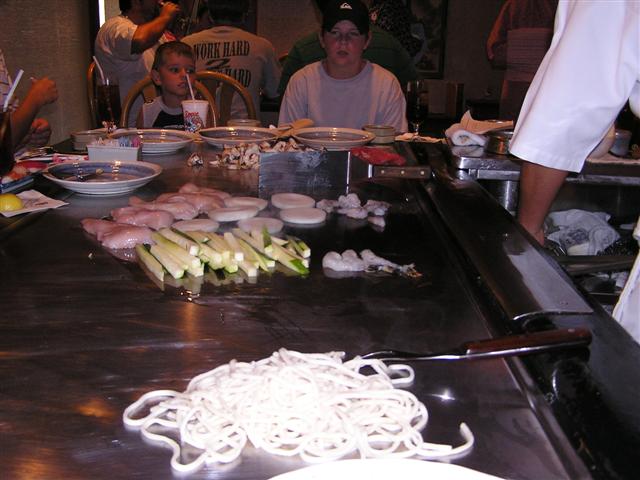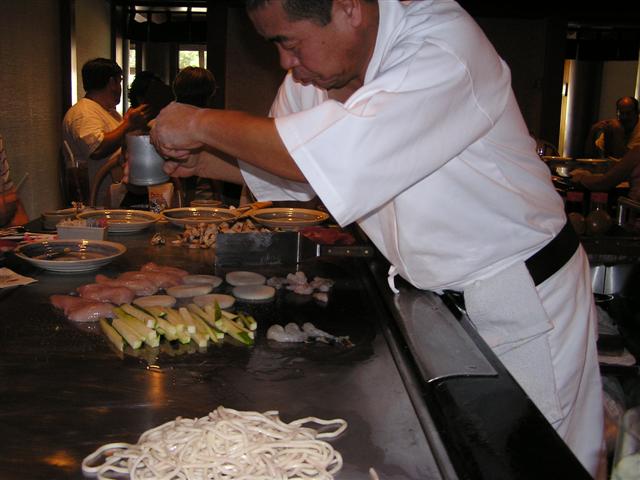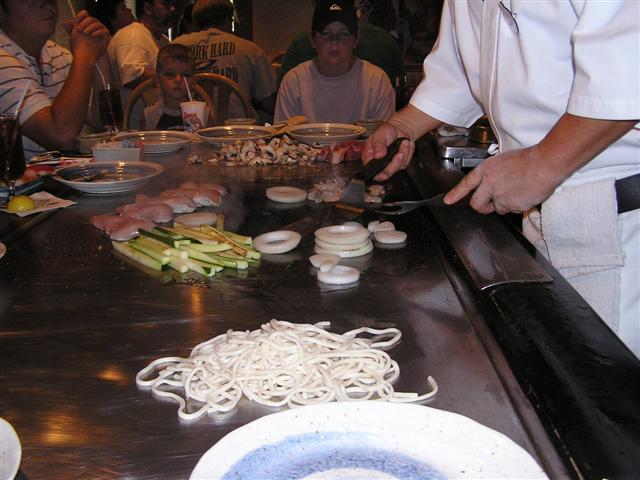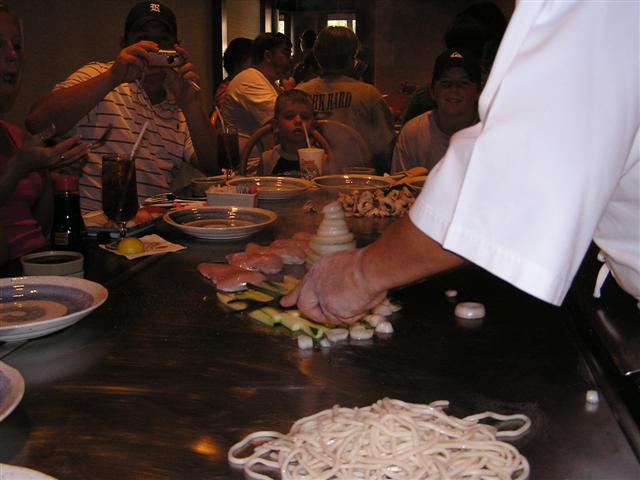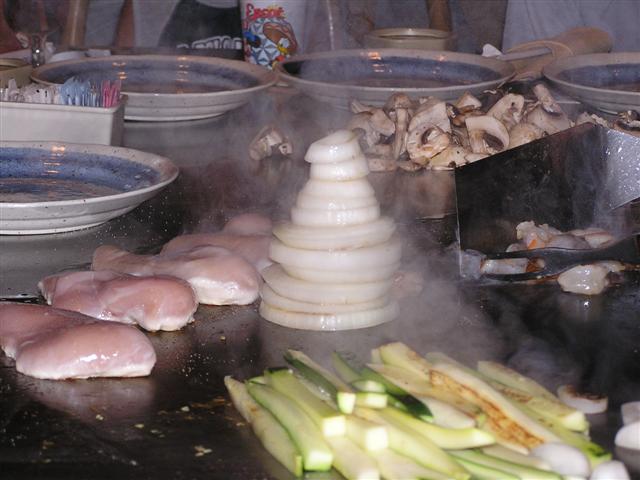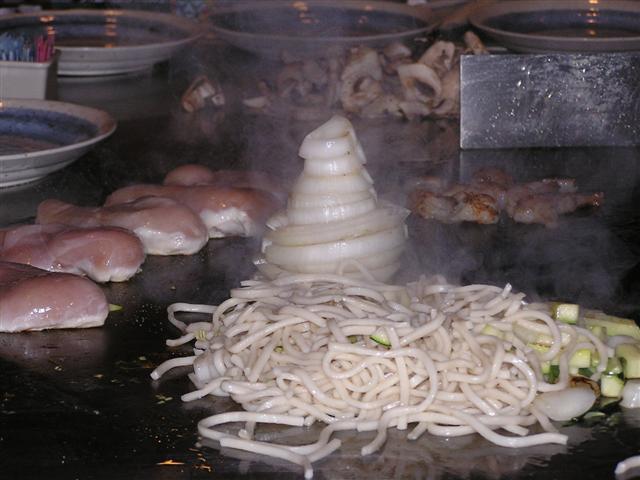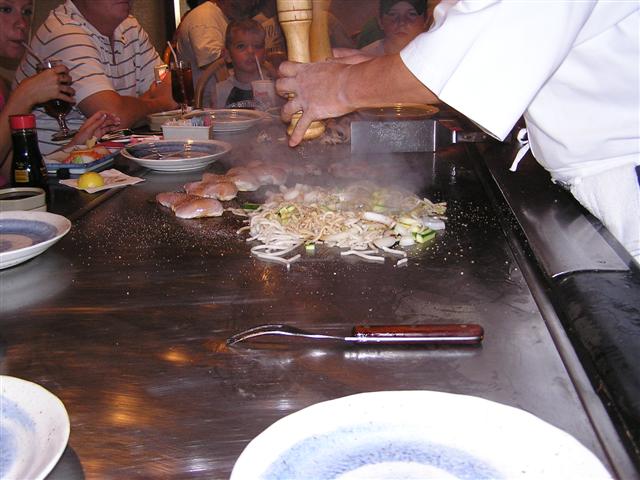 This is John's completed shrimp meal. He said it was very good!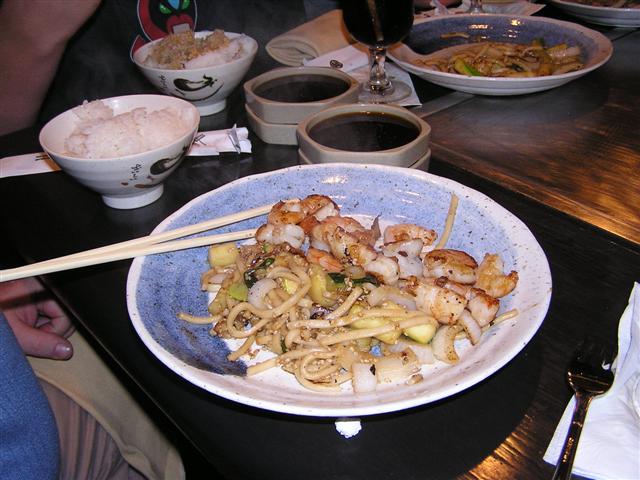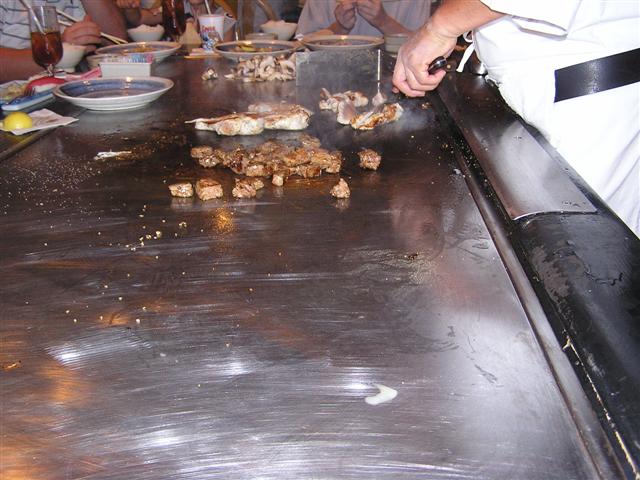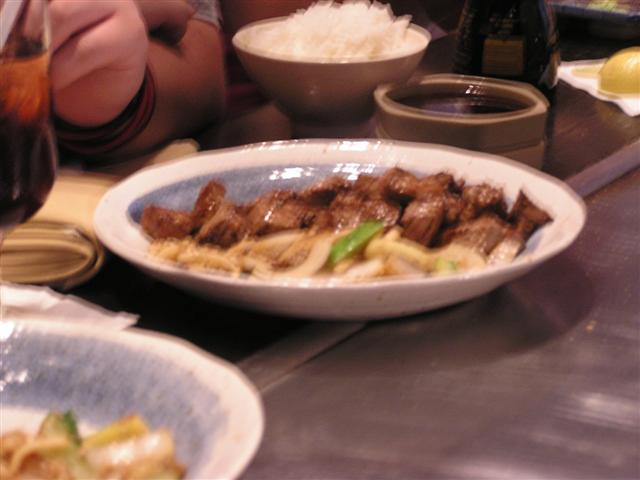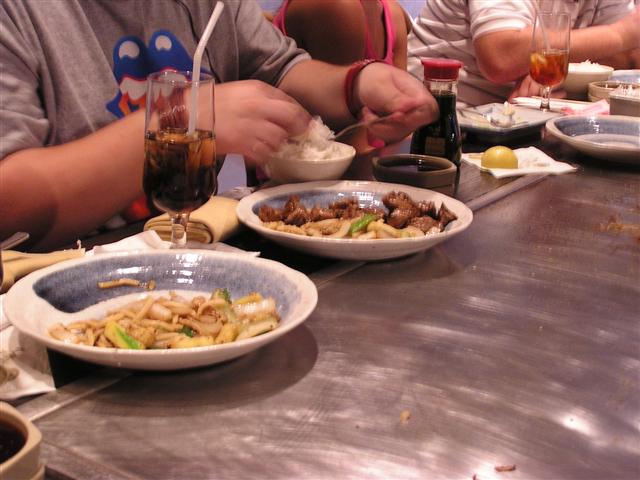 Robby and I each had the chicken, Craig had steak.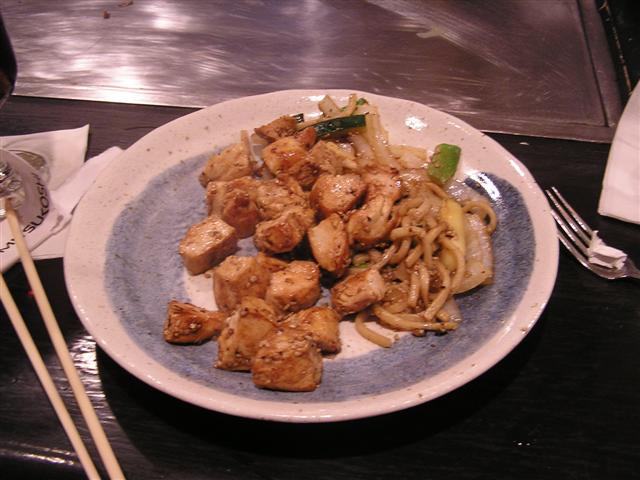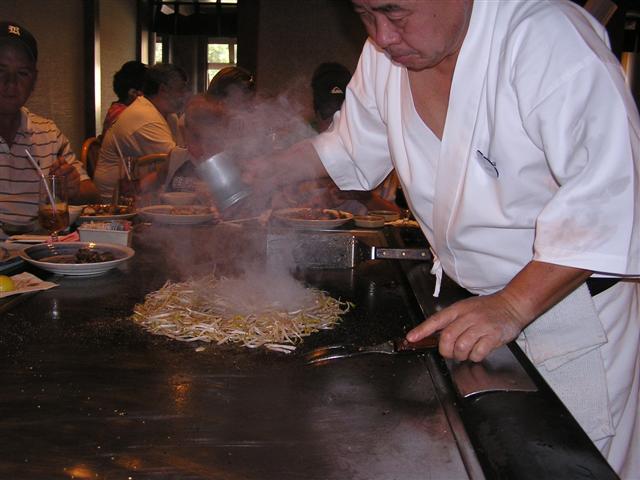 I ordered an iced tea at 50's Prime Time in the souvenir cup that comes with an electric ice cube.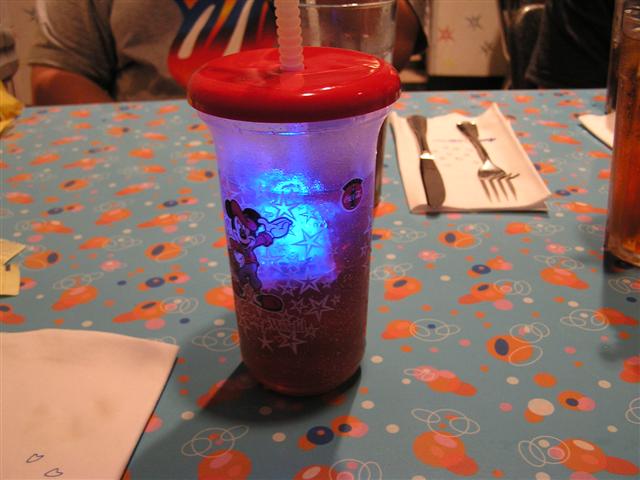 John and I had fried chicken, which was wonderful! Juicy, tender, and flavorful. I didn't finish all of my green beans so our server skewered one with my fork, made an airplane sound, and fed it to me. LOL The boys got a kick out of that ;) I wish I could remember our servers name, he was excellent.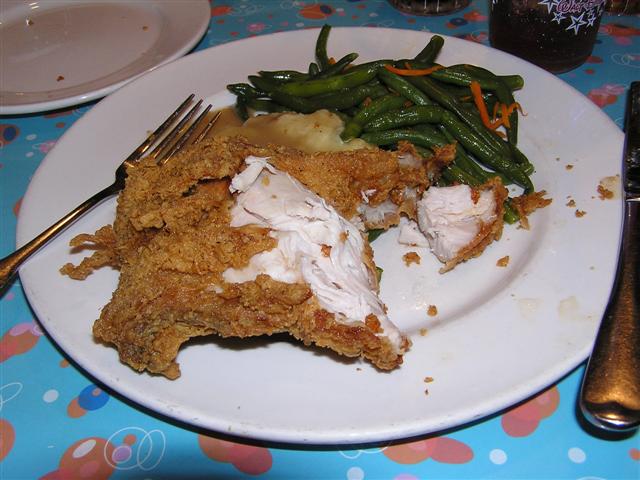 Craig had the meatloaf which he said was very good. Robby had chicken fingers which he said were good, but I didn't get a picture of them!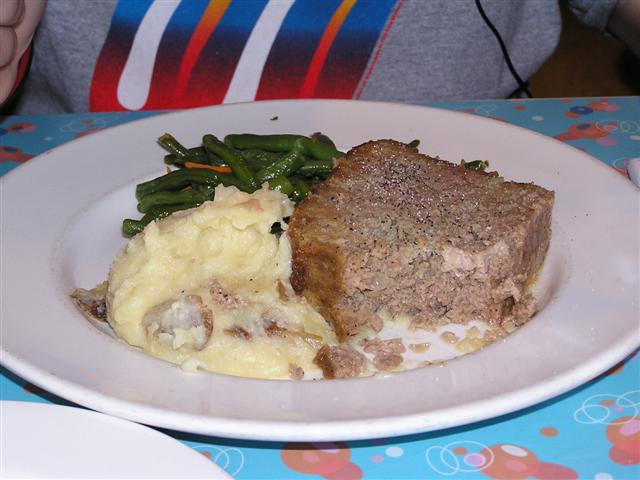 At this restaurant the dessert menu is on a ViewMaster. Here's Craig looking at the desserts.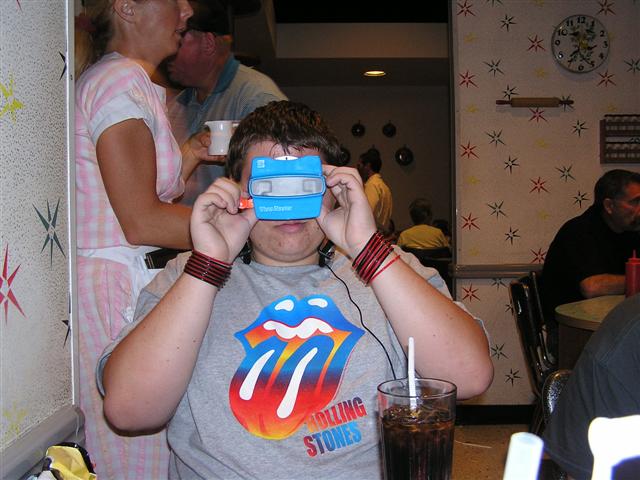 All 4 of us decided to share the S'mores. We'd had them before and they were still very, very good!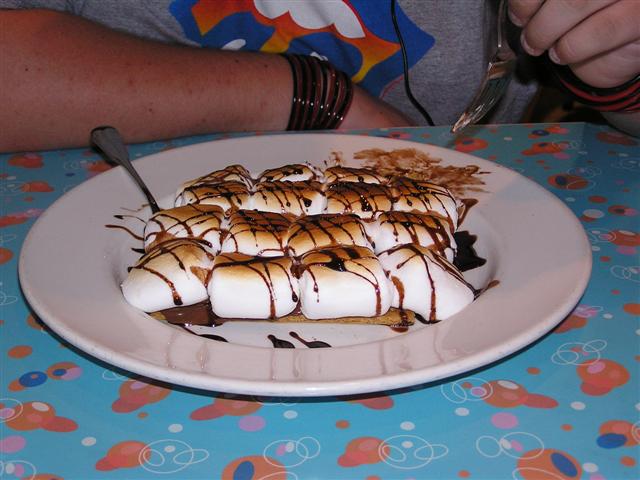 Another MGM/Studios restaurant we tried on this trip was the Sci-Fi Dine In. All of the tables are actually cars with booths inside. They 2 people across, unless you have kids that could fit with you. Some cars have 3 rows and seat 6 people, but our car was a 4-seater. We let Craig drive. :D In retrospect we should've let Robby drive since he's the only one of us without a driver's license. lol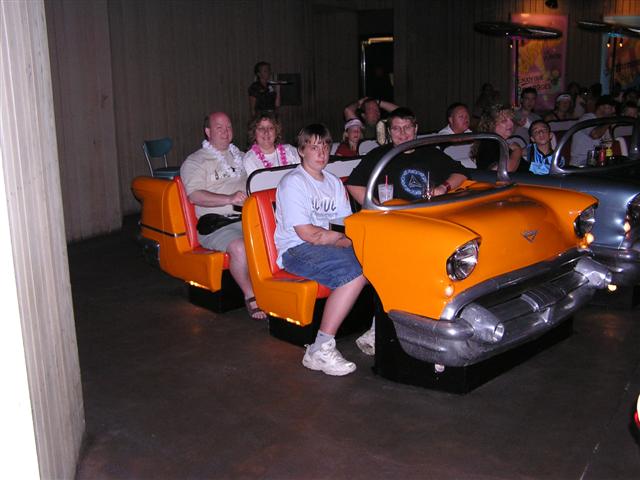 We really enjoyed having lunch here. It's the atmosphere of being outside at night, at a drive in movie theater. There's a huge screen in the front that plays a continuous loop of old black and white sci-fi movies and old commercials. I enjoyed this much more than I thought I would!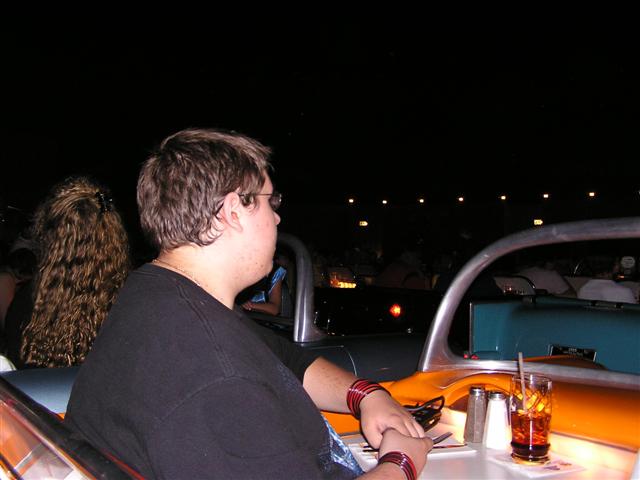 Upon recommendation from almost everyone on the DIS boards, all 4 of us ordered cheeseburgers with fries, and milk shakes. They were very good :)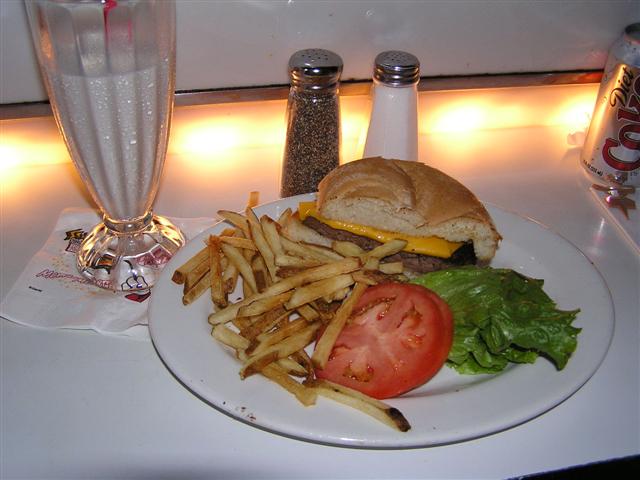 The back of restaurant where is the kitchen is, is designed to look like a snack stand like you used to see at real drive in movie theaters.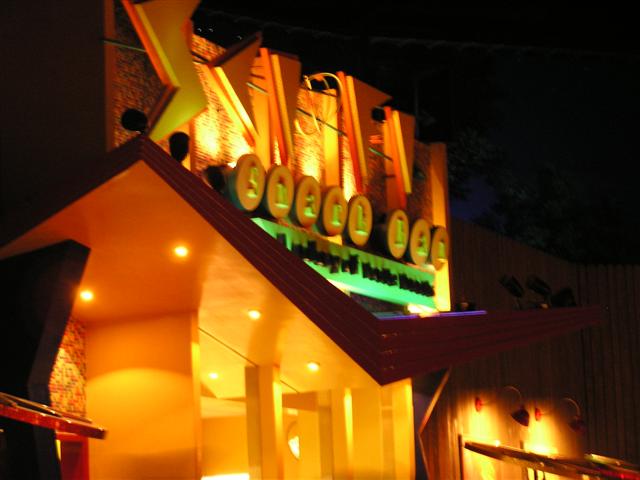 Next is our pictures from the Kona Cafe. We really, really like this restaurant. It's casual but has excellent food. This is the one Disney World restaurant that we have dined at the most often.
This first picture shows the sesame seed bread. Very moist and delicious!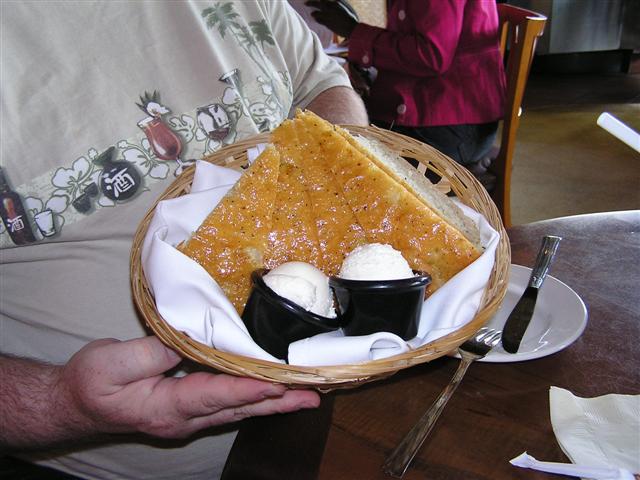 We don't drink often but we do like to indulge in an adult beverage while on vacation :} This was my Malibu Bay Breeze. Mmmmm!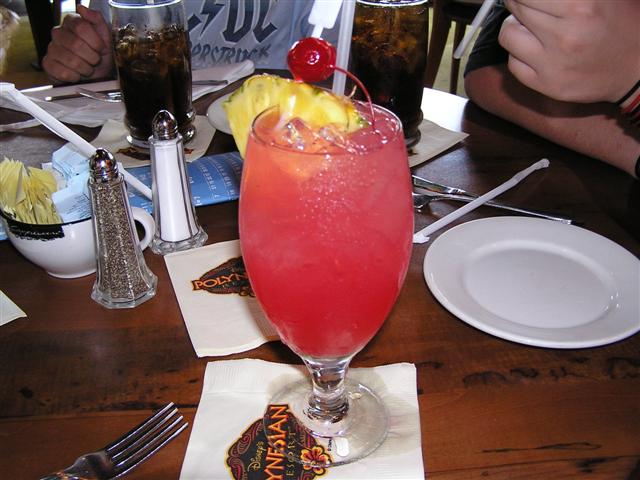 John and I get the beef teriyaki every time we have dinner here. We had it twice on our July 2005 trip! LOL Tender juicy steak in an awesome teriyaki glaze and pineapple salsa. They used to serve it with white sticky rice and spinach but now they serve it with potatoes and broccoli. Still excellent! :)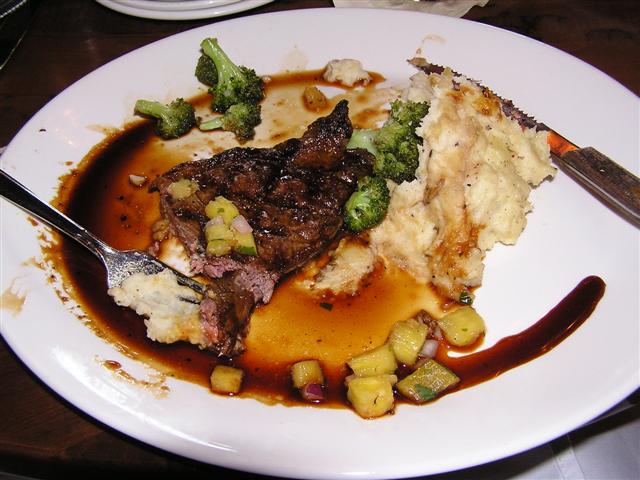 This is Robby's "illegal" coke. lol I had taken the cherry from my drink and put it into his coke because he loves maraschino cherries. But he said his coke was now "illegal" because the cherry had been in alcohol and he's not old enough to drink. LOL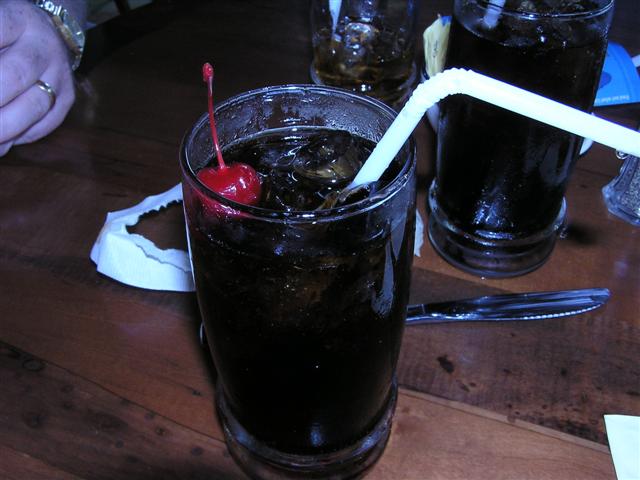 The dessert that Robby had waited 4 years for; The Kiddie Cone! It was his first of many, on this trip. lol The Kiddie Cone is an upright waffle cone surrounded by cotton candy and M&M's, and filled with chocolate ice cream, vanilla ice cream and chocolate syrup, and covered with Mickey shaped sprinkles, with an edible chocolate "stick" in the shape of a Mickey head. Mmmmm!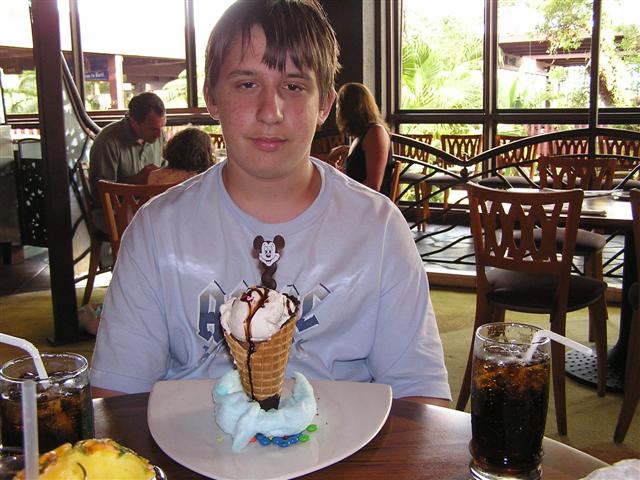 We call this the "volcano cake" because it erupts when you break into it. I know it has a real name, but I can't think of it right now. LOL We always order it with vanilla ice cream on the side.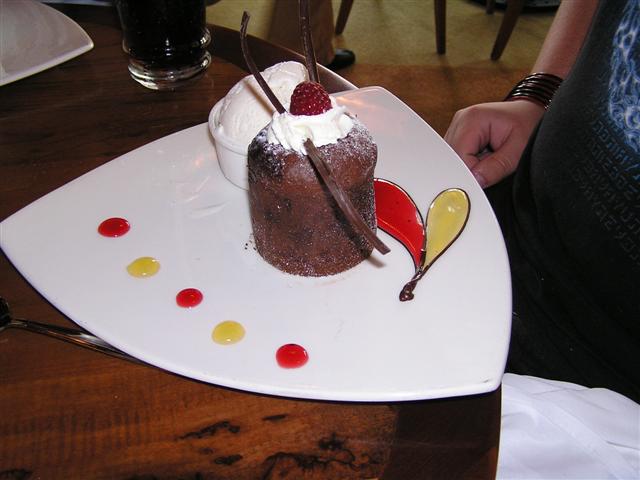 This is the Kona Cafe's special dessert for the 50th Anniversary Celebration. It's a dome of orange mousse, covered with 2 strips of cookies that was similar in taste and texture of a fortune cookie, and inside is a thin layer of cake with a strawberry filling. The little castle decal there is chocolate. It was very good and very refreshing and light on that hot day.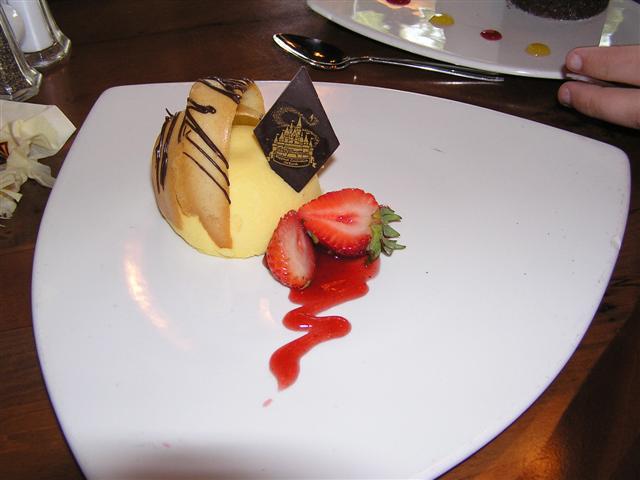 The lava cake is erupting... Mmmmm...!!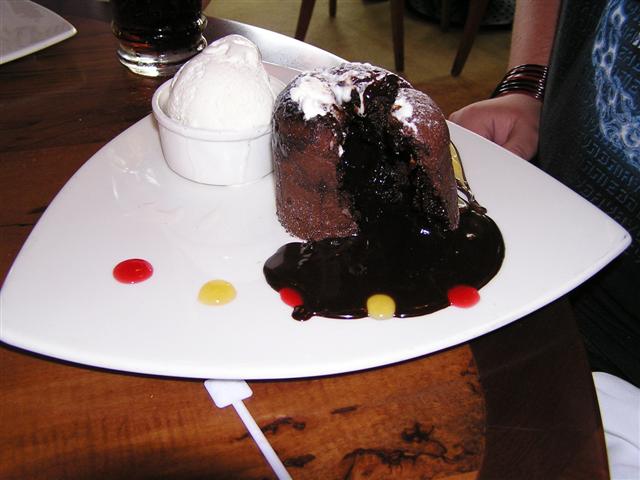 Another new restaurant we tried was the Liberty Tree Tavern. Here's my pink lemonade. This shows the glass you can buy (which I didn't get).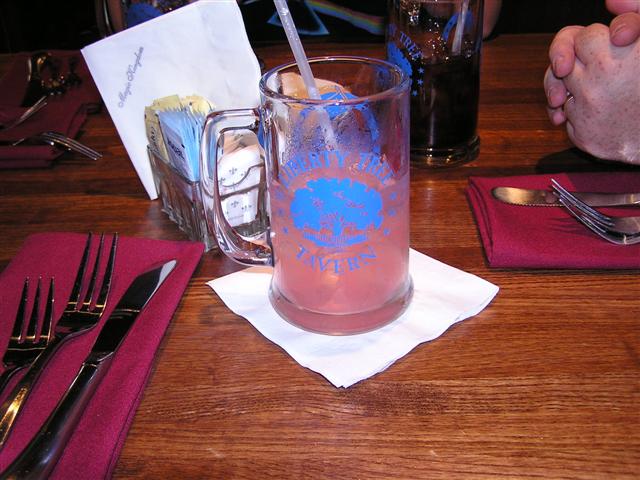 We had the tri-corner sandwich which was a delicious sandwich made up on tender roast beef, swiss cheese, lettuce. on focaccia bread. It was very good and I liked the steak fries.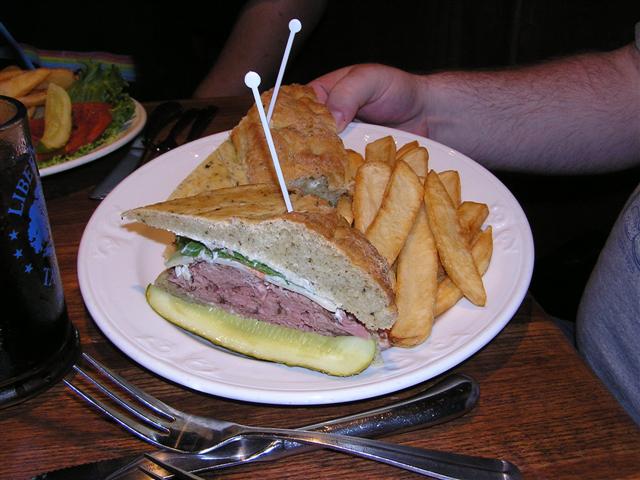 The boys had cheeseburgers. HUGE cheeseburgers. lol Just like the ones at Whispering Canyon and Sci-Fi.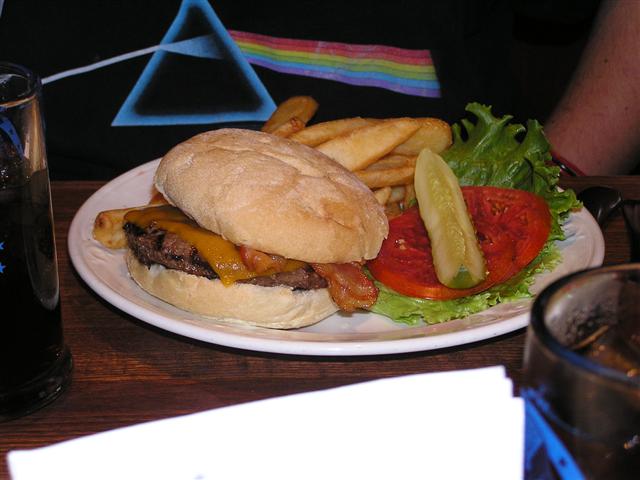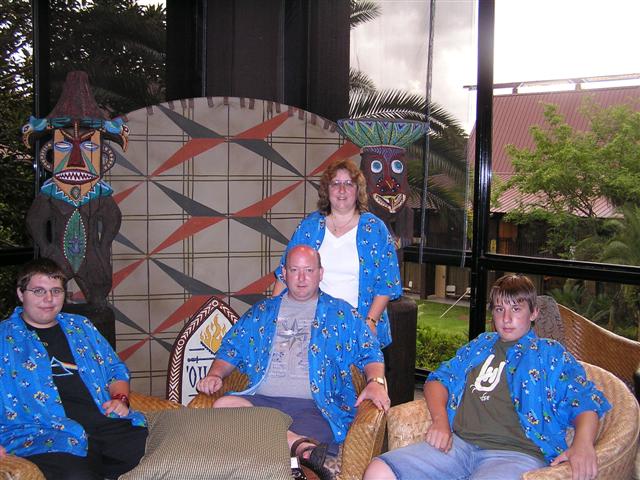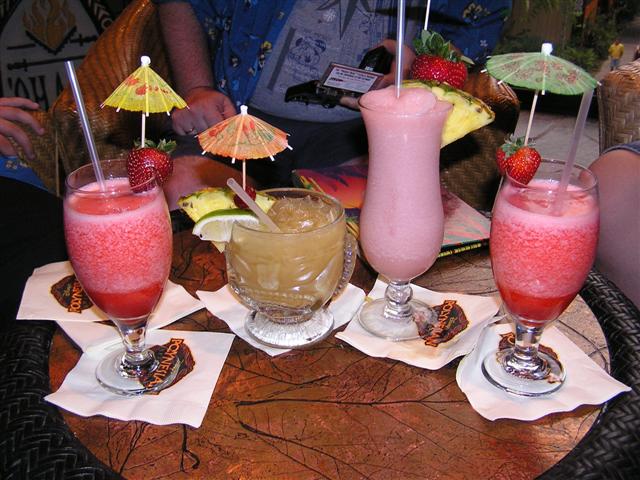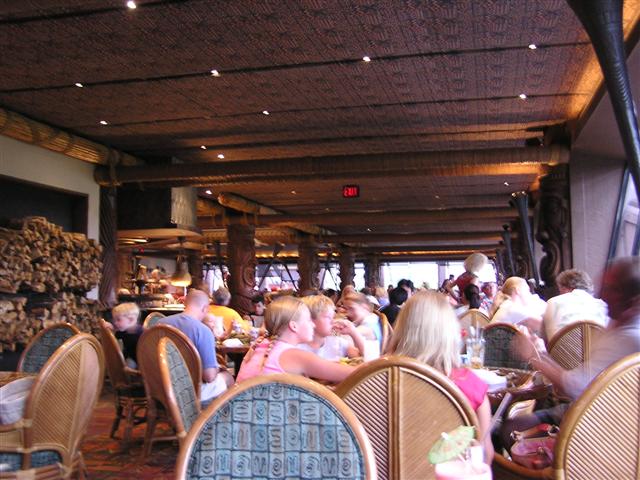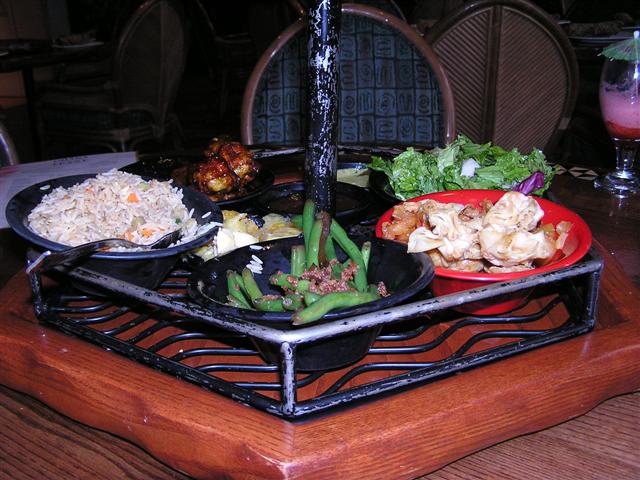 Our server took our picture, posing with the anniversary cake I surprised John with. Notice that the boys were good sports for wearing matching tropical Mickey Mouse shirts to dinner that night. ;}