Typhoon Lagoon
---
We spent one day at one of Disney's water parks called Typhoon Lagoon. From these pictures you can see what a great time we had. John and Craig went deep into the surf pool to jump the big waves. Robby and I stayed back a little further and had fun running when the waves came crashing! By the way, the difference between a surf pool and a wave pool is that the surf pools have waves big enough that you could actually surf on them. A wave pool's waves are smaller. Typhoon Lagoon is the only Disney water park with a surf pool. You can make reservations to take surfing lessons there.
This is a classic shot that John and I take of ourselves on all of our vacations. "CHEESE"!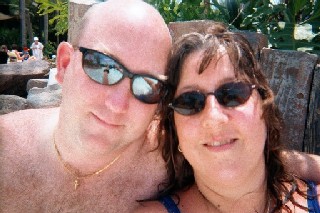 John is sunning himself on a rock... like a lizard :D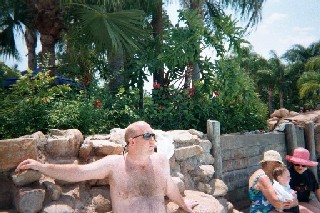 I snapped these pictures of John holding Robby. We were in a depth over our heads and they started what we thought were small waves. They were small, but very frequent! They made the water look like a choppy ocean.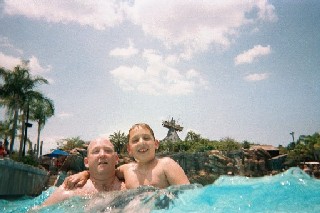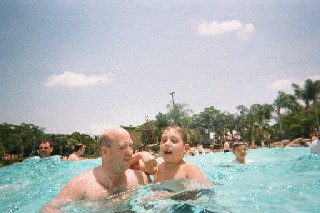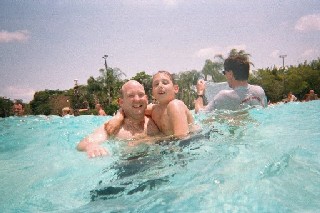 Robby jumps into a wave.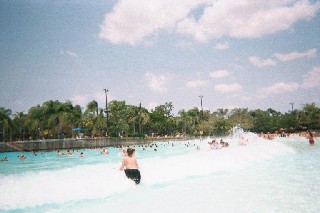 A rare moment where I was able to get John and Craig to come out of the big waves.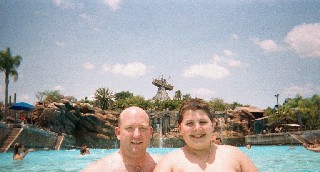 Look out Craig, there's a wave coming this way! John was underwater while I was taking this shot and trying to tickle me. :D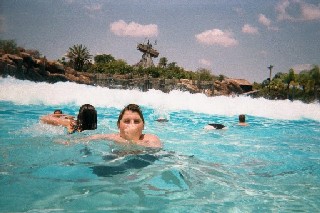 If you look closely you can see John and Craig with their arms in the air, right before riding this wave.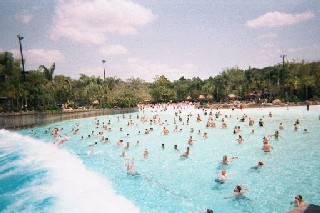 We had a GREAT time at Typhoon Lagoon and wished we had another day to spend there. We also rode the lazy river but didn't have the camera with us. We will definitely plan at least one full day at Typhoon Lagoon for our next Disney trip.