Our 9-night cruise aboard Royal Caribbean's
Explorer of the Seas
October 26 - November 4, 2007
After checking in at Cape Liberty cruise port we had a short wait before we could board the ship. There's a large seating area set up: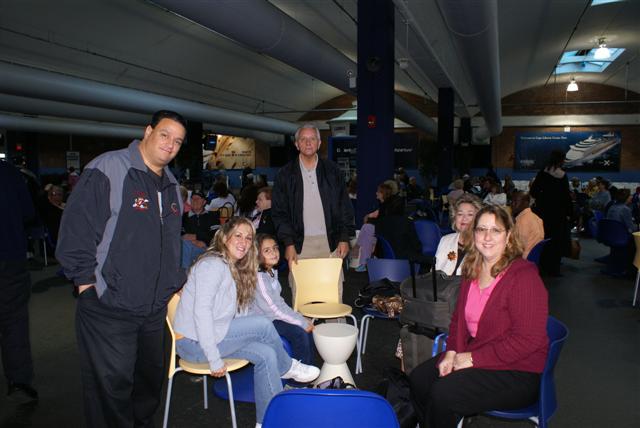 We were in cabin #8292 (category E1) which is mid-ship and on the starboard side of the ship. We felt the cabin was more than adequate for the two of us, but when we sail with RCI in the future with our 2 teenaged sons, we'll definitely book a separate cabin for them. I think for families with small children there would be enough room in 1 cabin, but not for 4 adult-sized people.
(I made the door magnets that you see in this picture).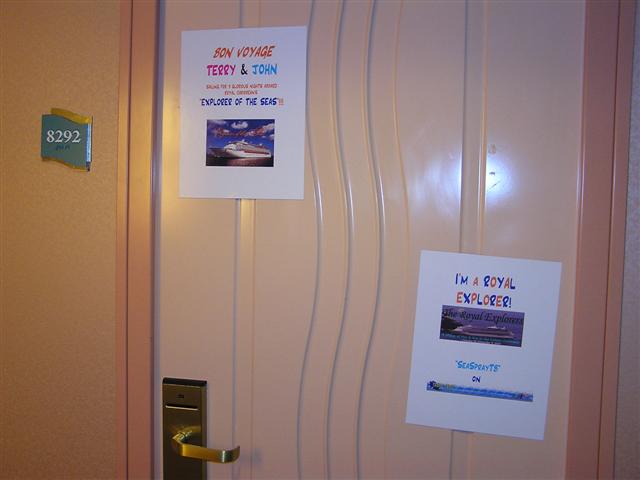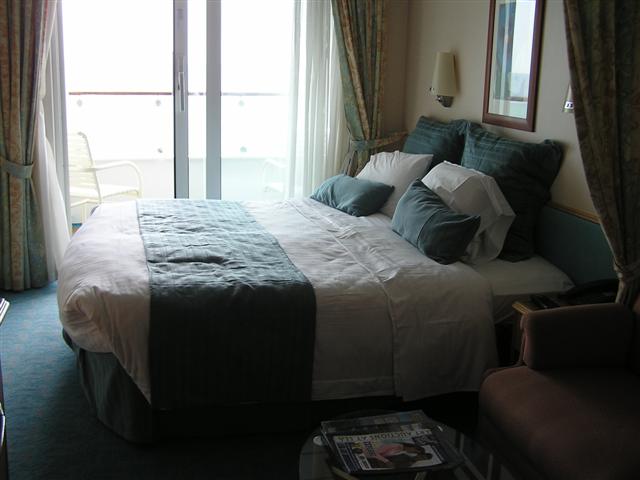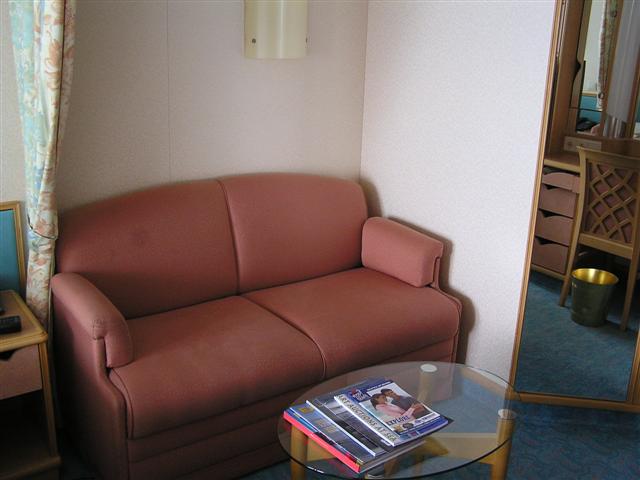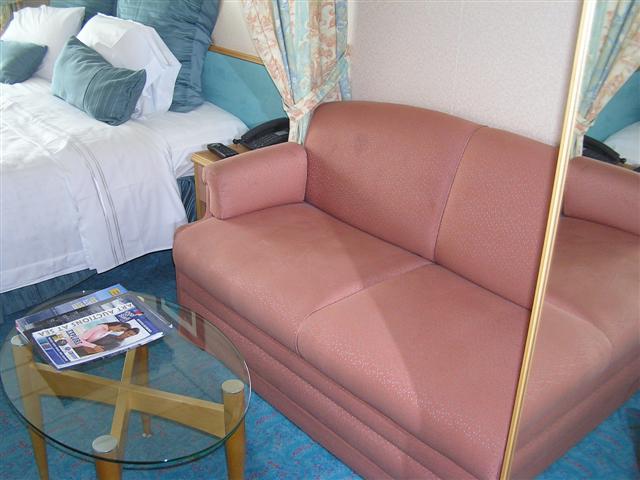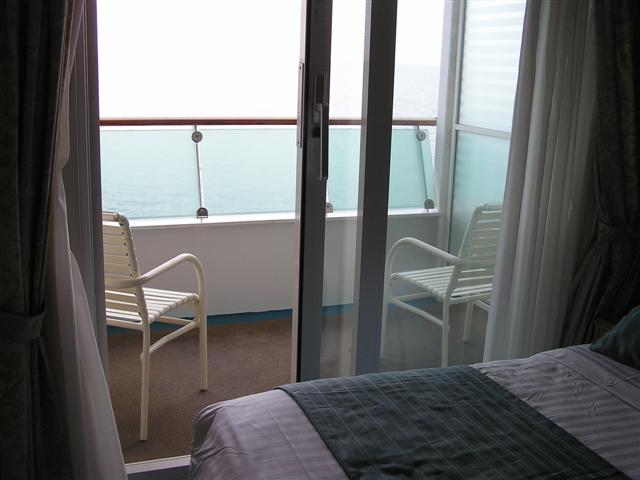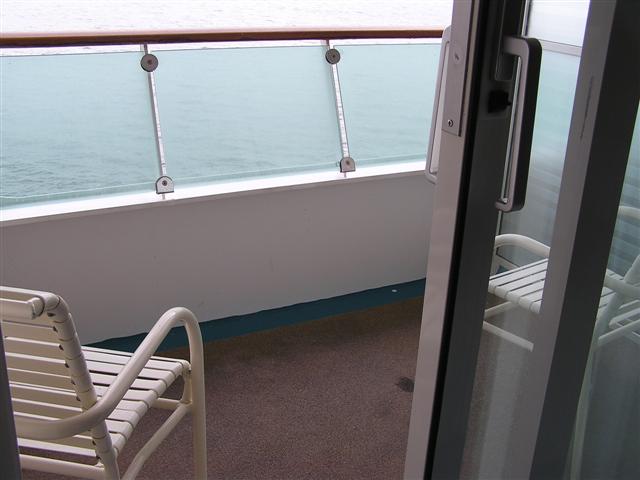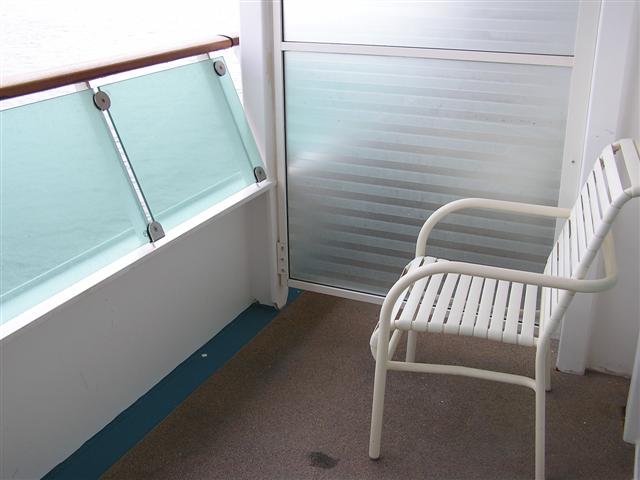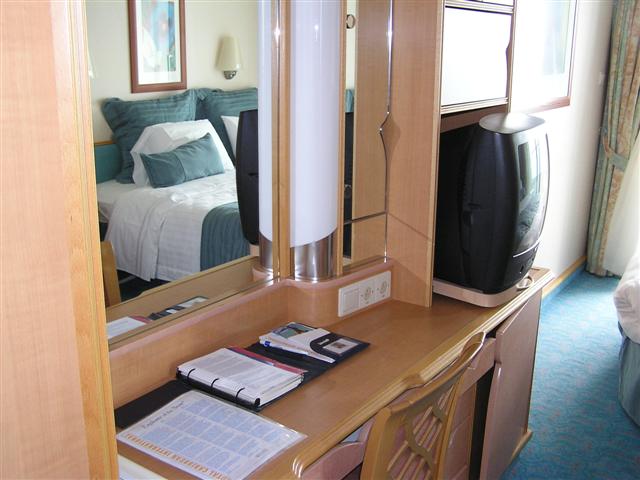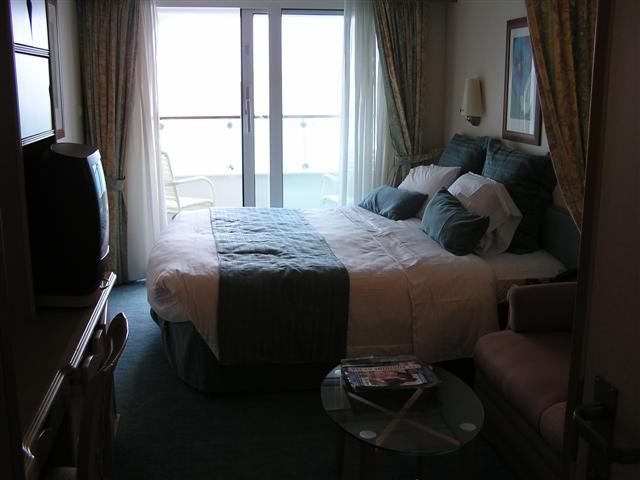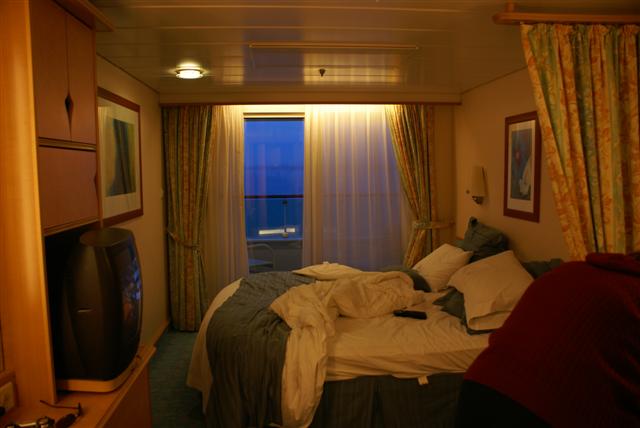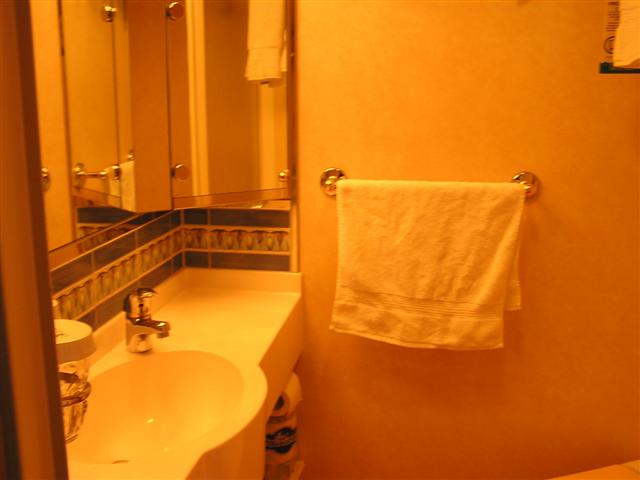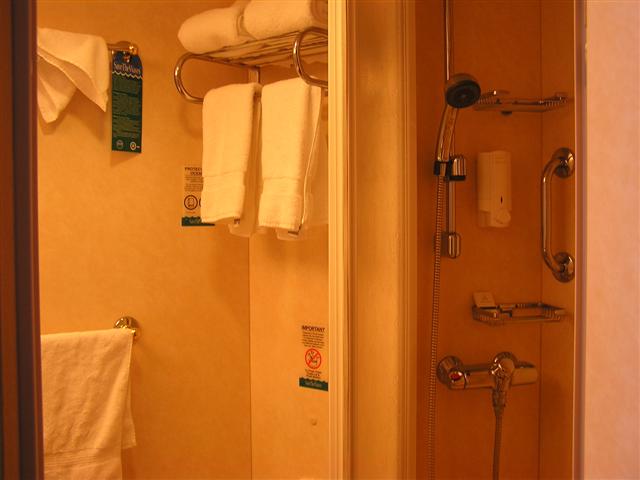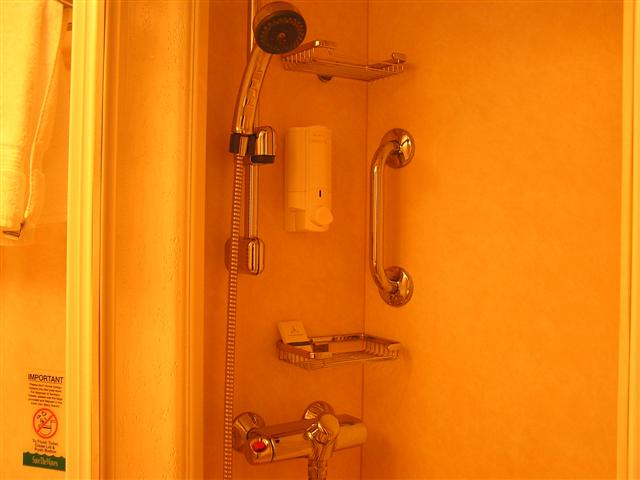 The dining room on the Explorer is 3-levels high and is beautiful!. Each different level is named after a different explorer; we were on the top level which is called the Columbus dining room. Here are pictures of the dining room, our table (#558), and our incredible wait staff. Out of 4 cruises on 2 different cruise lines (RCI and DCL), this was THE BEST wait staff we've ever had. They went above and beyond what I consider to be good service! Natasha was our Waitress, Gabriel was our Assistant Waiter, and Vino was our Head Waiter.
The doors and entrance way to the Columbus Dining Room: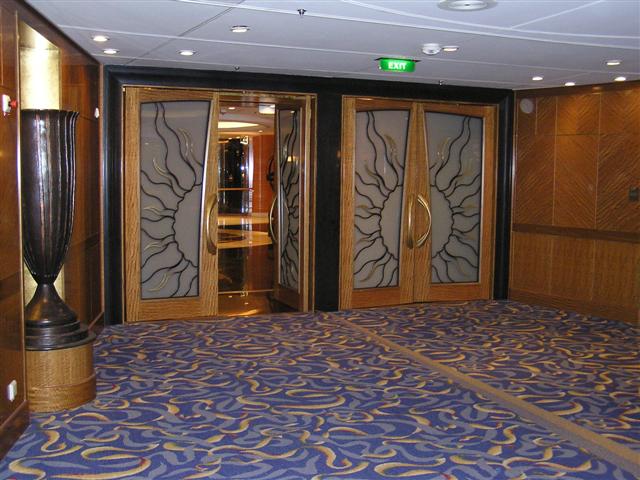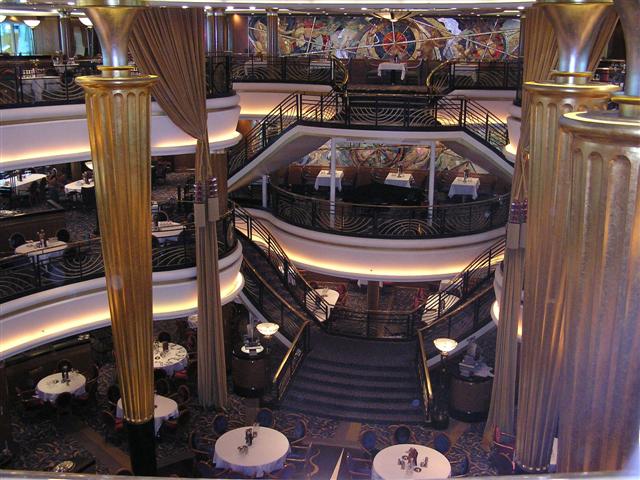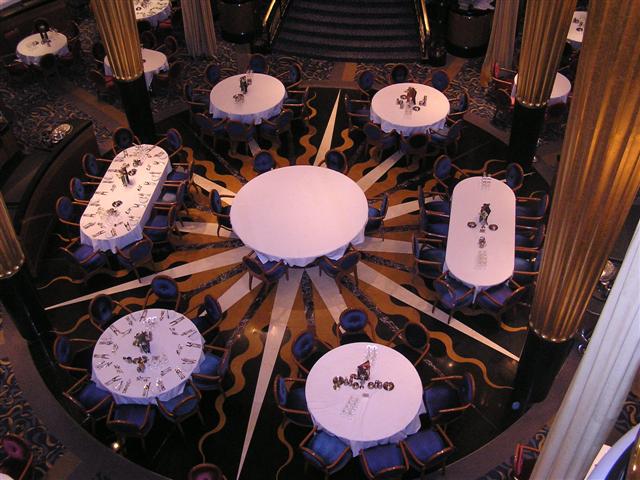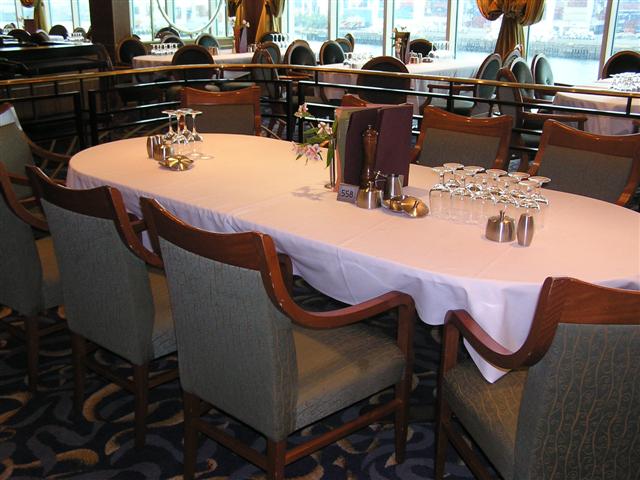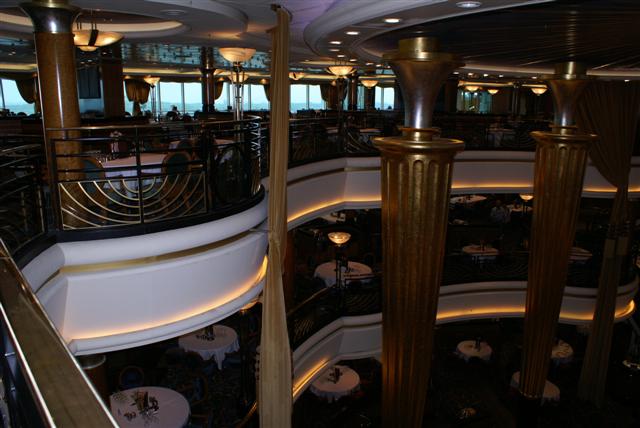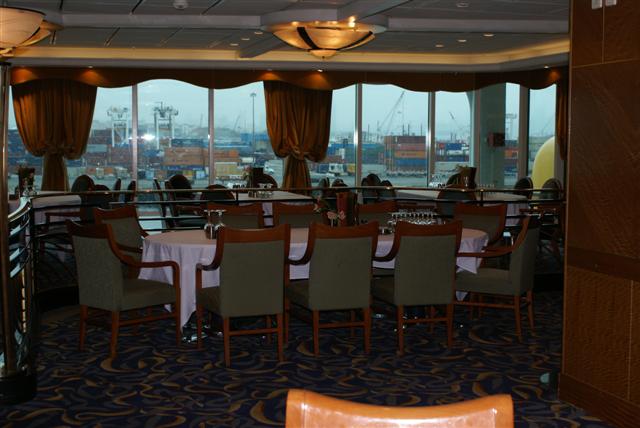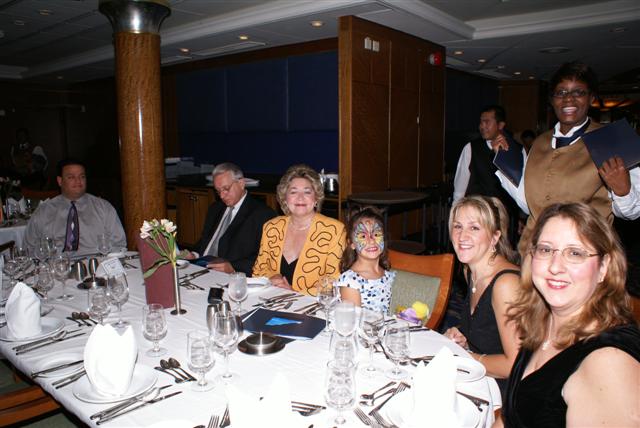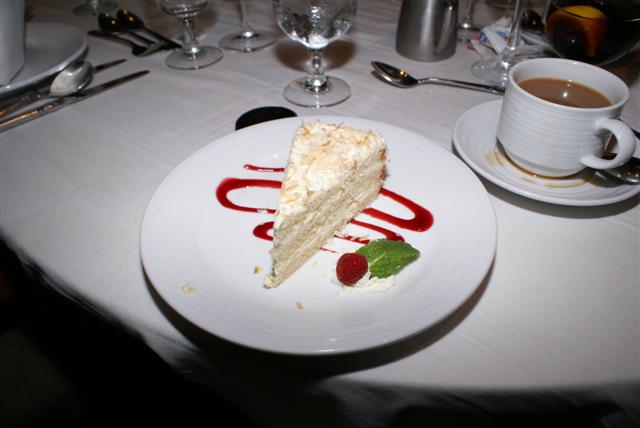 On a couple of the nights the waiters all marched around the dining room and sang for us. It sounds corny, but it was actually a lot of fun, especially with the great wait staff that we had!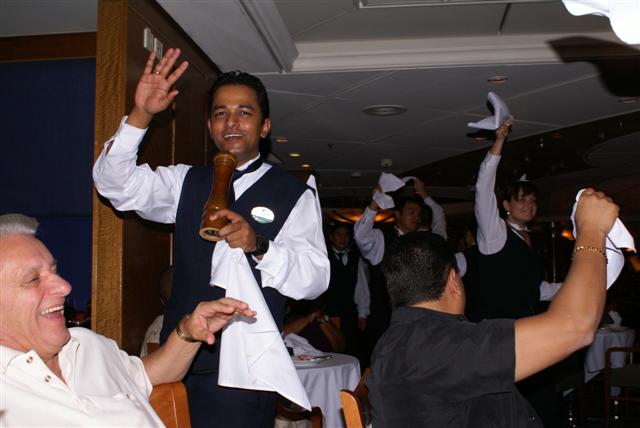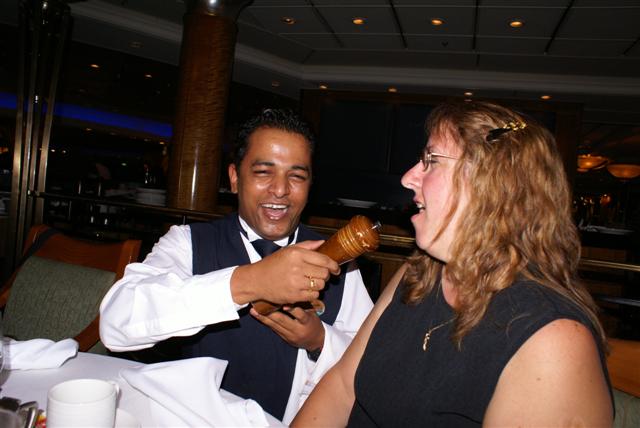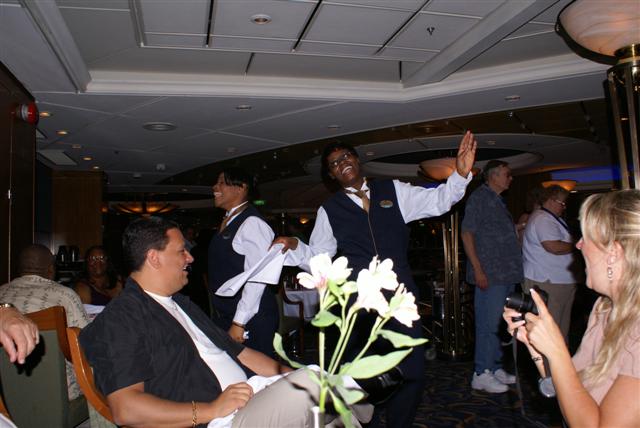 On one night we celebrated my sister's and brother-in-law's anniversary. We decorated the table, and then had our Head Waiter serve an anniversary cake and champagne after dinner: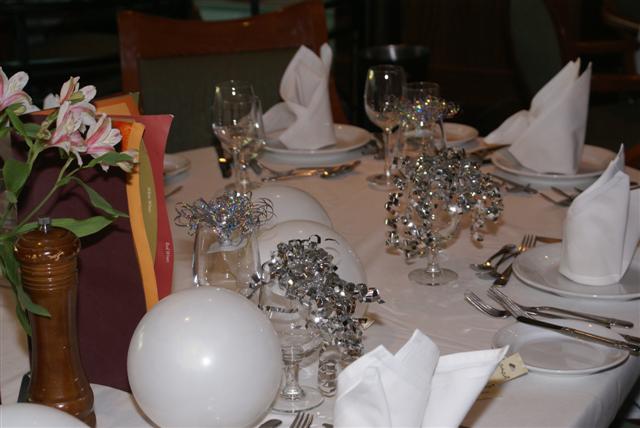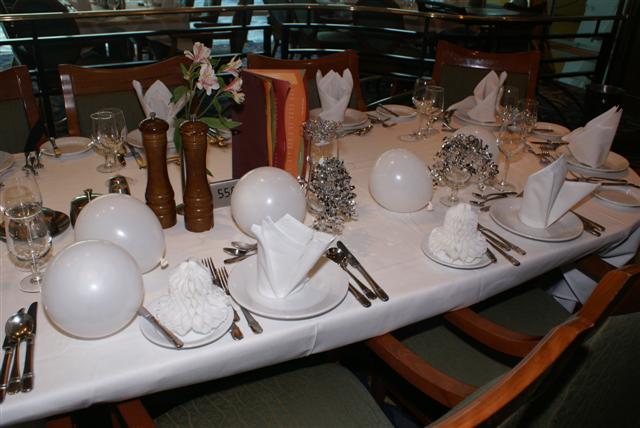 They were quite surprised when they walked in for dinner that night!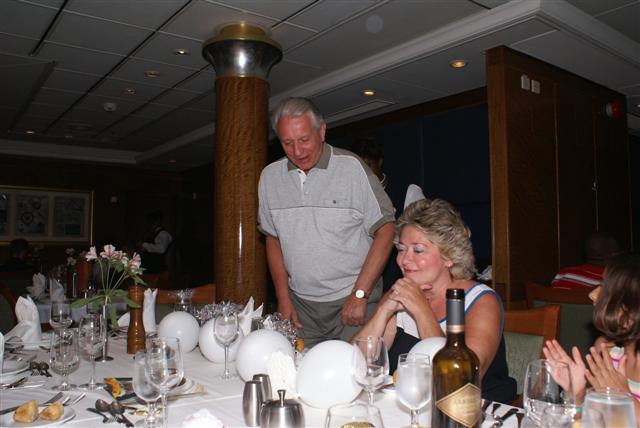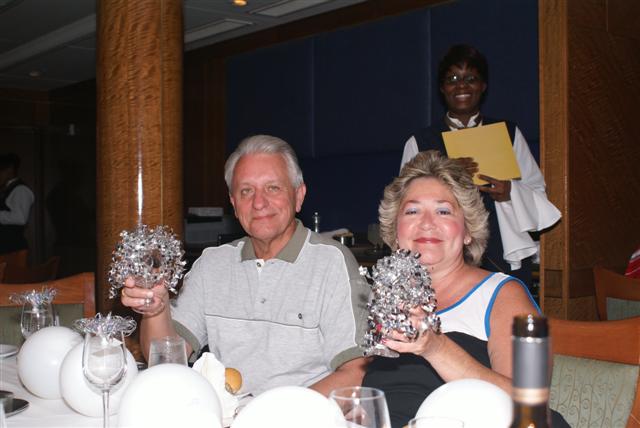 Our wait staff gathered a group of waiters and waitresses, and we all sang "Happy Anniversary to you!!" to the happy couple. It was a lot of fun and our excellent wait staff really enhanced the evening by being so enthusiastic.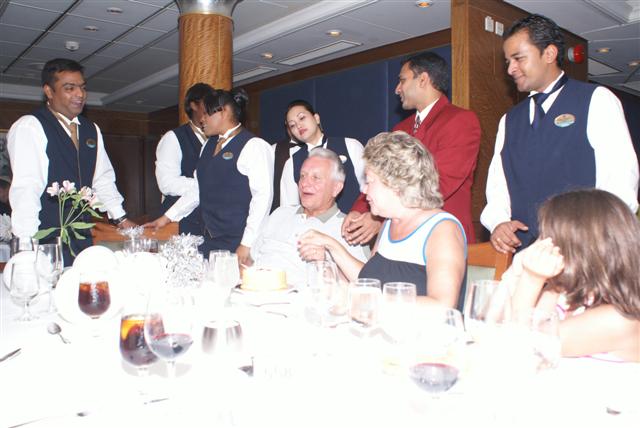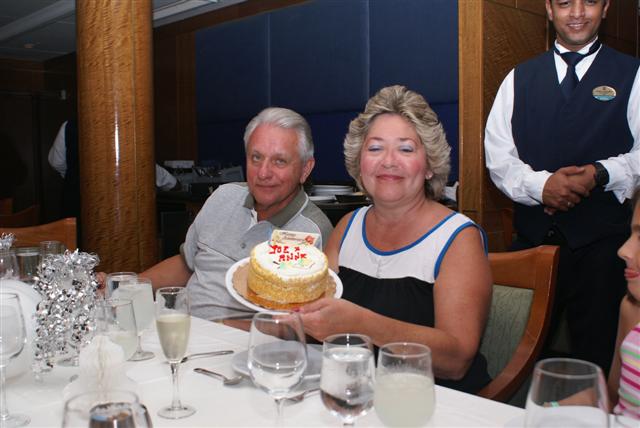 I think it'll be difficult for any future wait staff that we may get to rise above the service we received from Natasha and Gabriel: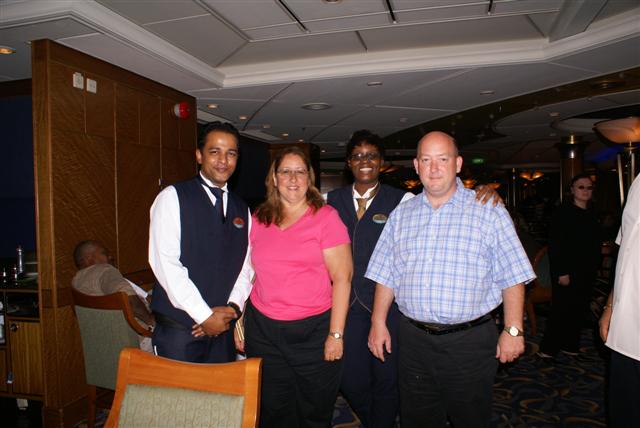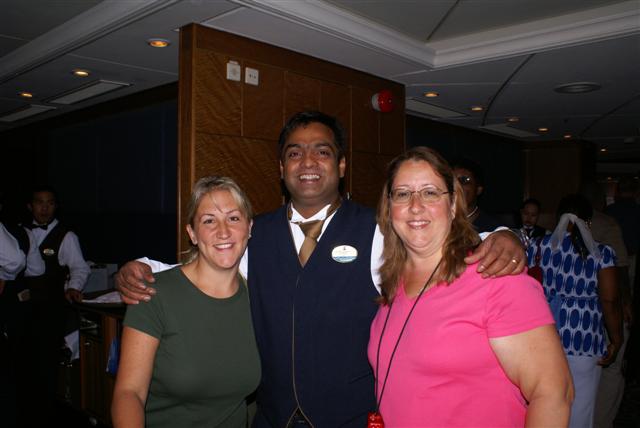 I really liked the pool area on the Explorer of the Seas. It was large enough to comfortably accommodate all of its passengers, but it wasn't so large that it was overwhelming or unmanageable.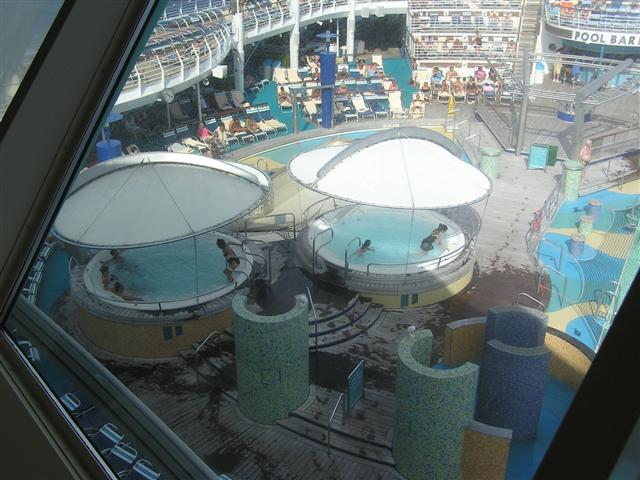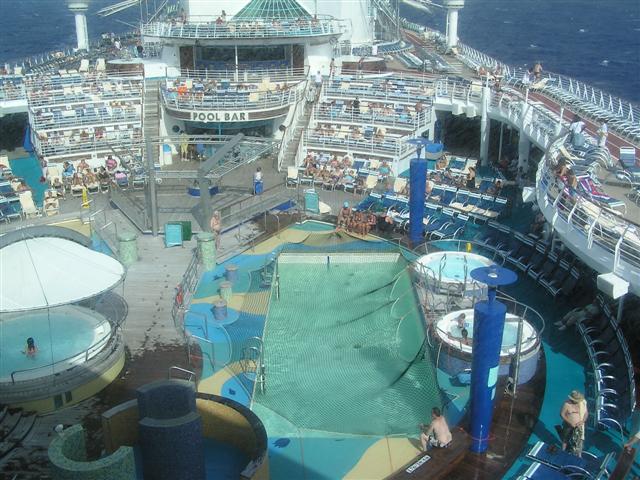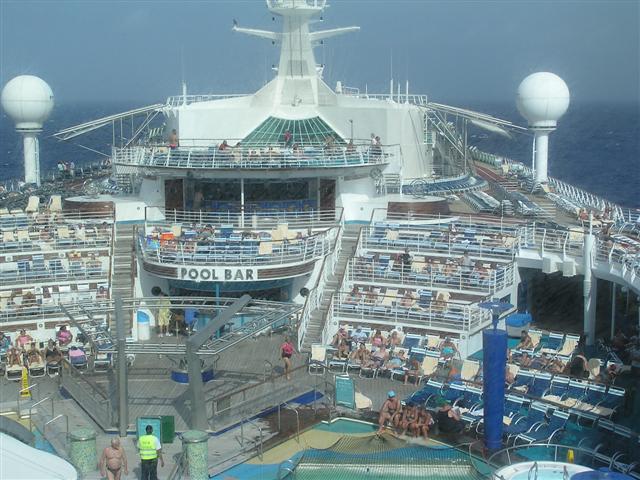 We enjoyed many fine beverages during our time spent poolside!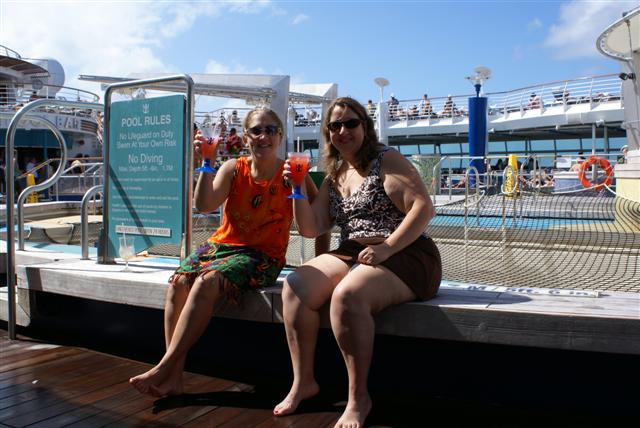 The live steel-drum band really added to the Caribbean vacation mood!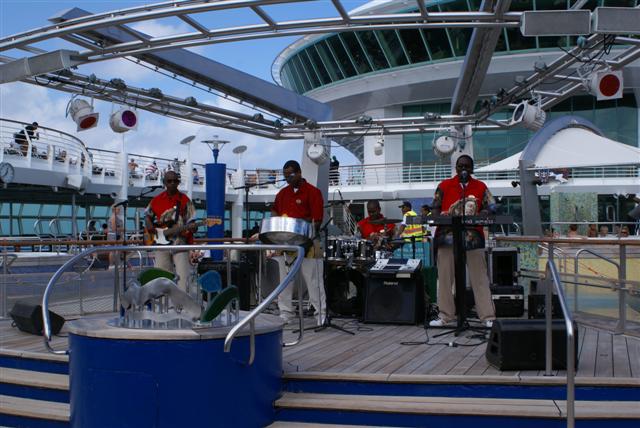 Around the ship:
The Royal Promenade: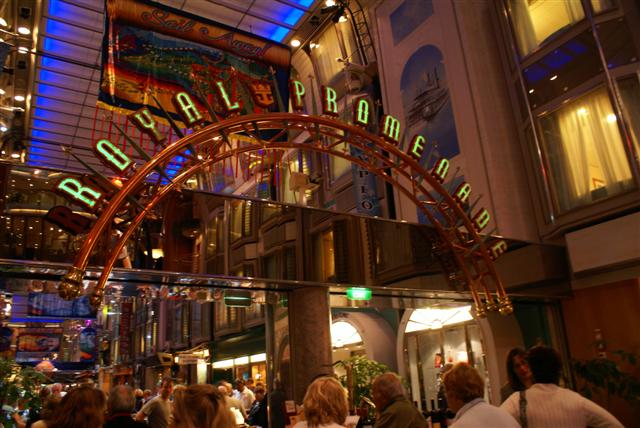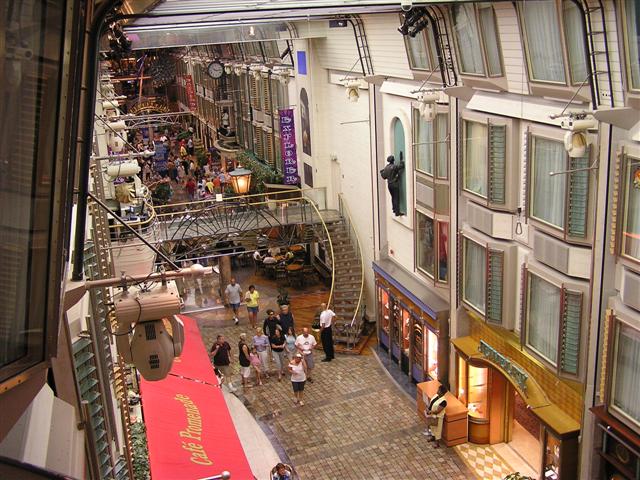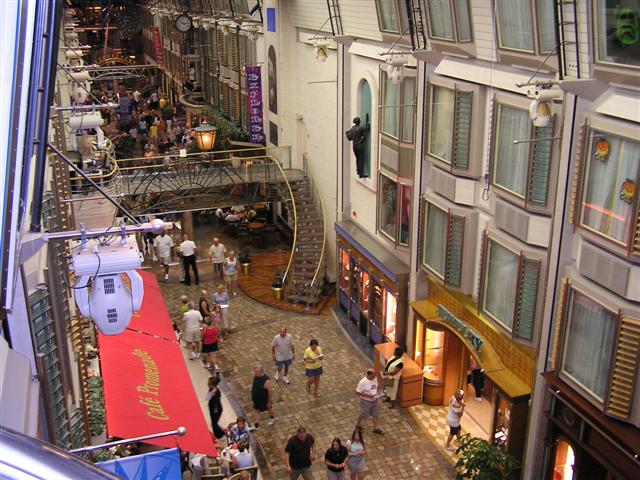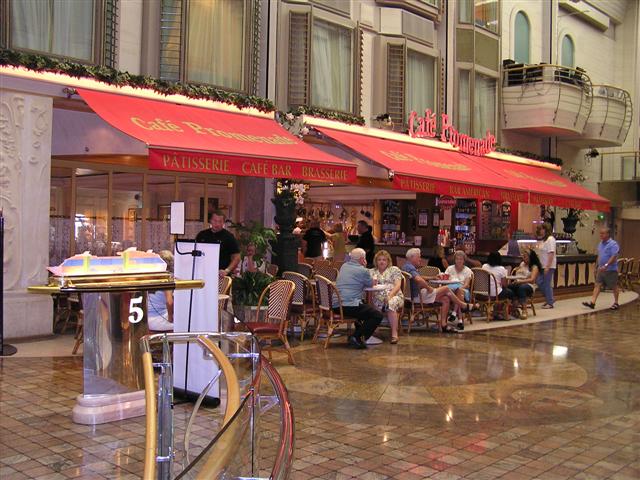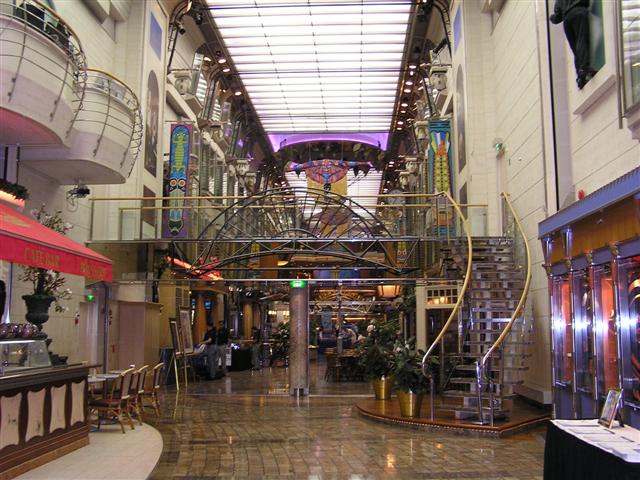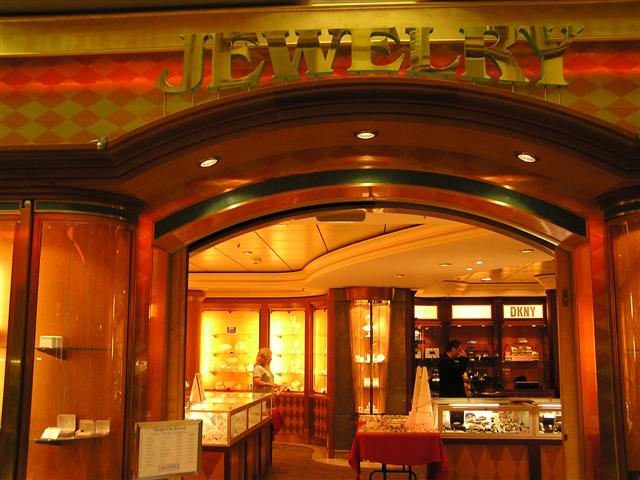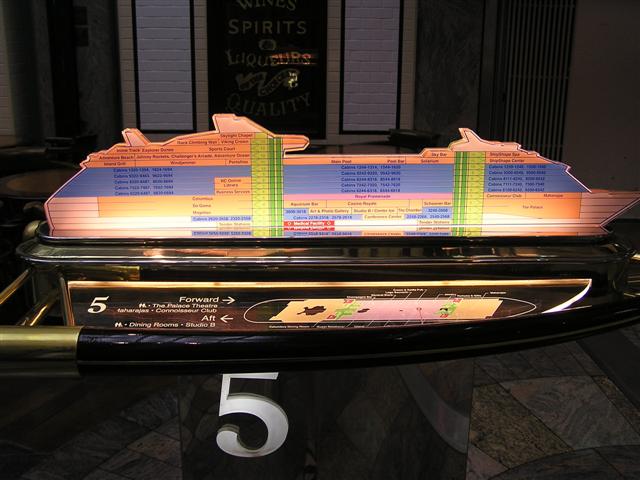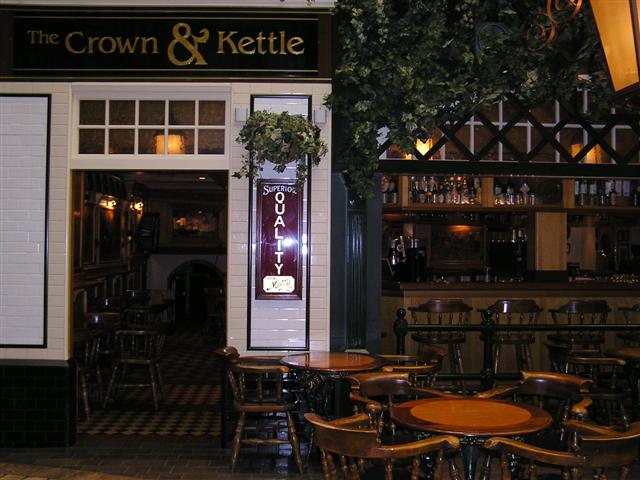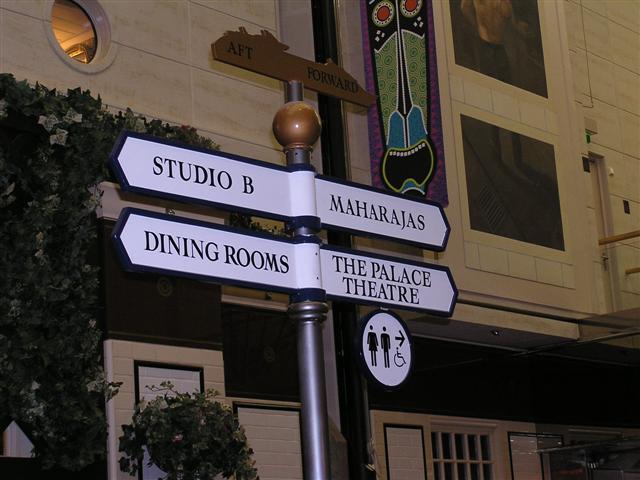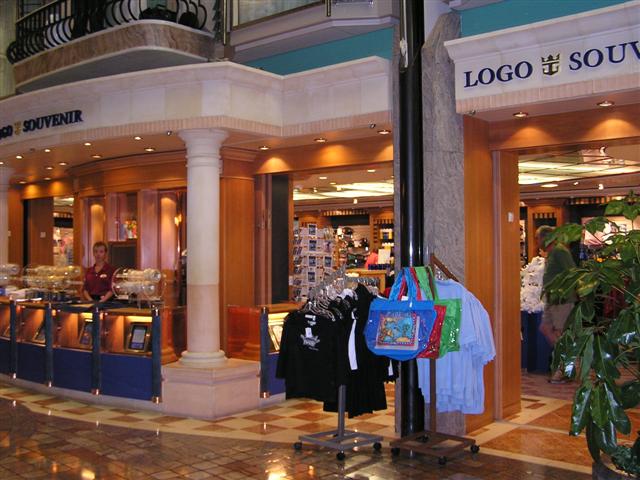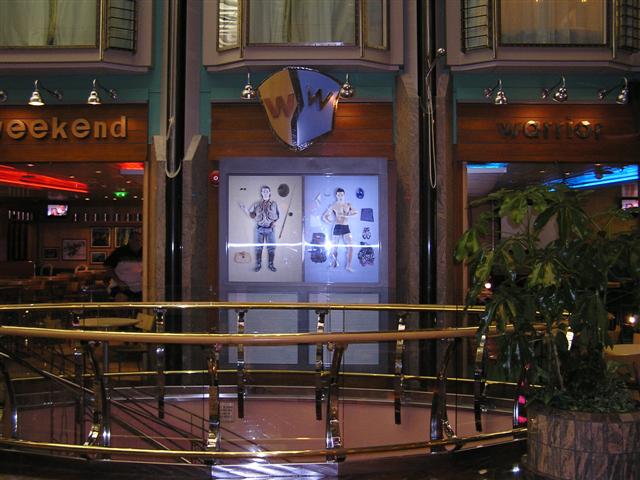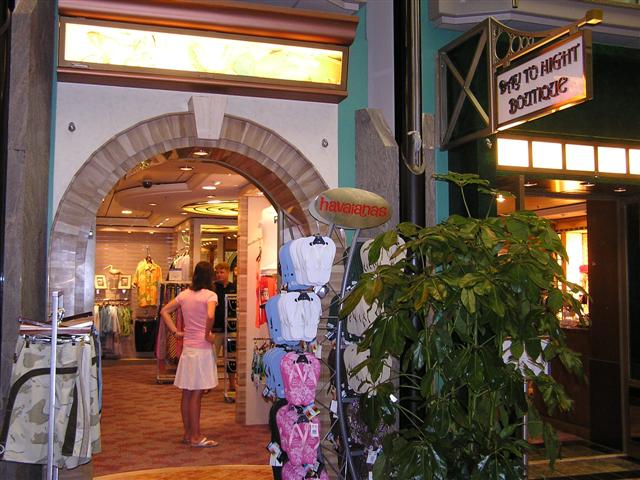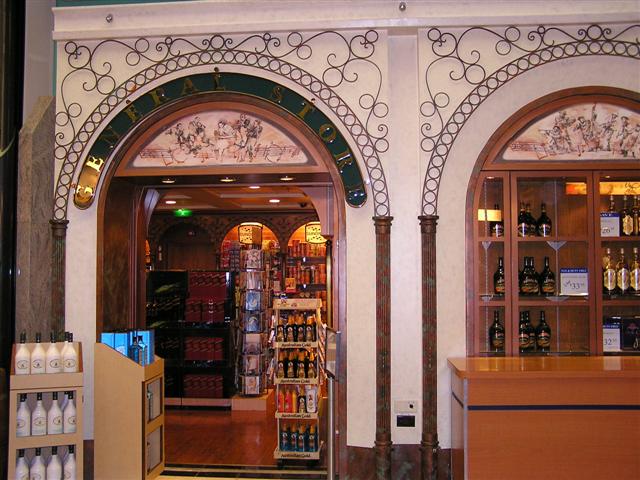 The Captain's Gala on the Promenade: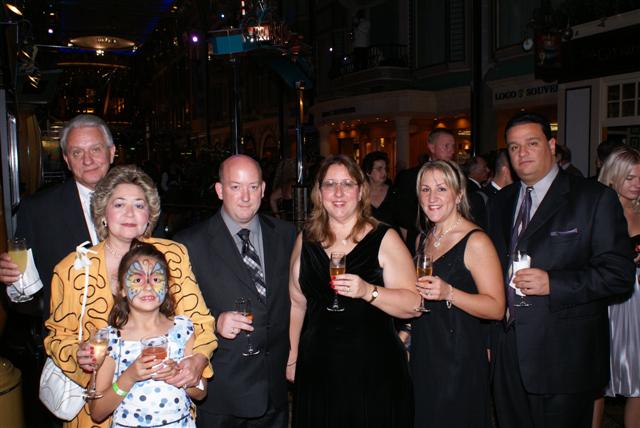 The champagne bar: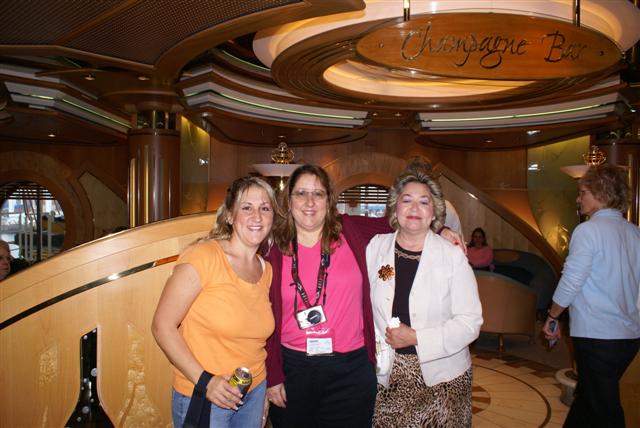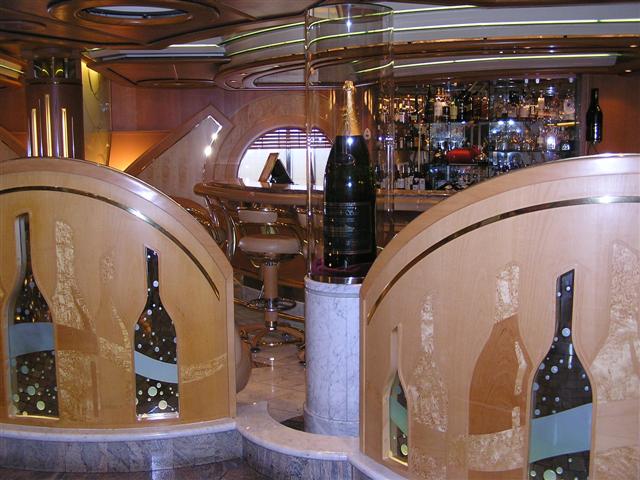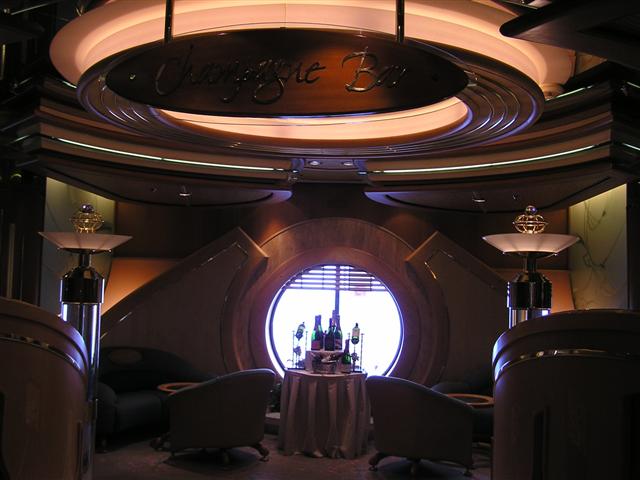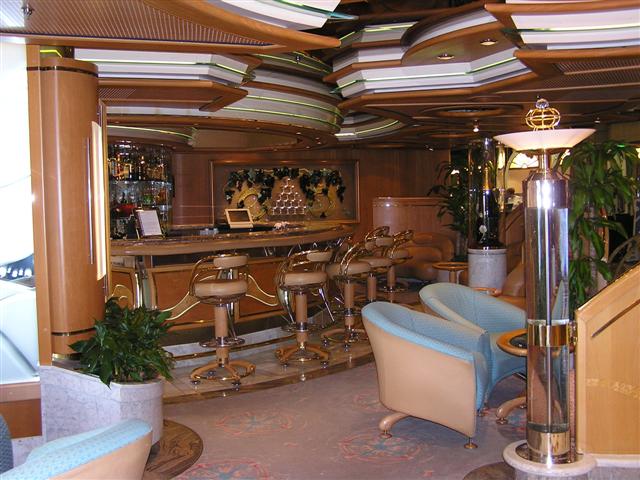 The Aquarium Bar: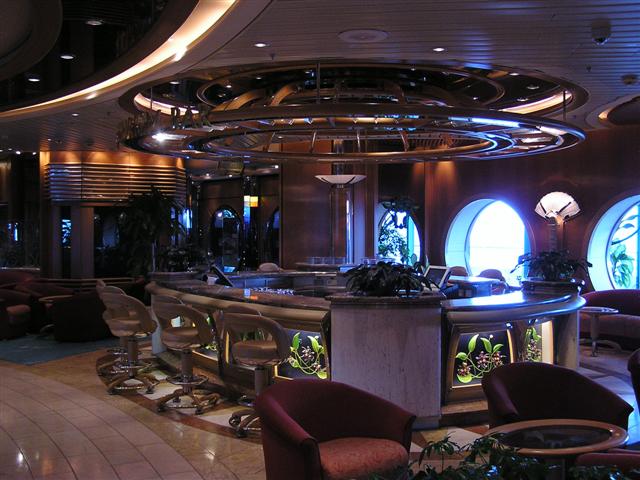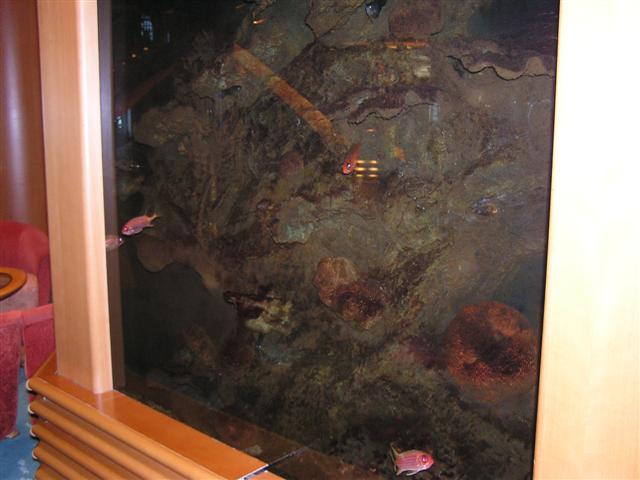 My favorite spot on the ship - The Schooner Bar: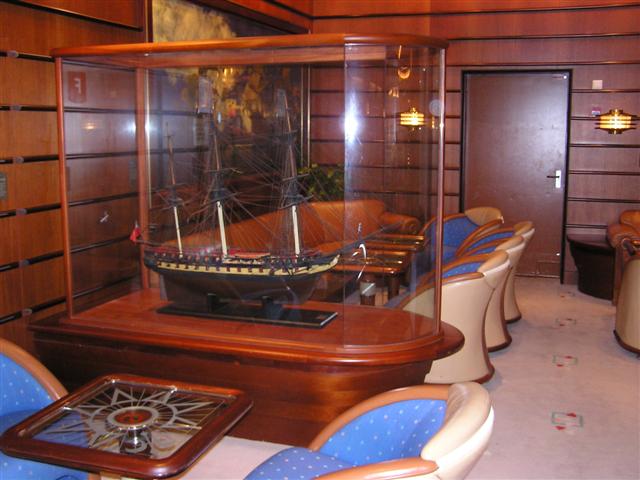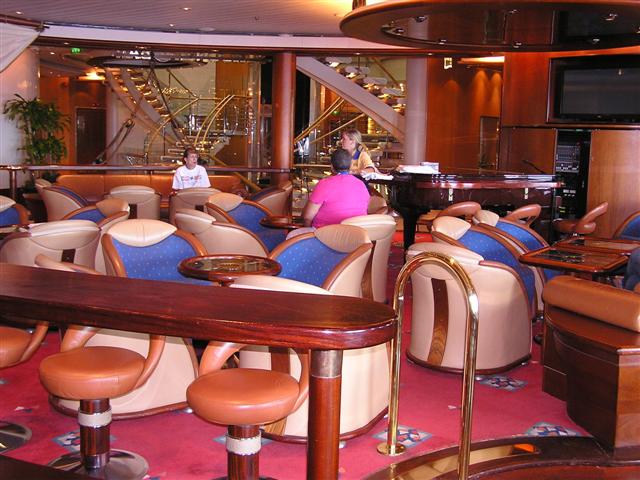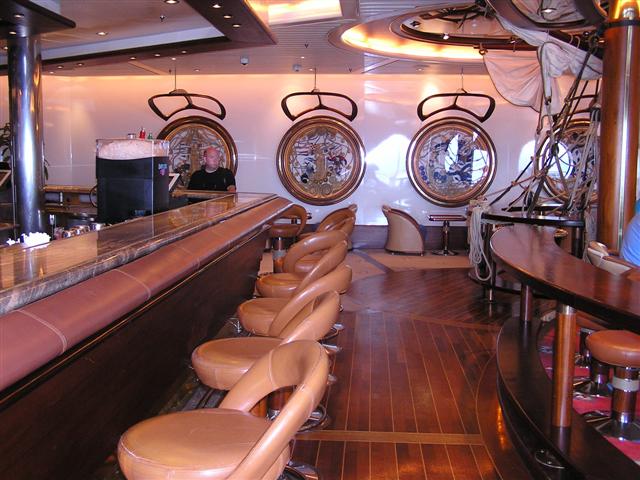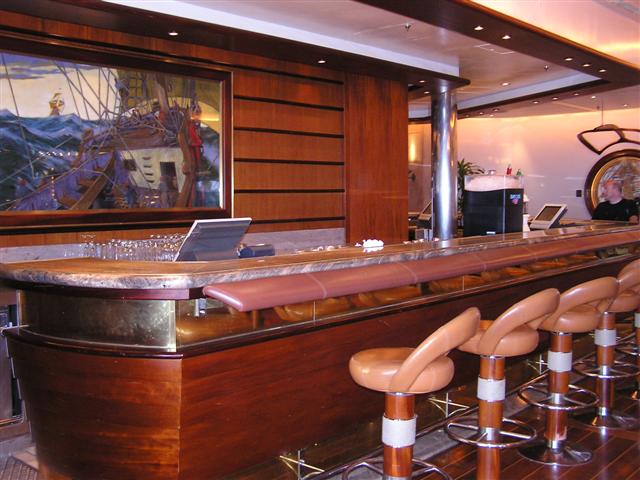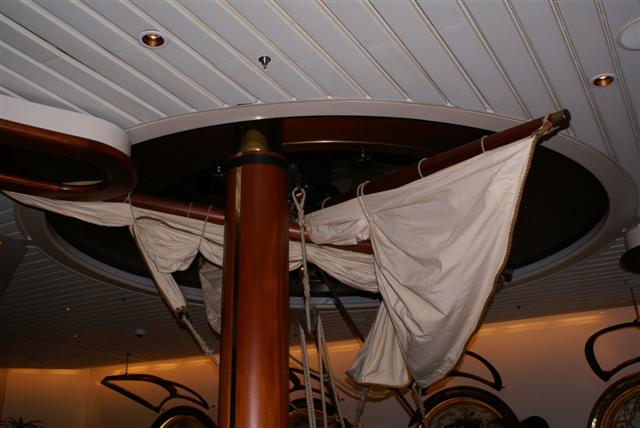 ~~~~~~~~~~~~~~~~~~~~~~~~~~~~~~~~~~~~~~~~~~~~~~~
Because of Hurricane Noel we had to miss Labadee, Haiti and Casa de Campo, Dominican Republic. Instead, the captain took us to St. Martin.
It was our first time on an eastern Caribbean cruise so John and I had never been to St. Martin before. Even though we were disappointed about missing Labadee, we were happy at the idea of going to St. Martin.
We decided to check out Orient Beach, and we ended up in the little section called "Bikini Beach". There were MANY people walking up and down the beach selling their wares such as scarves, necklaces, bracelets, anklets, hair braiding, etc, and there was a small wooden building on Bikini Beach that sold drinks, food, and various types of artwork. There was a French woman there who sold the nicest little painted scenes of Bikini Beach; I bought one in size 5X7 and framed it when I got it home. It looks exactly like the orange lounge chairs and blue & green umbrellas that we actually used while at Bikini Beach. It was the best $10 spent because it's a beautiful little reminder of our day there. I also bought a very nice ankle bracelet made of different-colored stones and gold colored beads. I also bought a black shawl with silver beads, AND I let my husband talk me into getting my hair braided! LOL I want to add that the people who were walking up and down the beach that day selling their wares were *very* nice and when you said "No, thank you!" they smiled, wished you a good day, and then walked away.
Ok, on with some pictures of St. Martin:
Pictures around the dock/pier:
This is where the water taxi is: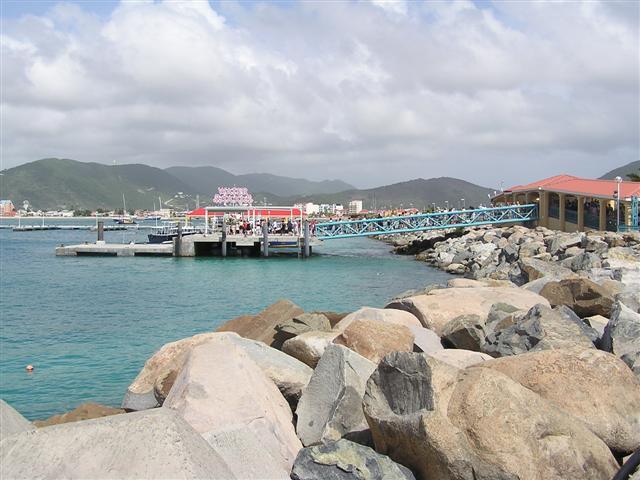 There was a steel-drum band playing: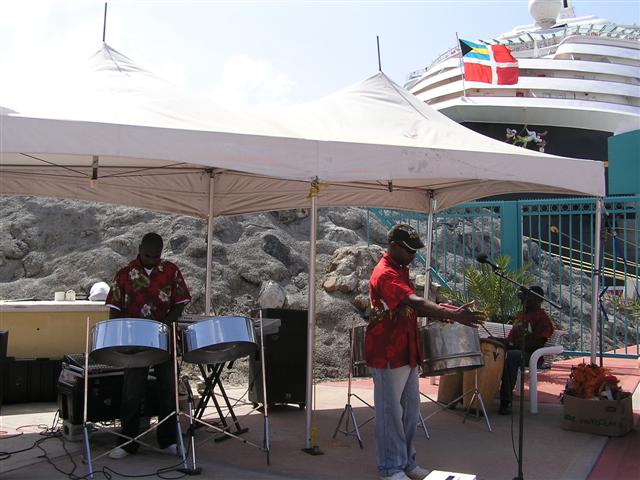 There was a small shopping area right there at the pier. We didn't go inside the large indoor mall, but we walked around the smaller outer buildings:
The water is beautiful even right there at the pier!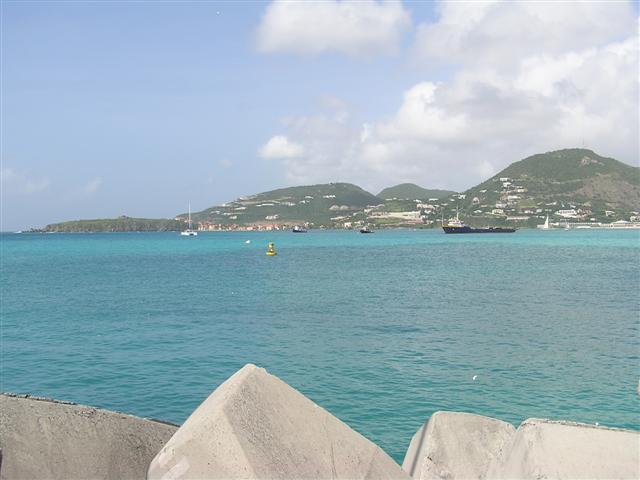 We took a taxi and finally got to Orient Beach/Bikini Beach: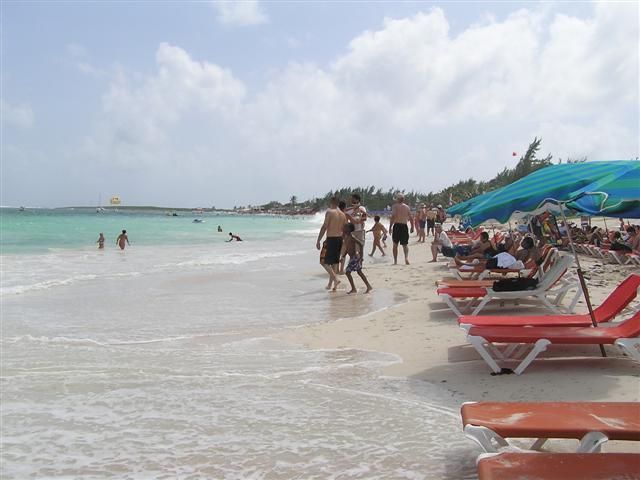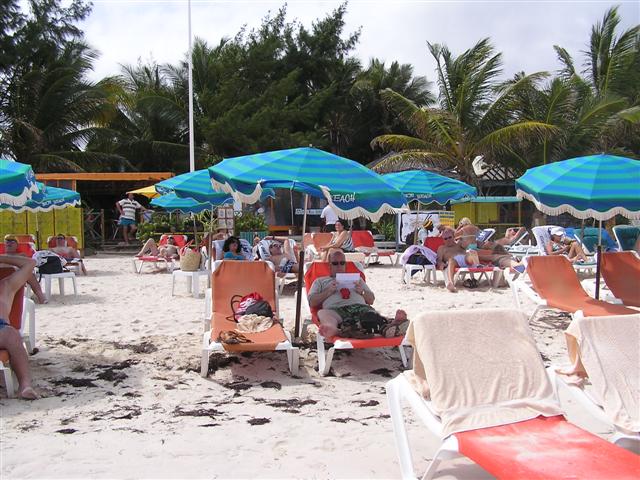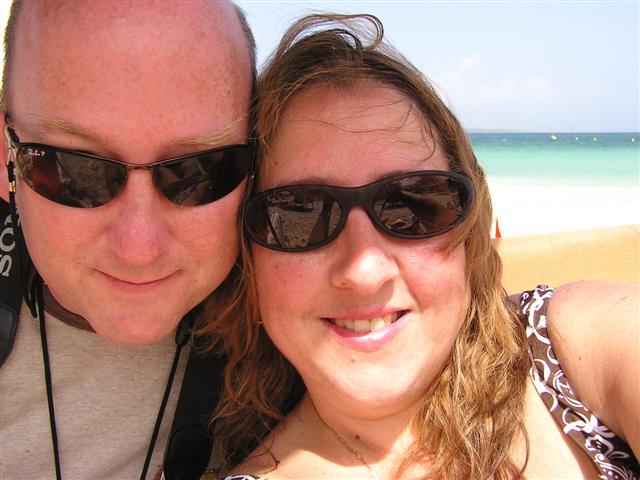 The view from our umbrella: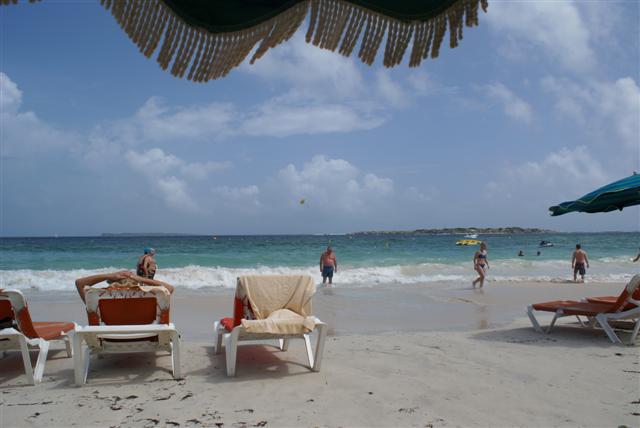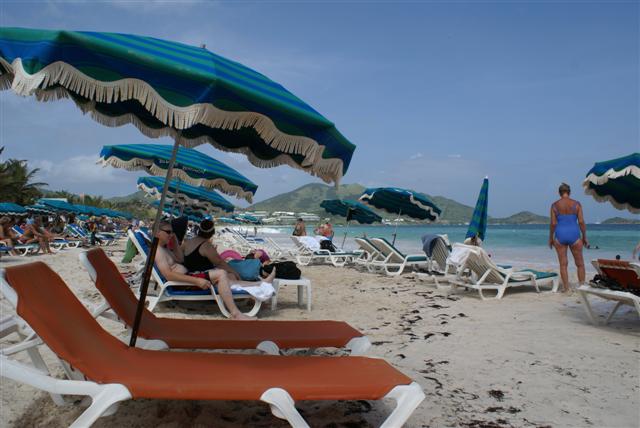 A reggae band was there and their music really added to the wonderful island ambiance!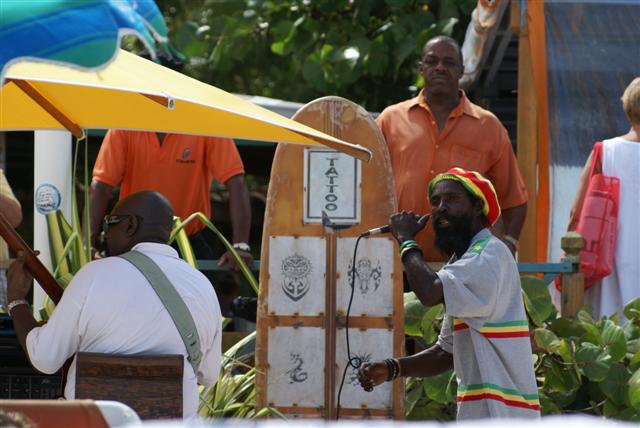 Rentals for wave runners, parasailing, and banana boats were only a hundred feet away: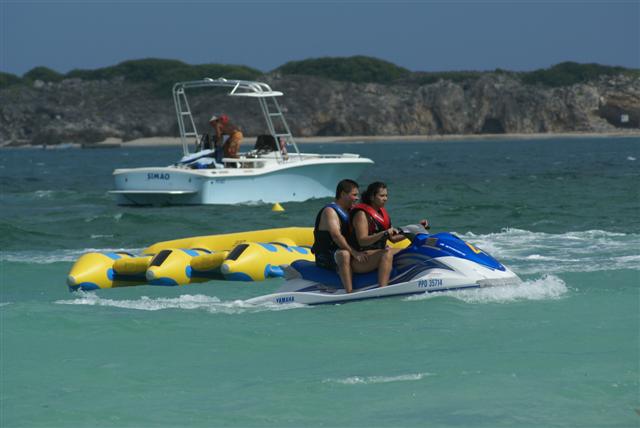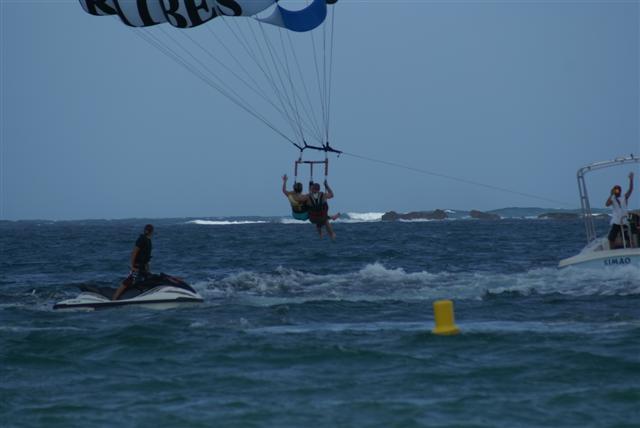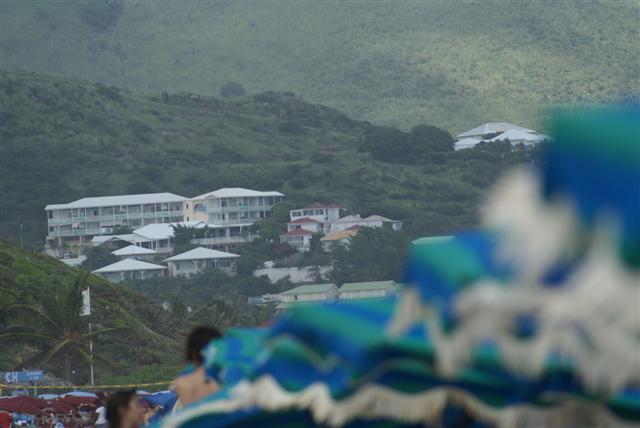 Here's what happens when a 40-something year old white woman let's her husband talk her into getting her hair braided on the beach!! It was fun, and it's something I'd only ever do while in the Caribbean. LOL I won't get my hair braided again but it was fun to have it done once!
BEFORE: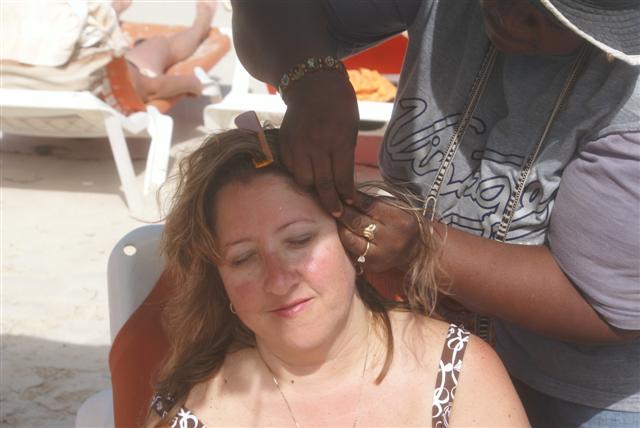 DURING: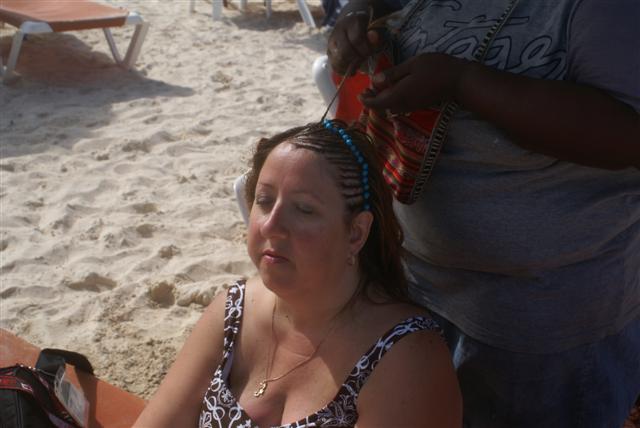 AFTER: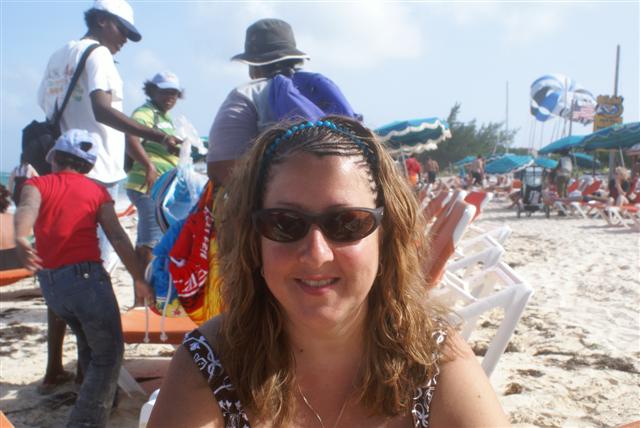 After this I was eager to get off the beach! (LOL!) so we headed back to town:
In town we walked along the boardwalk which has a small beach and is very close to the ships: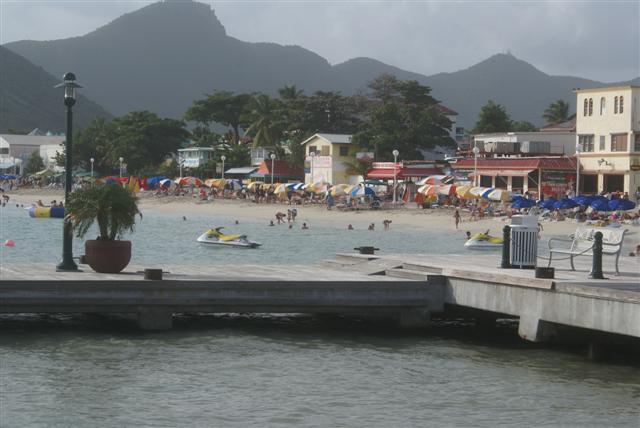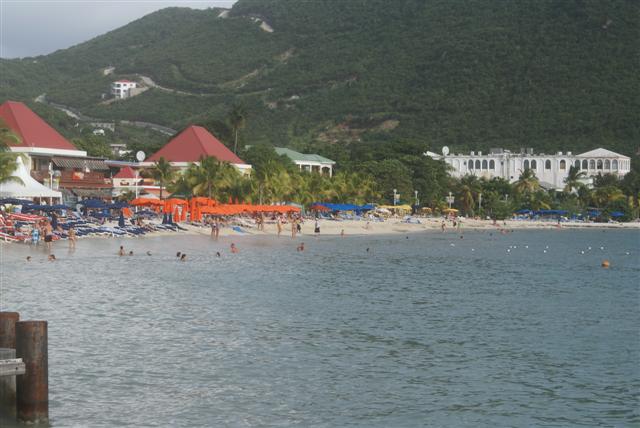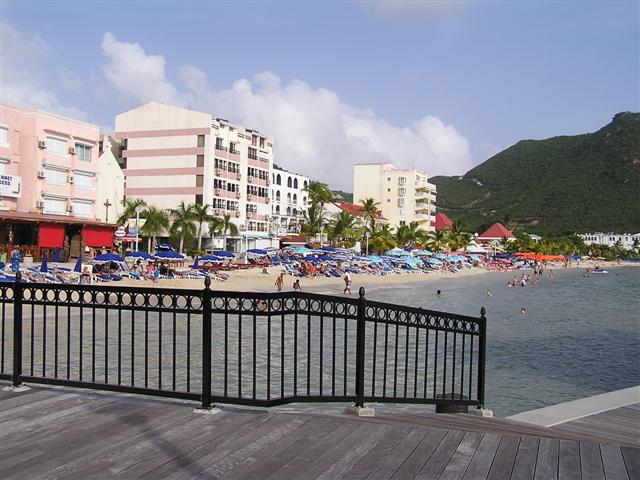 And then we took the short water-taxi ride back to the ship: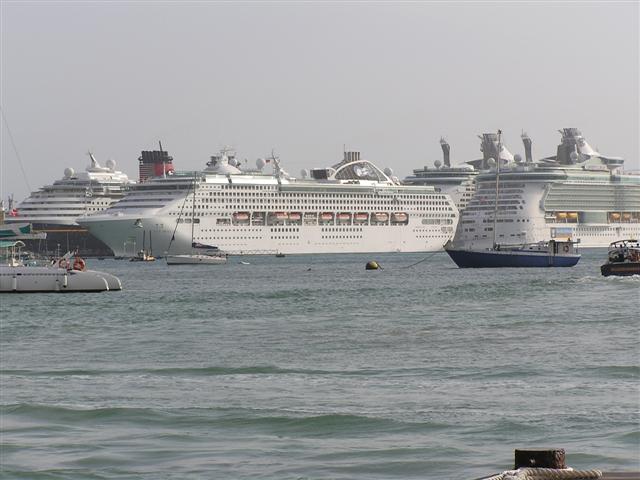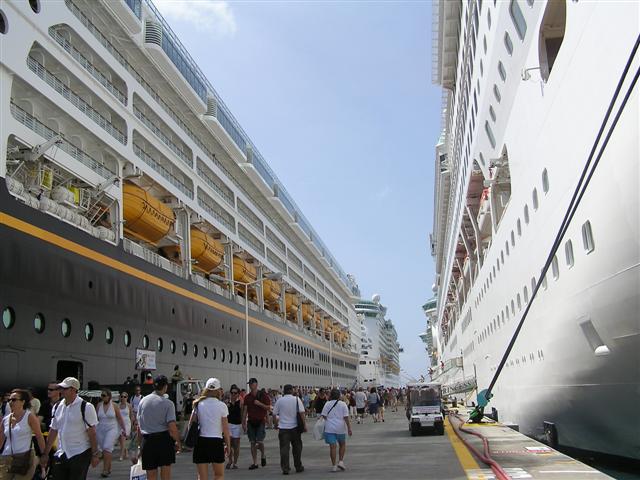 Next day was St. Thomas.
Since we had heard that the snorkeling was great at Coki Beach, we headed there. Also, this beach is right next to Coral World which my niece, her daughter, and my brother in law went to, so it was convenient for all of the things we wanted to do that day.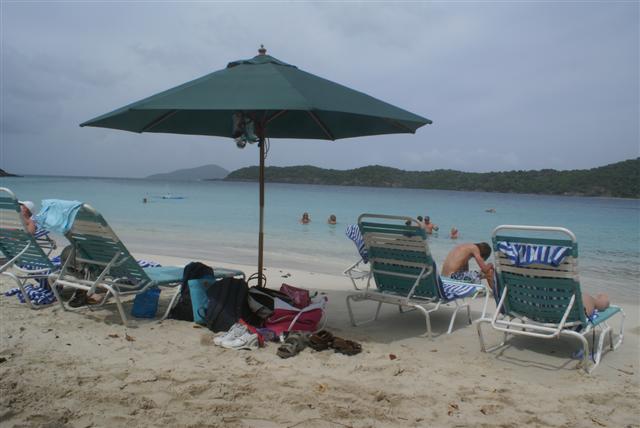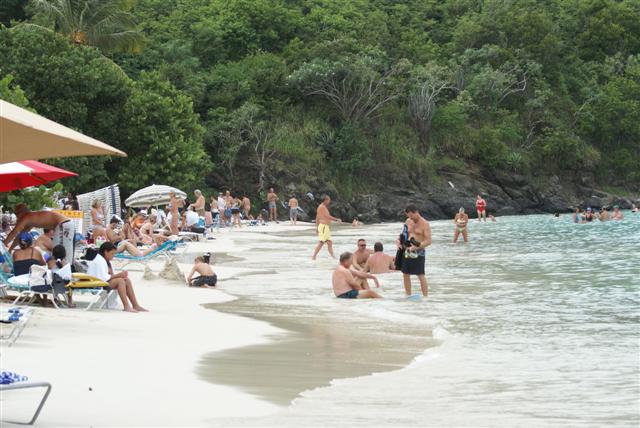 Here's a picture of Coral World; this shows just how close it was to the beach. Also, the area right in front of the line of rocks was AMAZING - when you walked in you were suddenly surrounded by beautiful, colorful, tropical fish! These fish are used to people coming in and feeding them, so they were quite tame and not afraid of you at all. They sell dog biscuits on the beach to bring in to feed the fish, but we didn't need to do that because we found small chunks of dog biscuit floating in the water, so we grabbed those and held them under the water and fish would feed right out of your hand! It was one of the most spectacular experiences I've ever had. It felt as if you had walked into a huge tropical aquarium. I'm only sorry that I didn't bring a waterproof camera with me so I could get pictures of the fish.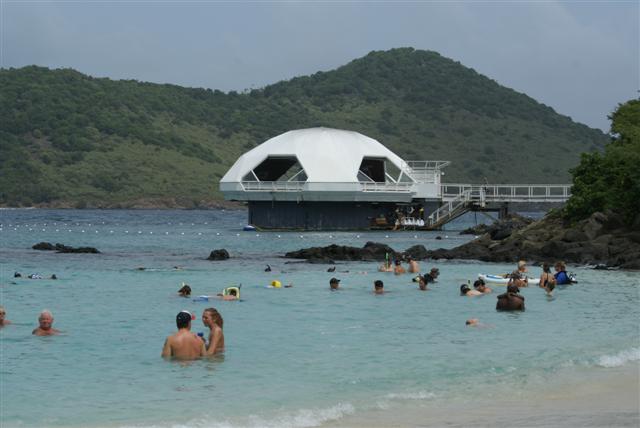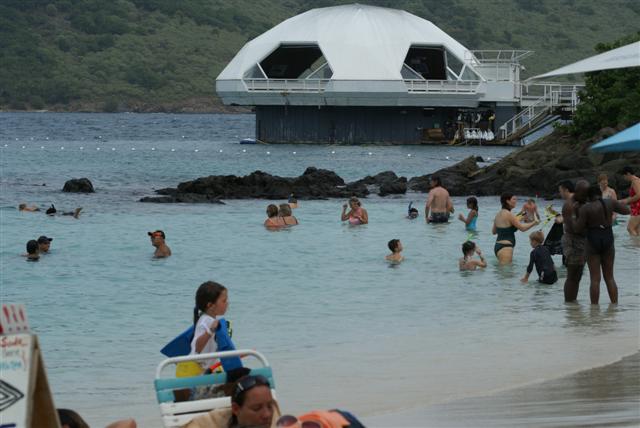 Here we are feeding the fish; this was as deep as we had to go, the fish swam right up to you as you entered the water. This was an excellent place for families with small children who couldn't or didn't want to go into deeper water.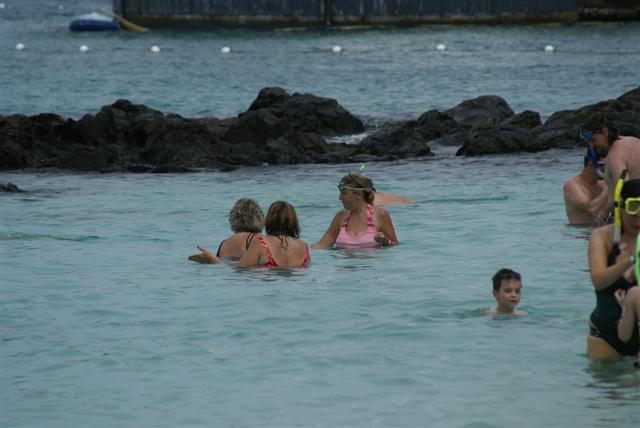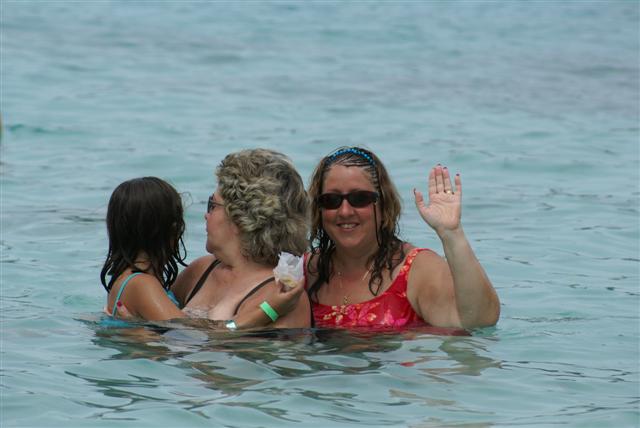 My great-niece brought a bag of cereal with her to feed to the fish; they seemed to like it!
In this picture you can almost make out some of the fish right beneath the surface of the water, I see a part of a yellow fish!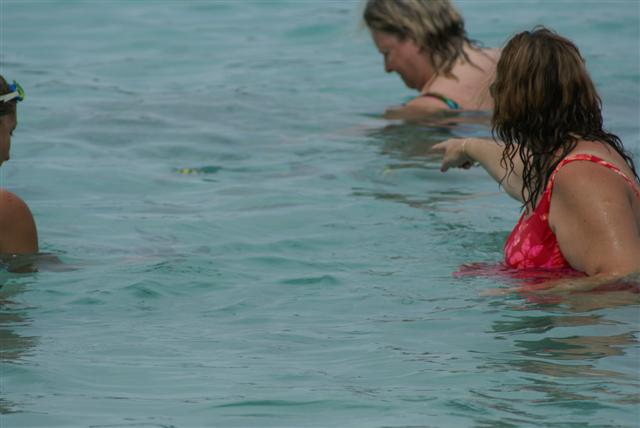 We ordered lunch from waitresses who walked up and down the beach. It wasn't anything spectacular, but it was fine.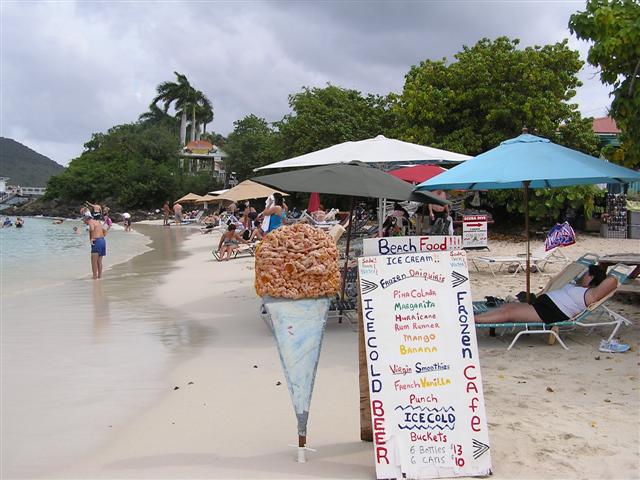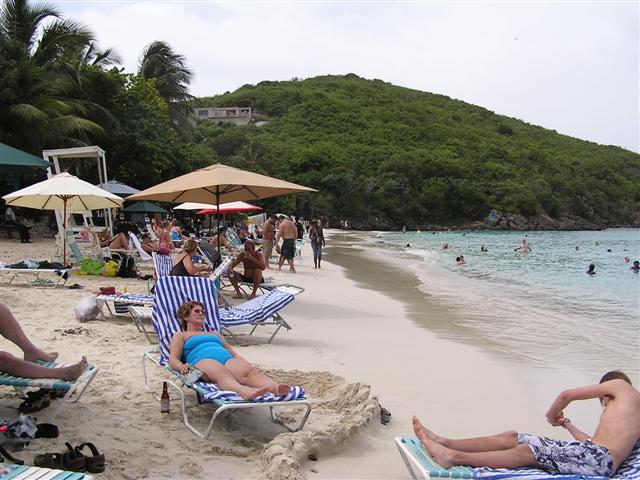 The umbrellas and lounge chairs that we rented: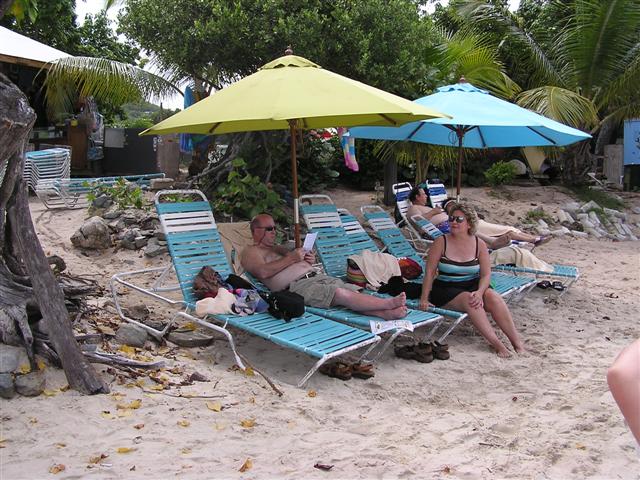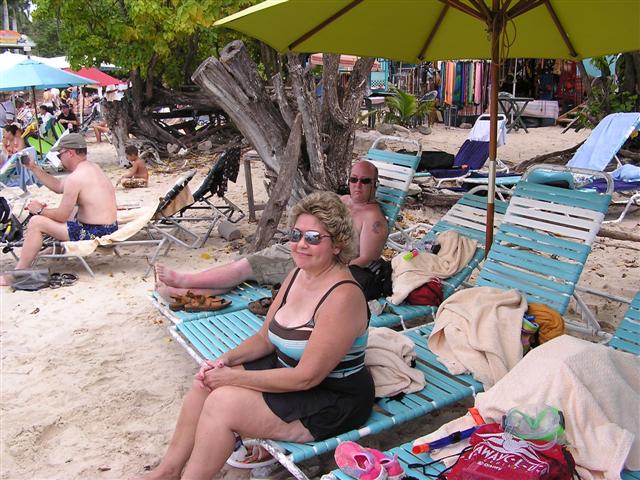 Again, you can see just how close to Coral World we were: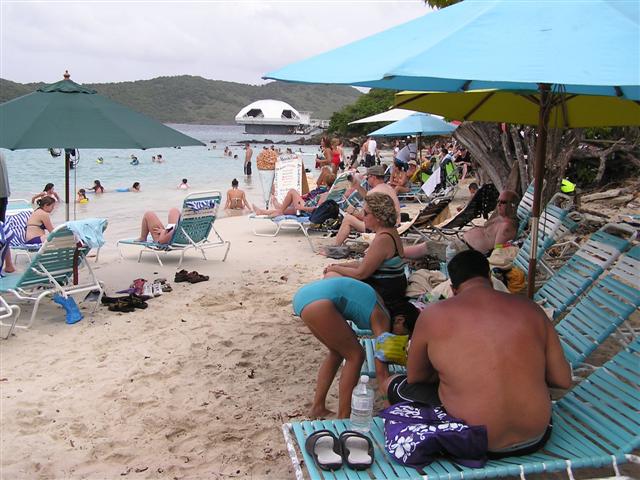 Our next port was San Juan, Puerto Rico
I didn't realize what a beautiful island it is!
We took a private bus tour which lasted about an hour or so, and cost only $15 per person. He showed us the highlights of the island and then let us decide where we wanted to be dropped off.
Since we knew we wanted to stop at the Hard Rock Cafe to buy souvenirs and then have lunch at a local restaurant, we chose to be dropped off near the HRC, then the restaurant was just a few blocks from there.
This is the church where the exterior shots of the tv show "The Flying Nun" were filmed at.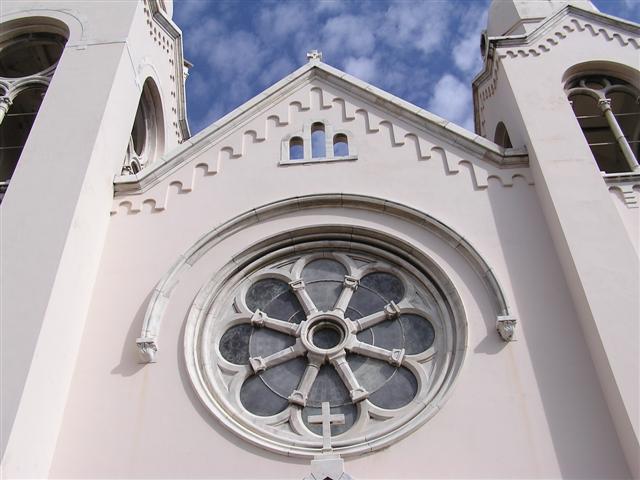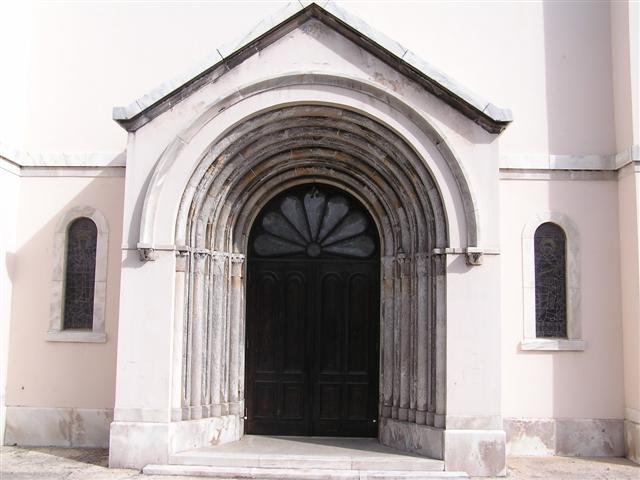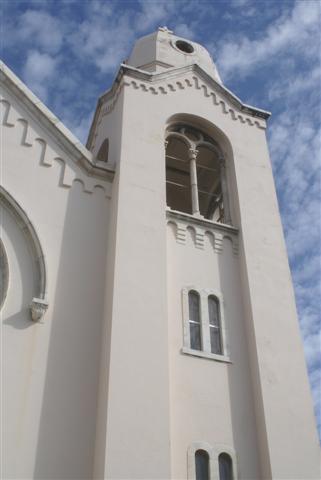 He also stopped at the forts and some beautiful water's edge areas: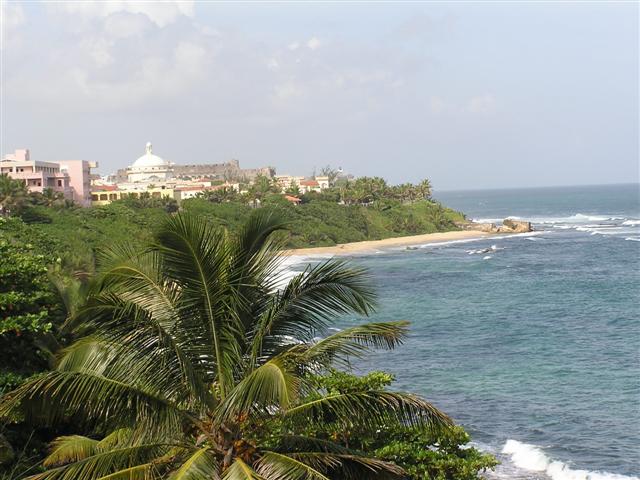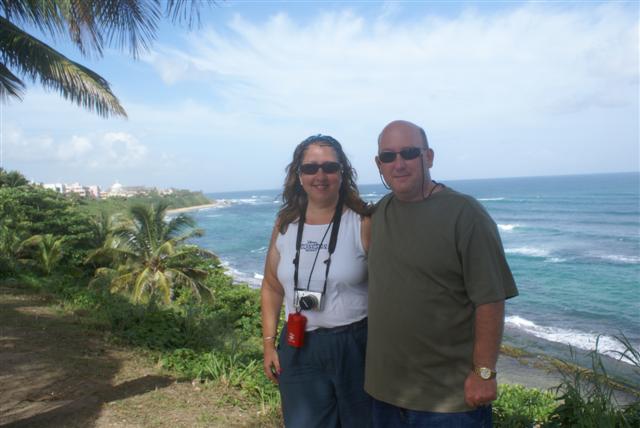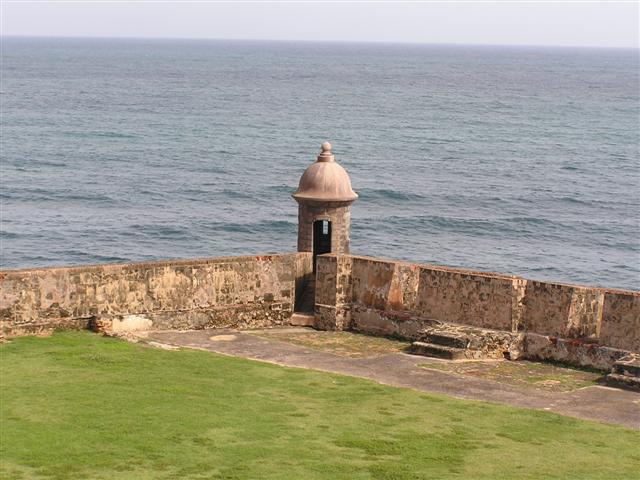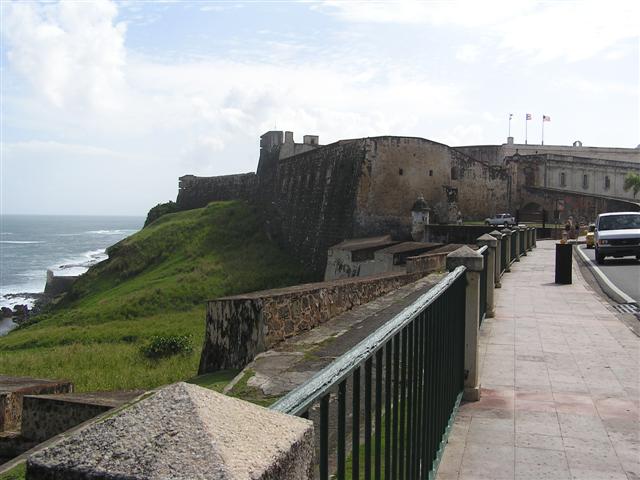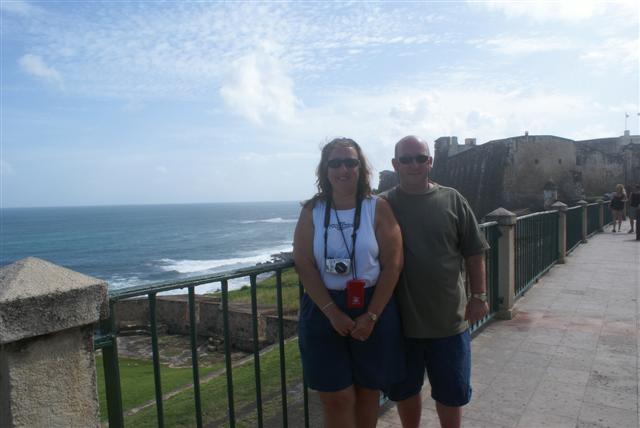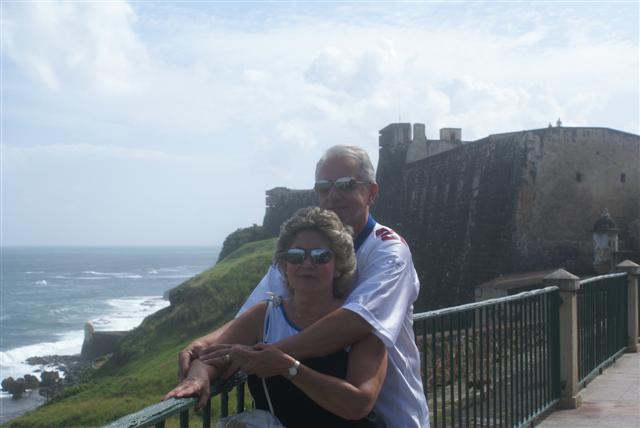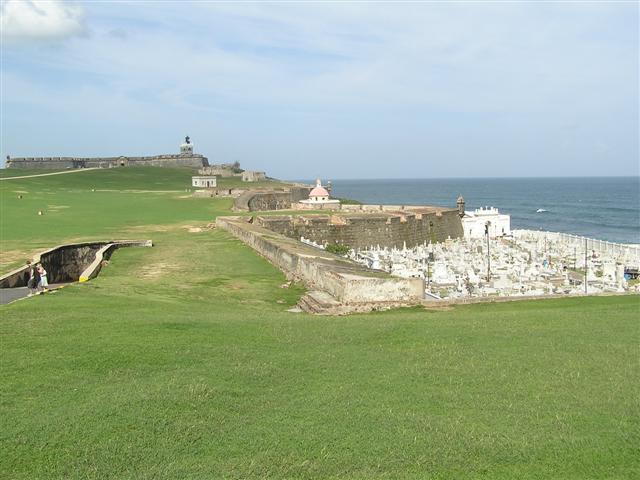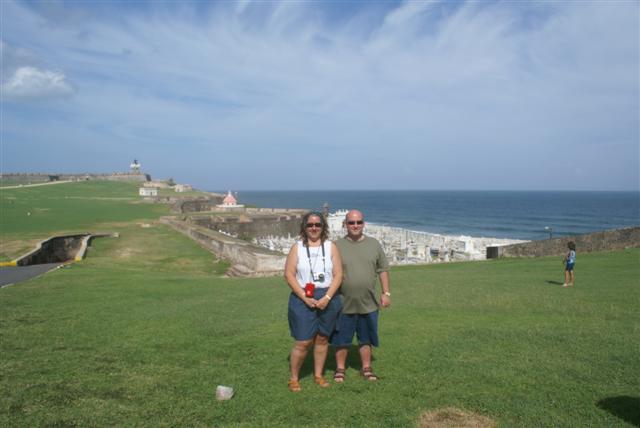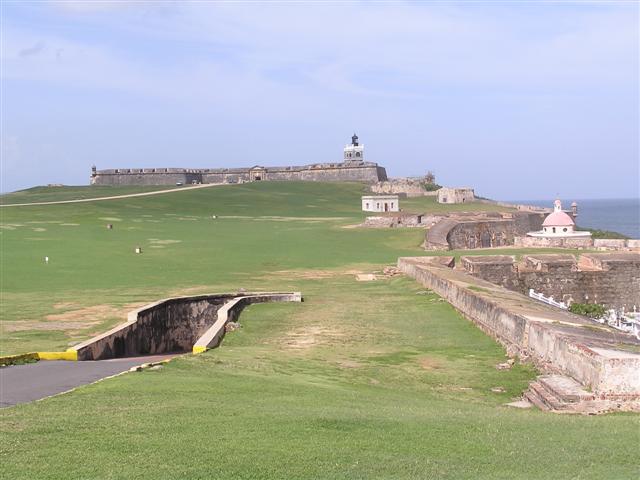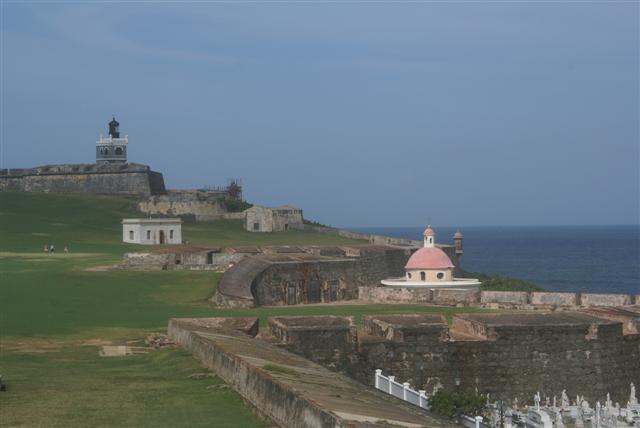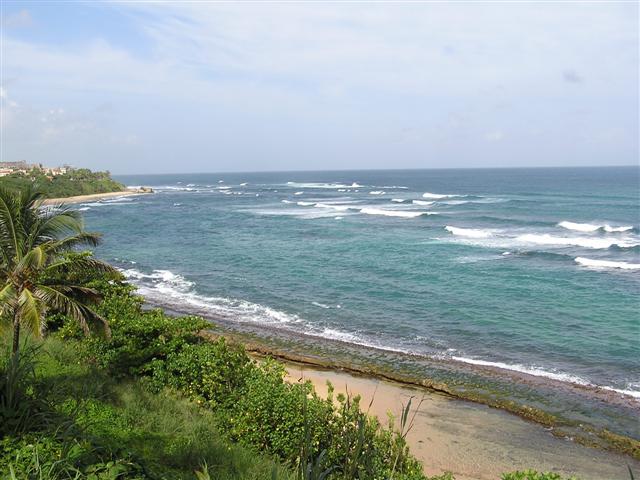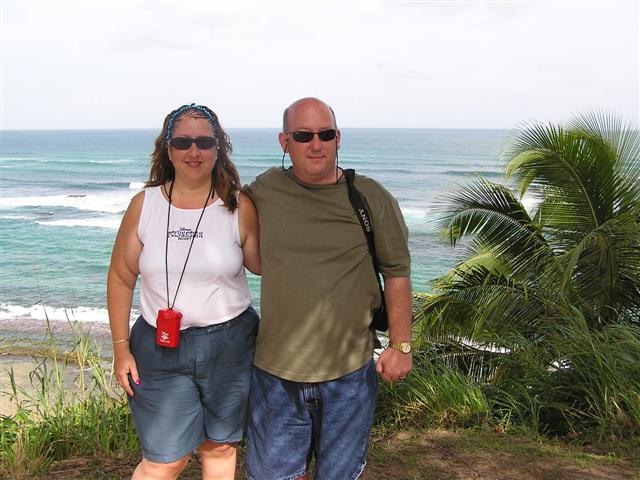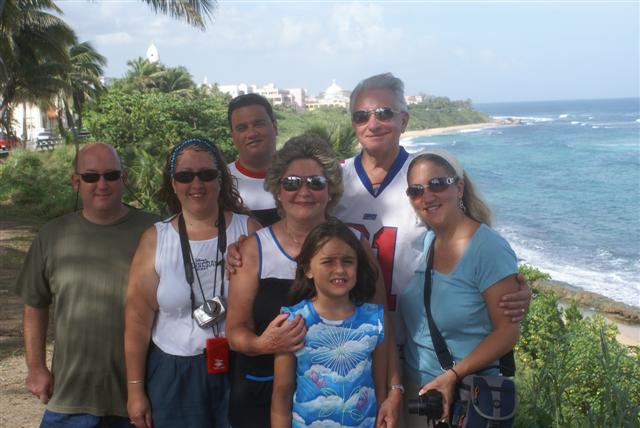 After unsuccessfully trying to find a Hard Rock Cafe on the 2 previous islands, I was thrilled to finally find one on San Juan! I had promised my sons that I would bring them back HRC t-shirts and I was afraid I was going to have to come back home empty-handed!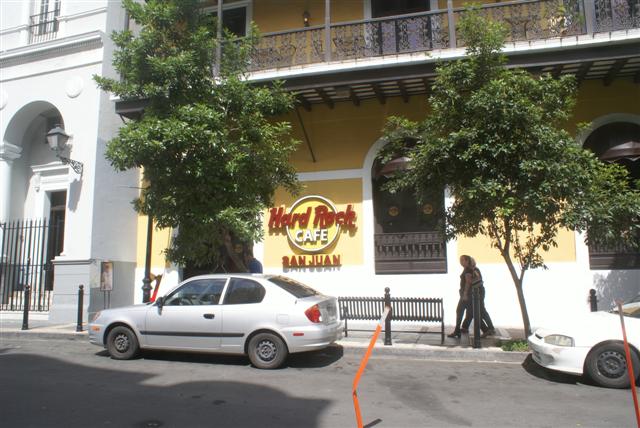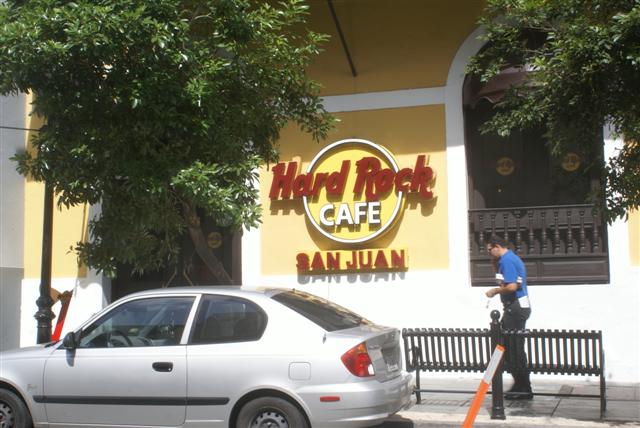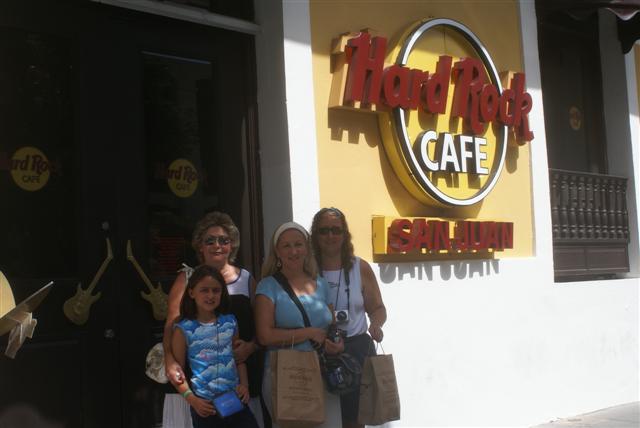 After some shopping, it was off to El Jibarito for some authentic Puerto Rican cuisine!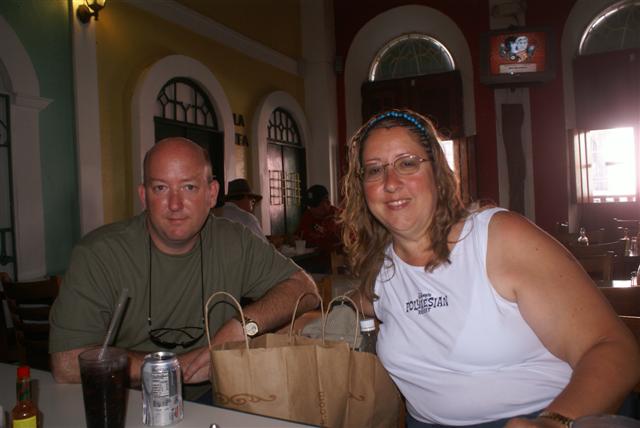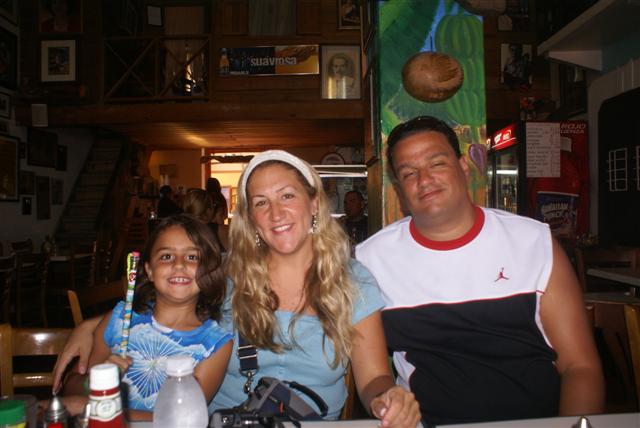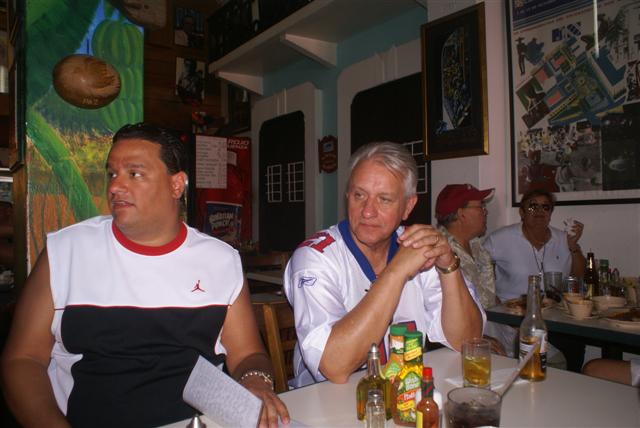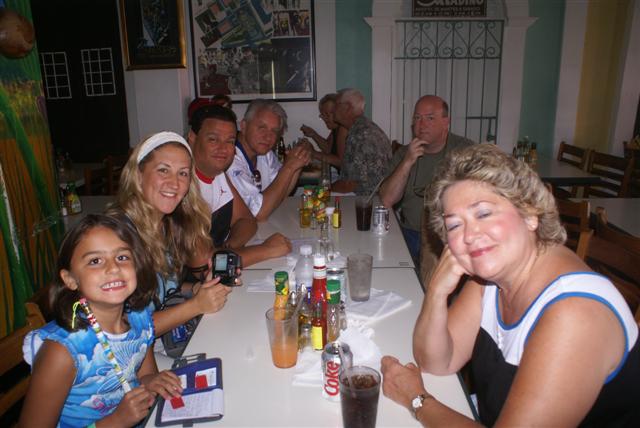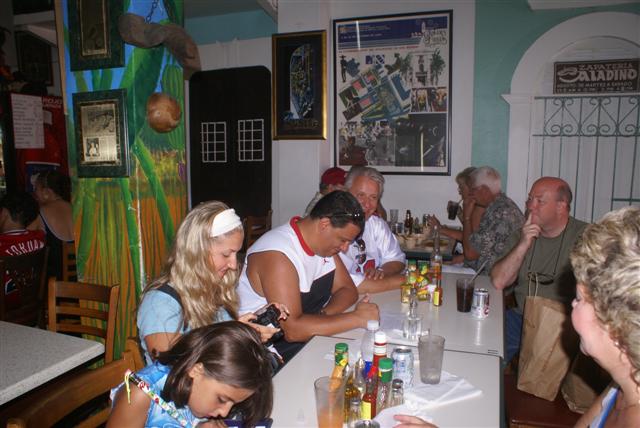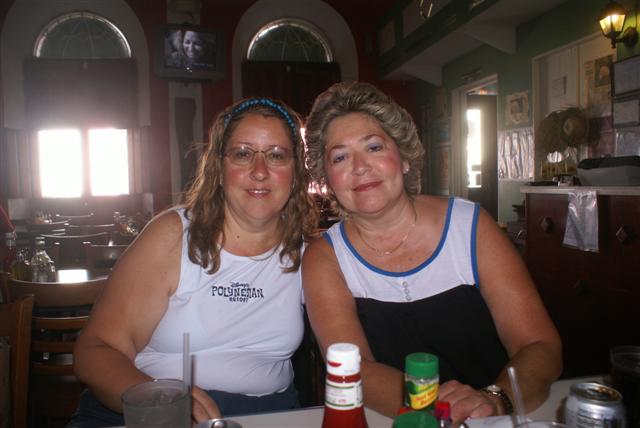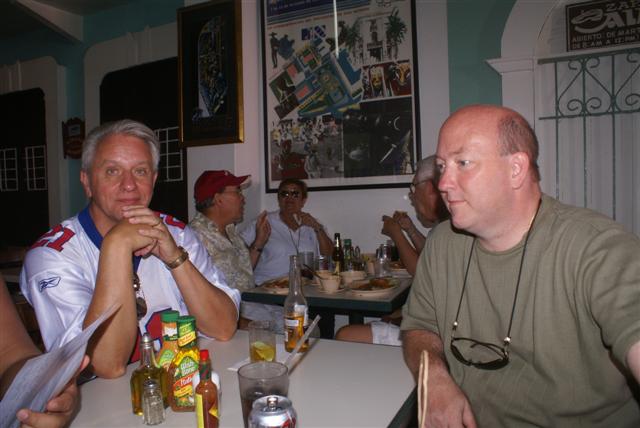 Fortunately my niece and her husband had been to El Jibarito before so they knew exactly what to order!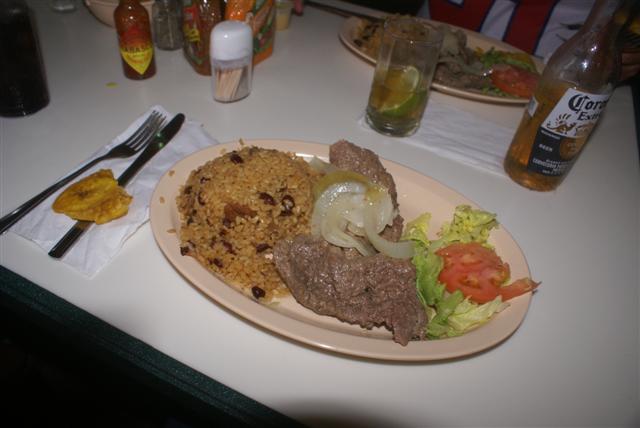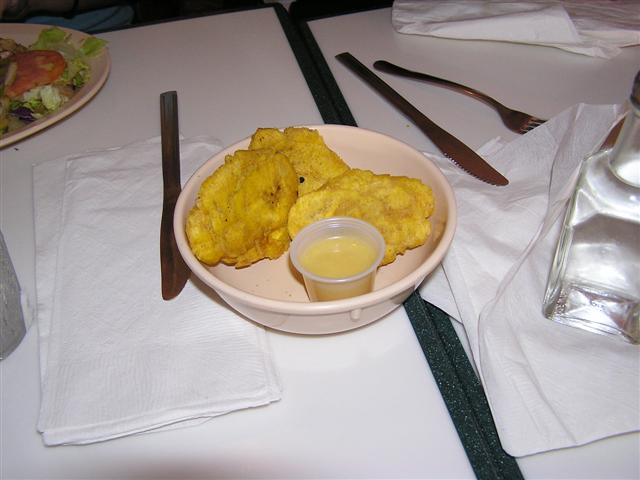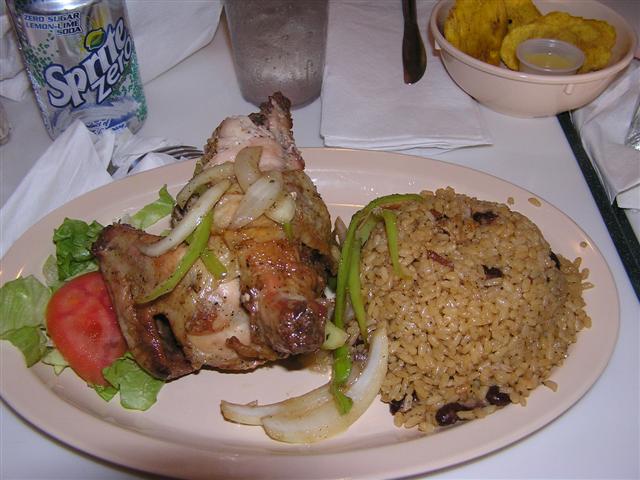 We found a great spot for pictures as we walked back to the ship: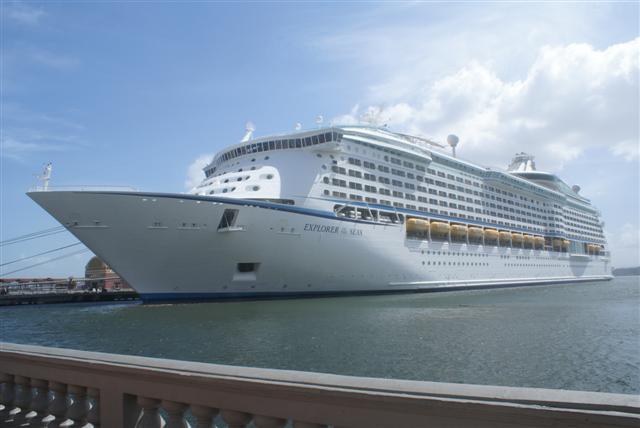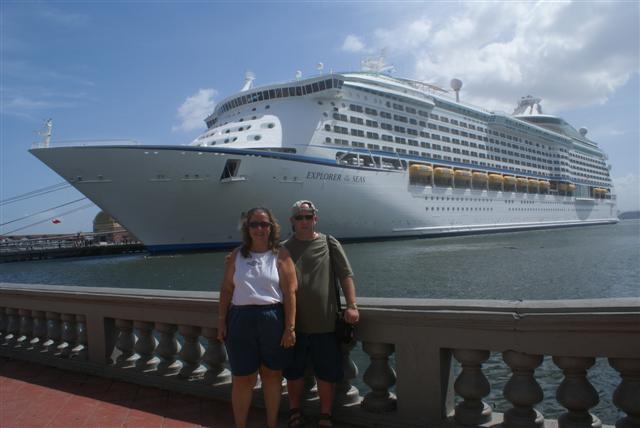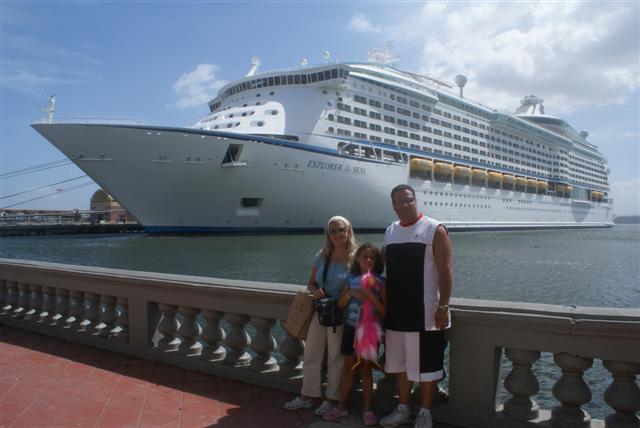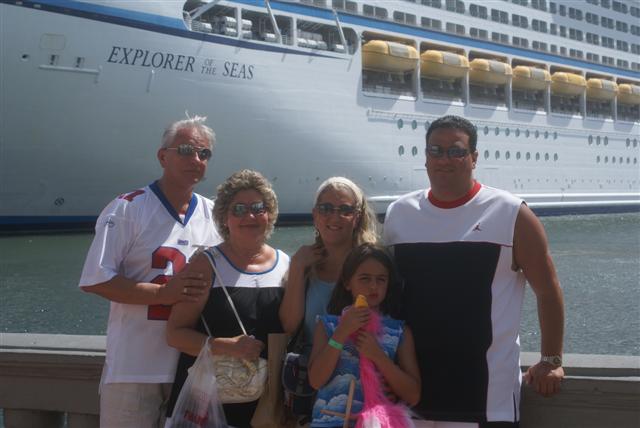 A few last shots of beautiful San Juan, as taken from our balcony on the ship: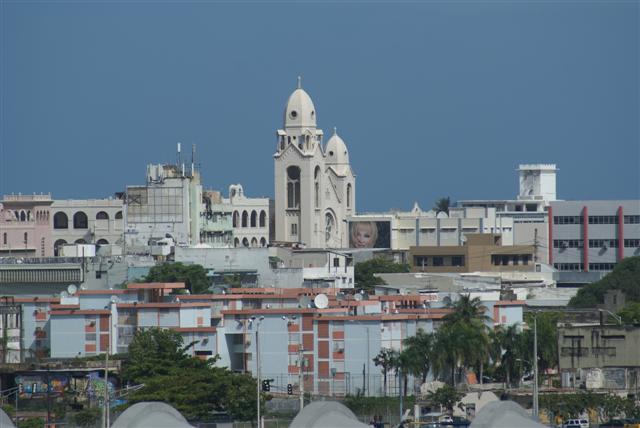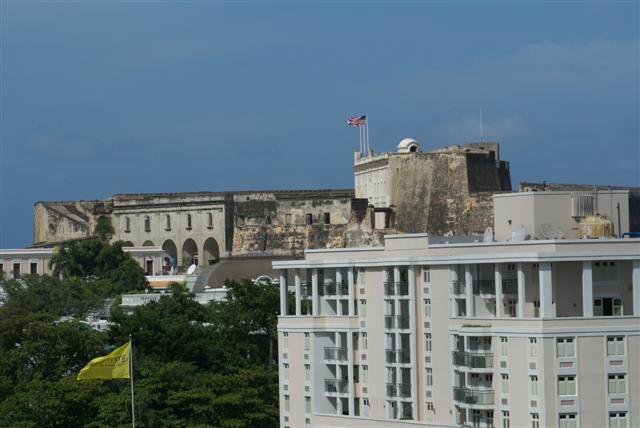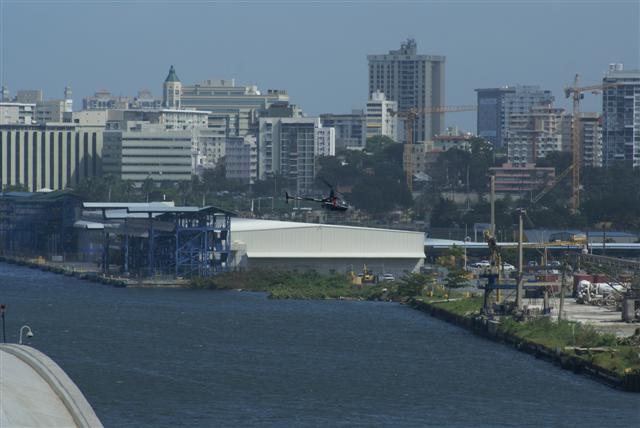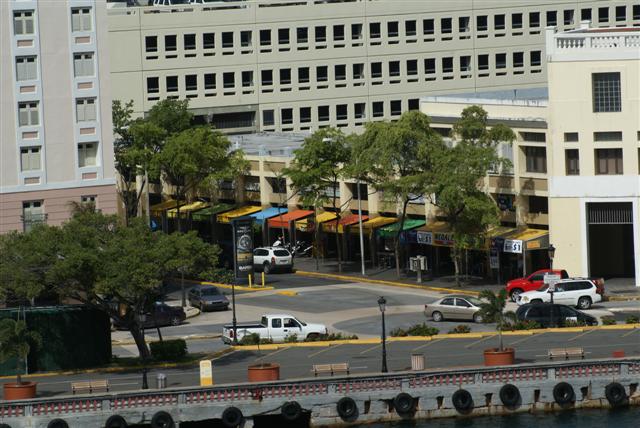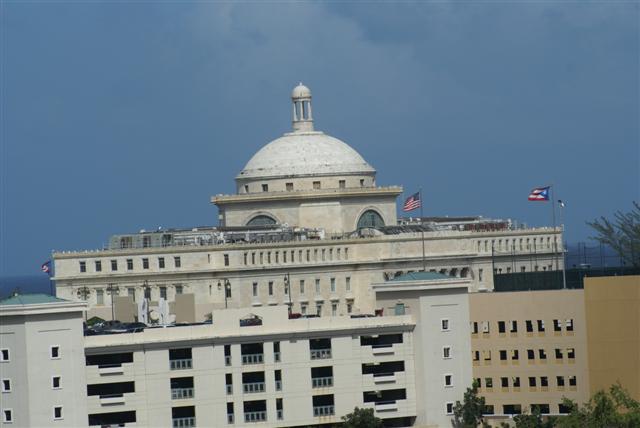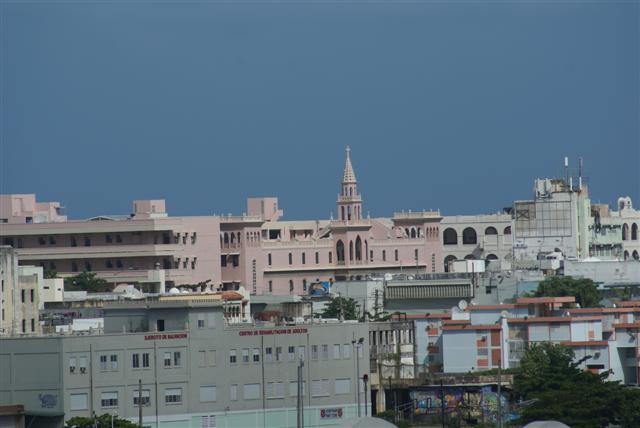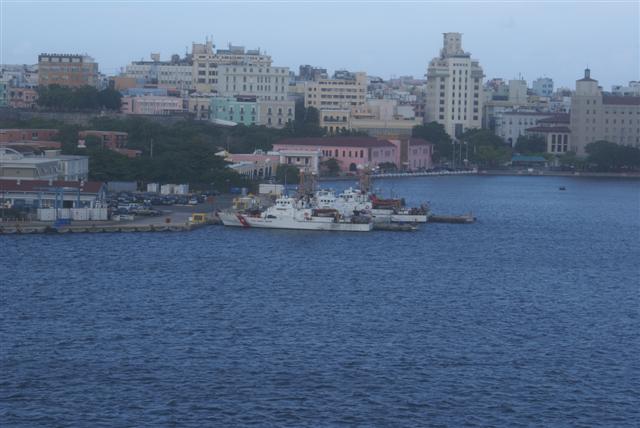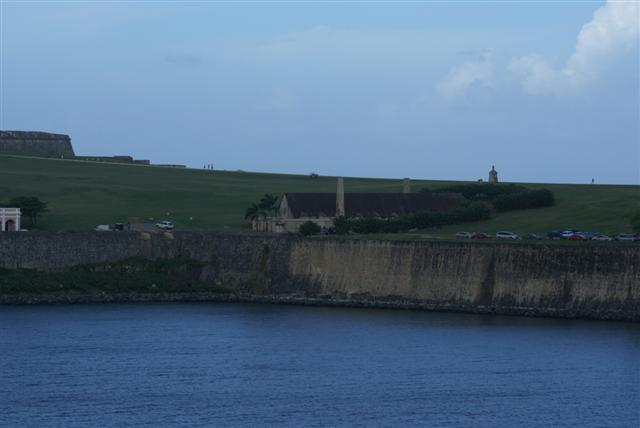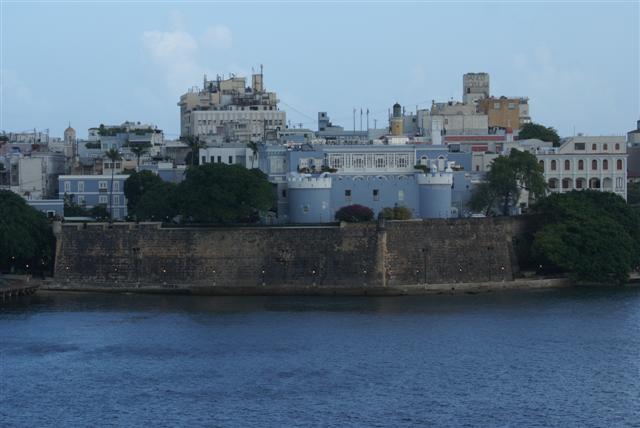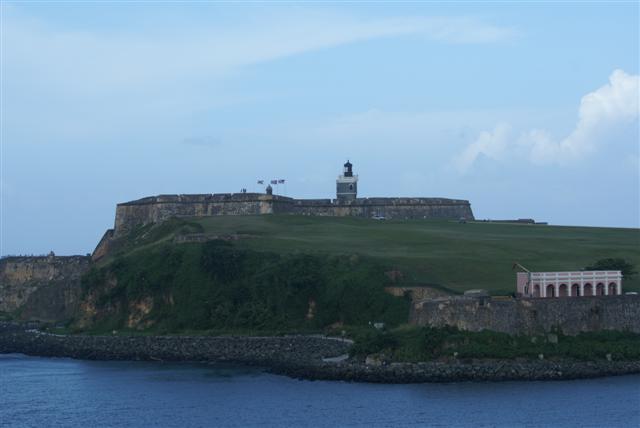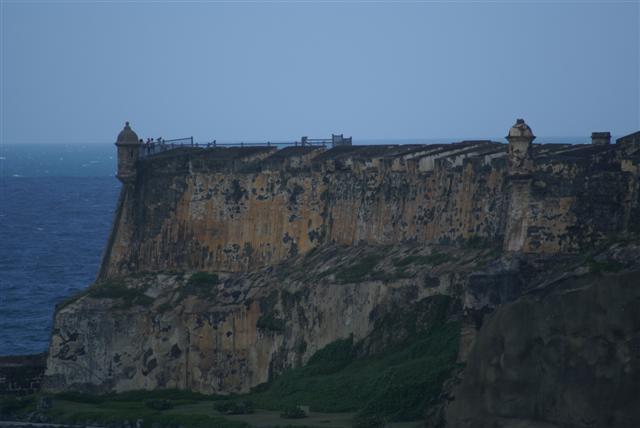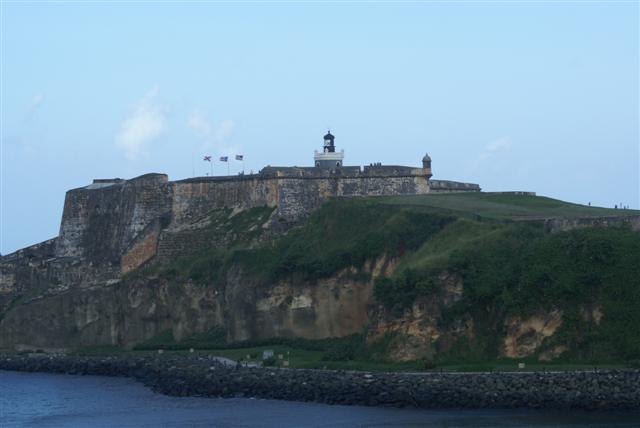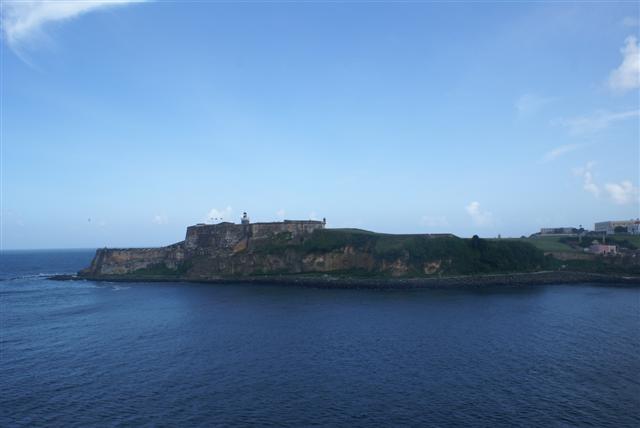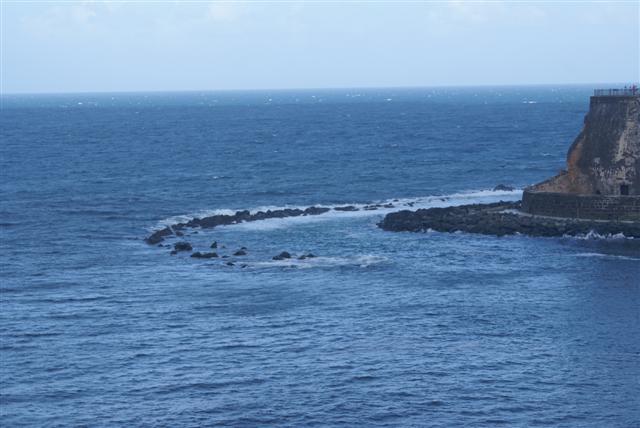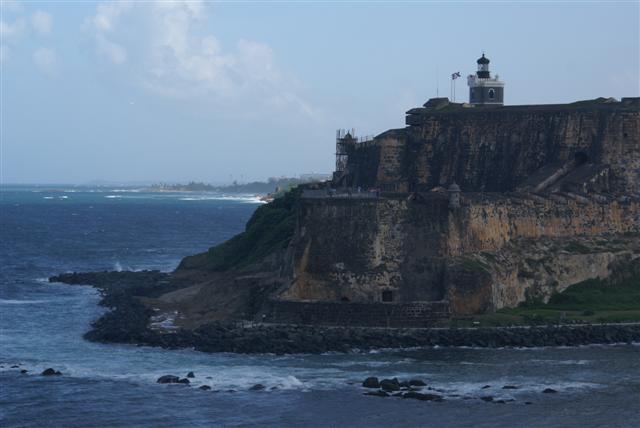 Farewell, San Juan. You were far more interesting and more beautiful than we had expected, and we WILL be back again for a longer visit!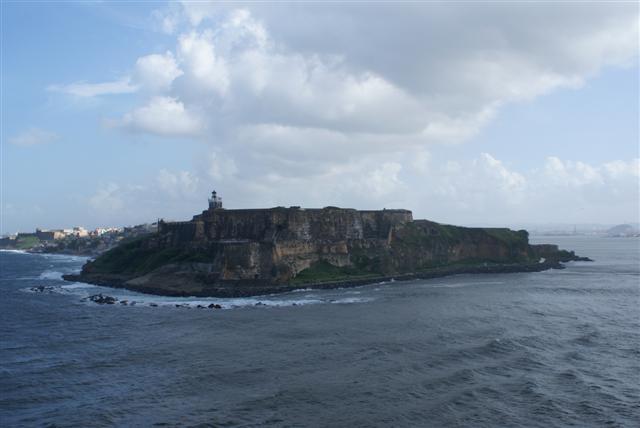 The next day was at sea, so we decided to try lunch at Johnny Rocket's, especially since we all had coupons to cover the fee. In all honesty, I wouldn't bother doing this again but it was fun to try once.
Waiting to be seated: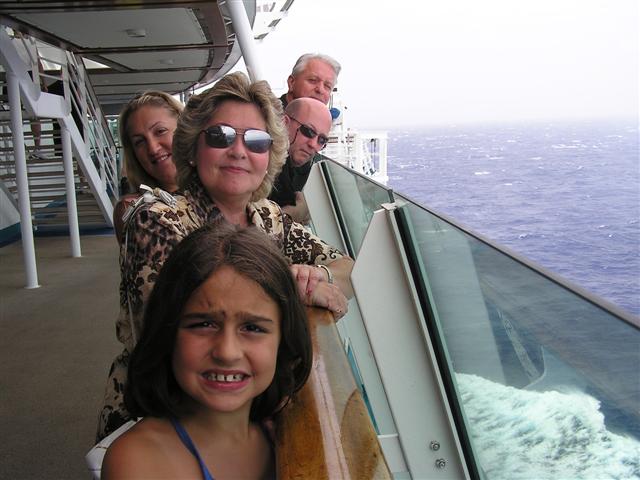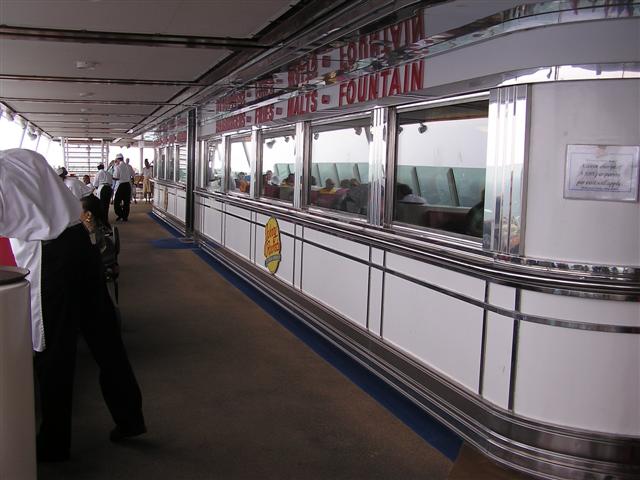 It was fun to watch the servers break out in dance every once in while! lol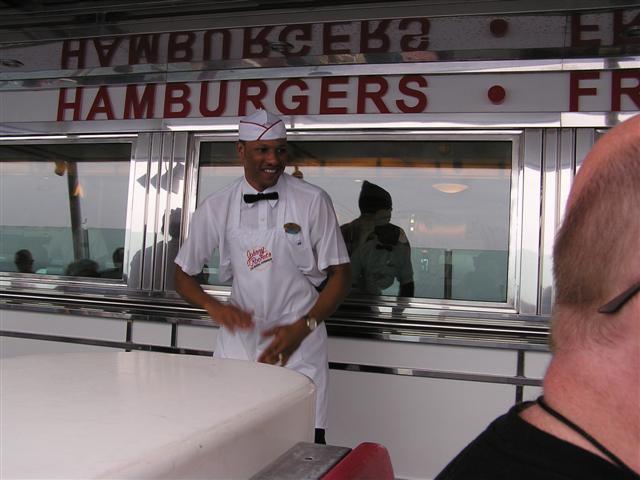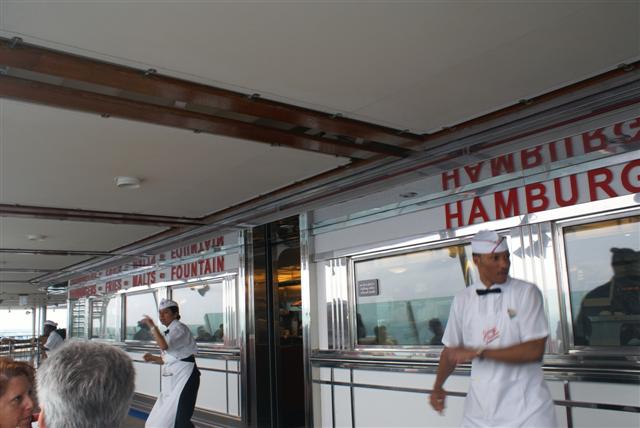 My niece, her husband, their daughter, and I competed in an event called "Wacky Olympics". It was held in Studio B, and it was a LOT of fun! We were set up in groups of up to 6 people and we had to compete in "events", and the last task was a crazy scavenger hunt through the ship! I'm happy to say that we came in second place and won Silver Medals and t-shirts! But most of all, we have some very funny memories!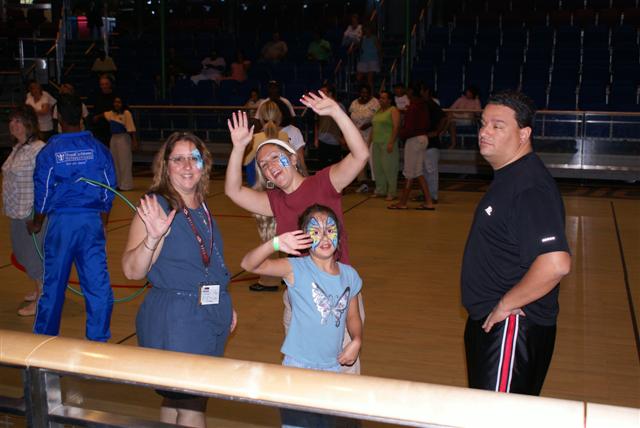 Our "team cheer" LOL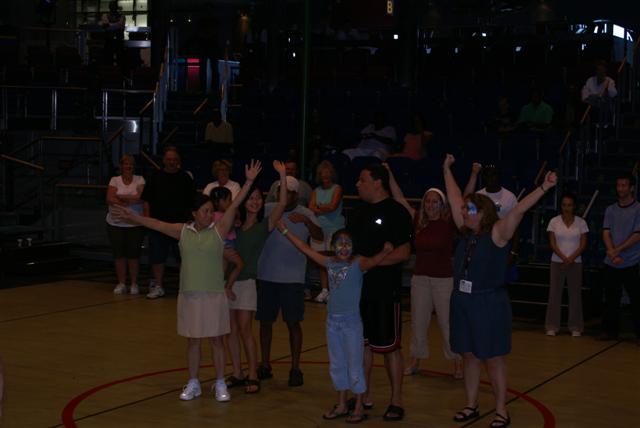 We lined up and were given 1 hula hoop. Then we all had to hold hands and climb *through* the hoop one at a time without letting go of our hands.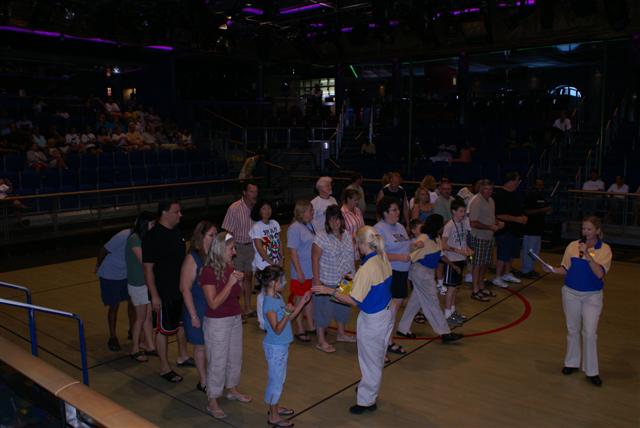 We didn't win that one, but we came in second or third!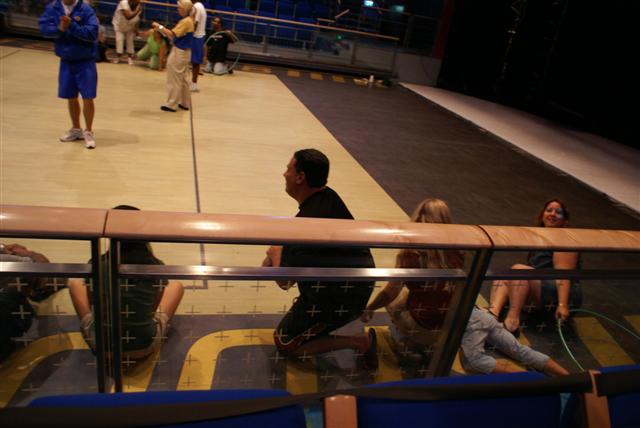 Then we had to line up and carry a key chain over to an empty bucket and drop it into the bucket. One catch though - we couldn't use our hands AT ALL, and that's ALL I'm going to say! LOL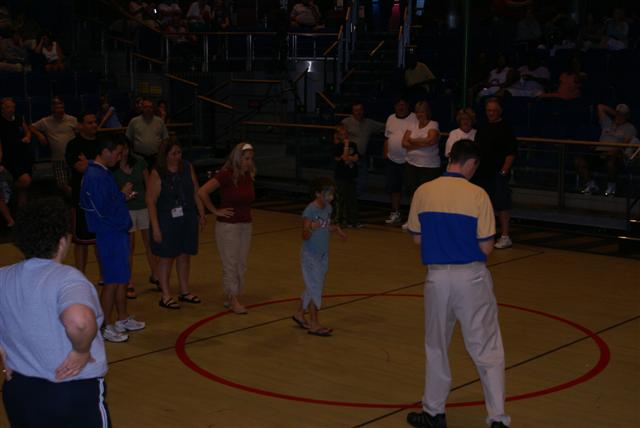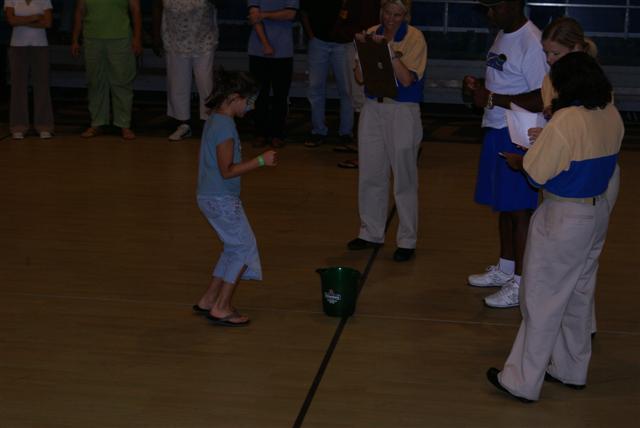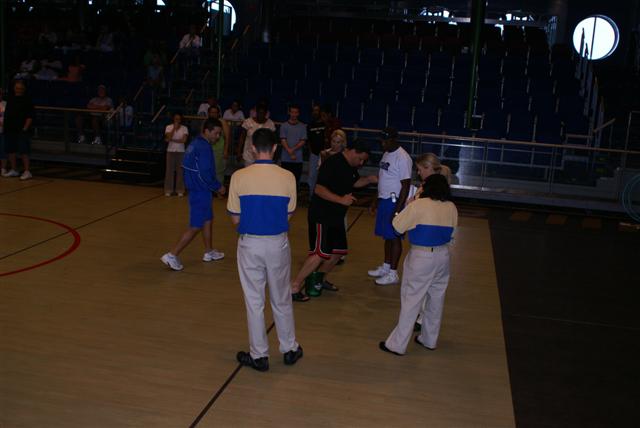 We WON that leg of the contest!! But we knew we placed second or third in several of the other events.
The judges tallied up their scores....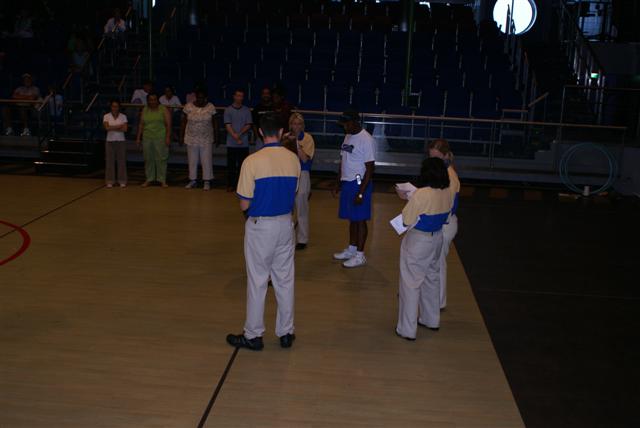 And we were declared the SILVER MEDAL winners!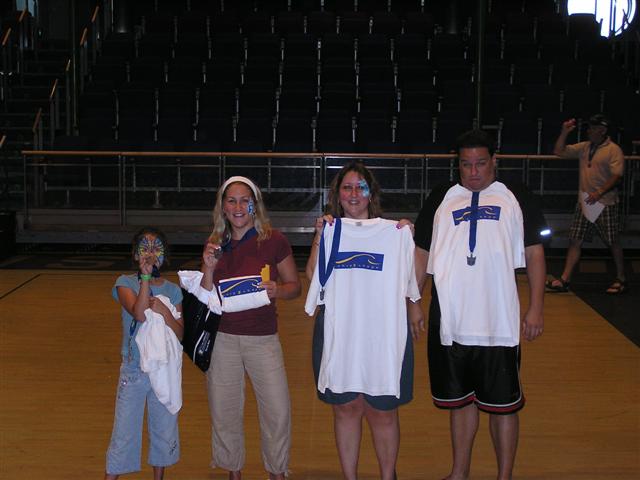 As you may have noticed in some of the pictures, us girls had our faces painted on the ship! This was offered complimentary on the day at sea that was supposed to be our day at Labadee.
The woman who did the painting did a great job!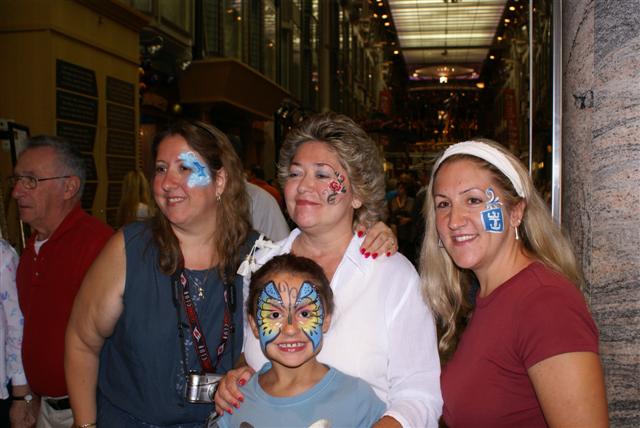 And last but not least, the picture of our Meet & Mingle group from Cruise Critic!
It was so much fun to chat with these people for a year before the cruise and it was great to finally meet them in person. We hope we have the chance to sail again with them some time!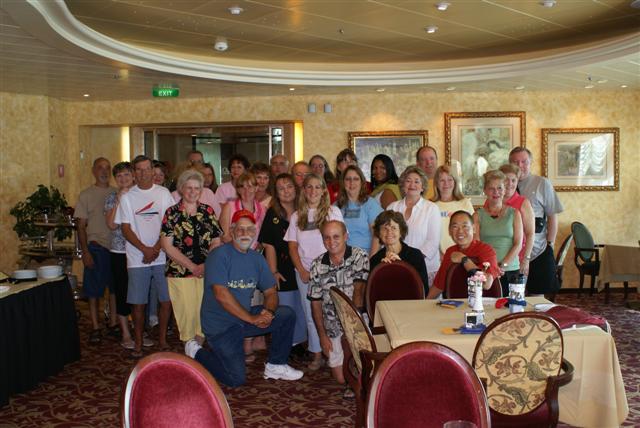 This ends my pictures of this cruise, I hope you enjoyed them. :)
All in all it was a wonderful cruise that far exceeded my very high expectations! We hope to sail with Royal Caribbean again in the future, and in fact I'm sure we will since we all put down a deposit through the "Next Cruise" program! John snapped a picture of us while we were putting down our deposits and doing the paper work with the Future Cruise Ambassador. Here we are sitting in the entry way of her office! LOL