A lot of people have been asking me about some of the various souvenirs we got while on our Disney Cruise in August 2004. Here are some pictures that I snapped of them, and of my "Disney Desk Area" in our family room. :)
First, here are some pictures of the map that we bought in Mickey's Mates that we had Captain Tom autograph for us. He also did something very special. If you look closely, you will see that he took his black Sharpie pen and drew in our "special 10-night itinerary, courtesy of Hurricane Frances". LOL Our altered itinerary included going to Castaway Cay on the first day, instead of the last. It also included stops at Costa Maya and Galveston which were not originally scheduled. And we ended up debarking from Port Everglades in Fort Lauderdale, rather than Port Canaveral.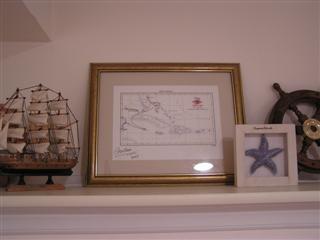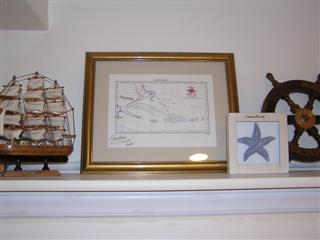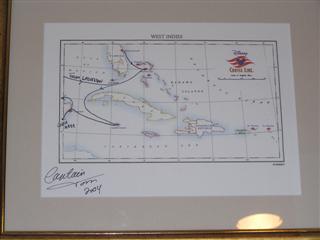 This next picture is from formal night on the Magic, and on the shelf in front of the picture is our autographed model of the Disney Magic. This model cost $28. (No charge for the autograph! :D)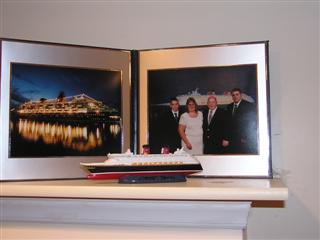 This next souvenir was bought in Mickey's Mates. I LOVE "Steamboat Willie" so I was happy to see this bobble-head figure of him onboard the ship. Next to Steamboat Willie is the picture of us taken while on the Banana Boat ride on Castaway Cay!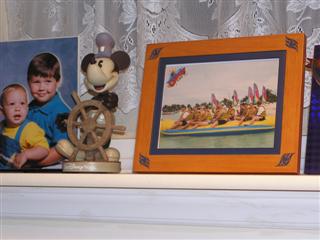 I love Norman Rockwell and have a few of his collectible figurines. One of my favorites is his "Self portrait" and when I heard that there was a Disney version, I wanted it. I couldn't believe that they sold this figurine right on the ship!! Here they are, side by side, in my living room. :)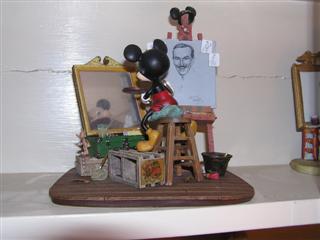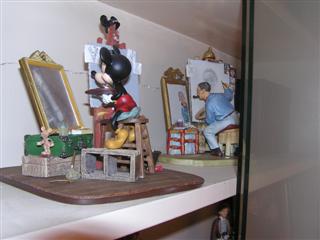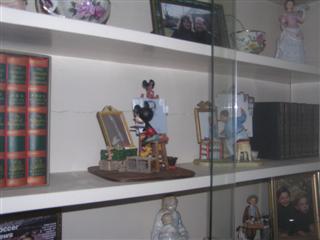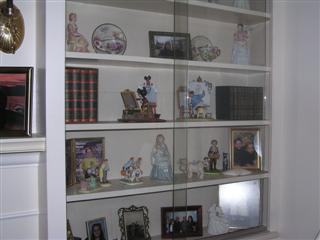 We bought the best souvenirs of the entire cruise right on the ship. They are laser-cut crystal cubes with 3D images of US in them! We had 2 cubes made; one of them has John and I in it, the other one has Craig and Robby in it. They came out great, and it is pretty cool to see your own image in 3D!!! We bought the bases too, which light up the images in changing colors, and the base also rotates the cubes so you can watch them and see them from all angles. I tried to get the best shots that I could. I couldn't use the flash because it made the image too transparent. (I included the picture that I used the flash on, you'll see what I mean. In person, these images are sharp and in 3D, but they look a bit blurry and not 3 dimensional in the pics below). John and I love having these "moments in time" captured in 3D and we feel they were worth every penny! :)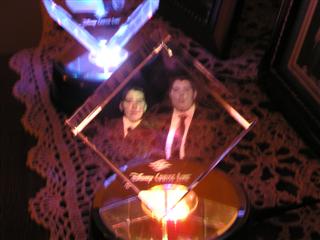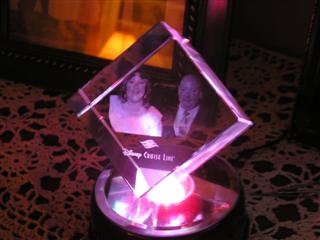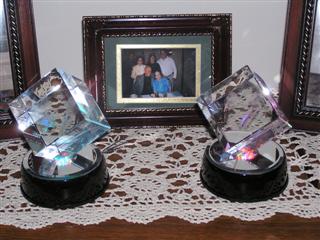 <---- Picture from when I used the flash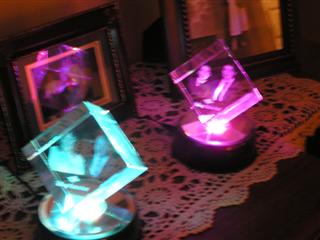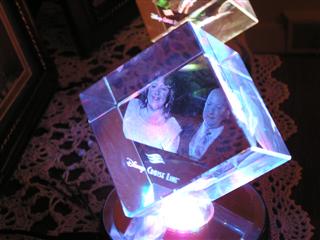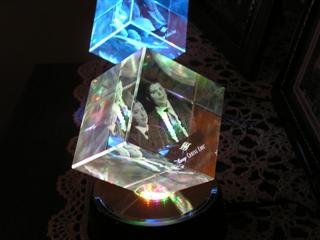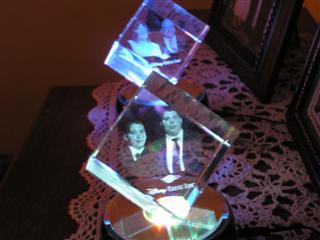 Here are some other pictures that were taken by the ship's photographer: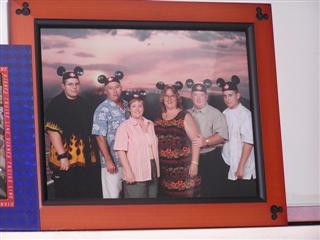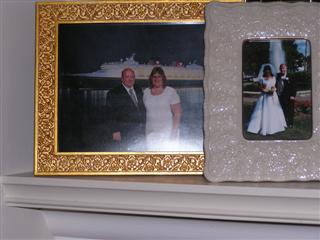 Here are some shots of my Disney-themed desk area in our family room: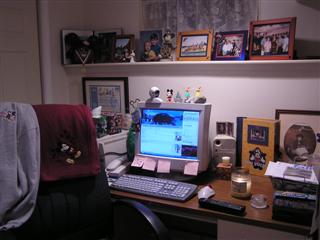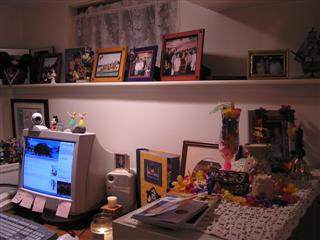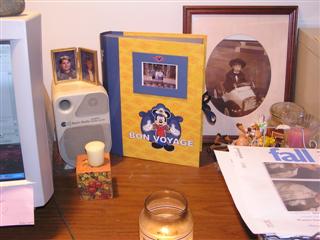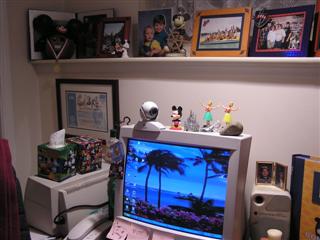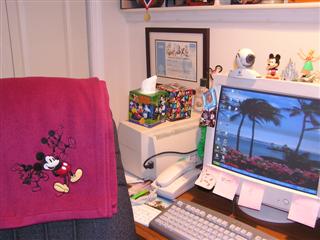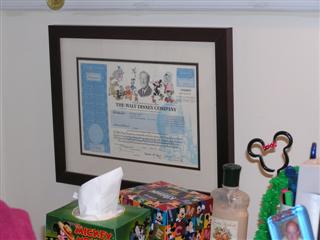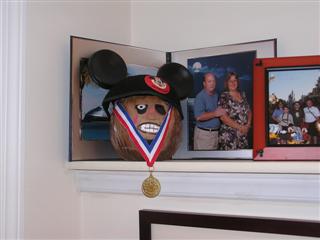 <---This picture shows the HUGE coconut-head thing that our Konk Koolers came in on Castaway Cay! LOL It's wearing my Mickey ears, and the Gold Medal that I won in the Pool Games Olympics. (Hello to Jill, my synchronized-swimming teammate!LOL)
The medal has the DCL logo and the words "I'm a winner!" on it. LOL