Disney's Caribbean Beach Resort
---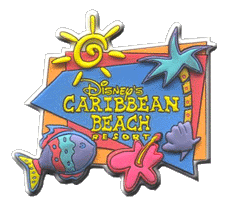 ---
Here is my overview of Caribbean Beach resort (CBR). Below this are links with pictures. I hope you enjoy them!
---
First of all, we stayed in Martinique 25, in room #2515 (standard view room). This is a ground floor room and it was great. All we did was walk out our door, turn right around the corner of the building, and there was the beach and lake. Old Port Royale was so close, yet you NEVER heard noise from it because the food court is (obviously) indoors, and the main pool and pool bar are on the other side of the building. In May 2001, we were in Martinique 2535, a second floor room, and that was a great location as well. Martinique and Trinidad North are now considered to be "Preferred LOCATIONS" and cost about $16 more per night. I feel this charge is worth the cost for being in what I consider the best locations at this resort.

Check In:
Check in was very quick! We got to Custom House at about 1:15pm on Wednesday, Feb 6th (2002). There were 2 or 3 families in line in front of us, and by 1:30pm we and our luggage were being driven to our room by a CBR bellman

We were so glad that our room was ready! (Official check-in isn't until 3pm).

The room:
Our room looked great! I have to say, those bright colors look MUCH MUCH better in person than they do in pictures. They also coordinate well with each other (the different patterns) than I had thought they would. There are "hidden" Mickeys on the bedspreads and the shower curtain. Housekeeping was great. They cleaned our room early afternoon each day. The beds were more comfortable than I remember them! I even looked this morning to see what kind of bed it is, its a "Beauty Rest" and boy they're not kidding!

The pillows are extremely comfortable too, and the pillowcases are very soft, they feel like my Egyptian cotton ones like I have at home.
We had a roll-away bed (this was an extra cost of $15 per night) in the room and it fit perfectly in the space between the doorway and the first bed. We could've left the bed open all day because there was enough space to open the door with it like that, but we chose to fold it up each day instead. I noticed that they have added a shelf with pegs on the wall over the bench. And last year, the bench didn't have a drawer underneath it like this one did. I thought it was great and gave us extra drawer space. The addition of the privacy curtain between the sink/changing area and the rest of the room is wonderful! It helped so much with all of us getting ready in the mornings.

The Grounds:
The grounds were quite lovely this time of year (February). Many of the trees were in bloom and that was something I didn't get to see during our May (2001) trip when we were there. Lots of trees with colorful flowers.

The grounds are very well taken care of and well manicured. The resort is beautiful. They even had someone spraying down the walkways and sidewalks a couple of times a day to remove the duck-droppings. The ducks were adorable, by the way. They were very well-behaved, too! LOL They kind of would look at you to see if you had any crumbs to share, but they were very calm and friendly, at the same time. We saw other kinds of birds too....gulls, of course, but also a couple other species we tried to identify. One type looked like a small black partridge but had feet that looked like short, wide, blue feathers! We definitely enjoyed the "wild life" during our strolls around the resort.

There were flowers everywhere, and the azalea bushes were still in bloom, too.

The Beaches:
The beaches were a lot of fun. Every day we relaxed at least once on the hammocks, chairs, and chaise lounges. It's so relaxing to sit on the beach and look out at the water. My brother and niece rented a water mouse yesterday, so my sister in law and I snapped a few pictures of them, then relaxed with a drink in the hammocks on the beach

The white sand is just as soft and wonderful as I remember it to be! There were always more than enough chairs and chaise lounges to go around, too.

The Foodcourt:
I have a lot more to say about the foodcourt now that I've actually eaten a couple of meals there

We had our refillable mugs, and I was pleasantly SHOCKED to see the first morning that they had my ALL-TIME favorite tea bags! Twinings English Breakfast decaf! Just as a reference point, I pay about $3. for a box of 18 tea bags, so I was pretty impressed to see them at the food court, available anytime!

I personally had blueberry pancakes, a blueberry muffin, a side salad (very good and fresh, by the way!), and a small pizza. ALL of these items were good, fresh, and I would recommend them. My brother and his family had a tuna sub, cheese steak sandwich, salad with grilled chicken, omelet, etc, and they all said their food was very good. We had no complaints about the food. We didn't have dinner at the foodcourt, however. Those items were from breakfast and lunch. **The foodcourt was completely redone following my last trip to CBR!

The buses:
In a word, EXCELLENT! This was my brother and sister in law's very first time staying onsite and they were quite impressed with the efficiency of the bus system. We traveled to the parks at all times of the morning, afternoon, and evening, and NEVER waited for a bus for more than 10 minutes, and most times were under 5 minutes. On Friday morning only, there was a CM at the bus stop asking which park we were going to.
Buses are alive and well and running promptly at CBR!



Fireworks at Epcot:
Now I can say for SURE that you CAN SEE THE EPCOT FIREWORKS from CBR!!!! I saw them myself twice! We could see them very well while sitting at the tables alongside the pool bar and we could see them from the Martinique beach. You can't see the low ones of course, but you can see quite a bit!

---
**Caribbean Beach Resort PICTURES!!**
Click below to see pics of:
---
If you have any comments or questions, feel free to email me at SeaSpray@BrownFamilyVacations.com