Royal Caribbean's Nordic Empress
NYC - Bermuda
2003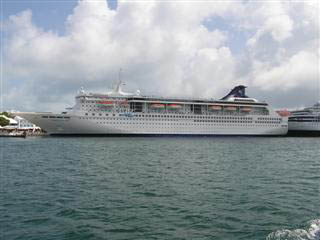 In June of 2003 we took a cruise to Bermuda with my brothers Mike and Bob, and their wives Diane and Denise, aboard Royal Caribbean's Nordic Empress. (This ship has since been refurbished and renamed Empress of the Seas)....
This was our very first cruise and John and I absolutely loved it! Even though we were in an inside closet...oops, I mean inside CABIN, we had a great time nonetheless! LOL Below are the pictures from that cruise:
We sailed out of NYC... Here we are on the top deck of the ship, with our "Welcome Aboard" drinks in hand!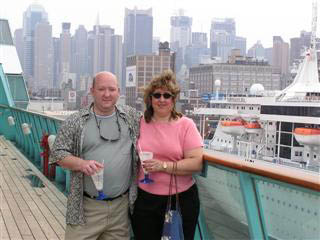 More pictures from the upper deck, exploring our very first cruise ship: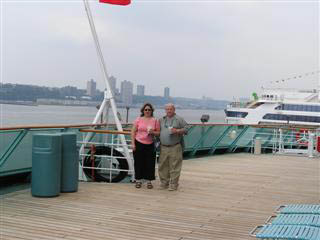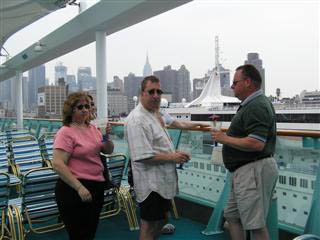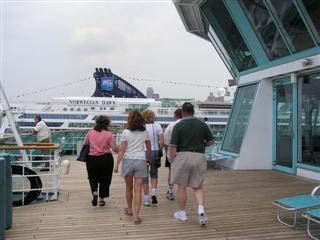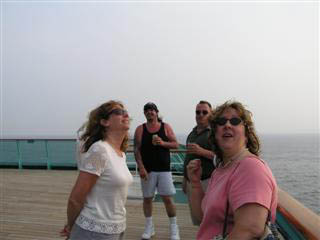 The requisite tender drill photo: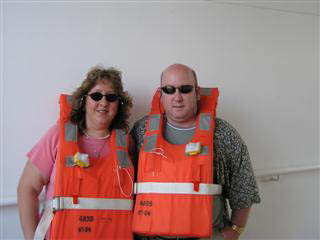 Sailing away from NYC, under the Verrazano Bridge: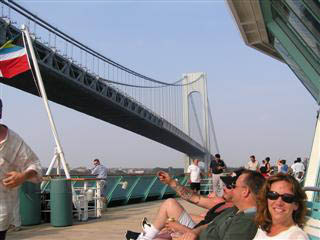 The Empire State Building: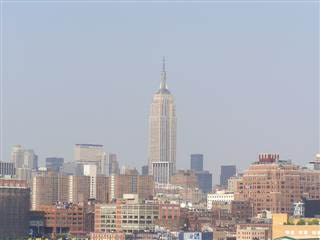 The empty space is where the World Trade Center twin-towers used to stand prior to September 11th, 2001: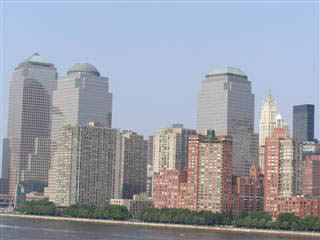 John, with Lady Liberty off in the distance: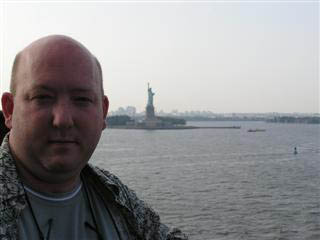 This next group of pictures show various interior shots:
First stop, the Excursion Desk: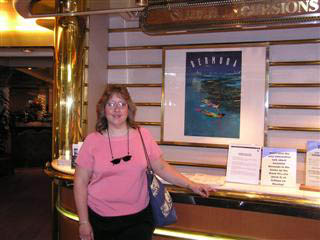 Our favorite spot on the ship, the Carousel Pub: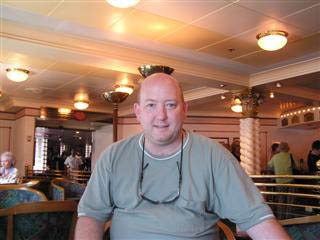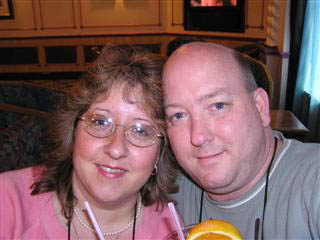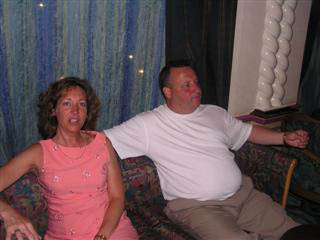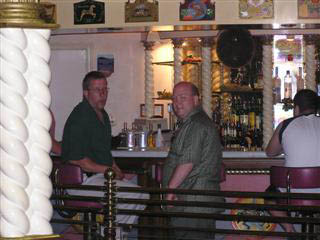 Pictures from the main Atrium:
Looking straight up at the glass elevators: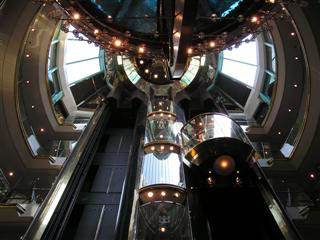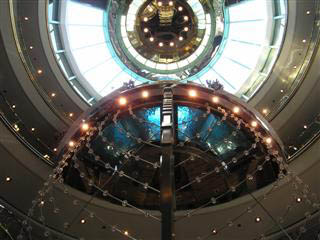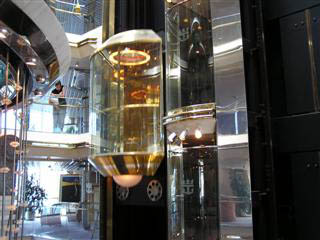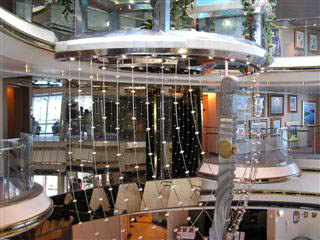 Waterfall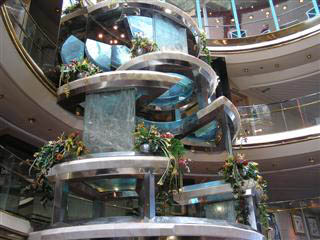 The Dining Room: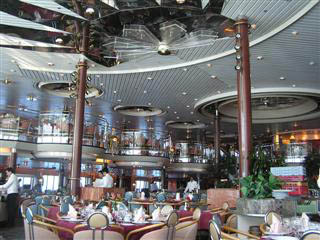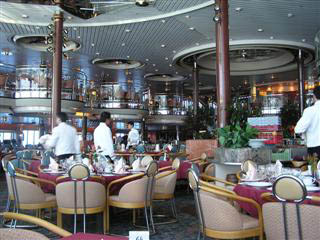 With our dining staff:
Us, plus our dining mates: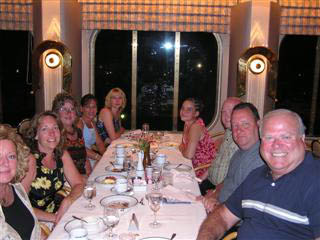 Formal Night
(Sorry guys, I know I agreed that "What happens on the ship STAYS on the ship, but these pictures are just too funny NOT to share! ;) LOL
Diane, Denise, and I decided to have a drink at the Martini Bar before dinner on Formal Night....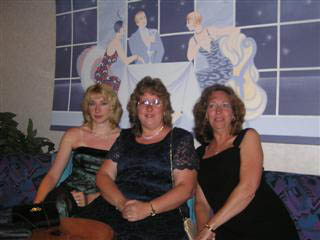 Us ladies thought that the "pretty blue one" looked good, so we ordered 3 blue martinis!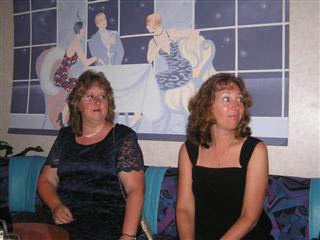 They didn't taste good, but they LOOKED good, so we drank them...LOL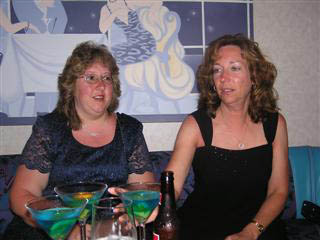 ROFL...just looking at these pictures makes me crack up remembering that night!!! They were THE MOST POTENT drink I've ever had in my entire life!! lol We still don't know what was in them...lol
John was laughing so hard when he took this next picture that the camera shook! LOL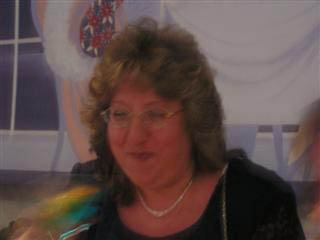 And I can't believe I actually stuck my tongue out because he wanted to see how blue it was, and my darling husband just had to take a picture...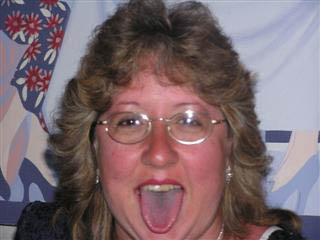 Well we never did make it down to the Atrium to pose for formal portraits that night (we were just barely able to walk to the dining room. And each of us only had ONE DRINK! LOL)...but after drinking that blue martini, I had the courage to try some shrimp: (as unextraordinary as that may sound, I loathe seafood, so it really was a big deal that I decided to try some shrimp. lol)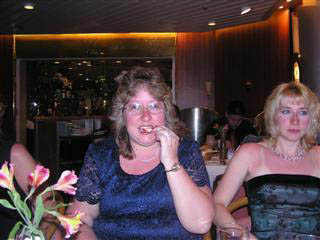 John didn't need a blue martini to eat the escargot; he loves it!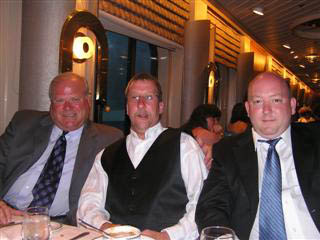 Ok, onto the pool!
The Nordic Empress has a small pool, but we had a lot of fun on the sea days anyway: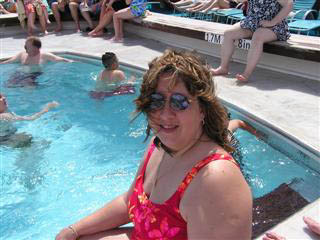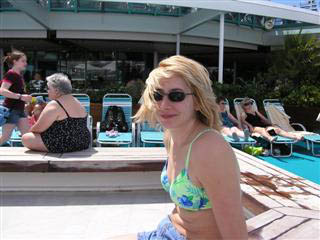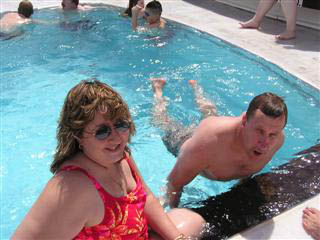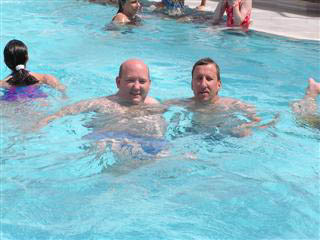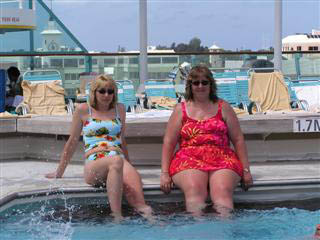 As much fun as the sea days were, we were excited to finally see Bermuda as we approached: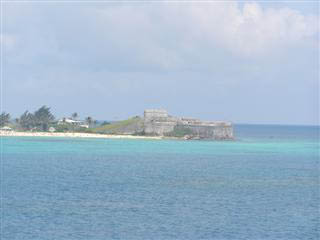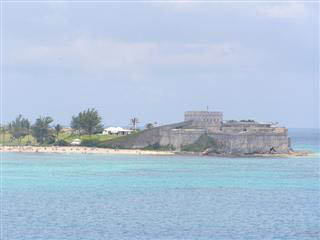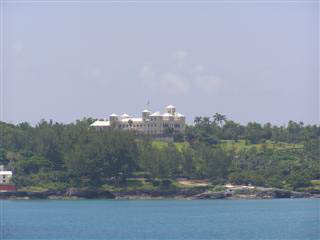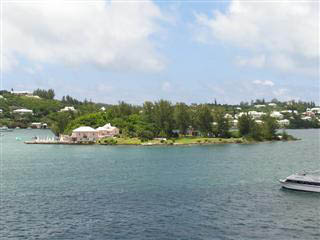 There are pastel-colored houses everywhere...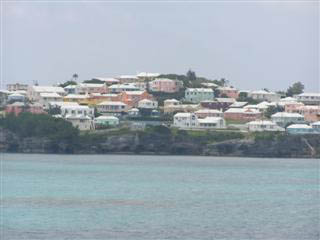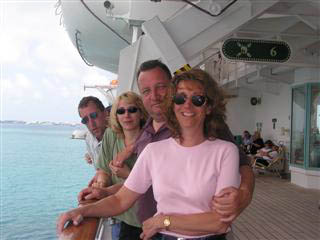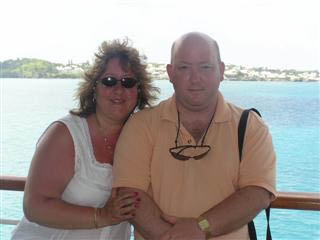 Finally on land, with the ship behind us: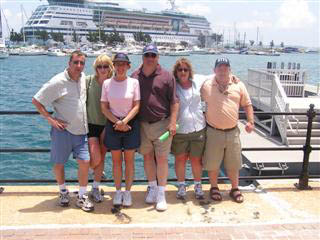 We didn't do any ship-sponsored excursions, we explored the ports on our own and then took a taxi to the beach: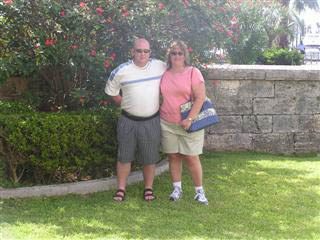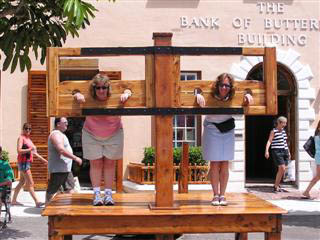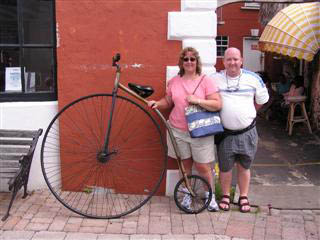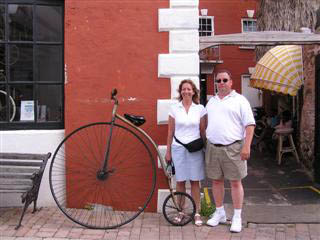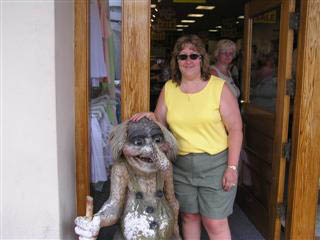 The beach: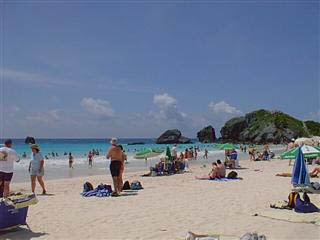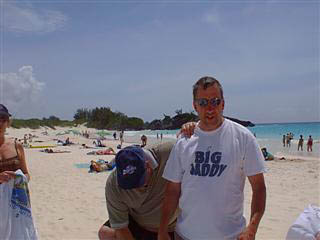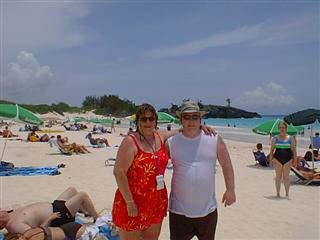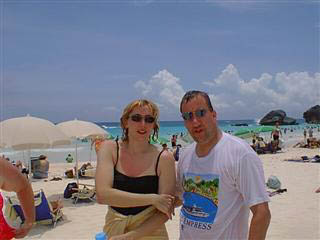 During one of the live stage shows, some of the dances came down into the audience and grabbed guests to dance with... Well, I didn't hide fast enough...lol...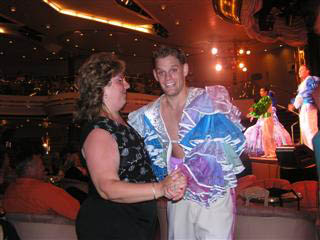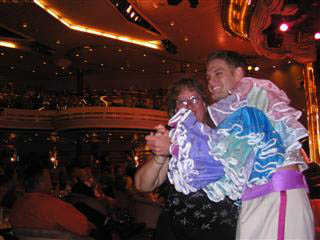 They grabbed my brother Bob too! LOL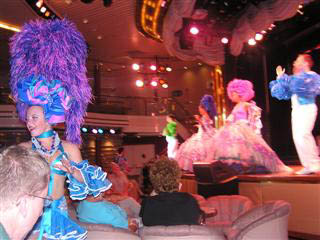 A picture of our cabin (there really wasn't much to show. lol), plus some of the nightly towel animals: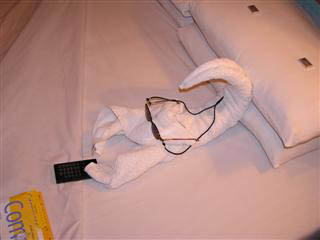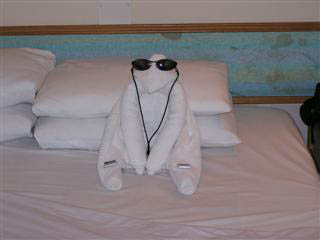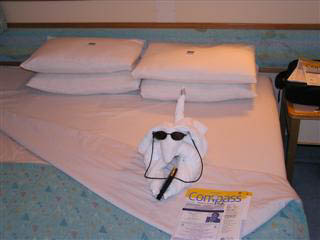 Some random nighttime pictures, and pictures of ship, including the midnight buffet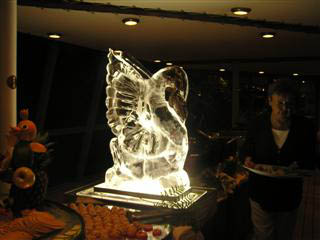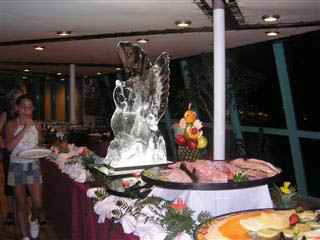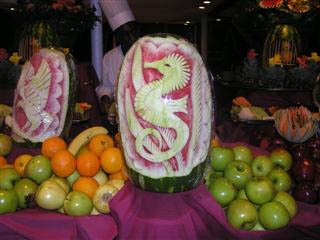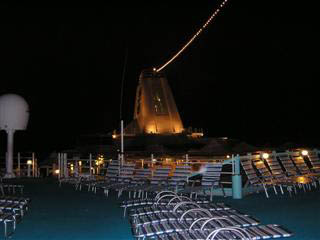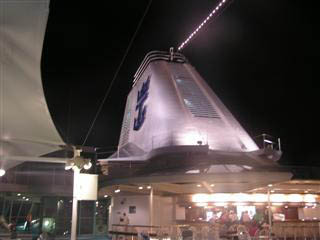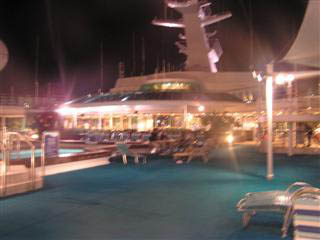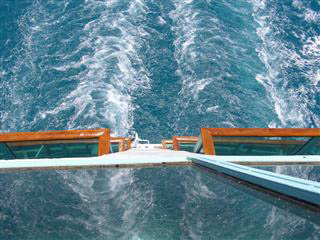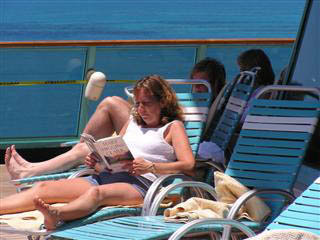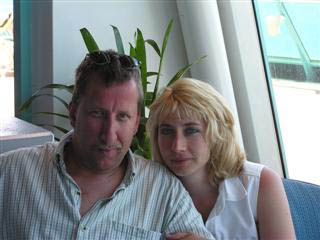 It was our very first cruise, but not our last! That little ship made us fall in love with cruising.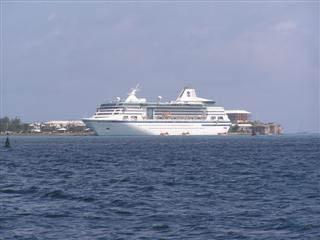 We've since taken 2 more cruises on the Disney Magic, but we'll be back on a Royal Caribbean ship this fall (2007) when we embark on a 9-night eastern Caribbean Cruise!