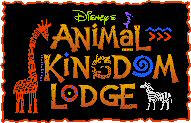 Animal Kingdom Lodge Resort
(picture links below)
John and I stayed for 6 days at the Animal Kingdom Lodge in May 2006. We had booked a pool view room and at check-in I asked if any upgrades were available, including concierge. (I wasn't looking for or asking for a free upgrade, we wanted to pay for an upgrade). The CM said that the resort was fully booked basically due to there being several conventions going on; he said they had the "overflow" people there from the convention resorts. He checked his computer and checked in the back and came back and said that there was no better room available than what we had been assigned to, that day. Ok.. no big deal. We always book what we want and know we'll be happy with, but at the last minute we figured we'd see if a savannah or concierge room was available. He said something would probably open up the next day but we didn't want to move once we were settled into a room. The CM wrote down our room number on the AKL map and pointed us in the right direction. (Before we left the check-in counter I pulled out a map of AKL that my friend had sent to me, basically indicating which areas were "good" and which we might want to avoid, in the pool view room area. We looked on her map and saw that our room was in a "good" section. LOL )

We walked down a hallway directly to the left of the Zawadi Marketplace, on the Giraffe Trail. We were told to go down this hallway until we came to a set of elevators, then go down to the 2nd floor (the lobby is actually the 3rd floor, for those of you not familiar with the resort). We stepped off the elevator, turned right, and our room was right there, first door on the left, # 2018. When we first walked into the room I could smell something similar to a spicy incense. It was a pleasant smell, and I think it might be there because this is a smoking-optional room. We smelled it every time we entered the room but once inside the room you couldn't smell it anymore.
LOL

Our view of the pool was somewhat obscured due to some thin trees. I think they are acacia (sp?) trees. After a moment of trying to decide whether we liked the view or not, we decided we DID like it. LOL We could see basically the entire pool area due to the trees being so "thin", but we still had privacy. We were on an end, so the left-hand side of our balcony was open, not solid. When we looked left, we could see Jiko, and the stream that runs in front of it. We really did love this room by the end of our stay, not only because we liked the view and the room itself, but also because of the close proximity to the elevator and lobby. This is because my RA (rheumatoid arthritis) went haywire on the first full day of our trip, and it became so extremely painful to walk that I ended up in a wheelchair for the next 2 days. (Oh yes, I was one of those people who some might look at and think "what's she doing in a wheelchair, she can walk!" that I've read about over the years here on some message boards. Please everyone, try not to judge people in wheelchairs who do not have any obvious physical problems).

Anyway, back to the resort!!
I was blown away by the theme and attention to detail at AKL. I mean, literally every square inch of this resort is themed. I think this could possibly be THE MOST themed resort on all of WDW property. Well hey, this is my opinion anyway.
I think the rooms are beautiful, and even elegant to some degree. I felt very comfortable at the resort, especially the pool area, which I loved.

The pool area seemed nice and open; I was afraid it might feel too closed in since it's surrounded by the resort on 3 sides. The pool is pretty big, I didn't realize it was that big. It has a zero-depth entry and goes as deep as 4'11", over by the foot bridge, which is to the right of the slide. Ever since the AKL opened, I'd read that the water in the pool is warm. Well I have to say, they must've corrected that problem because the water was cool and very refreshing. The water itself was crystal clear, but the bottom of the pool must be painted with hints of brown and green, because it didn't look blue like pools usually do. I know some people have commented on the color, but it definitely was crystal clear water; only the paint on the floor of the pool was green. lol It didn't look dirty at all to me, it looked very much in keeping with the theme of the resort. We went to the pool 3 different times, put our things down at a table next to the pool bar. We had drinks each time... I can't remember the names of all the drinks, but they were good! LOL I do remember an extremely delicious frozen drink called "Nyami Nyami", which had Amarula, banana liqueur, and ice cream. It tasted like a pureed banana split, and I HIGHLY, HIGHLY recommend trying it!
We also had the Victoria Falls Mist, which was a lime green color and had melon liqueur. I had a pina colada which was very good, and a drink called the Pretoria Punch something or other. lol The bar has a book with all of the specialty drinks that they can make, so if you don't see a favorite drink listed on the drink board, ask the bartenders.
They have the recipes for many of the drinks that are available only at Jiko, Boma, and other resorts and parks.

Two friends of ours were also staying at AKL, separate rooms, and this gave us the chance to see other views. Our first friend was also staying in a pool view room, but she was up on the 4th floor and had a clear and direct view of everything. The view was wonderful, but she had no privacy, which didn't seem to bother her in the least, but DH and I agreed that we liked our "hidden" view better. Our second friend arrived the day after us. She had booked a standard view room but was "upgraded" (and I use that term loosely), to a savannah view room. We went to her room and I couldn't believe that this room is classified as savannah view. If you didn't look to the right, you could see a HUGE, brightly lit pen/storage area, in your field of vision straight ahead of you, and to the left. This area was actually just to the left of the room, but the glare from the extremely harsh bright lights was very distracting while we tried to look at the animals that evening. I think this room should be categorized as a standard view because if they had tried to "upgrade" me from my pool view room to THAT, I would not have accepted it. That very unattractive area totally detracted from the ambiance of the room and the resort feeling. I think my friend was fine with it; these are my opinions only. And hey, we did get to see a giraffe walk by. lol

We didn't do a lot of exploring of the resort simply because of how badly my RA had gotten. I did get to see Arusha Rock, and took some pictures of some animals out on that savannah. I took a lot of pictures of the lobby, our room, and the pool area. We had breakfast and dinner at Boma, and dinner at Jiko. We walked through The Mara one night but didn't get anything. I really don't have any info about The Mara, and I don't think I took any pictures while we were in there. We ate at mostly sit-down restaurants (all were sit-downs except for the hot dog at Casey's. lol), so we never had a need to stop for a meal at Mara. It looked like it was a decent size, and looked like it had several food options. Sorry, that's all I can say about The Mara. lol

All of the CMs that we encountered were very, very nice. Housekeeping was great; we requested turndown service and each evening we returned to our room to find the beds turned down, the drapes drawn, the lighting soft, and some chocolates and a card with an African proverb on the bed. I had bought some Mickey beanies (Jedi Mickey and Class of 2006 Mickey), and the housekeeper placed them on the bed each night. One night they were tucked into bed with the remote control next to them. lol I took pictures of this, very cute!


Our room was in excellent shape; no visible wear AT ALL. The carpet looked brand new, as did everything else. The thermostat worked VERY well. It was very responsive, and the room actually cooled off and STAYED at the correct temperature, even with us out of the room. All other Disney resorts we've stayed at would not get cool enough for us, and the A/C would turn off during the night and whenever the room was empty. High marks from us for having thermostats that actually work!


Oh, how can I forget... The bus service!!!! I've read on the boards that so many people are afraid to try this resort because it only has bus service. I have to admit that I was wondering how transportation would be; we're used to being on the monorail line, or at least have the boat to MK (WL). I have to say that the bus service this past week at AKL was EXCELLENT!!!!! All of the buses are direct, except for the stop at Blizzard Beach on the way to MGM. Also, Typhoon Lagoon and Downtown Disney share a bus, but we never went to either place. Magic Kingdom, Animal Kingdom, and Epcot are all direct buses. And there were plenty of buses, we never had a wait of more than a few minutes. In my own opinion, based on my own experience, I would NOT let the transportation issue keep you from trying out the AKL.

The AK park is literally a 4 minute drive; Epcot was about 10 minutes, MGM (because of the stop at BB) was about 15 minutes, and the MK was about 15 minutes. The rides went very fast, and we only had to stand once. I really liked the fact that AKL doesn't share with another resort; this is something that really bothers me when we stay at the Polynesian, Wilderness Lodge, or Grand Floridian.
Now, on to the pictures!!!

PICTURE LINKS: